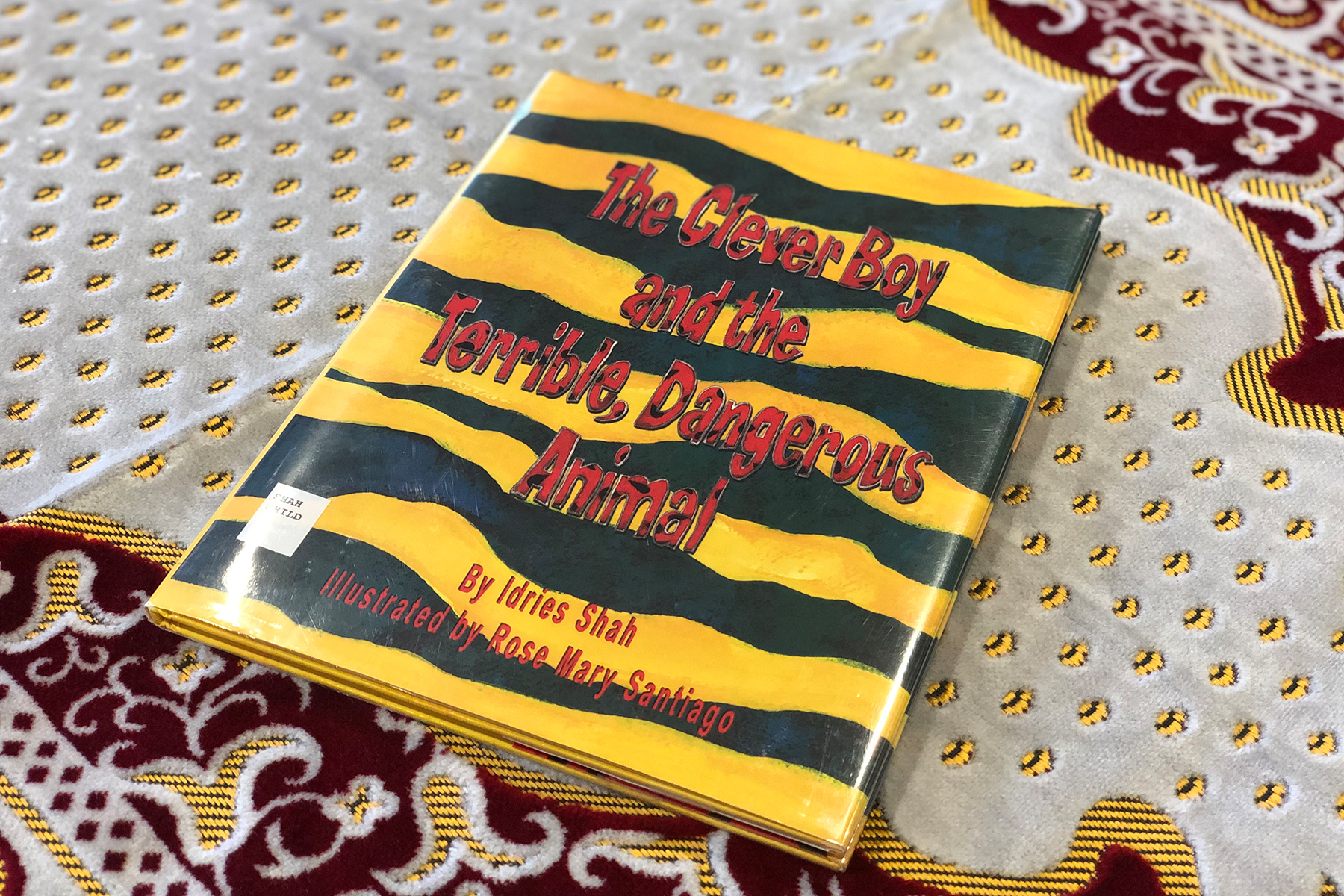 Elise Bellin, Librarian of the Islamic Resource Center, wrote this book review as part of an ongoing series that focuses on a range of books within the IRC collection as a service to the community.
The Clever Boy and the Terrible, Dangerous Animal
by Idries Shah, illustrated by Rose Mary Santiago, © 2000 –ISBN: 1883536189
"Once upon a time there was a very clever boy who lived in a village. Nearby was another village that he had never visited. When he was old enough to be allowed to go about on his own, he thought he would like to see the other village." And so he does, beginning a story about fear and ignorance and why one should not allow such things to dominate your life.
Beautiful, bold, full-color illustrations and a strong, clear moral lesson dominate the story about a boy who teaches a village not to fear something simply because they haven't seen it before. It is a classic fable, one in which the boy becomes the ultimate teacher, first not to fear the "terribly dangerous animal" and then what must be a "terribly dangerous boy" for being able to "kill" the "animal." The story allows children to laugh at how incredibly silly we all can be and think through whether it is wise to act out of fear or whether using your head and a little bit of courage is the right course.
Considering the state of the world today, I think a little more of the clever little boy and a little less of the silly villagers could be useful in our daily lives. Allowing children to explore this context seems a wise and salient point.
Idris Shah (or Idries Shah) was an author and Sufi teacher who wrote over three dozen books on many different topics but is probably best known today for his teaching stories and parables that have often been transformed into children's stories for mass consumption. In his parables, Shah presents and emphasizes Islamic Sufism as a universal form of wisdom that continues to adapt itself to the time, place, and people in which it finds itself.
Founded in 2010, the Islamic Resource Center (IRC) is the first Islamic public lending library in Wisconsin. The IRC aims to provide resources to educators, students, health professionals, interfaith groups, and any members of the Milwaukee community that want an accurate understanding of the Islamic faith, its practices, and its people.