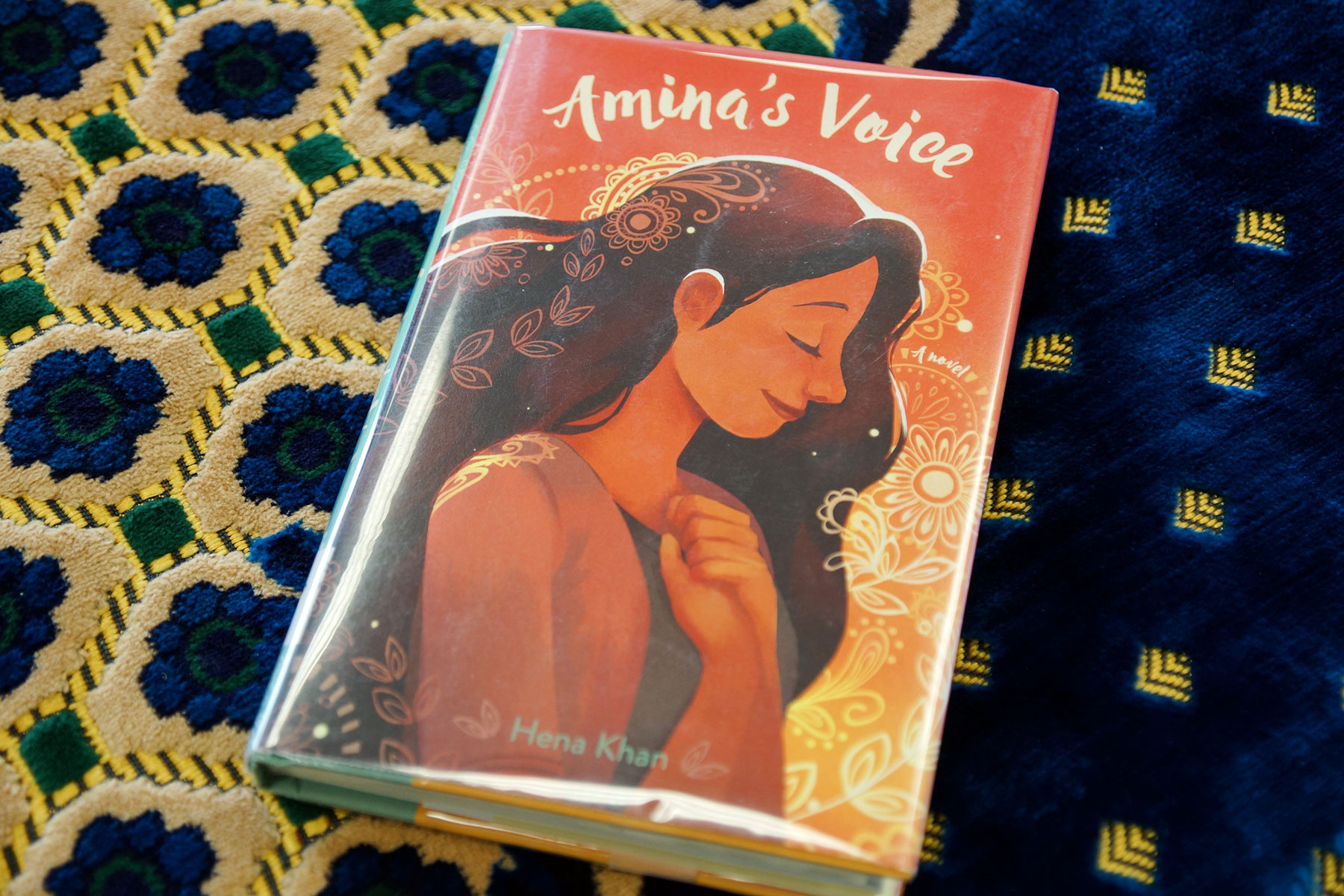 Elise Bellin, MLIS is the IRC Librarian and this book review is part of an ongoing series that focuses on a range of books within the IRC collection as a service to the community.
by Hena Khan, © 2017 – ISBN: 9781481492065
What is it like to be a Pakistani American Muslim middle schooler in the often confusing sociopolitical climate we face today? Unfortunately, in addition to the many confusing and intimidating situations that non-minority children face at that awkward time on their journey to adulthood, many children also face the very real reality of anti-Immigrant/anti-Islamic sentiment and the terror that comes from not knowing what will happen to you based on what others decide to perceive in you.
In Amina's Voice, this very real problem is handled gently and with a great deal of love. Amina Khokar is entering sixth grade and everything is changing. Her best friend seems to be leaving her behind for the popular crowd; her straight-laced Muslim great-uncle is staying with them, visiting Wisconsin from Pakistan; and despite her lofty musical dreams, stage-fright-prone Amina must prepare to read a passage from the Quran on stage. In Arabic. In front of an audience. In a competition. Scary!
Add to the stress the fact that someone with an anti-Muslim agenda has apparently destroyed the mosque where the competition was to be held and you have yourself a complicated situation. However, it is with the support of the greater community that everything starts to turn around for Amina. With the community behind her, Amina might finally finds her voice.
As one reviewer stated, the takeaway from this novel is that, as scary as it can be to face the prejudice of this world, "Muslims have far more friends than enemies in this country."
If you or your grade schooler are looking for something to inspire and show that a little hope can shine bright even in the darkest hours, this is surely a place to start.
Founded in 2010, the Islamic Resource Center (IRC) is the first Islamic public lending library in Wisconsin. The IRC aims to provide resources to educators, students, health professionals, interfaith groups, and any members of the Milwaukee community that want an accurate understanding of the Islamic faith, its practices, and its people.