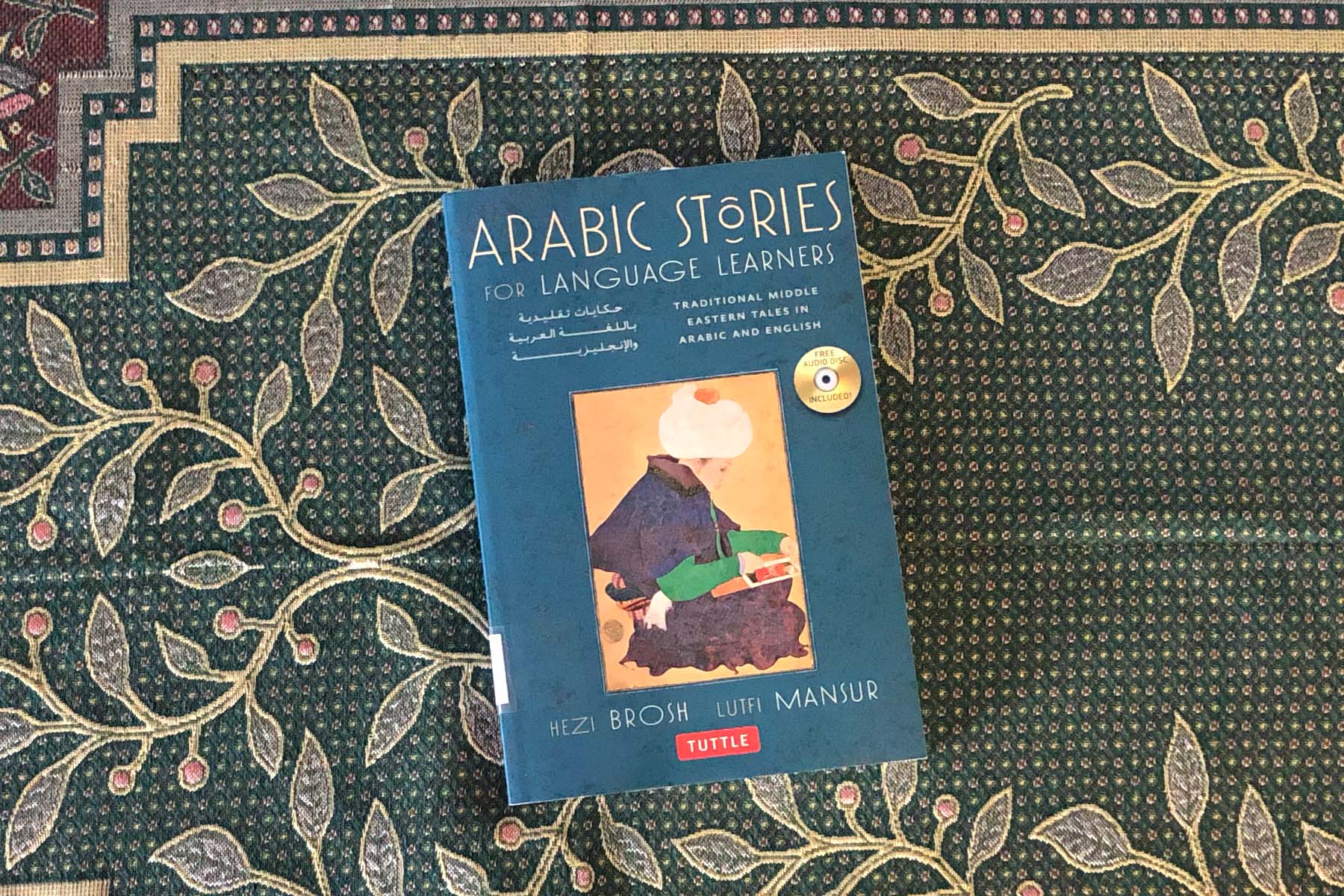 Elise Bellin, Librarian of the Islamic Resource Center, wrote this book review as part of an ongoing series that focuses on a range of books within the IRC collection as a service to the community.
Arabic Stories For Language Learners: Traditional Middle Eastern Tales in Arabic and English
Arabic Stories For Language Learners: Traditional Middle Eastern Tales in Arabic and English by Hezi Brosh & Lutfi Mansur © 2013 ISBN: 9780804843003
There comes a time when learning a language in which being able to read a story or answer a question is more important than memorizing another word or learning another grammatical rule. In those times, it is important to seek those resources out, whether it is through short stories, native audio/visual material, or some other form of material to supplement language learning. Really, anything that encourages the learner to become an active participant in the process is helpful. For instance, it is often suggested of Spanish students that they turn on their televisions to watch an hour or so of telenovelas.
While this might seem odd, the point is to encourage casual familiarity as well as formal instruction. It is also the case that the more formats one encounters the language they are learning in, the more likely it is to stick and stick well. If instruction primarily focuses on one format or another, one is likely to discover they are missing something important.
That is where a resource such as the Arabic Stories for Language Learners comes into the picture. In the book, Brosh and Mansur expertly deliver classically framed stories reminiscent of Aesop's Fables (or, more in keeping with the Arabic theme, Nasrudeen Hodja stories), short – most stories being only one page or so, witty – almost to the point of having a punchline, and fairly straightforward. They ensure all writing is in both Arabic and English and include a crisp, clear audio CD with all of the short stories clearly enunciated in Arabic to go alongside the text. The Arabic script is large enough to read all of the loops and swirls and they include the aid of harakat to help in pronunciation.  Most of the language is fairly simple, making it an excellent place to start reading.
Founded in 2010, the Islamic Resource Center (IRC) is the first Islamic public lending library in Wisconsin. The IRC aims to provide resources to educators, students, health professionals, interfaith groups, and any members of the Milwaukee community that want an accurate understanding of the Islamic faith, its practices, and its people.