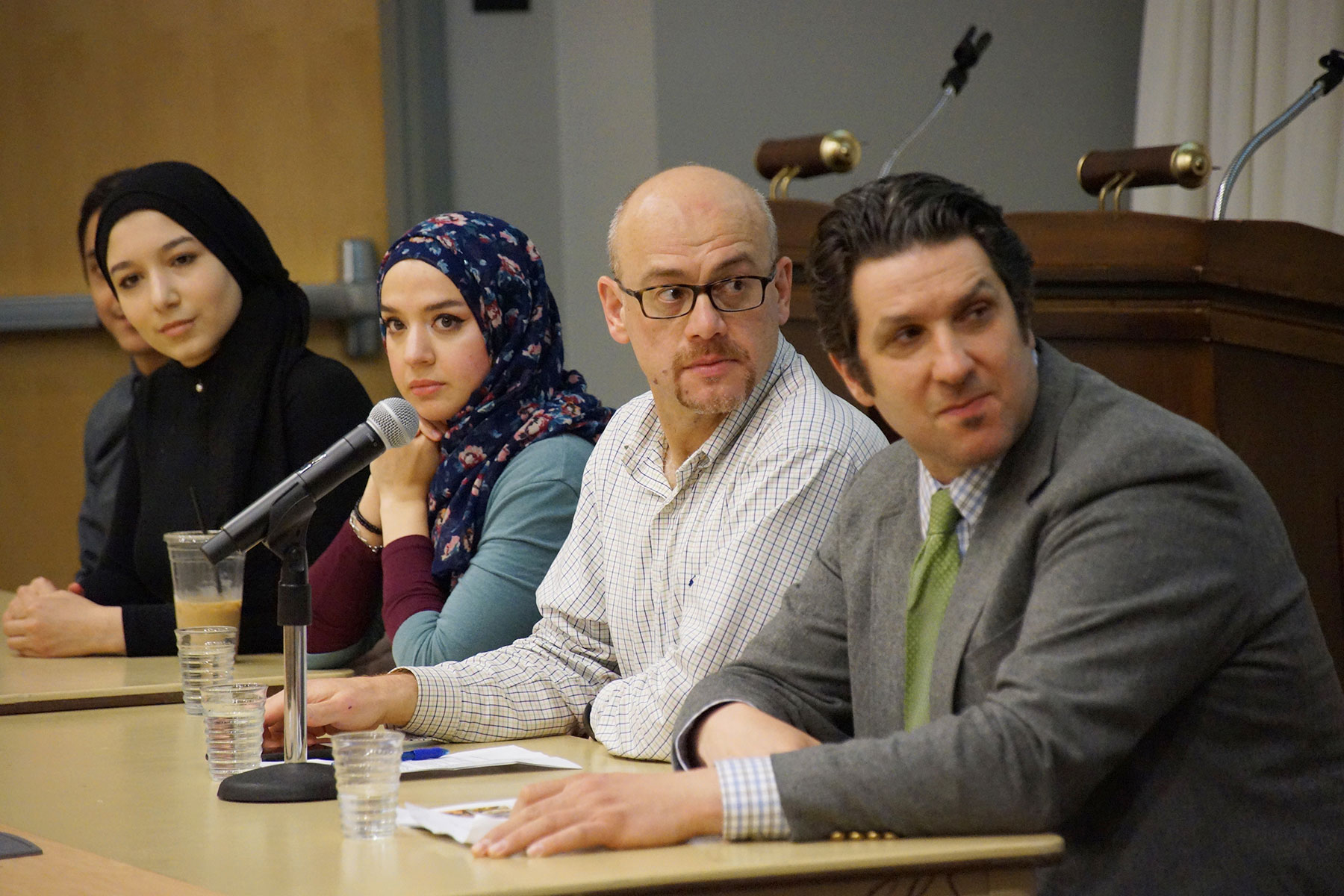 UW-Milwaukee held a panel discussion about artists and their Muslim identity on May 2, as part of its ongoing Muslim Milwaukee Project.
The event, "Arts and Belonging among Muslims in Milwaukee," generated an important discussion about the diversity of Muslim experiences and voices in the city. Panelists included Samir Ghani, Photographer and musician; Aya Mustafa, Artist; Liala Amin, Artist and designer; Ali Hamadeh, Poet; and Ali Lubbad, Musician.
"I don't have an identity as a person on the Internet. If you go to my website, my Facebook page, or my Instagram, there is no photo of me at all. There is only my name. That is so people just see my art, not my face, or gender, or religion." – Samir Ghani
Some of the questions for the artists focused on how they saw their role as a Muslim artist, how their art reflected their Muslim identity, and did their art express a sense of how or if they belonged.
"I grew up feeling very different than everyone else in high school. I was a loner and I distanced and disassociated myself from people. I also grew up in a very sheltered household, so it was a different type of isolation in itself. I really didn't know a lot of people in my community. I coped with the isolation and who I was through drawing or using my creative imaginations. Art helped me process the pain that I didn't understand. So art is just a very intimate part of my life, and sometimes it feels like I can't create unless I am in pain." – Aya Mustafa
UWM Professors Anna Mansson McGinty, Caroline Seymour-Jorn, and Kristin Sziarto organized the event to highlight how Muslims actively contribute to Milwaukee. The platform helped them articulate and express their identities and experiences.
"One focus of my work is visibility as a Muslim woman, because that is such an intricate part of my identity. It is something that I want to share artistically as well, because people don't see that very often. I try to be a representative, not just for myself but for my faith. Hopefully I can inspire people to want to know more about who I am, and who other Muslims are. We're not all just this one stereotype a.k.a. a doctor or lawyer. We can be artistic individuals and creative individuals as well." – Liala Amin
Members of the panel shared their feelings about the art they created, and how they wanted to be seen for their art apart from their faith.
"The way of expressing art is partly impacted by our origin and our faith, but most of it is just being human. Very often when people see that we don't fit their preconceived stereotype, that they have in their imagination about us, it's a problem. So they can't understand why I am reciting poetry, or using those expressive words, or being so inclusive. They think we are all restrictive and extreme. As an artist, our mission is to slowly change those perceptions. We don't have to be confrontational, but we can help to gradually change the kind of image people have of us, and there is a value to that." – Ali Hamadeh
The audio was recorded live during the public discussion, and was edited to feature the speakers dialogue.
"I think art is trying to show the best of, in my case, music. I love playing music, so for me it was finding a way to be inclusive of Arabic instruments and other musicians. I wanted to have a band that would hopefully express the beauty of at least a couple cultures, one of them being Arabic culture. So that was my goal, to make what people see as foreign and help make it familiar. I feel that's what art is at its best. It can make people realize that we are exactly the same, we're human beings." – Ali Lubbad