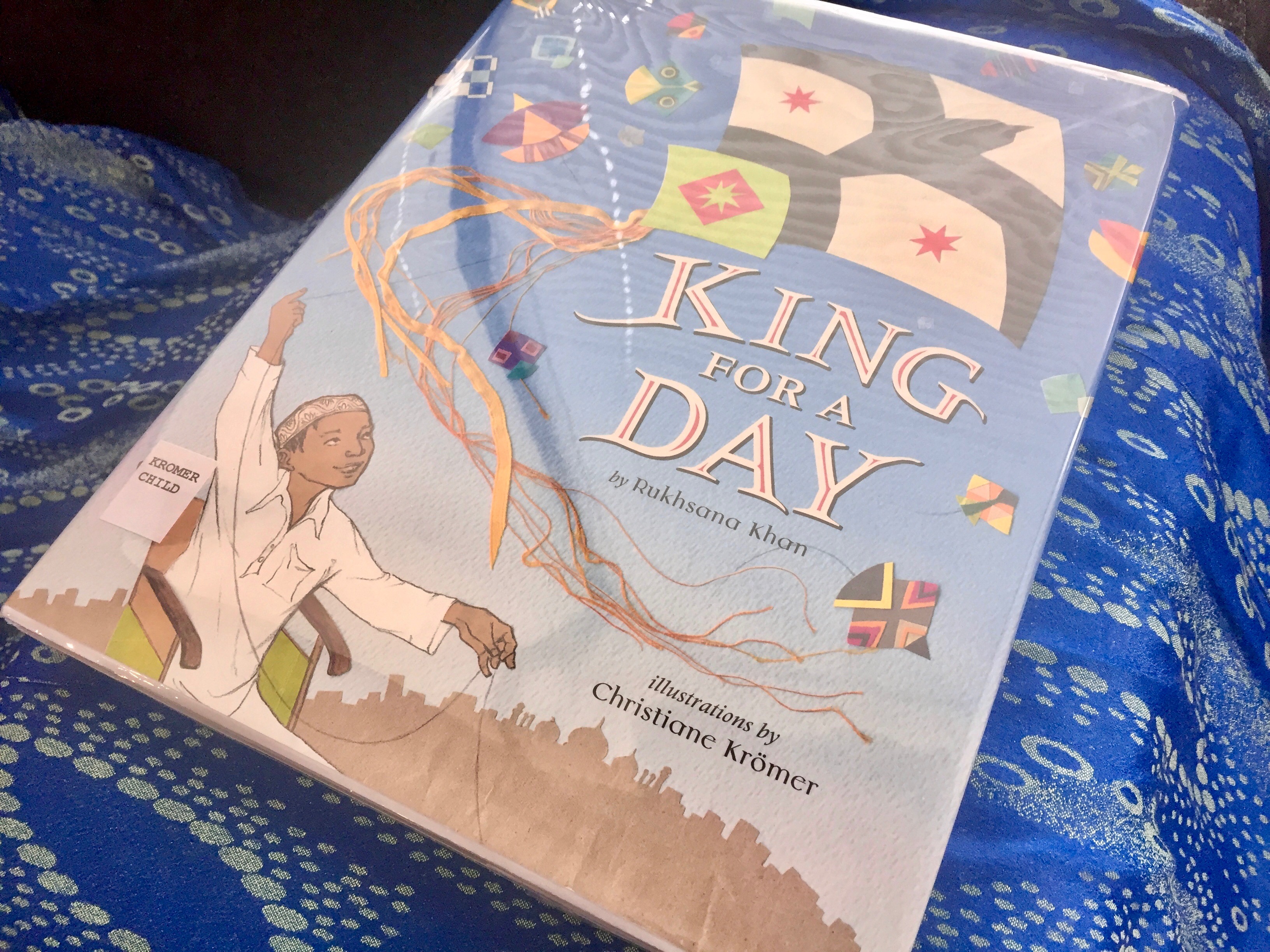 Elise Bellin, Librarian of the Islamic Resource Center, wrote this book review as part of an ongoing series that focuses on a range of books within the IRC collection as a service to the community.
by Rukhsana Khan, illustrated by Christiane Krömer © 2013 –ISBN:9781600606595
One of the reasons the Islamic Resource Center was founded is for the promotion of inclusion, acceptance, and cultural understanding. With so much hate, bigotry, and misunderstanding in today's world, we need a little more of that positivity in our lives. I can think of few books that attempt, much less successfully achieve all of these more than that of Rukhsana Khan's book, King for a Day.
In King for a Day, a young wheelchair-bound boy competes in the annual kite-battling festival of Basant in Lahore, Pakistan. No mention of the wheelchair or any disability at all is mentioned in the text. We see the boy in the wheelchair participating in everything and becoming the "King of Basant" for the day by using his kite to defeat the most kites. We learn of his sister being bullied by a kid next door and verbally standing up to him. We see everyone treat the main character like any other person. In fact, we see this boy excel at a sport that is highly regarded in Pakistan.  King For A Day is a singularly equalizing book.
We see hidden, secretive moments of kindness and strength of character from the characters in the book, as well as a fun introduction to a unique celebration. We also get to see a crosscultural event that few outside of Pakistan have heard of that has managed not only to cross the various ethnic divides of the area but also the religious ones as well.
In terms of illustration, the book is beautiful. Utilizing a variety of materials to form mixed media collages, using everything from ribbons and paper cutouts to lace to traditional pen and ink drawings and watercolor, the pages have an almost three dimensional feel. Christiane Krömer's imaginative and exquisite illustrations are a stunning match to Rukhsana Khan's expert storytelling. Truly a book filled with love and understanding.
Founded in 2010, the Islamic Resource Center (IRC) is the first Islamic public lending library in Wisconsin. The IRC aims to provide resources to educators, students, health professionals, interfaith groups, and any members of the Milwaukee community that want an accurate understanding of the Islamic faith, its practices, and its people.