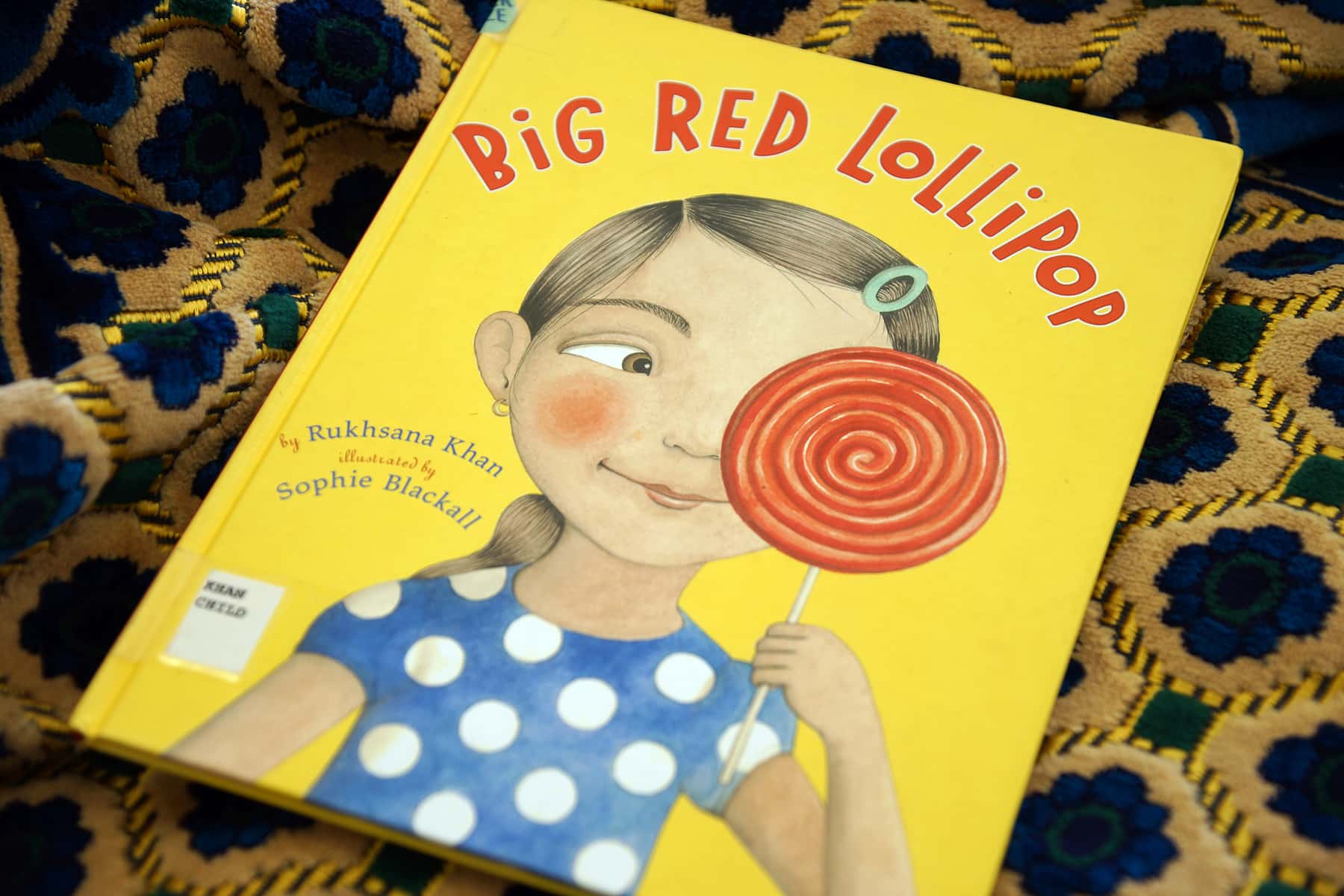 Elise Bellin, Librarian of the Islamic Resource Center, wrote this book review as part of an ongoing series that focuses on a range of books within the IRC collection as a service to the community.
by Rukhsana Khan, illustrated by Sophie Blackall, © 2010 – ISBN: 9780670062874
Rukhsana Khan is probably one of the most well-known Muslim children's book authors in the West. Her books have routinely gone up for and/or won numerous awards each. She has been named Writer in Residence of the Toronto District School Board, Artist in Library at Fairview Public Library by the Toronto Arts Council, gained leadership awards, literature awards, and awards of excellence.
Her books appear in most public libraries around the country and she continuously works with schools, libraries, and anyone who asks for her help, to incorporate materials that represent Muslim children. Her book, "Big Red Lollipop," is no exception to this rule. Expertly dealing with issues such as sibling rivalry, identity, culture clashes, and assimilation, "Big Red Lollipop" won seven awards and was nominated for two more.
In "Big Red Lollipop," a young girl named Rubina is invited to her first ever birthday party. Her mother, of whom we are left to infer is an immigrant, has never heard of such a thing and, when its nature is made clear, insists on Rubina bringing her "annoying" younger sister, Sana, along, much to the chagrin of Rubina. "They don't do that here!" she cries, devastated that it will cost her any invitations for "a really long time."
However, a story that could focus on the social ostracization and sibling rivalry chooses to focus instead on a story of forgiveness and cultural/social mediation when a couple years later Sana is asked to go to a birthday party and take her younger sister with only for Rubina to step in and explain that it would be better to allow Sana to go on her own. It is a story of gained wisdom and cross-cultural understanding, a hallmark of Khan's beautiful books.
Let us not say that Khan is the only one worthy of attention. The illustrator, Sophie Blackall (most known for her illustrations of the Ivy and Bean series), uses full advantage of the page. The characters are beautifully drawn and their expressions, emotions, and actions are given the main focus while the background remains mostly clear of distraction, bringing the story all the more to the forefront of readers' attention.
This is a book that is both beautiful and heartfelt and, while I am supposed to remain impartial to the materials I select for the IRC's library or review for this paper, I find that it is probably one of my own personal favorites.
Founded in 2010, the Islamic Resource Center (IRC) is the first Islamic public lending library in Wisconsin. The IRC aims to provide resources to educators, students, health professionals, interfaith groups, and any members of the Milwaukee community that want an accurate understanding of the Islamic faith, its practices, and its people.