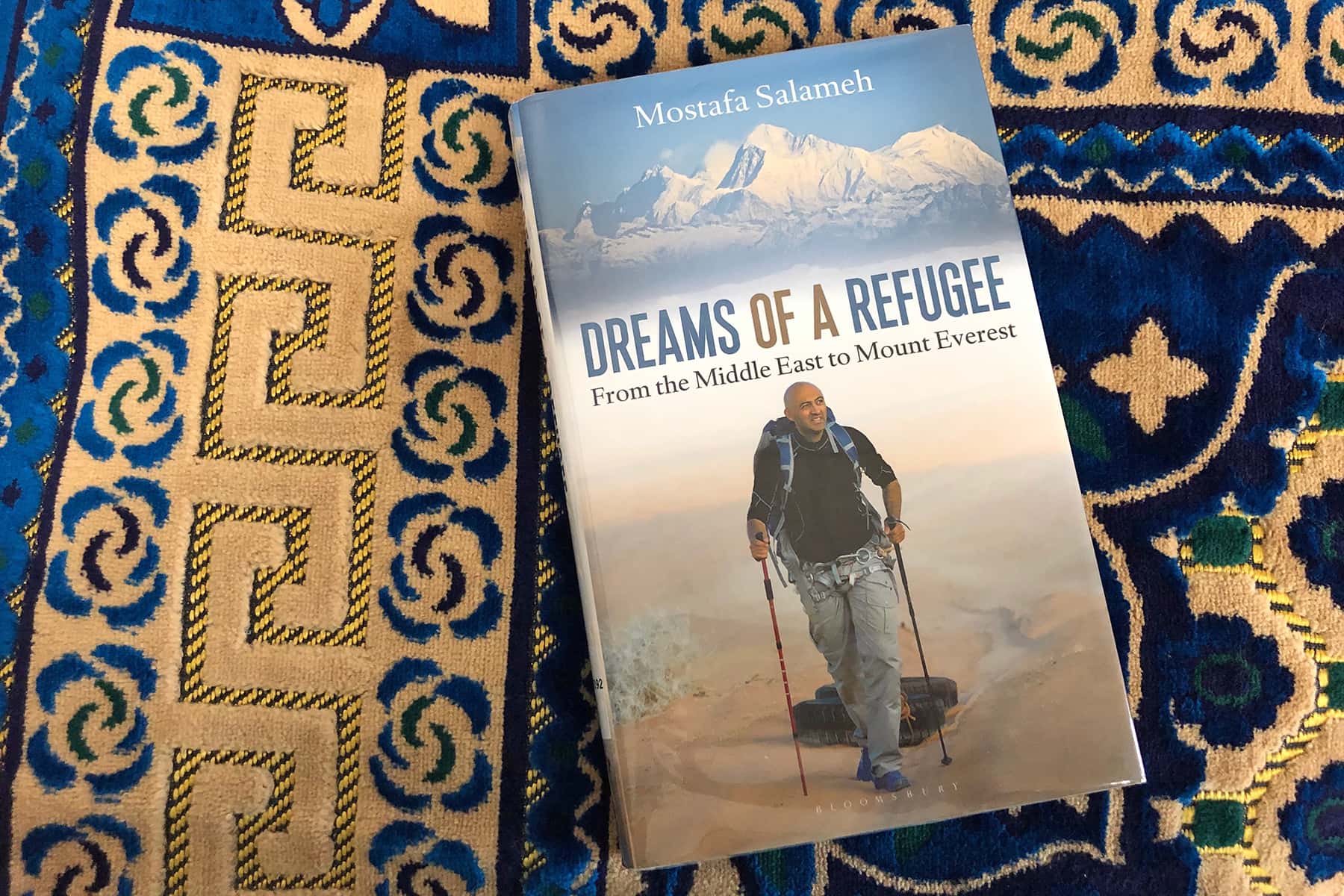 Elise Bellin, Librarian of the Islamic Resource Center, wrote this book review as part of an ongoing series that focuses on a range of books within the IRC collection as a service to the community.
Dreams of a Refugee: From the Middle East to Mount Everest
by Mostafa Salameh, © 2016 – ISBN: 9781472927514
Born to Palestinian refugee parents, Mostafa Salameh was quite literally born into the role of refugee. With little in the way of money or roots, Mostafa found himself in first London, then Edinburgh, where, giving little thought to his Islamic heritage or the values his parents sought to instill in him, he indulged in excessive partying and rather unIslamic practices.
Yet, it was in Edinburgh that he had a profoundly religious experience that would utterly change him, renew his faith, and set him on a course toward great heights.
As he put it, one night, Mostafa dreamt that he was standing at the highest point in the world reciting the call to prayer. Despite having no prior mountaineering experience or training, he was inspired to follow his vision and climb Mount Everest. He failed to summit twice before finally reaching the top in 2008 – going on to become the first Jordanian citizen ever to reach the North Pole, and to scale the 'Seven Summits'. In 2016 he reached the South Pole, the first Muslim ever to do so.
That is impressive in and of itself, yet for Salameh, Everest, the North Pole and all the rest were just a start. He became involved in political activism, spiritual explorations, motivational empowerment, and all sorts of things. In Dreams of a Refugee,Salameh takes a solid look at what is going on today and doesn't shy away from the tough subjects.
He looks at both East and Western views and makes both a strong argument against Islamophobia and campaigns for anti-radicalization and so-called progressive Islam. He makes it clear that this is not the "tragic story of refugees and their painful struggle in an unjust world; it is a story of finding ones true self, a purpose, to dream and live to bring a change for the better."
Mostafa Salameh's story is a powerful and extraordinary tale of faith and the strength and motivation it gives us to change the world around us for the better. It is probably something we could use a little more of.
Founded in 2010, the Islamic Resource Center (IRC) is the first Islamic public lending library in Wisconsin. The IRC aims to provide resources to educators, students, health professionals, interfaith groups, and any members of the Milwaukee community that want an accurate understanding of the Islamic faith, its practices, and its people.