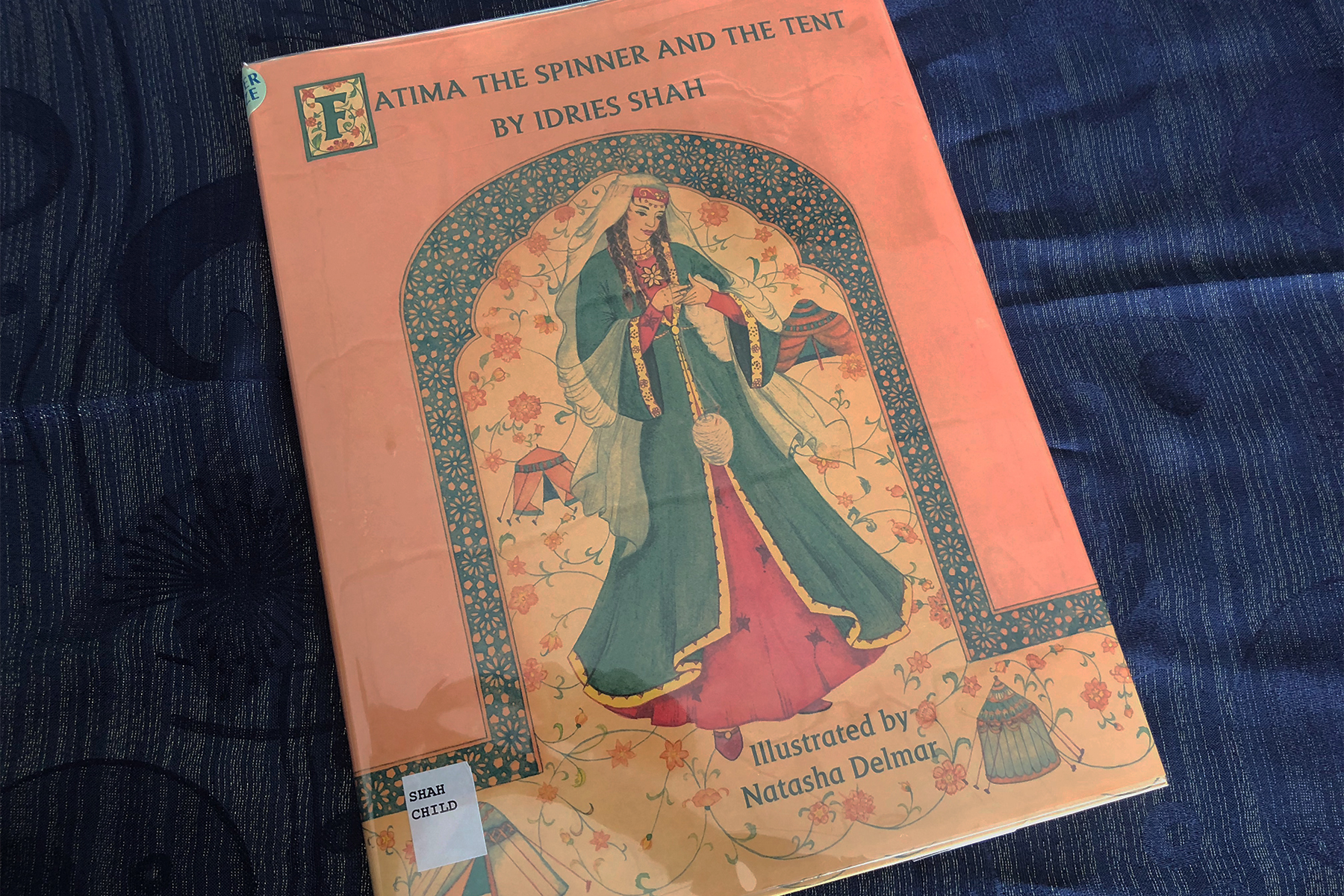 Elise Bellin, Librarian of the Islamic Resource Center, wrote this book review as part of an ongoing series that focuses on a range of books within the IRC collection as a service to the community.
Fatima the Spinner and the Tent
by Idries Shah, illustrated by Natasha Delmar © 2017 – ISBN: 1883536421
The following book is a little older than some of my previous titles, but no less relevant in a world constantly reinventing itself.
Everyone has elements to their life that seem completely disparate and disconnected to everything else in their lives. We travel winding roads in our lives, reinventing ourselves when necessary and building ourselves up when we crumble, often searching for that missing link, the purpose for which we were created. There is a reason why that is one of the age-old questions that will never have just one answer. It is something we must discover for ourselves in order for it to have any meaning.
The thing is, often these seemingly disparate elements of our winding journey actually fit into a whole. In my own life, this certainly held true. But now I am in a career I am passionate about and hope to continue with no matter where life takes me or what it throws at me for many decades to come. I probably wouldn't have managed to get here if I hadn't had those experiences.
In a way, that is what the teaching tale "Fatima the Spinner and the Tent" is all about. In "Fatima the Spinner," Fatima too finds herself thrown about by the waves of destiny. Throughout her tale, Fatima finds herself in need of reinvention due to situations outside of her control. From spinner to weaver to carpenter and finally to tent maker, Fatima took what was presented her and made it her own. She found a way for hardship and strife to mold her into who she was meant to be.
Idries Shah was a master of the teaching tale. Having won acclaim from psychologists and educators alike, he built bridges between the classic Sufi tradition and Western audiences. He presented these classic tales successfully to children for over 30 years, sharing many stories that have been illustrating fundamental truths for centuries with a new audience.
The talented Natasha Delmar has, meanwhile, created lush pictures of what life would be like and framed all of the writing in borders that have drawn heavily from Middle Eastern tradition. Beautiful detail work and attention to location, time, and history make for something akin to a feast for the eyes.
If you are looking for a book for all ages that all can take something away from the reading, this just might be the book you are looking for. While aimed at children 5-6 years old, there is definitely more to it than that and even adults will find something to take away from the experience.
Founded in 2010, the Islamic Resource Center (IRC) is the first Islamic public lending library in Wisconsin. The IRC aims to provide resources to educators, students, health professionals, interfaith groups, and any members of the Milwaukee community that want an accurate understanding of the Islamic faith, its practices, and its people.