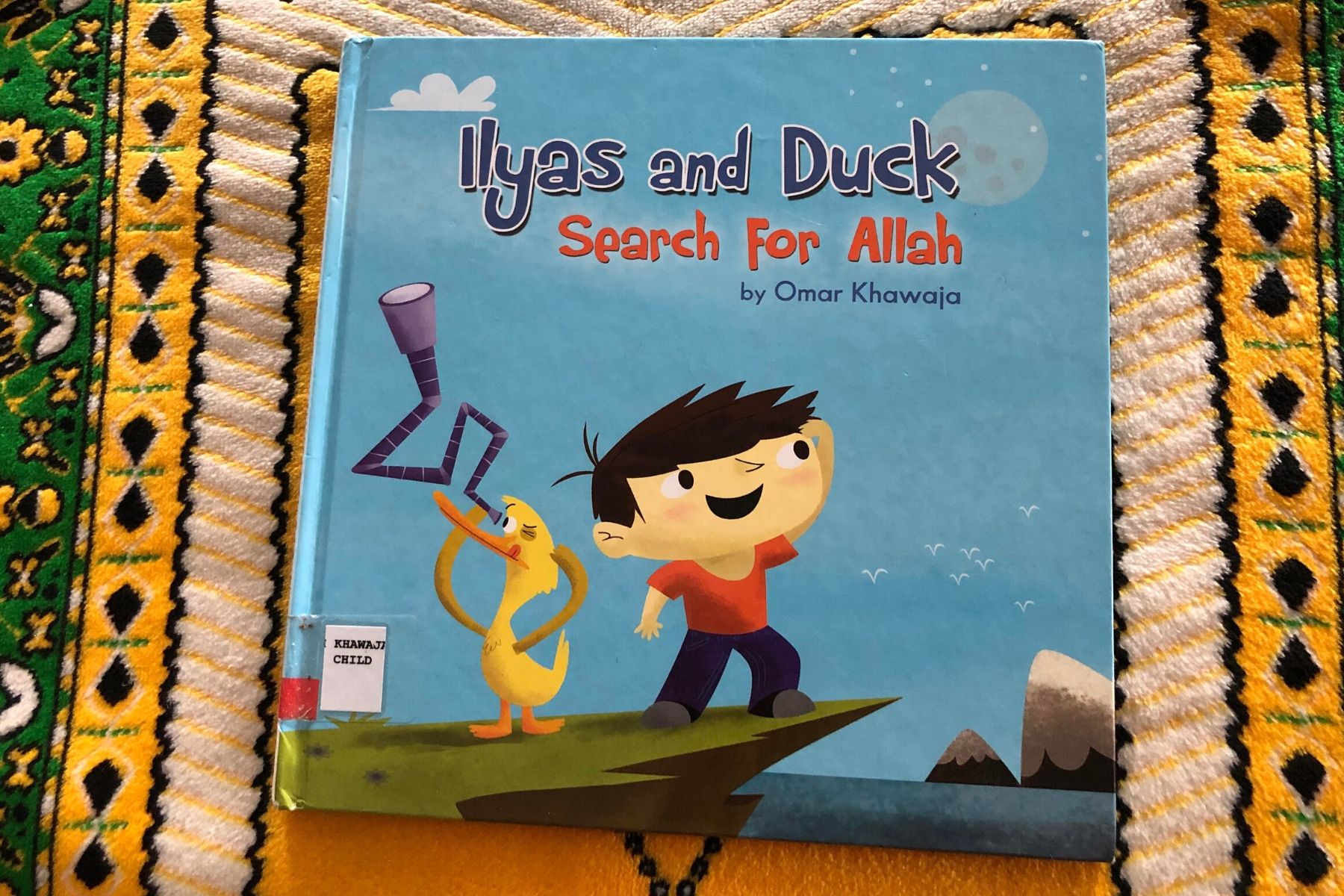 Elise Bellin, Librarian of the Islamic Resource Center, wrote this book review as part of an ongoing series that focuses on a range of books within the IRC collection as a service to the community.
Ilyas and Duck: Search for Allah
Ilyas and Duck: Search for Allah by Omar Khawajah (2012)
ISBN: 9780985072810
If there is one thing that children do, it is to question. They ask questions about why the sky is blue, how birds fly, if they can have another cookie (even though you have told them no fifteen times in the last five minutes). But more importantly, they ask about God, religion, why we are, what they are, if God can make a rock that even He cannot lift, and everything in between. The concept of God, or Allah as Muslims refer to the Creator, is a complicated and often confusing topic even for the most devout and knowledgeable. And yet, at its core, there is a simplicity to it.
When your little ones come to you with questions about Allah, you do not have to feel overwhelmed. Lately there have been a number of authors that have taken many of the common questions and turned them into beautiful children's books. Today's book is one of these. It asks the questions "Where is Allah" and "What does Allah look like" to one degree or another.
In Ilyas and Duck: Search for Allah, Khawajah introduces his two main characters that are in all of his books – a young boy named Ilyas and his best feathered friend, Duck – and has the two go on an adventure in search of Allah. Along their way, they meet all sorts of creatures who all know Allah through the creation and what He has blessed them with. Even with this stated, Ilyas and Duck find it hard to understand why they cannot find or see Him. It is not until they see the whole world and all of the stars that they finally understand.
This beautiful book brings children around the world and to the heart of faith. If your child has started asking questions, this might be a good place to start.
Founded in 2010, the Islamic Resource Center (IRC) is the first Islamic public lending library in Wisconsin. The IRC aims to provide resources to educators, students, health professionals, interfaith groups, and any members of the Milwaukee community that want an accurate understanding of the Islamic faith, its practices, and its people.