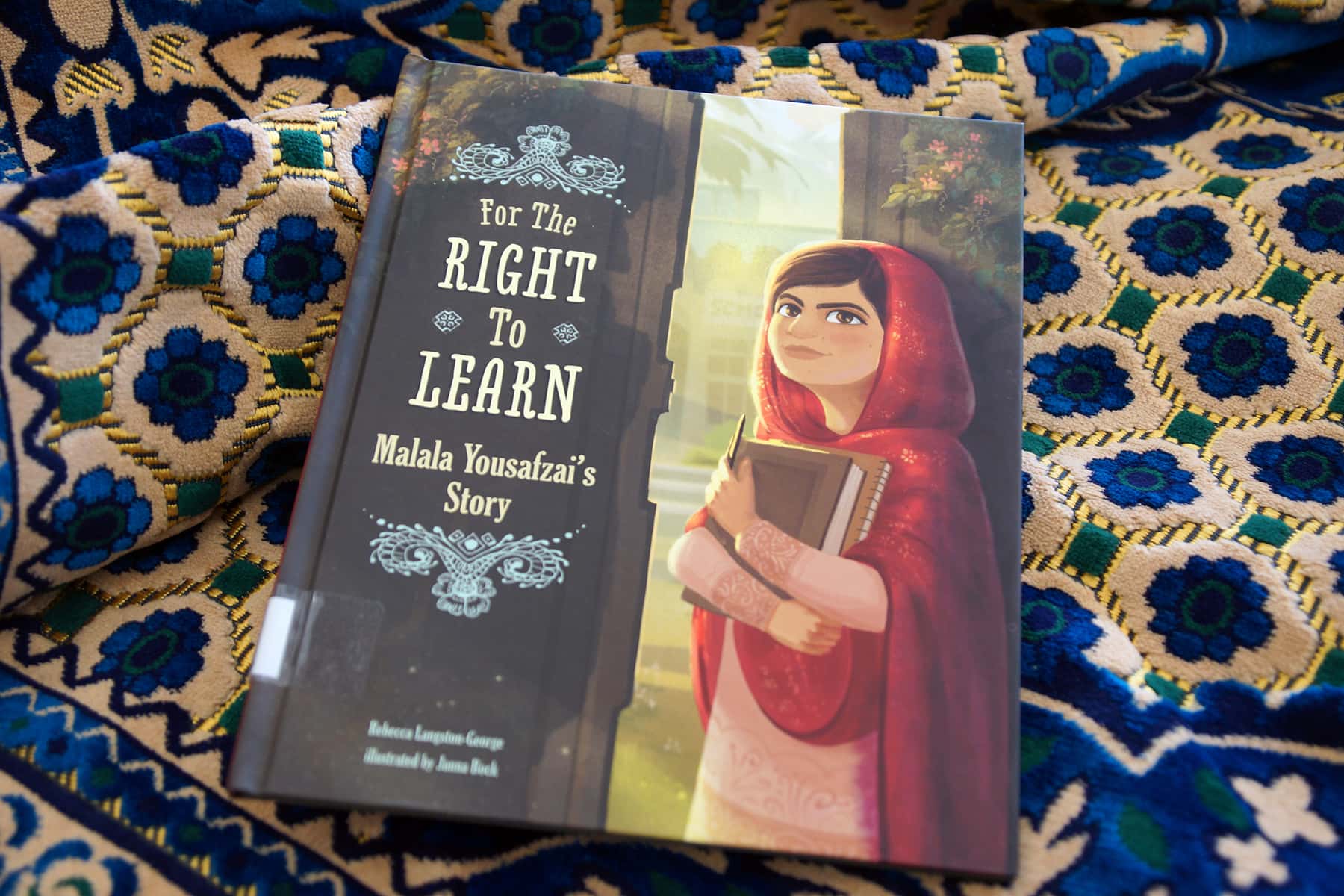 Elise Bellin, Librarian of the Islamic Resource Center, wrote this book review as part of an ongoing series that focuses on a range of books within the IRC collection as a service to the community.
For the Right To Learn: Malala Yousafzai's Story
by Rebecca Langston-George and illustrated by Janna Bock, © 2015 – ISBN: 9781623704261
By now, most of us have heard of Malala Yousafzai and her heroic, near fatal stand for her right to learn against the Taliban's oppressive regime. So I won't go too much into detail here. I will say, however, that it is an important story to pass on to the next generation, an important value to have in a world fraught with violence, inequality, and misunderstandings.
Studies have shown that the more people learn about others, the more likely they are to have empathy for one another and work toward a brighter future. They have also shown that there is a direct correlation between the amount of education and the likelihood of success in an increasingly competitive world. It isn't a guarantee on either front, but it at least increases the chances and opens up opportunities, and sometimes that is all it takes.
Malala Yousafzai was taught this value from early on, has held fast to this right no matter the personal cost and become a shining example to millions of people around the world. For the Right to Learn is her story, from what led up to the harrowing moment on the bus when she stood up to the Taliban, through her injury, and her continued fight. The pictures are beautifully rendered with her strength of character showing through with each brush stroke.
While not shying away from the situation, the book also stays far away from being graphic. No guns or bodies are shown. Explosions are seen in the distance when discussing bombings and for the shot, all that is depicted is a fallen book with a couple of drops of blood. For the Right to Learn is a well-balanced book dealing with a difficult topic in an easy to understand way. Perfect for children grades 3-4, or someone who wants to learn the basics of who she is and what she stands for.
Founded in 2010, the Islamic Resource Center (IRC) is the first Islamic public lending library in Wisconsin. The IRC aims to provide resources to educators, students, health professionals, interfaith groups, and any members of the Milwaukee community that want an accurate understanding of the Islamic faith, its practices, and its people.