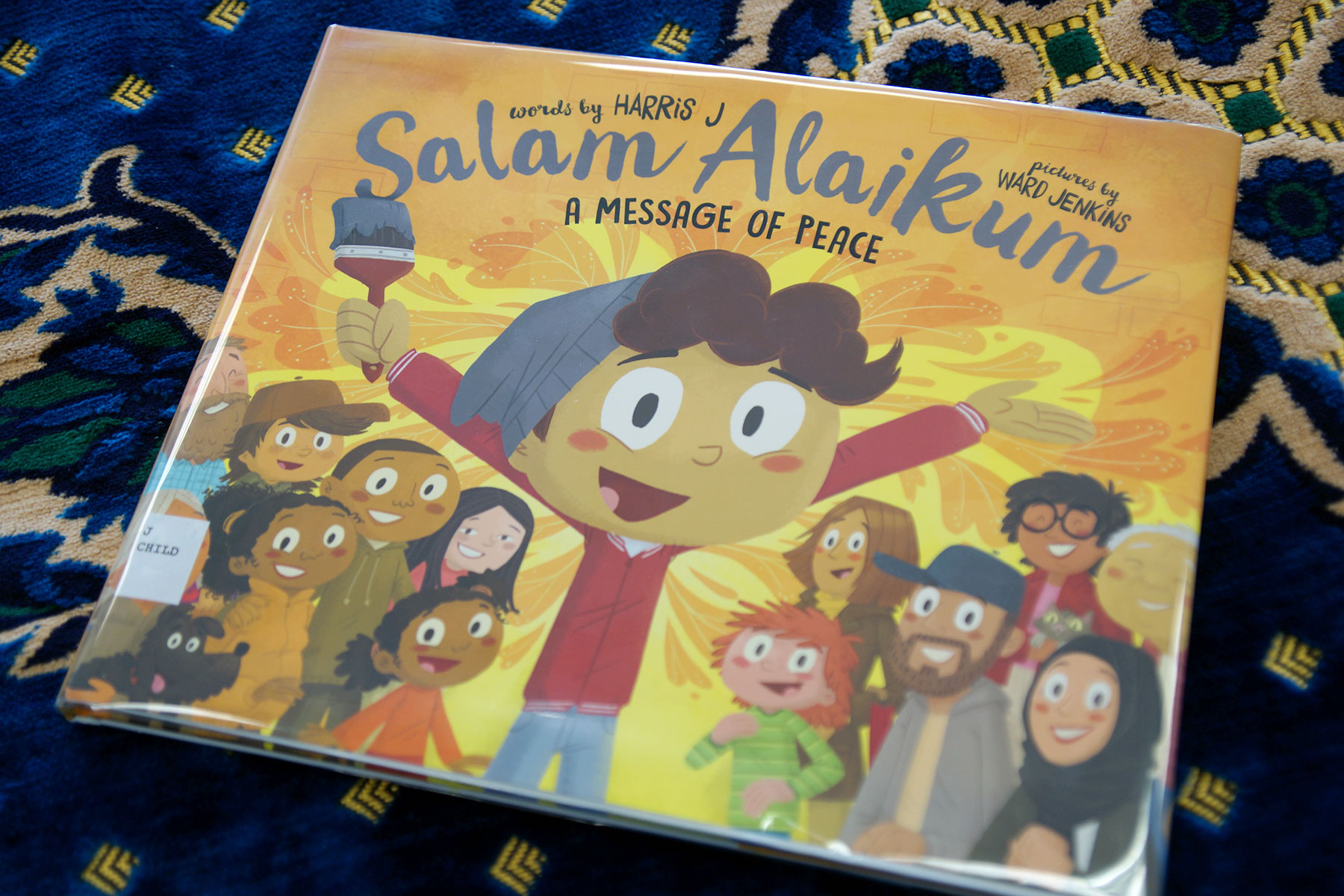 Elise Bellin, Librarian of the Islamic Resource Center, wrote this book review as part of an ongoing series that focuses on a range of books within the IRC collection as a service to the community.
Salam Alaikum: A Message of Peace
words by Harris J, pictures by Ward Jenkins, © 2017 ISBN: 9781481489386
"Salam Alaikum" is Arabic for "peace be with you" and is the standard greeting for all Muslims around the world. Is it any wonder then, that Muslim popstar, Harris J, would use that title to focus on giving back to the community and spreading the peace we so definitely need in this day and age of hate and bigotry? For those of you unfamiliar, Harris Jung, professionally known as Harris J, is a British popstar of Indian, Irish and Jamaican heritage. He has even been called the "Muslim Justin Bieber" by NPR. Recently, he decided to write a children's book by the same name and lyrics as his international YouTube hit.
This is the message of Harris J. If you want to change the world, it all starts with you. Be the change you seek and all those other slogans. Filled with bright pictures of people committing random acts of kindness, Salam Alaikum spreads a positive message of how even a small act can help to change the world.
We see people being given free books, cats being rescued from trees, litter being cleaned up from a park, and community murals bringing people together just to name a few. We see people of all walks of life, nationalities, and religions joining hands and celebrating together. It is a true message of global love.
Its language is simple and straight forward with no more than a sentence or phrase per page. If you are trying to teach the young about giving to others, helping, kindness, or any other positive value, you could hardly do better than start here.
Founded in 2010, the Islamic Resource Center (IRC) is the first Islamic public lending library in Wisconsin. The IRC aims to provide resources to educators, students, health professionals, interfaith groups, and any members of the Milwaukee community that want an accurate understanding of the Islamic faith, its practices, and its people.