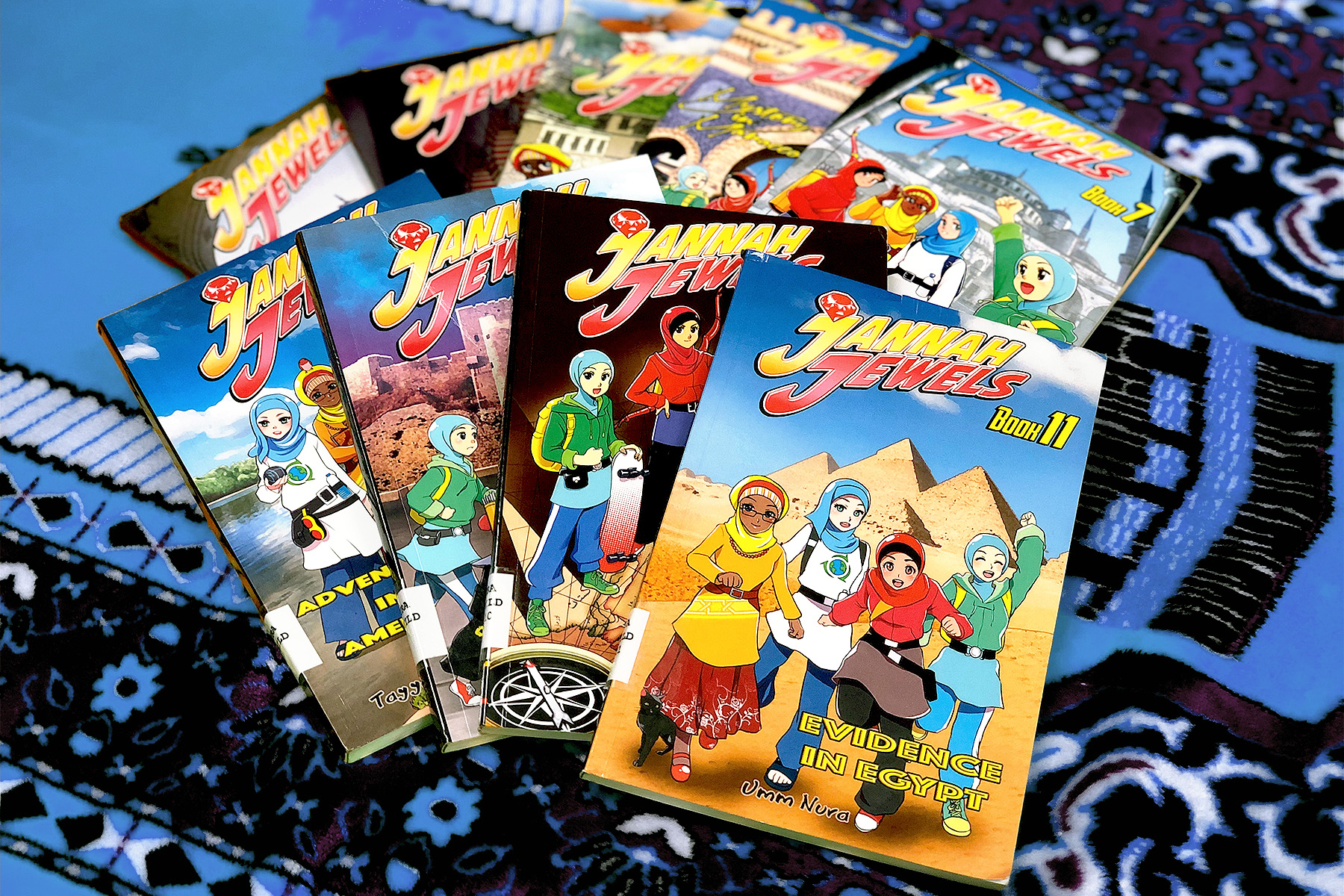 Elise Bellin, Librarian of the Islamic Resource Center, wrote this book review as part of an ongoing series that focuses on a range of books within the IRC collection as a service to the community.
by Umm Nura, © 2018 –ISBN: 9780986720802, 9780986720833, 9780986720857, 9780986720864, 9780986720888,9780986720895, 9781988337005, 9781988337012, 9781988337029, 9781988337036, 9781988337043, 9781988337050
Just recently completed, the Jannah Jewels series – comprising 12 books – is one that I have actually been championing for a while now, long before the public libraries got wind of it.   A series like this is important to have access to.
Often the Western world isn't exposed to primary figures in history that aren't part of a very specific background. Historical figures that are of a non-Judeo-Christian background or of a different ethnicity than the predominantly Caucasian background that the majority of those in power in the West focus on just don't get the same amount of limelight as the "Old, Dead, White Guys," as I tend to think of them.
That fact alone would place this series in a unique situation. Add onto that the importance of children  growing up and seeing individuals that they can see themselves in, ones that defy harmful stereotypes (i.e. educated African Americans, Asians that aren't good at math) and you have yourself a series that really raises the bar.
That is, after all, one of the biggest draws of this series.  It has a team of tough, smart, innovative young girls as the leads. It also has complicated characters that children can relate to and historical Muslim figures from a wide variety of backgrounds that are introduced in an entertaining manner.  Completed with strong moral lessons and a breadth of understanding of global history not often seen in Western children's literature, this series has proven popular and educational to middle school children. Though often overlooked, due to the self-published nature and initially lower quality production (which was fixed after the first printing of the first book), this book makes up for its lack of a wide distribution center with its high quality of information. If you want a book series that will really help to round out your collection, this is probably the one you want to add onto your shelves. You'll be surprised how much interest this series will have for chapter-book readers.
Founded in 2010, the Islamic Resource Center (IRC) is the first Islamic public lending library in Wisconsin. The IRC aims to provide resources to educators, students, health professionals, interfaith groups, and any members of the Milwaukee community that want an accurate understanding of the Islamic faith, its practices, and its people.