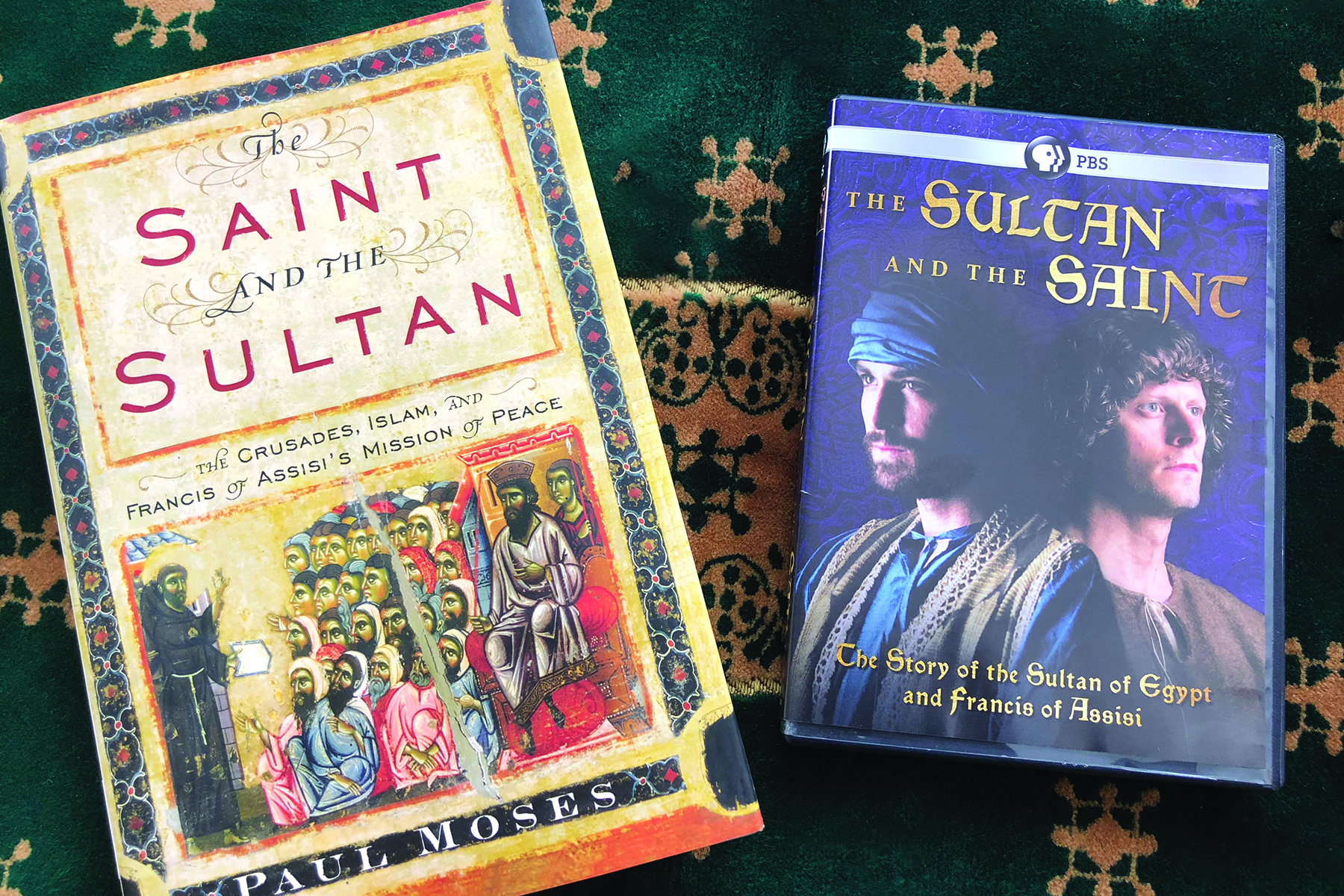 Elise Bellin, Librarian of the Islamic Resource Center, wrote this book review as part of an ongoing series that focuses on a range of books within the IRC collection as a service to the community.
by Paul Moses, © 2009 –ISBN: 9780385523707
by PBS, © 2017 –ISBN: 9781531703707
Eight hundred years ago, Francis of Assisi and the Sultan of Egypt met to talk peace and faith. The year was 1219 and the Fifth Crusade was being waged as a means of forcefully converting Muslims on the battlefield. Few people had the foresight to go beyond the violence and hatred of the time. Then something seemingly miraculous took place. Francis of Assisi and then Sultan of Egypt, Malik al-Kamil, met and discussed the war, what peace would look like, how their faiths differed and were the same, and in general got to know one another as few had bothered to do before.
The book The Saint and the Sultan by Paul Moses and the resulting docudrama, The Sultan and the Saint (as seen in the Milwaukee Muslim Film Festival), try to take a lesson from these two men who didn't take sides, but simply listened to one another. They examine this historic but little-known meeting and look at Muslim-Christian relations in relation to this event.
In fact, in an interview Moses did on why he wrote the book, he said that was his impetus. He saw the war in Iraq ratcheting up, saw the anti-Muslim sentiment in the West and all of the disastrous policies that were being put in place by people who simply didn't understand, and wanted people to learn from their (Francis and Sultan al-Kamil) example. According to Moses, not only did Sultan al-Kamil welcome Francis, but he showed such generosity to the defeated Crusaders that army leaders believed erroneously that he had to be a Christian secretly, rather than simply following the Islamic teachings, both in letter and spirit. Later Franciscans that traveled to the Middle East to convert Muslims did encounter violence and resistance,  the fact that they went with the intention of converting people because they felt their faith was superior created animosity.
Both book and movie are well worth your time. I would even say that they complement one another. If you want to see a proven viable option for interfaith dialogue, or you are just interested in learning more about that point in history, check out the book and/or movie today.
Founded in 2010, the Islamic Resource Center (IRC) is the first Islamic public lending library in Wisconsin. The IRC aims to provide resources to educators, students, health professionals, interfaith groups, and any members of the Milwaukee community that want an accurate understanding of the Islamic faith, its practices, and its people.