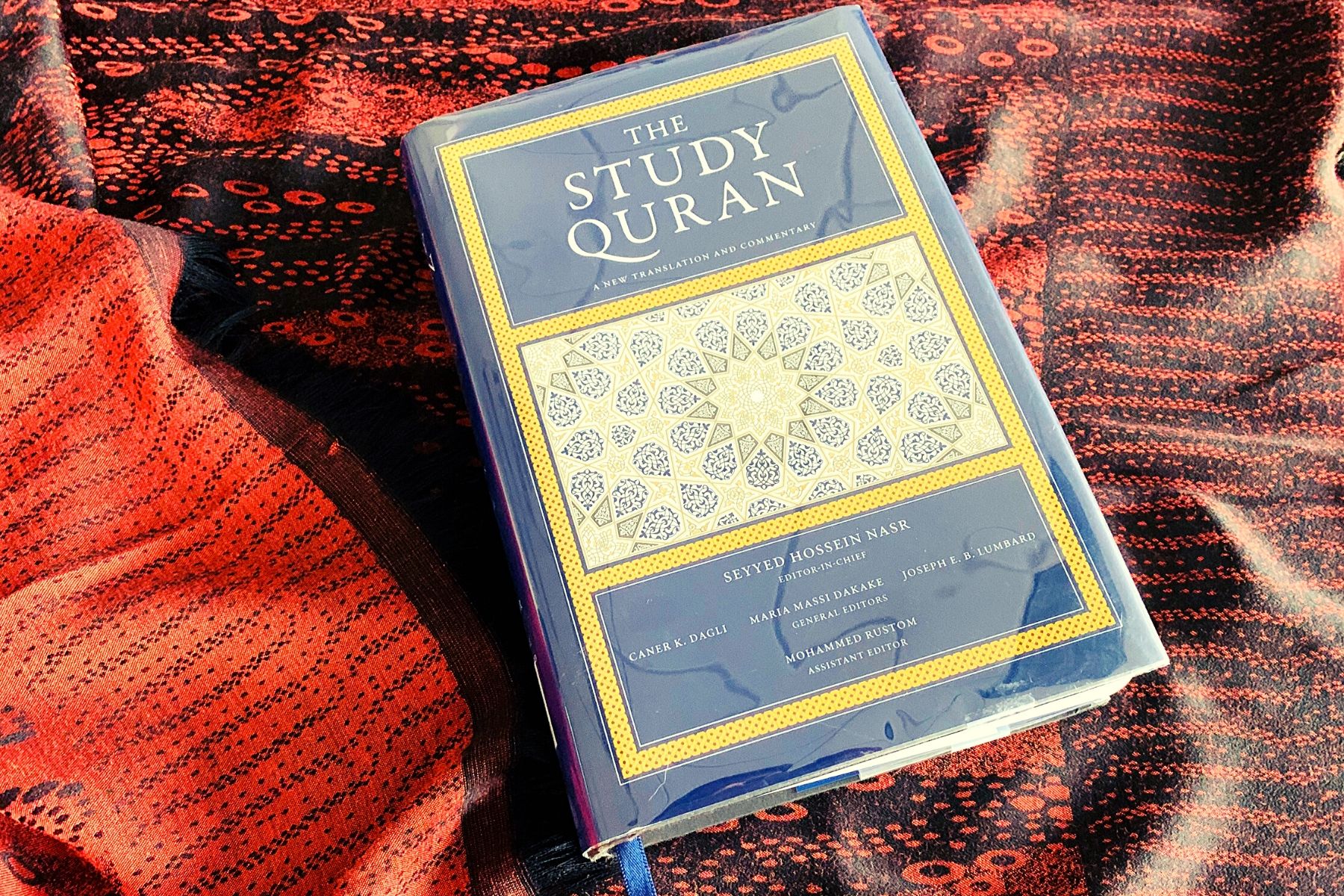 Elise Bellin, Librarian of the Islamic Resource Center, wrote this book review as part of an ongoing series that focuses on a range of books within the IRC collection as a service to the community.
The Study Quran: A New Translation And Commentary
The Study Quran: A New Translation And Commentary edited by Seyyed Hossein Nasr (2015)
ISBN: 9780061125867
We are less than one month away from Ramadan and this year is going to be a little different than most years, with the COVID-19 pandemic being front and center on so many people's minds and social distancing having become a "best practice." I have no doubt for those of you celebrating that Iftars and Eid and whatever else you have going in addition to your day-to-day lives is going to be strikingly different than in years past. Even many of your prayers at the Mosques will be turning into online streaming sessions.
While a lot might seem to be changing, much of what makes this month of fasting important any other year still remains. For those of you that practice Islam, Ramadan is still a time to read the Qur'an and try to be a better Muslim. It is a time to take actions that will better the community, a time to make the most of the situation and learn to understand those around you. Being in the midst of a pandemic doesn't change that. If anything, it makes the necessity even more so.
Making sure you commit to safe practices, giving canned goods to shelters, stay away from others when sick, checking up on elderly, practicing patience with those we might be spending a little too much time with right now… These are all practices that will help to better the community. It will help you to become a better Muslim (don't imams usually preach to practice a fast from anger around this time as well as from food). It will also help you to be a better human being on the other side of this global crisis, if you take some of the more important lessons with you.
As for reading the Qur'an and trying to better understand some of Allah's will, if you need a Quran with a better translation and/or commentaries, it's not too late to fix that. Not all of the good commentaries are expensive and dozens of volumes long.  When you have a good translation, it can really enhance your understanding.
One really good Qur'an that should be a go-to in Muslim households and in those that wish to understand Muslim core beliefs is The Study Quran. This came out about four and a half years ago and made a huge splash. The Study Quran is a fairly good translation of the meaning of the original text into English. While it is true that Muslims do not believe a translation of the Qur'an out of its original Arabic to be a true Qur'an, for those of you that do not read and/or understand Quranic Arabic having a good translation is an excellent starting point. The Study Quran goes on beyond that, though. It also contains commentary from pretty much all of the most highly respected sources from different sides of the aisle and pairs it all with the correct Qur'anic passages. The top third of each page contains the translated text and then below are two columns of detailed commentary with sources and references, exhaustively detailed. There is also a pretty good index and color maps in the back.
It is as advertised, a translation of the Qur'an intended for study to help those interested in learning about the core Islamic texts gain some enlightenment and maybe know not only what scholars are out there but also where one might be interested in expanding that search for knowledge next. This would be a boon for the library of anyone looking to learn.
Founded in 2010, the Islamic Resource Center (IRC) is the first Islamic public lending library in Wisconsin. The IRC aims to provide resources to educators, students, health professionals, interfaith groups, and any members of the Milwaukee community that want an accurate understanding of the Islamic faith, its practices, and its people.