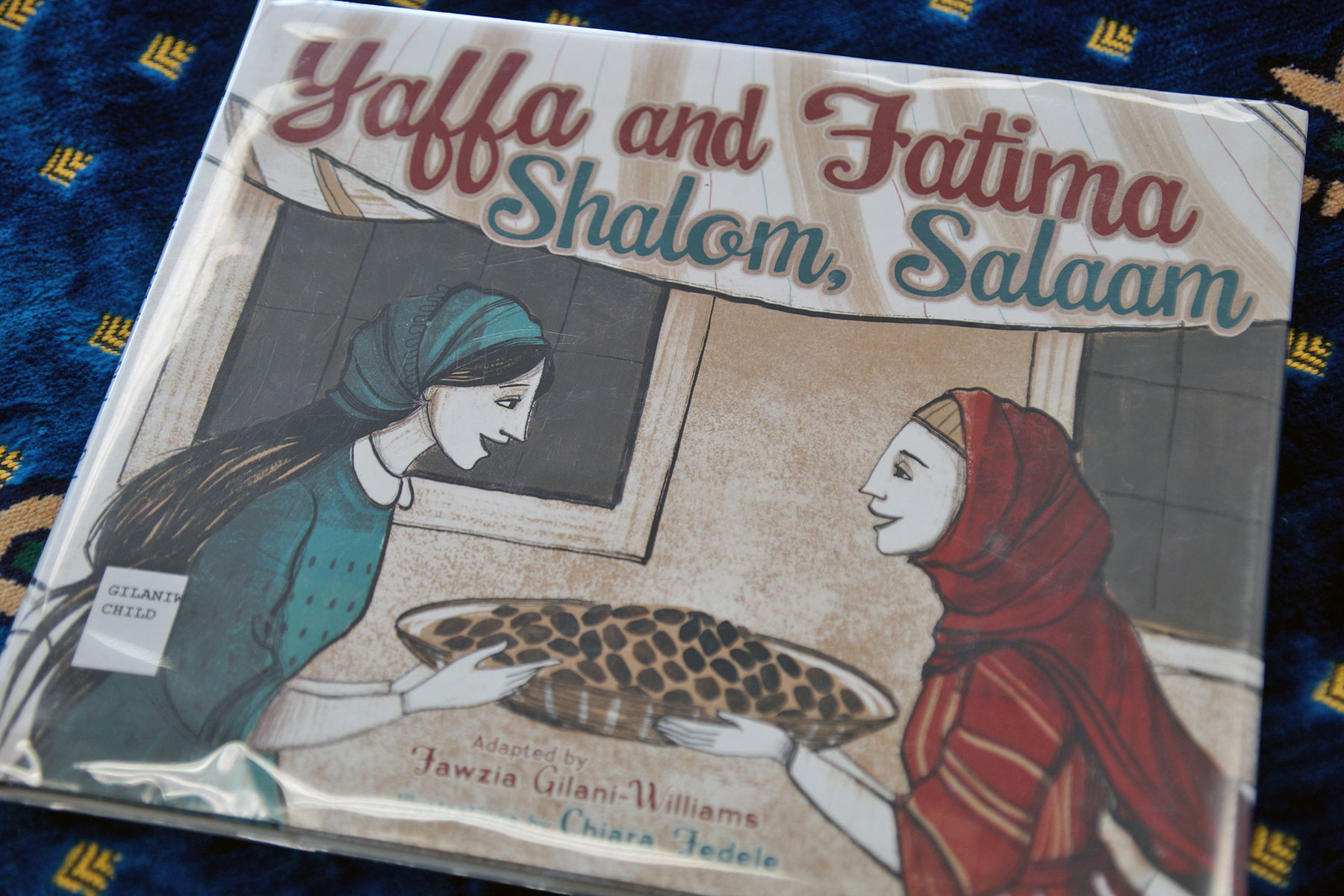 Elise Bellin, Librarian of the Islamic Resource Center, wrote this book review as part of an ongoing series that focuses on a range of books within the IRC collection as a service to the community.
Yaffa and Fatima: Shalom, Salaam
adapted by Fawzia Gilani-Williams, illustrated by Chiara Fedele
© 2017 ISBN: 9781467789387
It is a folktale whose origin resides in both cultures and, by now, Fawzia Gilani-Williams is an expert in the retelling and reimagining of folk and fairytales. Her stories transform the versions we know into something new and wonderful. Having already transformed the Westernized stories of Cinderella, Sleeping Beauty, and Snow White into Islamic adaptations, it seems a natural extension to transform a Middle Eastern tale of two brothers into a story of cultures/religions coming together.
Yaffa and Fatima tells the story of two women, one of Muslim the other of Jewish origin, living side-by-side. The two are friends, though separated by customs and religion, and they find kinship in the shared lives they lead. When hard times come, both realize that the other could possibly use a helping hand and decide that they must help out. In a twist that smacks of the Gift of the Magi, help comes to both in a surprisingly similar fashion.
This book is an excellent introduction to both religions and the similarities they share, to the necessity of thinking of others, sharing, trying to lead a good life, and compassion for others. The colors are muted, with only the deep teal of Yaffa's world and the rich burgundy of Fatima's world bridging the gap. The language is simple and straight forward and prefect for those aged 4-9, or any age that wishes to share that message of mutual respect, peace, and the power of friendship.
Founded in 2010, the Islamic Resource Center (IRC) is the first Islamic public lending library in Wisconsin. The IRC aims to provide resources to educators, students, health professionals, interfaith groups, and any members of the Milwaukee community that want an accurate understanding of the Islamic faith, its practices, and its people.