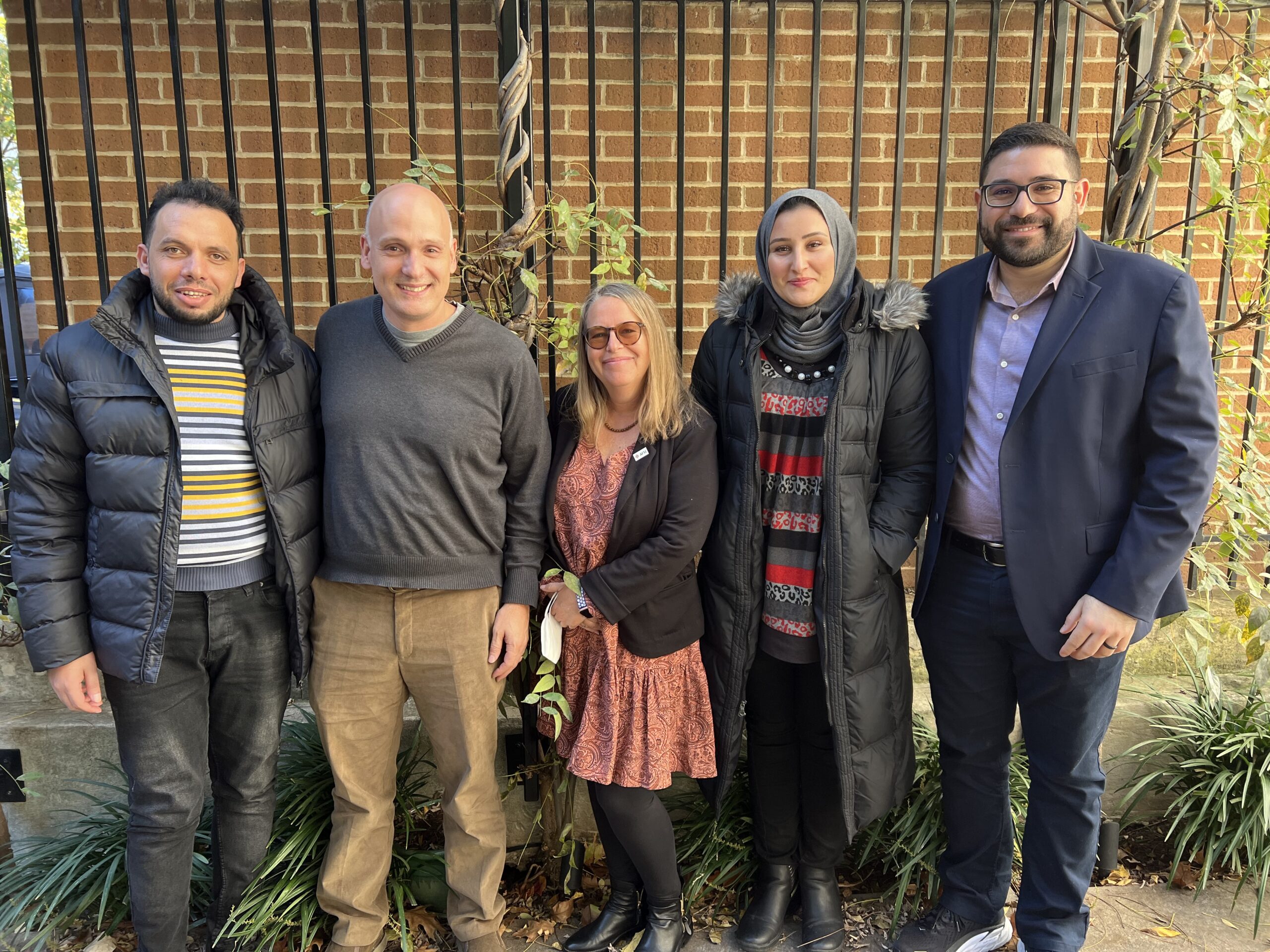 Collaborators on the anthology "Light in Gaza," (left-right) Yousef M. Aljamal (author), Michael Merryman-Lotze and Jennifer Bing (editors), Asmaa Abu Mezied (author) and Jehad Abusalim (editor), met in person for the first time this week in Washington, D.C.
"Gaza is often referred to as an 'open-air prison,' because it is so hard for messages, images or bodies to get out, or for resources to get in. Light in Gaza breaks through the prison walls and gives us a unique opportunity to hear and learn from those living under Israeli occupation," writes acclaimed historian, author, activist and University of Illinois Chicago Distinguished Professor Barbara Ransby, Ph.D., in her review of Light in Gaza: Writings Born of Fire. "Their voices are filled with pain, loss, frustration, anger, but most of all, hope."
Light in Gaza: Writings Born of Fire, published in August by Haymarket Books, brings together 16 essays and poems by 12 Palestinian writers, including political essays, personal narratives, economic analysis and poetry. Contributors imagine what the future of Gaza could be while reaffirming the critical role of Gaza in the struggle for Palestinian liberation.
American Friends Service Committee, a Quaker organization devoted to service, development and peace programs throughout the world, conceived the book project and managed it, from calling for and selecting submissions to editing and working with a publisher. It is part of AFSC's "Gaza Unlocked," a campaign to raise awareness of the two million Palestinians living under Israel's more than 15-year military blockade on Gaza and to work to end it. 
This week AFSC launched a seven-city U.S. book tour for Light in Gaza: Writings Born of Fire that will continue until the end of October, visiting Chicago, Philadelphia, New York, Boston, Atlanta, Milwaukee and Washington, D.C.
It features contributors Asmaa Abu Mezied and Yousef Aljamal, both Palestinians from Gaza. Abu Mezied came for the tour directly from Gaza, where she is a fellow at Al Shabaka, a Palestinian Think Tank. She is an economic development and gender expert, addressing issues of inclusion, development and climate change. She previously visited the U.S. as an Atlas Corps Fellow with President Barak Obama's Emerging Global Leaders Initiative.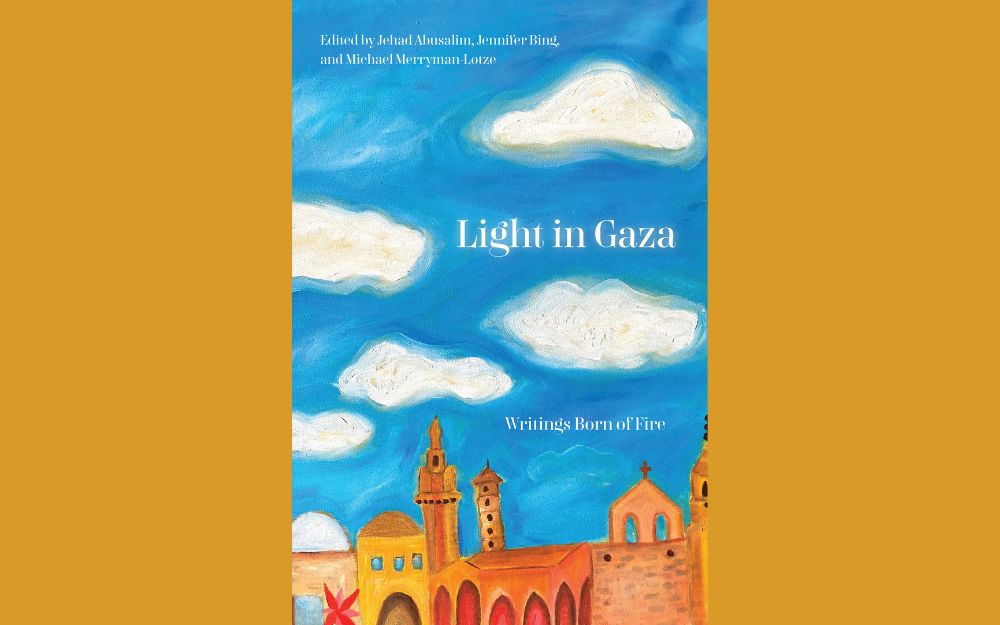 "Light in Gaza: Writings Born of Fire" features essays and poems by 12 Palestinian writers.
Aljamal came from Turkey where he is pursuing a doctorate degree at the Middle East Institute at Sakarya University. A journalist, translator and author, he has contributed to a number of works, academic and popular, that highlight the Palestinian narrative. Aljamal is a Palestinian refugee from Al-Nusierat refugee camp in the Gaza Strip.
The tour will visit Milwaukee Saturday, Oct. 29, at 1 p.m., at the Islamic Resource Center, 5233 S. 27th Street, Greenfield. It is free and open to the public.
The Milwaukee visit is co-sponsored by Milwaukee 4 Palestine, Milwaukee Muslim Women's Coalition, Jewish Voice for Peace, Party for Socialism and Liberation, University of Wisconsin-Milwaukee's Students for Justice in Palestine and Marquette University's Students for Justice in Palestine. 
Bringing voices from Gaza to U.S. discussions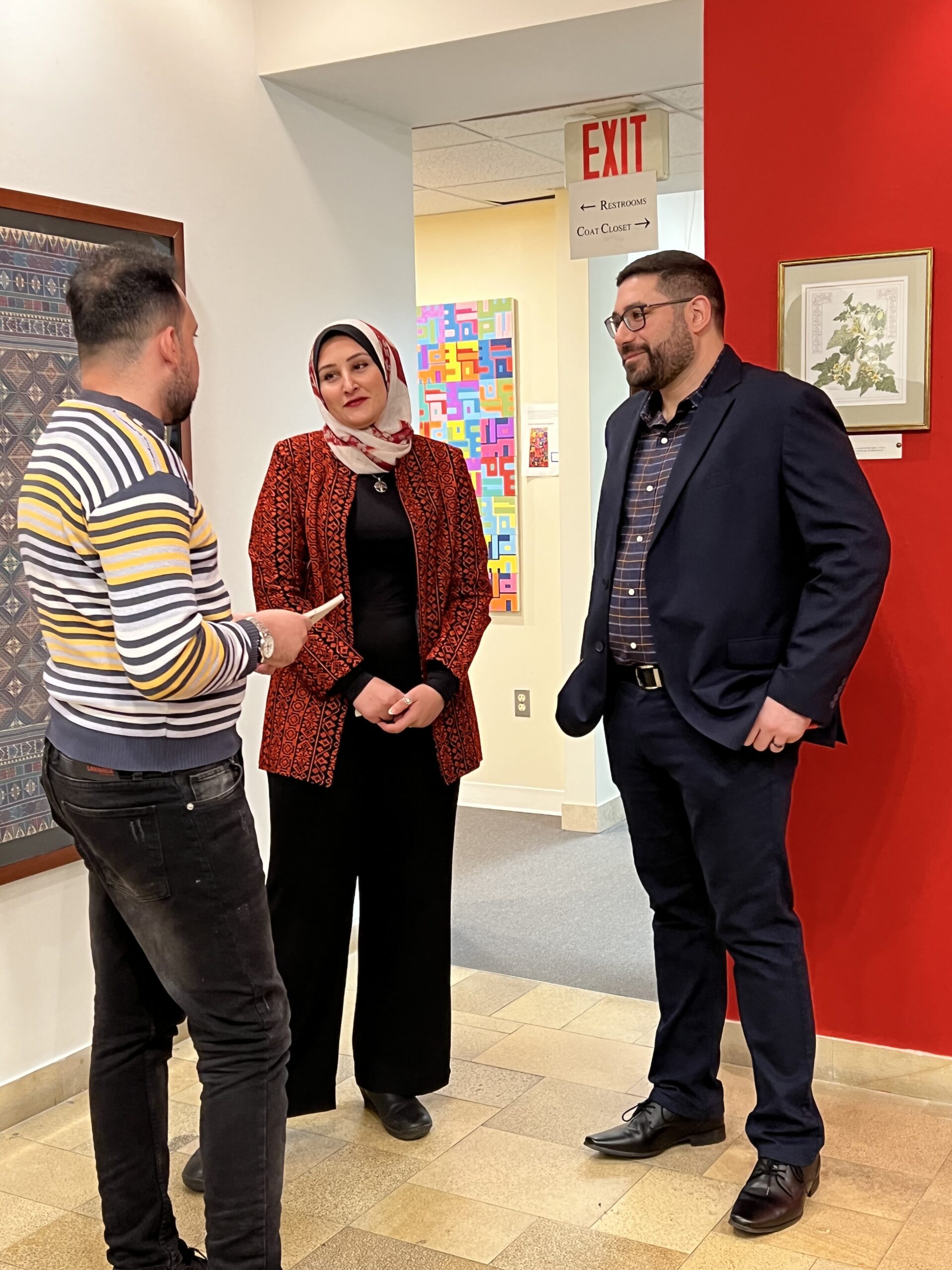 (Left to right:) Authors Yousef Aljamal and Asmaa Abou Mezied and editor Jehad Abusalim at the Palestine Center in Washington, D.C.
"Our Gaza Unlocked campaign came out of the horrible 51 days of Gaza being attacked in 2014," said Jennifer Bing, who has served AFSC in various capacities in its Israel-Palestine programs since 1989. She currently directs the AFSC Palestine Activism Program in Chicago and served as an editor for the "Light in Gaza" book project. (Other editors from the AFSC staff are Jehad Abusalim and Mike Merryman-Lotze.)
"It felt like Palestinian stories needed to be heard, especially from Gaza, which has been super isolated," Bing said. "For many Americans, the people being killed in Gaza were just nameless people without context or lives. There is no empathy, and with no empathy, there's no hope for anything to get better."
In 2019, before the pandemic, AFSC brought Gazan activist and independent journalist Ahmed Abu Artema to the U.S. for a national speaking tour about why he helped start the March to Return, a Palestinian march to the borders of present-day Israel that captured international attention. 
"That tour was so successful in the way it opened Americans' hearts and views about Gaza because they could actually meet someone from there," Bing said. "It also impacted him. He went back to Gaza with a whole new perspective on America, about solidarity with other struggles in America. We thought, 'Okay, we are onto something. We should do this again.' Then the pandemic changed our plans so we decided to put together this anthology."
Light in Gaza brings a variety of Palestinian voices, from academics and journalists to a young mother to someone who lives in exile. "In having such a diverse array of contributions, we want to show that Gaza is not a monolith," Bing said. "There are all different kinds of people who live there–men and women, young and old, and of all different backgrounds."
This is a different view than most Americans see in the news, she added. "Usually we see people in Gaza being killed or living without electricity. So they are either victims or superhumans. You miss the everyday family gatherings, the importance of nature. We hope this book inspires people to want to learn more."
Yet, even completing the anthology was fraught with challenges, she explained. In May 2021, when contributors faced deadlines to submit their work, they experienced almost three weeks of bombings from Israeli aggression," Bing said. "I had to write the publisher and say there was no way our authors were going to be done and I couldn't ask them as they were literally facing missiles falling on their heads or on the heads of their family members. Fortunately, the publisher gave us a few more months."
With the book published, the AFSC finalized plans for the tour. "Bringing Palestinian authors from Gaza to the U.S. is a huge ordeal," Bing said. "I spent months trying to get all the logistics in place and find somebody who was able to come." 
Meanwhile, the situation in Gaza is always tenuous, she said. As recently as early August, Israel launched three days of attacks on Gaza. At least 47 people—including 16 children—were killed and hundreds more wounded. 
Authors share personal experiences of Israeli occupation
After submitting her essay Lost Identity: The Tale of Peasantry and Nature, researcher Asmaa Abu Mezied asked editors if she could rewrite the ending. "There were so many times during 2021 where I felt that to die is much easier than continuing to live," she said in an interview with Wisconsin Muslim Journal Wednesday. "The Israeli policy toward Gaza is really death; it's just what type of death you experience. During aggression, it is usually strong strikes, a very fast death. In other times, it's a slow death, a death you experience on a daily basis that takes away some of your soul, your dreams and hopes.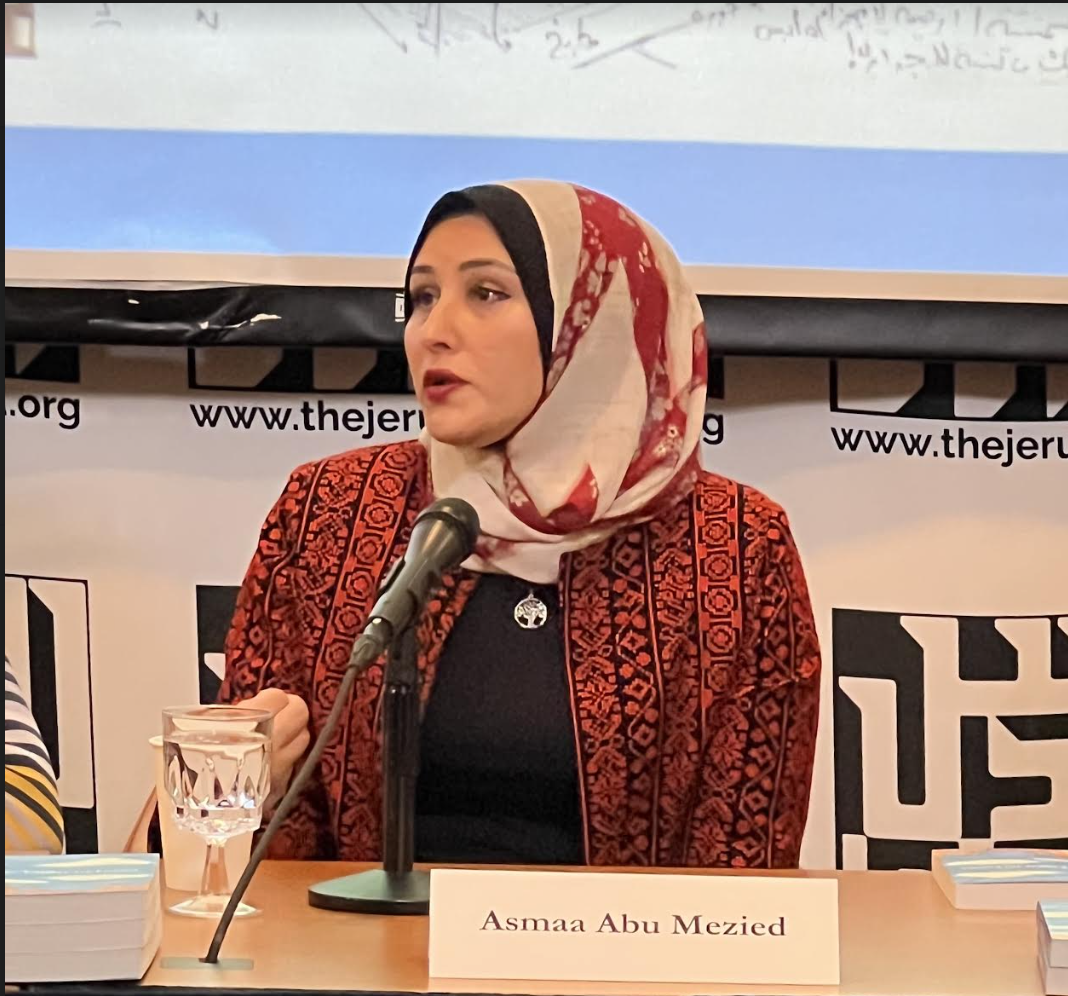 Author Asmaa Abu Mezied is an economic development and social inclusion specialist from Gaza.
"Yet, this whole book is about envisioning Gaza, to imagine what a different future for Gaza would look like. The whole exercise required us to have hope, not in a romanticized way but rather a hope that builds on addressing structural issues and challenges that face Palestinians in Gaza, historically through the present.
"I had ended the chapter with a hopeful message and a hopeful imaging. Then the 2021 aggression happened and, to be honest, I did not feel hopeful at all. I didn't feel the ending would have been true to what we went through in 2021.
"Yet, I'm thankful that the experience of this book taught me so much about Gaza and has helped me figure out, even on a personal level, what kind of life journey I want. It made me realize there are so many basic things we rarely pay attention to. So now, when I sit in the house, I become very conscious of the sound of the birds. When I walk, I look at the trees and understand the story of these trees. This was not something I would experience before."
As a graduate student in Turkey, Yousef M. Aljamal noted, "Although I flew in from Istanbul, I have family in Gaza. I grew up in Gaza. And, as we say, you can leave Gaza, but Gaza doesn't leave you.
"Gaza is always with us in many different ways," he said.  "Writing about travel restrictions and narrating family stories has been a journey of reliving trauma in many different ways. It's the story of my sister and brother and family struggling in Gaza; of my mother applying for an Israeli permit for 12 years to see her own family, and losing her parents, only to be denied a permit to participate in the funeral procession; it's the story about how my 26-year-old sister lost her life because Israel denied her a permit to have minor surgery in Jerusalem. It's an endless process, this ongoing Nakba, the Palestinian catastrophe. We relive it every day.
The United Nations is very good at presenting statistics on Palestine and Gaza. I want to bring readers, in the U.S. in particular, to what it means to be under siege in Gaza, to see the impact travel restrictions have on families. I hope by sharing our experiences, they will understand and hopefully take action."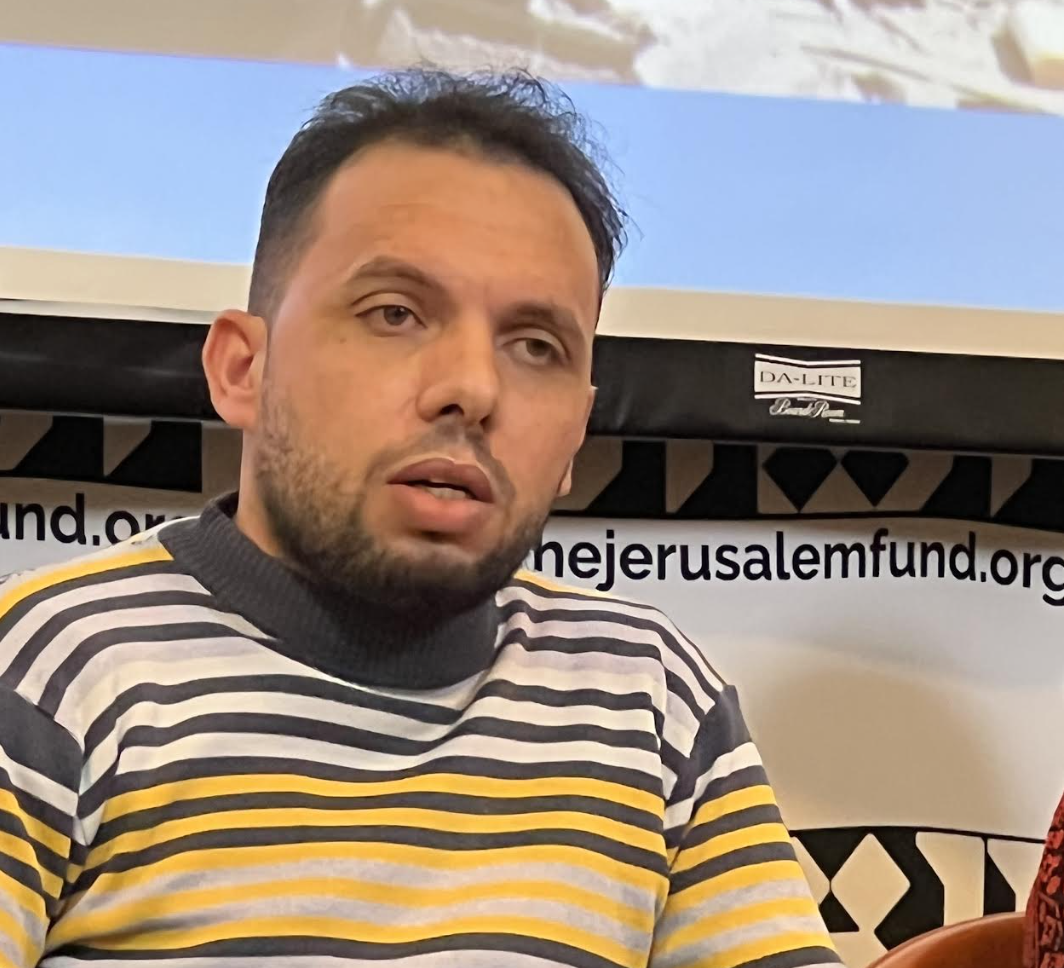 Author Yousef M. Aljamal is a widely published journalist and translator, and doctoral candidate at Sakarya University in Turkey.
Jehad Abusalim, an AFSC staff member since 2018, served as an editor on the anthology and wrote the introduction.  "My first day of work at AFSC coincided with the March of Return in Gaza, a movement of mass popular mobilization that continued for more than two years at the separation fence that surrounds Gaza. It demanded an end to the blockade that has been imposed on Gaza since 2007. I was lucky to be able to work on the Gaza Unlocked campaign to raise awareness in the U.S. regarding the plight of Palestinians in the Gaza Strip. The Great March was an important moment in my work."
And so much has happened since, he noted. "Palestinians feel their cause is being assaulted left and right. When Trump was in power, he attacked the refugee issue, the Jerusalem issue. He moved the embassy. He was talking about cutting funds to UNRWA. At the core of the struggle is the right of return. People want to go home. They want a just resolution.
"With Light in Gaza, we wanted to engage in this intellectual exercise, to ask how we can end the Nakba. We want people to think of it as something that can come to an end. That is a precondition of our liberation."
Although WMJ interviewed the authors and editors at the beginning of their U.S. tour, they sounded hopeful about Americans' response. "There has been a shift in the discussion in the past few years," Aljamal said. "If we look at the situation 10 years ago, there is a serious change taking place at the grassroots level. Speaking about Palestine on Capitol Hill 15 years ago was out of the question. Today you find delegations and campaigns, people speaking to representatives about Palestine."
"Yes, there is a shift," Abusalim agreed. "We see Palestine everywhere. Yesterday, we were walking in the streets of D.C. and we saw a couple of posters on Palestine and Gaza. It's part of the discussion on campuses, in churches and different institutions, in communities. Palestine is transitioning to mainstream discussions and politics."