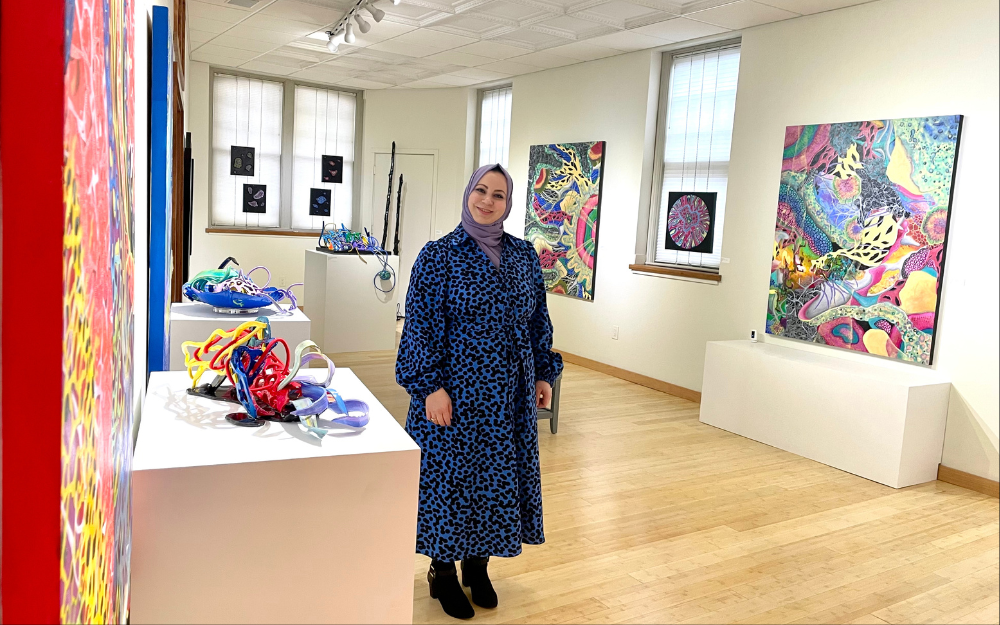 Photos courtesy of Nadia Alkhun
Nadia is a genetic engineer, biotechnologist and professional artist. Her gallery provides a lovely space to give back to the community and socialize while enjoying beautiful artwork.
Nadia Alkhun describes herself as a "Muslim woman artist." She is also a biologist and – as of March 2023 – a gallery owner. Alkhun gallery, NAdiaNA Art Gallery, is located in Downtown Milwaukee, inside a 120-year-old building that was once a coach house. The 2000-square-foot space is light and airy, with 12-foot ceilings and clearly filled with history.
"The gallery is where the horses used to spend their warm nights," Alkhun says.
Soon, the gallery will host a new exhibit called "Islamic Inspired" with free opening receptions on Saturday, Sept. 2 and Sunday, Sept. 3 from 4 to 7 p.m. Light appetizers and non-alcoholic beverages will be provided. Some of the artwork will be available for purchase and 10 percent of the gallery's portion of sales will be donated to the Islamic Society of Milwaukee (ISM).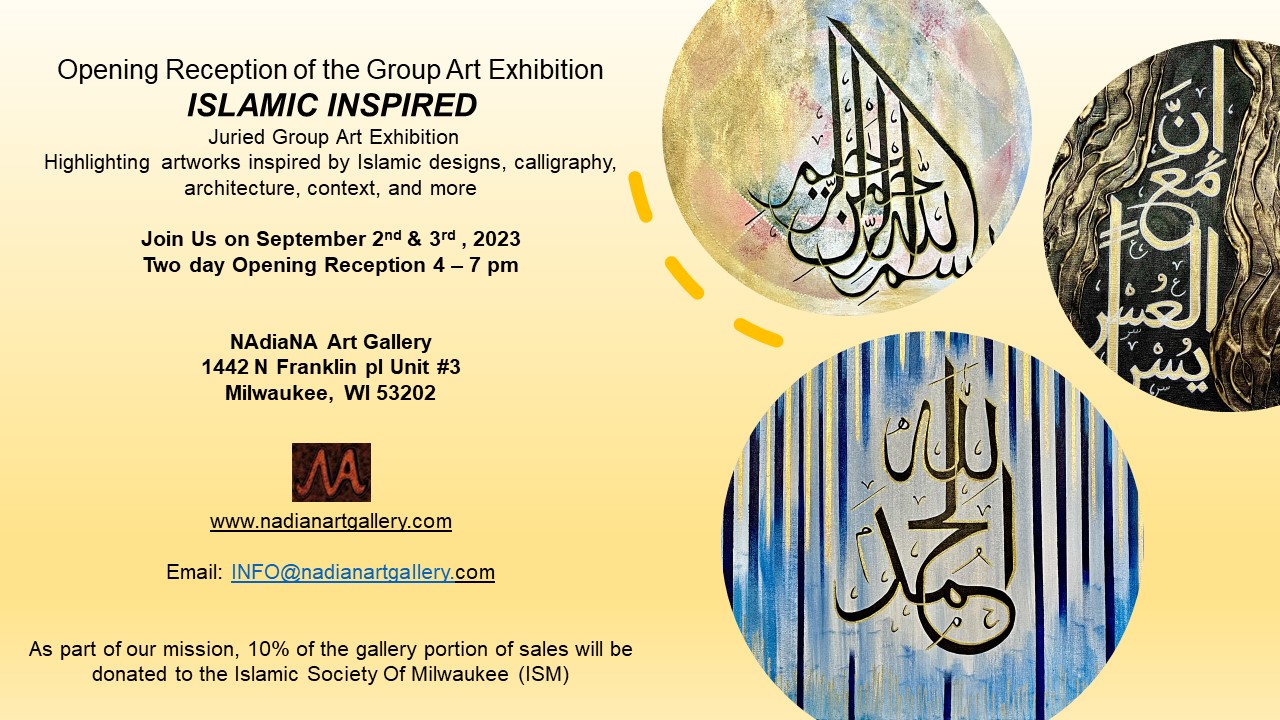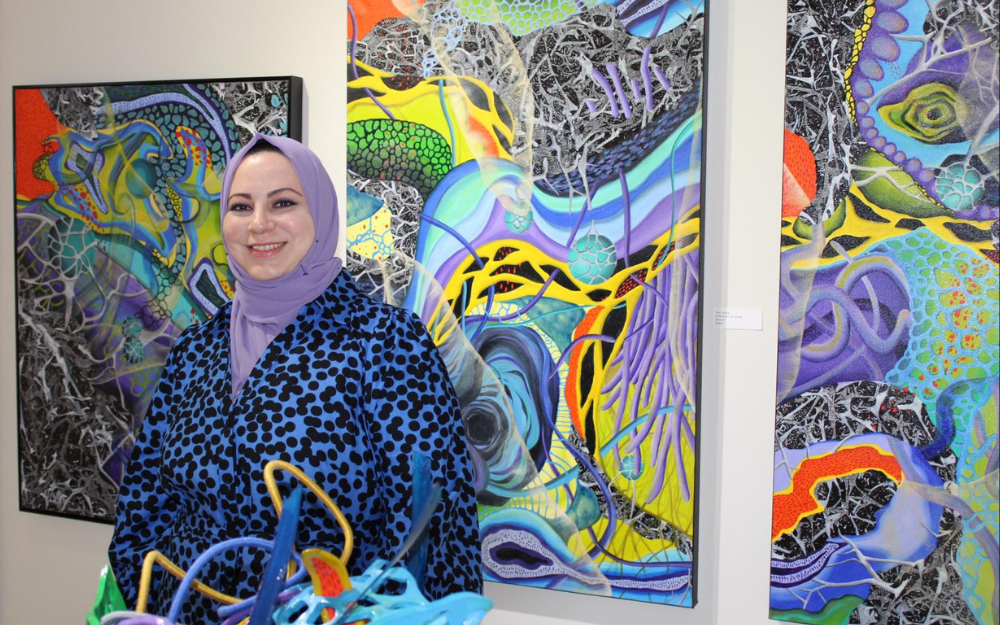 Milwaukee-based interdisciplinary artist Nadia Alkhun communicates her vision of the real world as a biologist. The forms of imagined abstraction reflect human diversity, complexity and connectivity. 
The show highlights the art pieces created by seven visual artists, including paintings, mixed media, drawings, photography, textile, jewelry and decorative functional objects. "Islamic Inspired" features the work of Muslim and non-Muslim artists, but all are inspired by Islamic designs, calligraphy, architecture and context. 
"The artwork intertwines cultural and religious values with a contemporary touch," says Alkhun. "It embraces diversity, inclusion, curiosity, intellect and love."
The show is particularly important to Alkhun for numerous reasons.
"It connects my identity as a Muslim woman and my identity as a professional artist," she says. "Also, it brings together people from different backgrounds in one space to connect through a universal language: art."
For Alkhun, Islam has enriched her art as much as it has her life. And she uses her faith to connect with others, rather than separate from them.
"Islam inspired me to be a strong, independent woman. I love that I can be myself as a Muslim woman and run my art gallery and display my artwork and the artwork of people regardless of their backgrounds or identity," she says. "I operate in a welcoming place. I connect with the community while proud to be a Muslim woman. I am empowered by my religion rather than worried about stereotypes. I carry a beautiful message about Islam, a religion of creativity, strength, inclusion, open dialogue and mercy."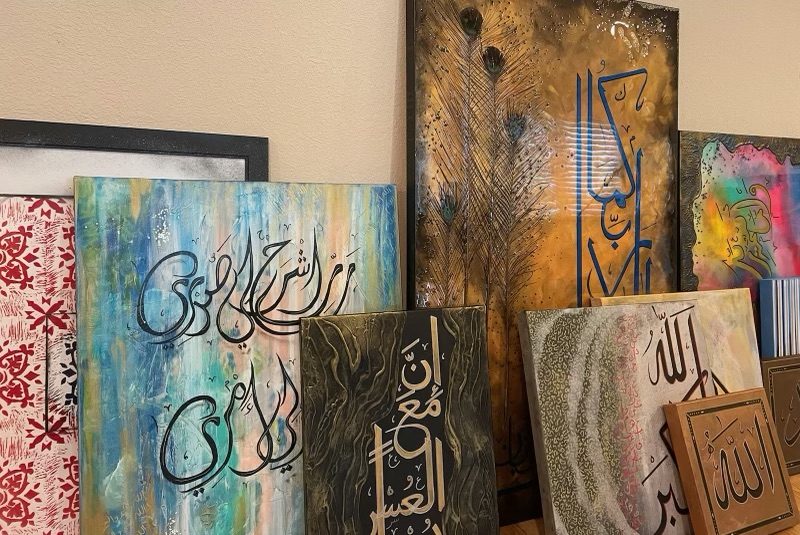 Preview of art for the Islamic Inspired gallery show at NAdiaNA Art Gallery on Sept 3 and 4.
Alkhun, who grew up in Jordan, started creating art as a child and, until recently, was a self-taught artist.
"As a child, I used to create art and my schoolteachers frequently selected my artwork to display in the school," says Alkhun.
In 1998, she won a Silver Medal in the 12-to-13-years-old category for painting at Shankar's International Children's Competition in New Delhi, India. She continued to explore different media and art genres as a teenager, but decided to study biology instead of art in college.
"While art was my passion, I had an equal interest in science," says Alkhun, who is also the mother of two boys.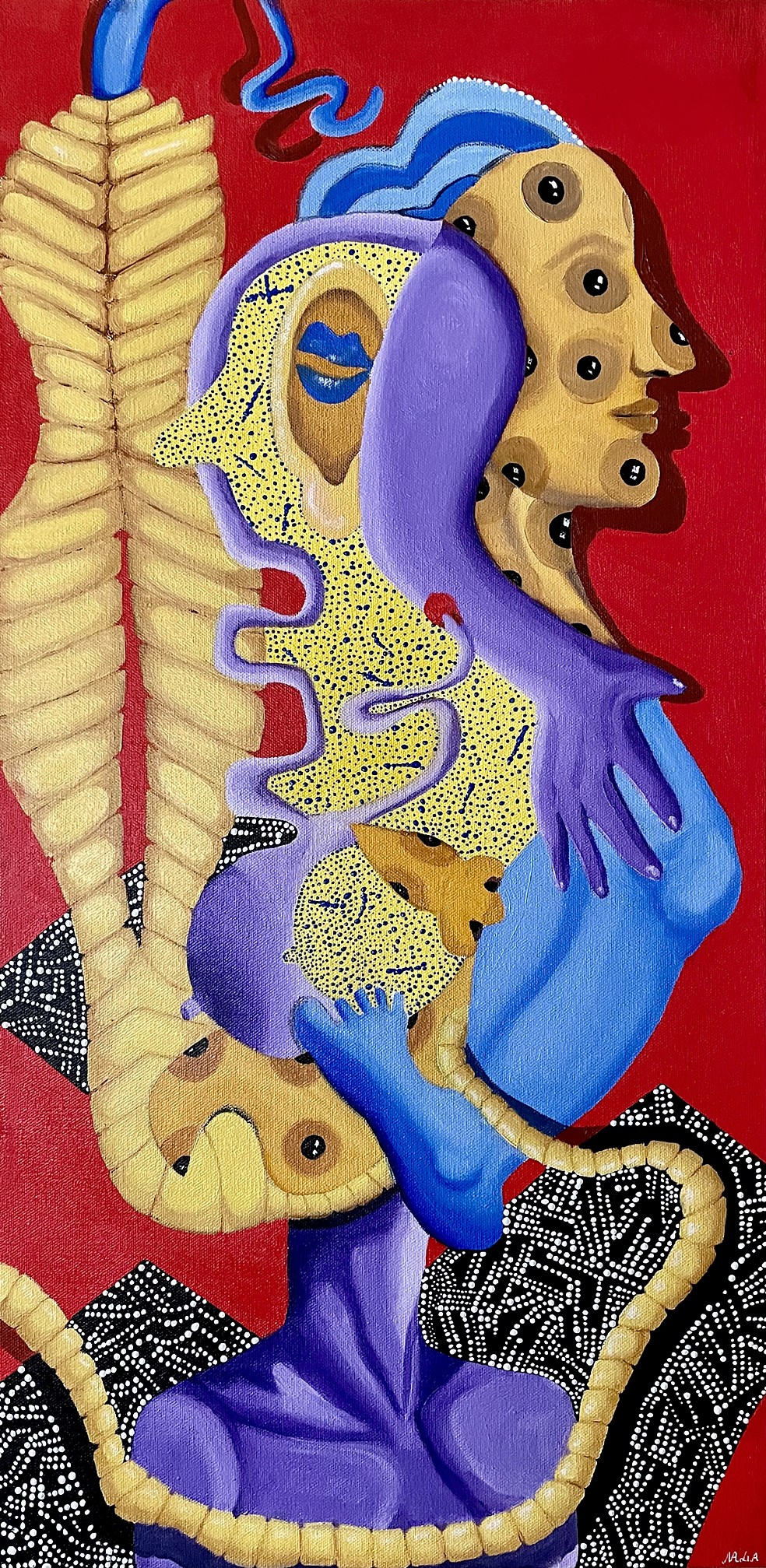 Unbearable , oil on canvas, 15"x30"x 1.5" by Nadia Alkhun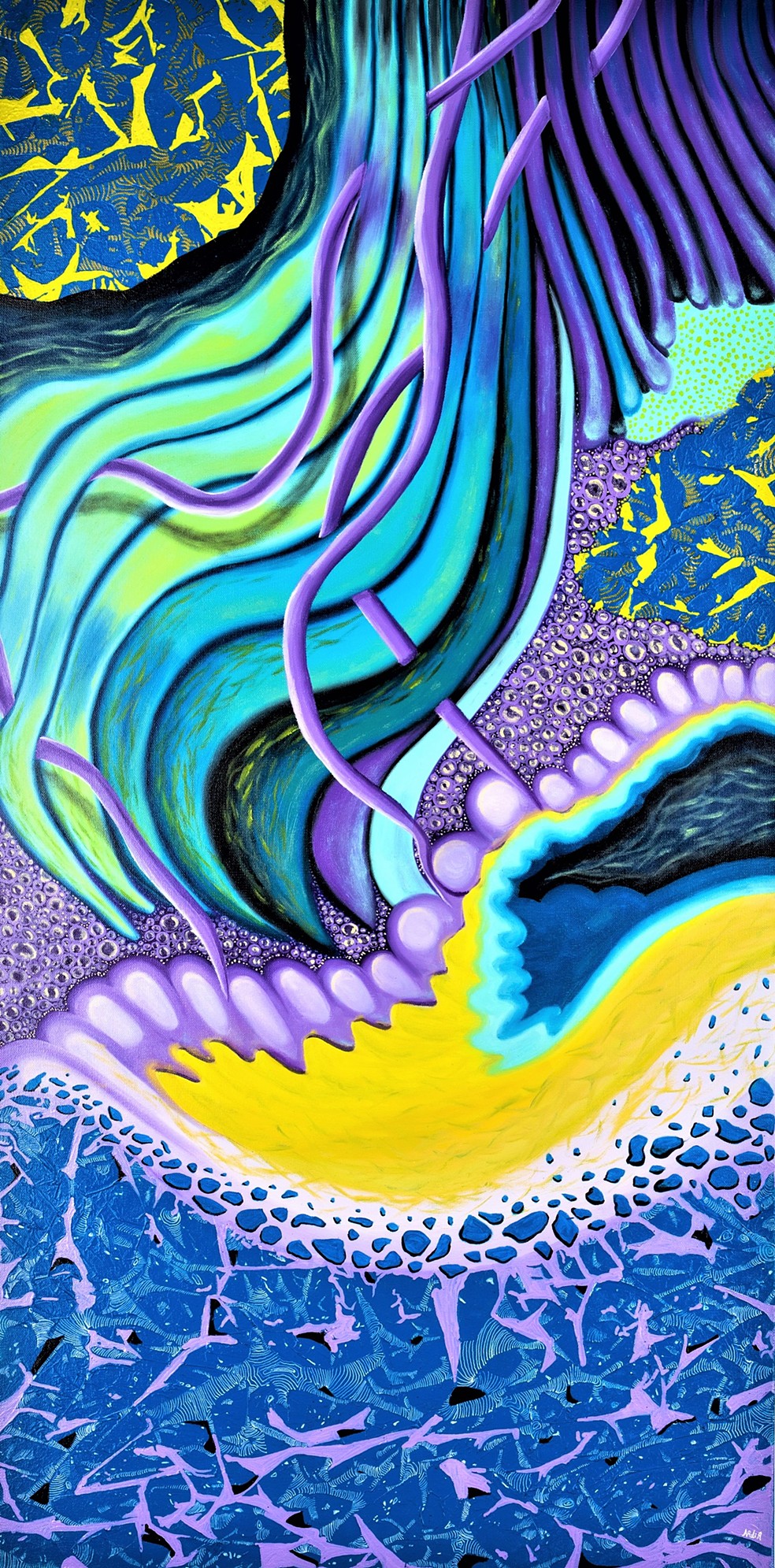 The Scenery, oil & acrylic on canvas, 48″x 24″x 1.5″ 2021 by Nadia Alkhun
In 2007, Alkhun earned a Bachelor of Science degree in Biotechnology and Genetic Engineering from Jordan University of Science and Technology. She returned to school more than a decade later and in 2022 received a Bachelor of Fine Arts degree from the Peck School of the Arts at the University of Wisconsin – Milwaukee. 
Today, Alkhun melds her two areas of deep interest, art and biology, into all of her artwork. 
"I create abstract paintings inspired by the unseen world of biology. I aim to capture the hidden chaos in delicate details to communicate my vision of the real world through biology," says Alkhun. "My paintings take the form of imagined abstraction of new biospheres that reflect our lives' diversity, complexity and connectivity."
Alkhun's art combines dots, lines, shapes and vibrant colors under the umbrella theme of harmony. 
"My paintings allow the spectator to delve into the microscopic world of juxtapositions represented by flat and illusionistic elements. The visual stimulation then triggers the viewer's curiosity and imagination," she says. "Some of my paintings are coupled with three-dimensional representations to bring the sensory experience of the two-dimensional artwork to life."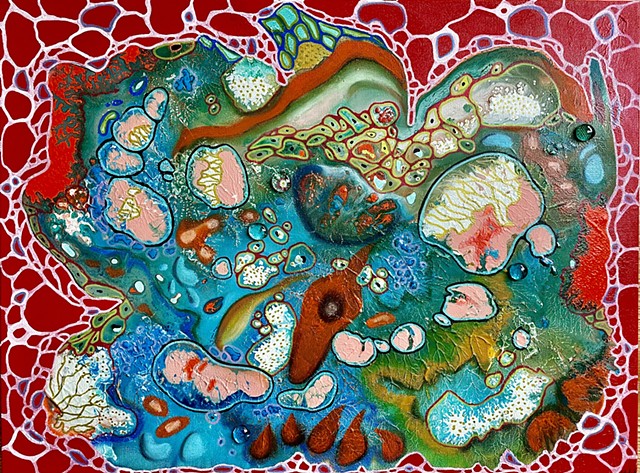 Microcosm in a Drop 1, mixed media on canvas, 18"x 24"x 1.5" by Nadia Alkhun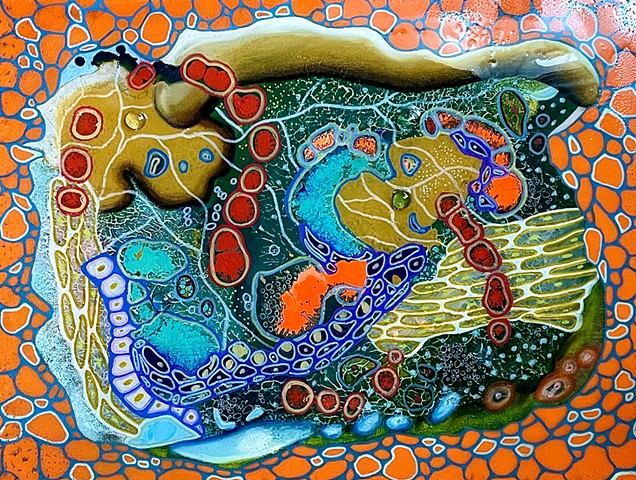 Microcosm in a Drop 2, mixed media on canvas, 18"x 24"x 1.5" by Nadia Alkhun
Microcosm in a Drop 3, mixed media on canvas, 18"x 24"x 1.5" by Nadia Alkhun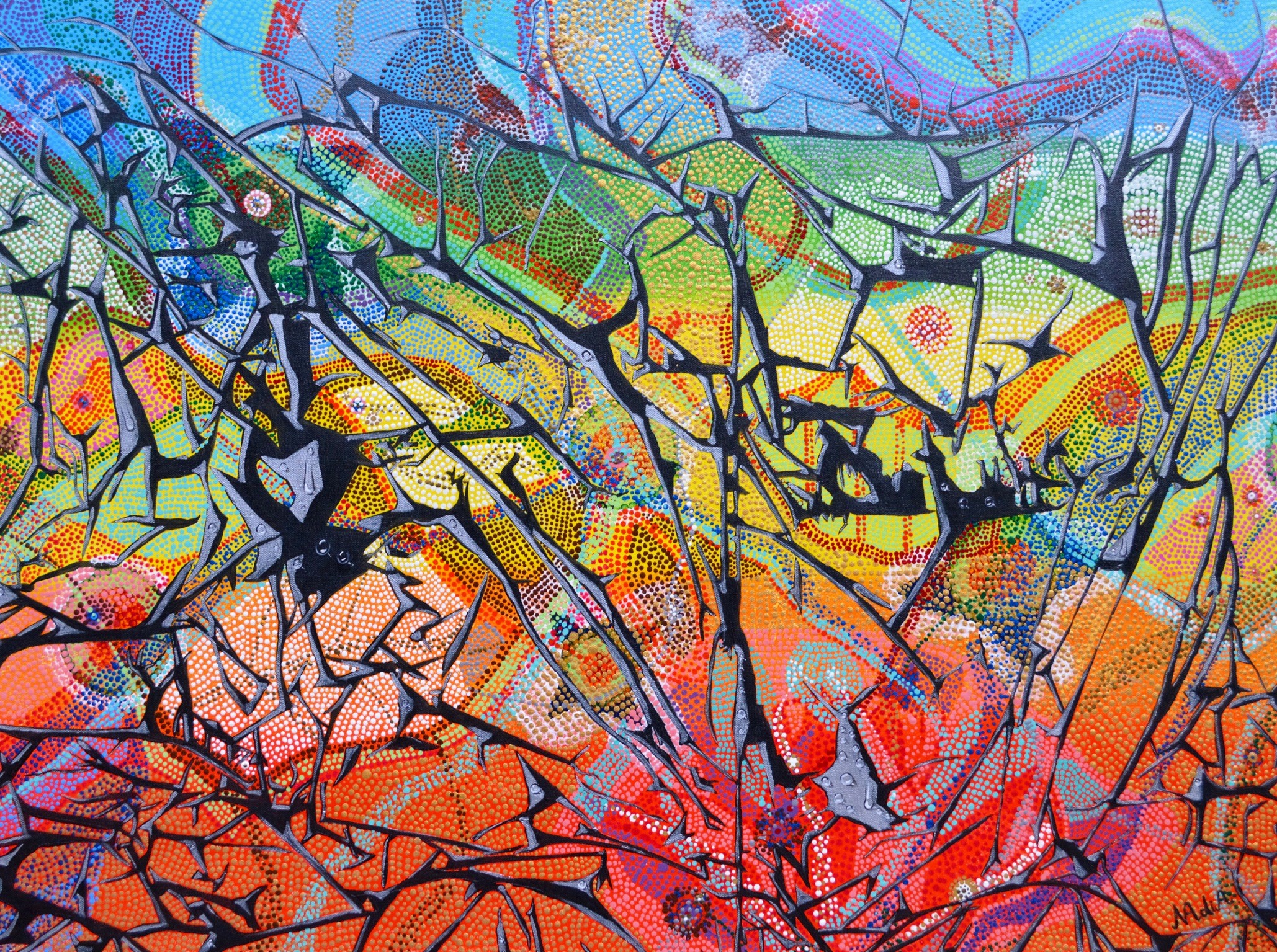 Hallucinations, acrylic on canvas 30"x40"x0.5" by Nadia Alkhun
A unique aspect of NAdiaNA Art Gallery's mission is to highlight the creativity of artists battling chronic illness. This furthers Alkhun's interest in combining medicine and the arts. 
Accessibility for all is also important to Alkhun. To avoid financial barriers for some artists, she never charges a submission fee. The next exhibit theme at NAdiaNA is "Ultimate Abstract." It is open to all artists and the free submission form can be found here: Ten percent of the gallery portion of "Ultimate Abstract" sales will be donated to the Milwaukee Muslim Women Coalition (MMWC).
"With every show, we aim to bring together a community of established, emerging and amateur visual artists to facilitate a continued dialogue of creativity and to strengthen community bonds," says Alkhun.
For more information about Nadia Alkuhn's art or her gallery, go here: https://nadianartgallery.com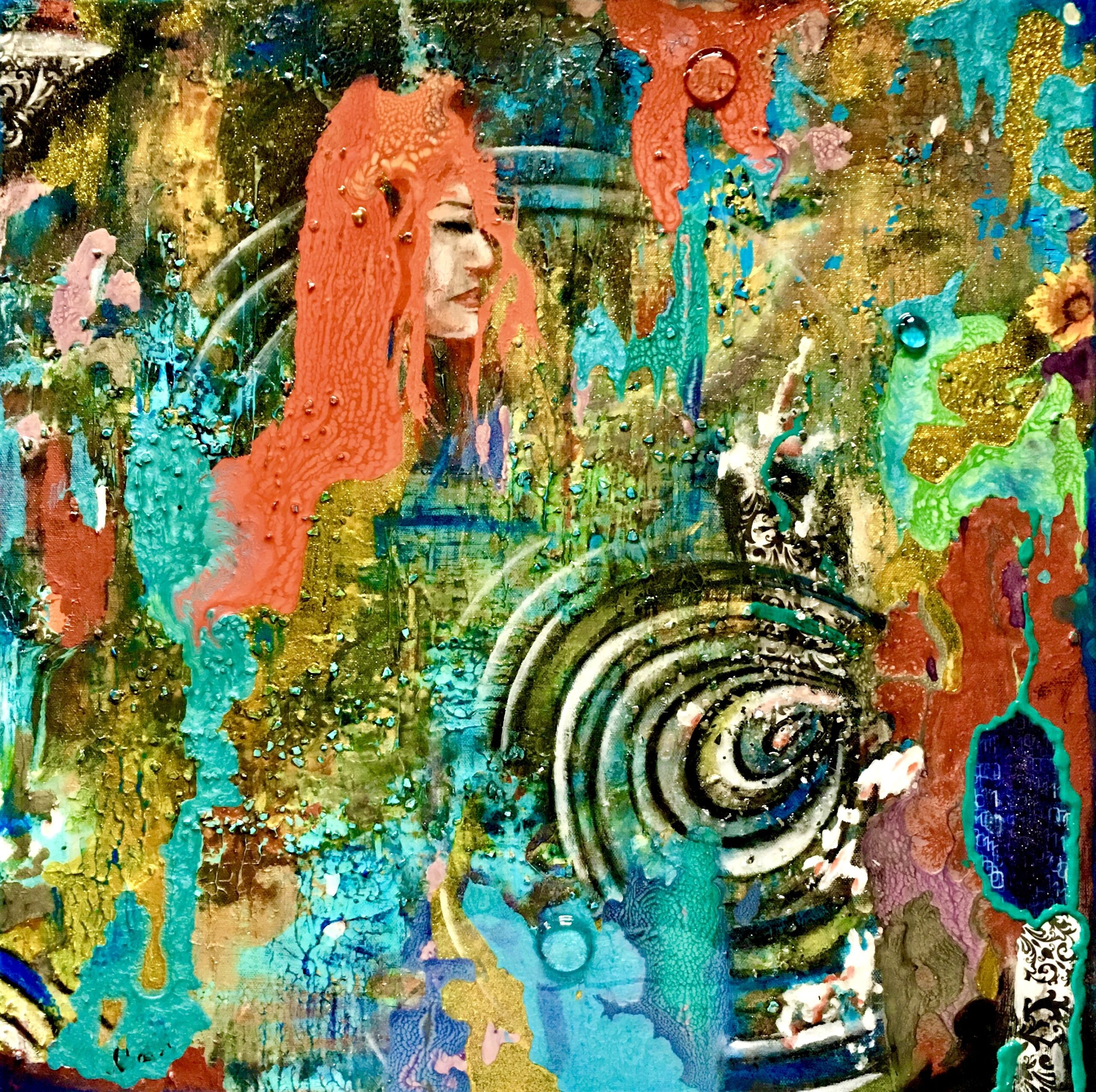 The Unseen but Felt, mixed media on canvas, 24"x24"x1.5" by Nadia Alkhun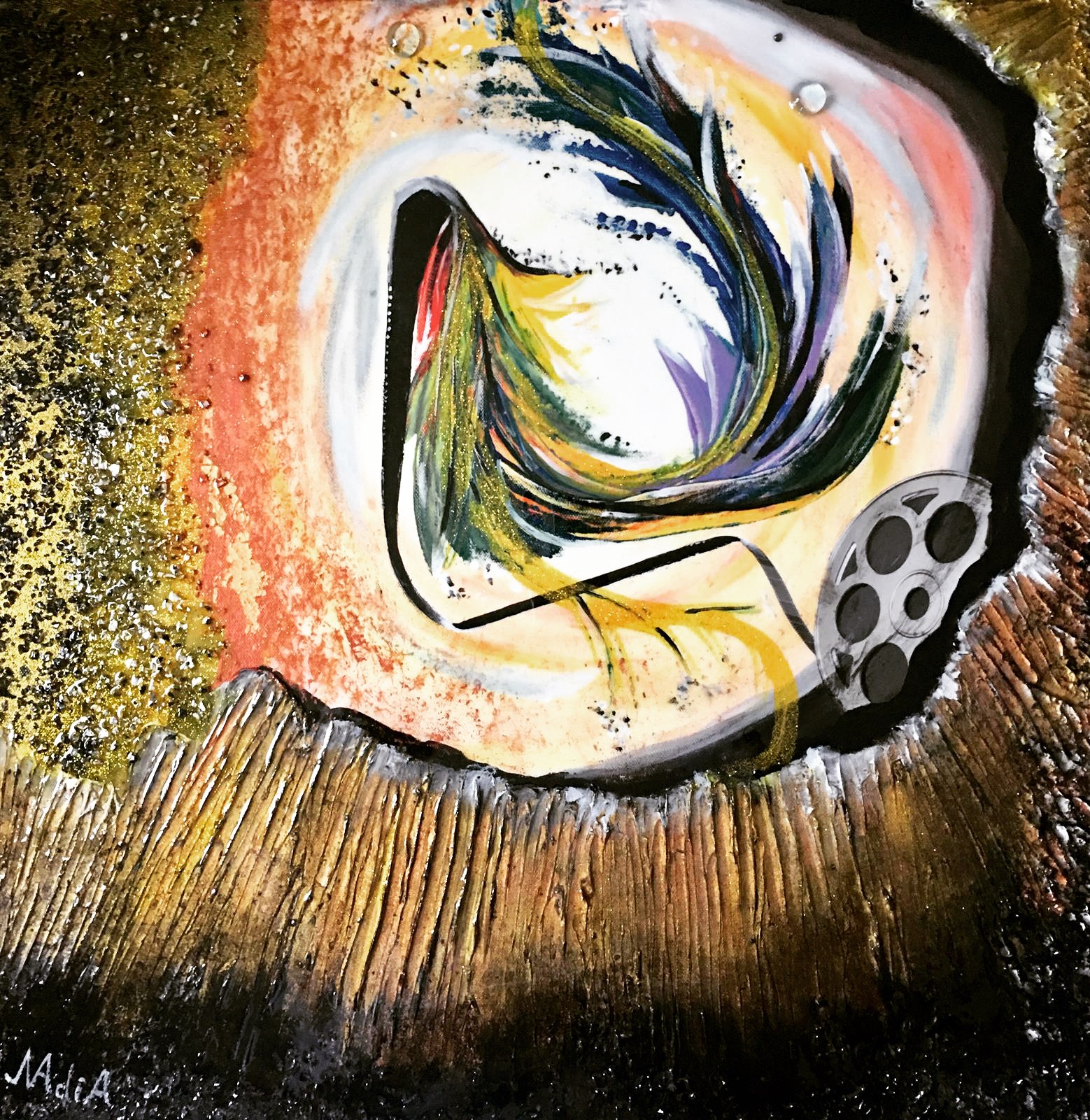 The Other Episode of my Mind, mixed media on canvas, 24"x24"x1.5" by Nadia Alkhun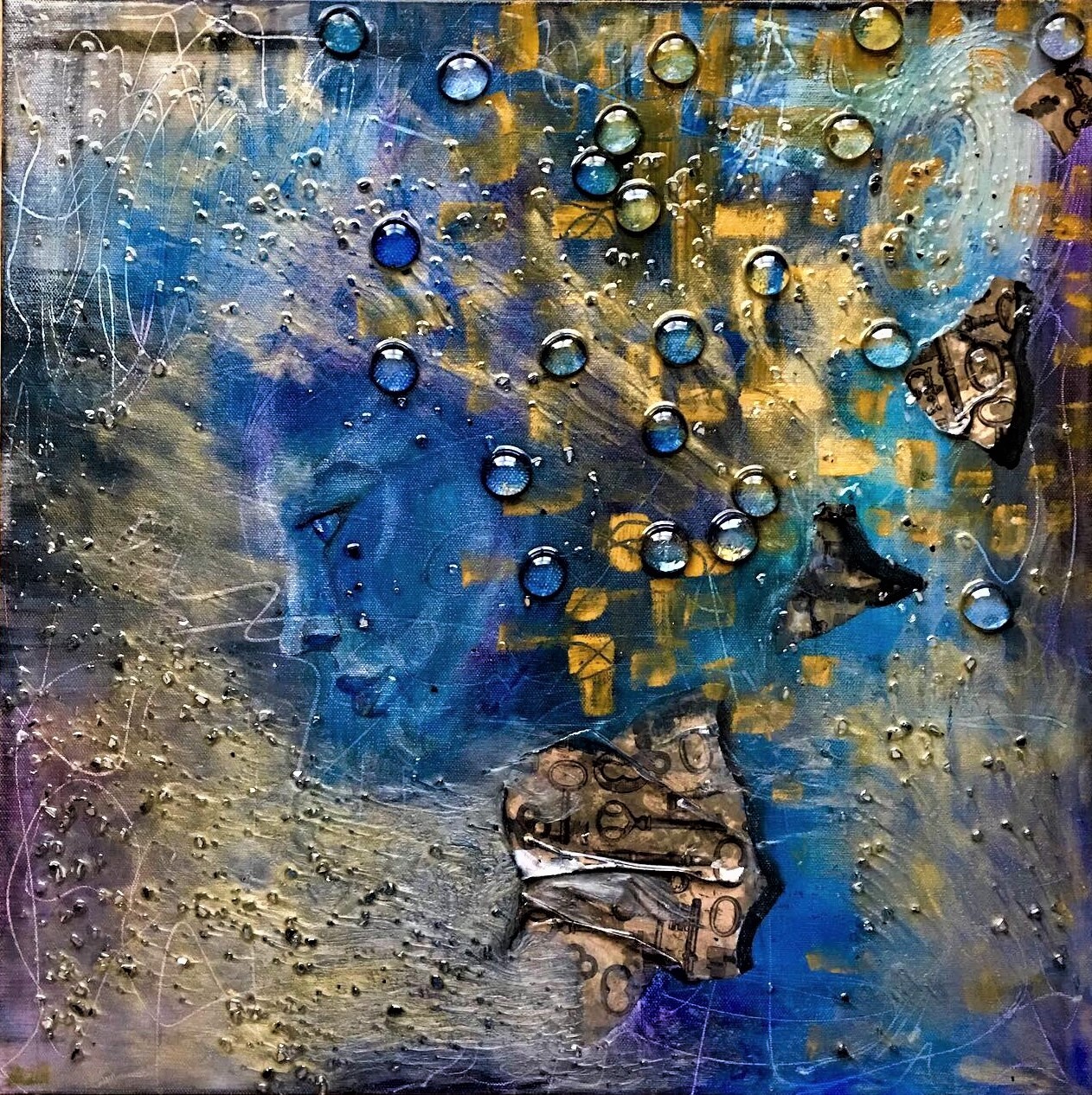 LOST, mixed media on canvas, 18"x18"x1.5" by Nadia Alkhun