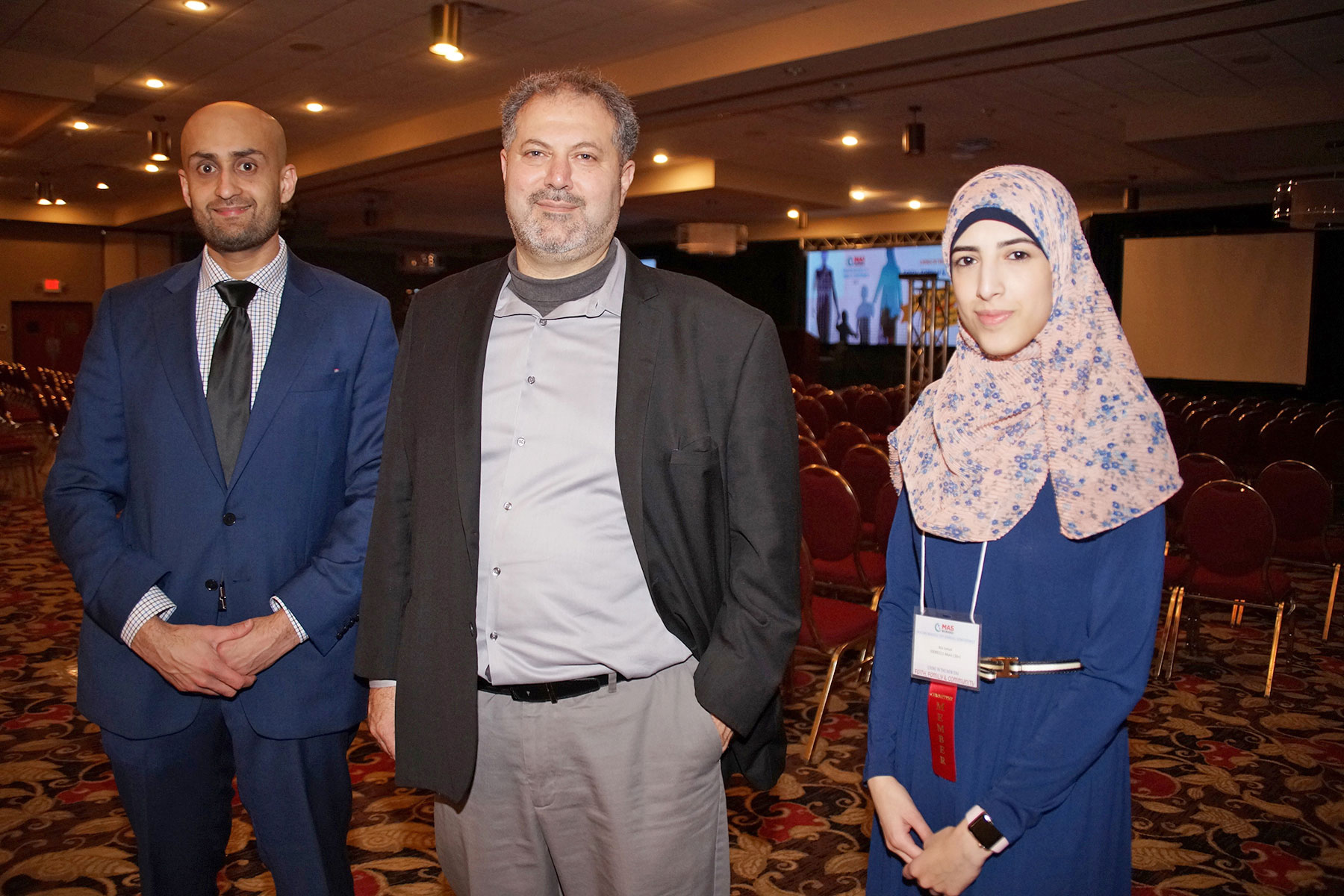 The Muslim American Society (MAS) Milwaukee held its 12th Annual Conference on March 30 and 31 at the Crowne Plaza Milwaukee Airport. The Wisconsin Muslim Journal attended the two-day program, recording keynote speakers and photo documenting the event which also served as a community platform. This feature is part of an editorial series put together to highlight the many important topics that were discussed by national leaders over the weekend.
Established in 1993 as a nonprofit 501(C)(3) organization, the Muslim American Society (MAS) is a religious, social, cultural, and educational organization.
The Milwaukee chapter, along with affiliate chapters across the United States, is a local footprint that offers Wisconsin residents programs and services that seek to better educate about Islam. Additionally, the grassroots organization promotes community service and supports political activism.
With a commitment to Muslims, MAS is interwoven into the fabric of the Milwaukee community. The deep relationship allows it to communicate and interact on an intimate level. However, the group's message is not always communicated distinctly outside to the non-Muslim community. Like many nonprofits, MAS uses its limited resources to do the needed work, more than talking about what it does.
The Wisconsin Muslim Journal conducted a written interview with members of the MAS leadership after its Annual Conference, to share insight into the event and the organization's charitable work.
WMJ: What is the most complicated, and the most fun, part of organizing the MAS Milwaukee annual convention?
MAS Milwaukee: The most complicated part of the convention is developing a program that is effective and stimulating. This involves months of research, discussing the community needs with its leaders, and carefully selecting guest speakers to accomplish this mission. The most fun or rewarding part is seeing it all come together. Having hundreds of families attend and benefit from this convention is always exciting.
WMJ: How were Dalia Mogahed and Linda Sarsour picked to be guest speakers, and what was the hope the audience would take away from their message?
MAS Milwaukee: They were picked for their expertise and passion for social justice topics. They were well received by the audience and a message of activism and justice prevailed. Their message was unforgettable. For example, the Friday night session with Linda Sarsour. "Unapologetically Muslim," it was important for Muslims to learn how to respond to media and to Islamophobic stereotypes when they mark Islam and Muslims as a terrorist religion. A part of her message was a new way of defending Islam without being the victim. Dalia Mojahed's message was full of hope. She explained how the Umma (the community) should face their obstacles with hope and wisdom.
WMJ: There was an incident of hate speech directed at convention guests over the weekend, how common is a public incident during the convention and what do organizers do to minimize the problem or defuse it?
MAS Milwaukee: This is the 12th annual MAS Milwaukee conference, and so far we have never witnessed any serious issues regarding hate or discrimination. Our theme and message is always focused on being a positive citizen and the best Muslim one can be. It is crucial to integrate in the larger society so we can build a stronger society together. The minor incident that happened was from individuals who are not part of the convention, they came to eat at the hotel restaurant and were very upset to see so many Muslim families at the hotel. They kept making extremely racist comments as Muslims convention attendees walked by, but none of the Muslims confronted them, in fact they smiled at them as they walked past. It's unfortunate they did not use the opportunity to meet some of the Muslims.
WMJ: Does the Milwaukee area Muslim community give their financial support to MAS and other local Muslim organizations?
MAS Milwaukee: Our experience with the Muslim community in Milwaukee has been very positive and mutually supportive. The community has been a wonderful supporter of MAS, and without this support, we wouldn't be able to continue our activities at such a robust level. As a result of that community support MAS was able to purchase a building and this is the 12th consecutive year of holding our convention, which again is community supported.
WMJ: Where does the MAS convention hope to be in terms of size and programming in the next few years, and what is on the wishlist to accomplish?
MAS Milwaukee: MAS hopes to reach as many households within our community. Over the next few years, we will continue to work with our community members and leaders to develop the program based on our community needs. The wish list to accomplish this goal includes ongoing participation from our community members with ideas, time and financial support.