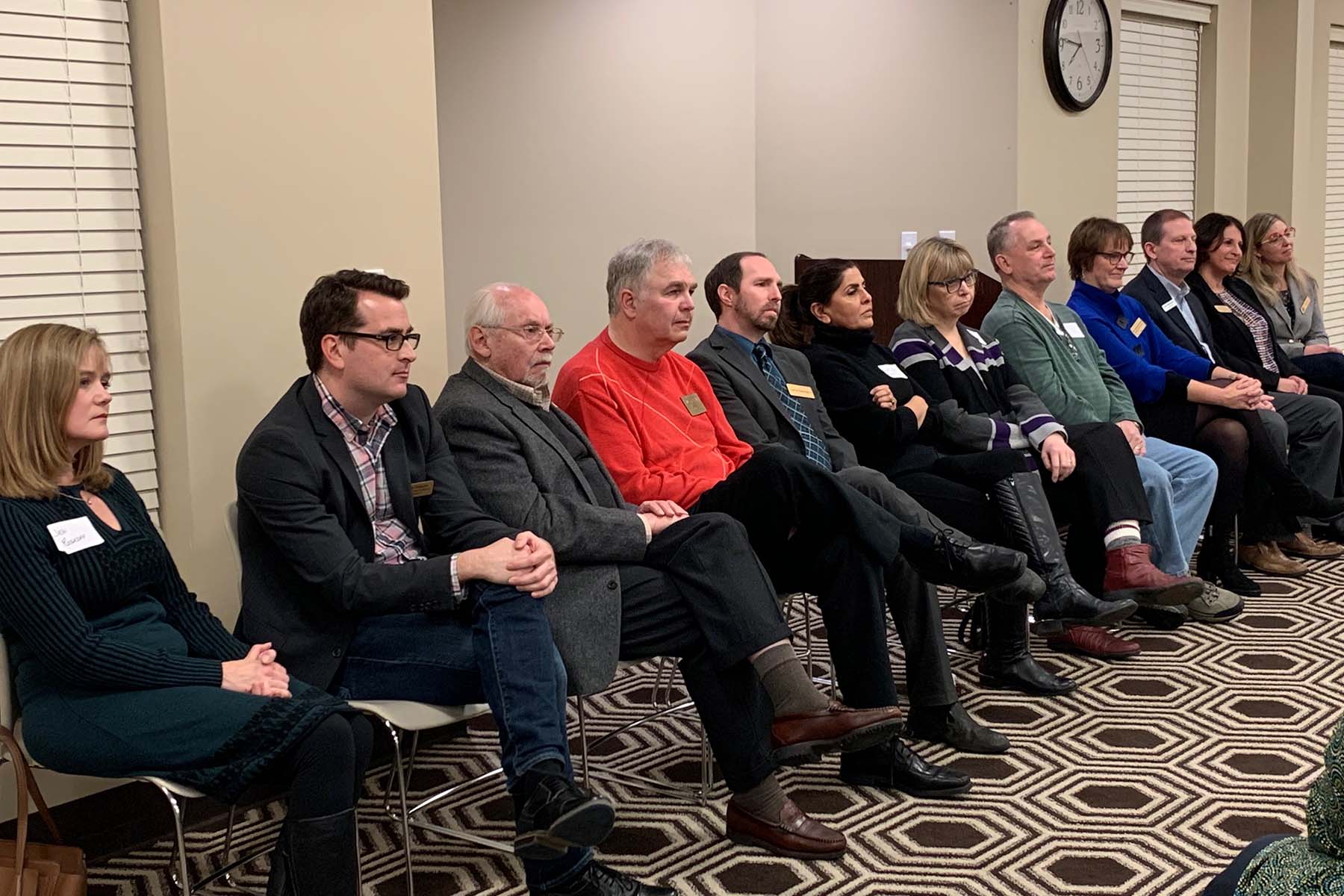 "Put out a little food and coffee, get people together, and immediately they have things to talk about," said Wisconsin Muslim Civic Alliance Executive Director Kristin Hansen about the organization's second "Meet the Candidates" event, held Thursday in Brookfield.
More than 60 community members and 12 candidates running for seats from the local school board and city council, the appeals court and the state assembly to the United States Congress gathered on a snowy night at Masjid Al-Noor, 16670 Pheasant Dr., Brookfield, to talk about the spring elections. (WMCA's first event, Jan. 9 at the Islamic Resource Center in Greenfield, drew 33 Milwaukee County candidates and more than 100 Muslim community members.)
"What strikes me about these events is what a good time everyone has," Hansen said. "Any perceived barriers are broken down. Everyone who came was so engaged, so open. Community members asked good questions."
"The WMCA is here to help encourage Muslims around the state to be involved in this process," WMCA President Will Perry said. "We want everyone here to register to vote and to register with WMCA."
"It is a great opportunity to get to know each other," said Noman Hussain, the ISM-West imam. "The Brookfield mosque opened its doors "exactly five years ago, in January 2015," Hussain noted.  "A few hundred people show up for prayers every Friday. We have a big community in Waukesha County and it continues to grow."
Hussain was appreciative that some elected officials and candidates who are not running in the spring elections came out to meet the community. Among them are Wisconsin State Assembly 14th District Representative Robyn Vining and U.S. Congressional candidate Tom Palzewicz, both Democrats who will be running for election in November.
"I am here as your elected official to make sure you know who your State Assembly representative is and that if I represent you, I want to hear from you," said Vining, whose district includes the northern halves of Brookfield and Wauwatosa, as well as some of Milwaukee. "It is incredibly important for me to know what the people I represent are thinking about the issues, what you prioritize and what you want from me."
"This is a really good thing we are doing here tonight," said Palzewicz.  "These local spring elections are some of the most important we have going on right now in this country. There is a lot going on at the local level where we need really good people."
Candidates and community members milled about, sharing stories and concerns, sandwiches and laughs. After about 30 minutes, the candidates took seats in the front of the room, facing the audience. They were invited to speak about why they are running and what experience they have.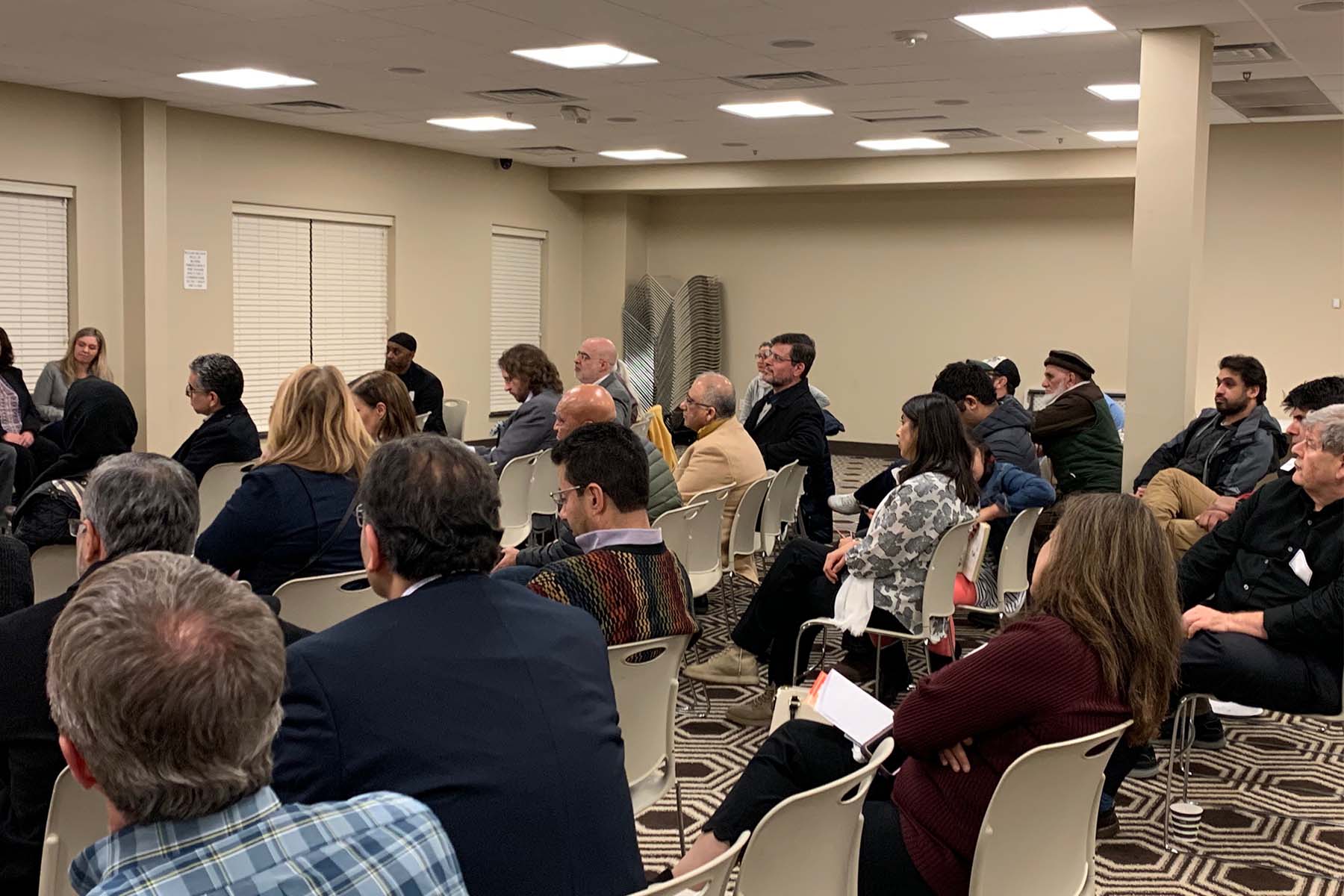 Meet the candidates
All three candidates vying for the at-large seat on the Elmbrook School Board were present. Jen Roskopf, Ghazala Sajjad and Leanne Wied will face off in the Feb. 18 primary and the top two candidates will move on to the general election on April 7.
 Also present were two of the three City of Brookfield alderman candidates competing in the February primary for the District 3 seat, incumbent Ron Balzer and challenger Gregory Keller. Balzer noted that the mosque is in his district and that he only wishes it had a more prominent location.
Candidate for District 4 alderman, Michael Hallquist, was in attendance. He is running for the second time for the seat. He will challenge the incumbent in the general election in April.
Alderman Scott Berg of District 5, who is running unopposed, participated in the event. He has served on the Common Council for 20 years and is running for another four-year term. He noted that one of the main challenges faced by Brookfield's Common Council is striking the right balance between development, the character of Brookfield and ability to maintain the proper level of services.
Kathryn Wilson, who has served on the Elmbrook School Board for the past 10 years and is currently the School Board president, is stepping down in April and will run for District 7 alderman in the general election in April.  "In this time when so many of our political functions are polarized, local governments are a model of cooperation and serving the common good and building community," she said. "That's why I'm here this evening because of my interest in building community. I know this is an interest you all share. You have been devoted to that for the last five years (referring to the fact that the mosque has been in Brookfield for 5 years). I have been here many times at your invitation and I'm so grateful for all you do for us."
District 2 Appeals Court Judge Lisa Neubauer and her challenger for the post, Waukesha County Circuit Court Judge Paul Bugenhagen, both participated in the WMCA forum. They will be on the ballot for the general election in April.
Eager to engage
At the end of a lively Q & A, Awais Khaleel, Dane County Assistant District Attorney, asked the candidates a question that brought loud applause: "What will you do for interested members in this community – and I think we can acknowledge that in the state of Wisconsin, we Muslim Americans are deeply underrepresented – who want to run for office? How would you be willing to serve in a mentorship role for one of the most underrepresented communities here in Wisconsin?"
"People have called on me and asked me to run for Supreme Court," said Judge Neubauer, "but no one has ever said, I want you to run and I'll help you. I want to be the call that will say, 'I will help you.' We have to do that if we want to get good people in elected positions."
School Board candidate Wied recommended going to meetings and watching how things work. "Observe for a while and soon you'll think, 'I can do this.'"
Common Council candidate Hallquist noted that Brookfield "does a fantastic job of putting together a packet that makes it easy for people to run. The city clerk and her staff will answer your questions … It's pretty simple. Do your research on the issues and learn what the person who is representing you is doing. If you love the City of Brookfield and you are passionate, I would be glad to help you."
"If you want to do it, it comes to putting yourself out there," Bugenhagen agreed.
"One thing I would encourage everyone to do is to be part of a campaign," said Palzewicz. "You are going to learn a lot. It's on- the-job training. Raise your hand, volunteer. There are more than enough spots."
Vining noted that her office is putting together a kit on a State Assembly campaign strategy. "We are building a kit because we want to make running for office accessible," she said. Then she added a comment that brought another loud round of applause: "And the second thing is very practical. I am a professional photographer. Your community is underrepresented and I will donate a headshot to your campaign because we need more voices."
Hussain added: "As an imam and a leader, I want to say that it is very important for us in America to start representing our communities, to step up to the plate, to start providing solutions to our communities."