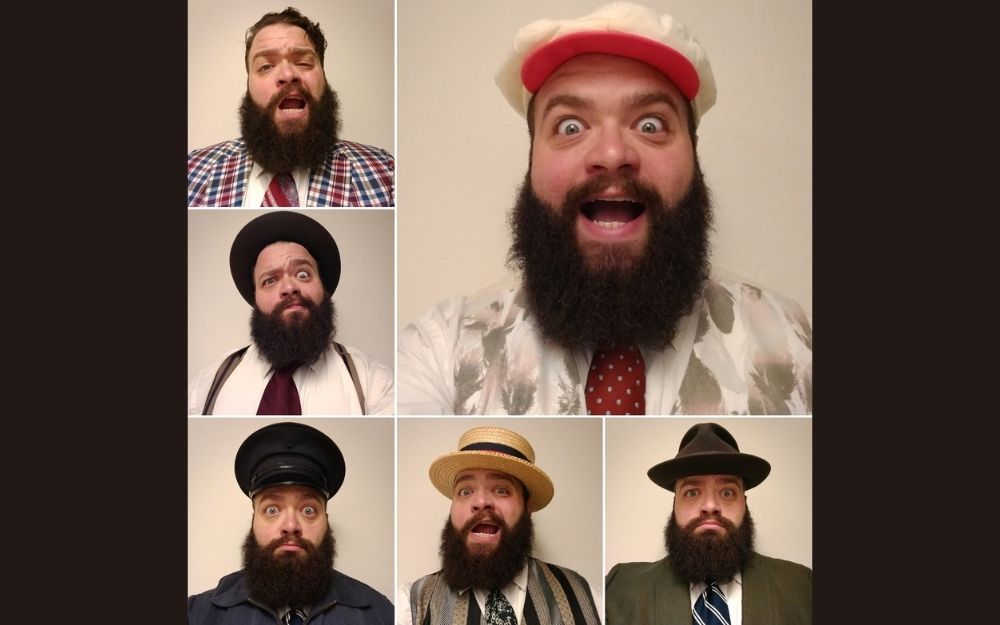 Casem AbuLughod played various characters in Children's Theater of Madison's 2018 production of "Charlotte's Web." 
Casem AbuLughod, 38, an actor in Madison's theater scene for more than a decade, is in mid-run of Forward Theater Company's production of Russian Troll Farm: A Workplace Comedy, a play about a group of Russian employees tasked with spreading misinformation online. Madison Magazine's latest issue features an interview with AbuLughod as he embarks on his first major role with Madison's Forward Theater Company. 
Although he's admittedly thrilled to do a full show with Forward, a company he has long admired, his biggest performance is on the home stage as "Abu Mack," Arabic for "Mack's dad." AbuLughod is stepping down from his full time gig as an IT senior account support specialist to become a stay-at-home parent to his 5-month-old son Mack Munir AbuLughod in what he calls "the most important role of his life."
In an interview this week with Wisconsin Muslim Journal, AbuLughod talked about being cast in Forward Theater Company's new show, his experiences in theater and the transition from IT professional to full-time dad. Below are paraphrased highlights of Wednesday's interview.
On staring in Russian Troll Farm: A Workplace Comedy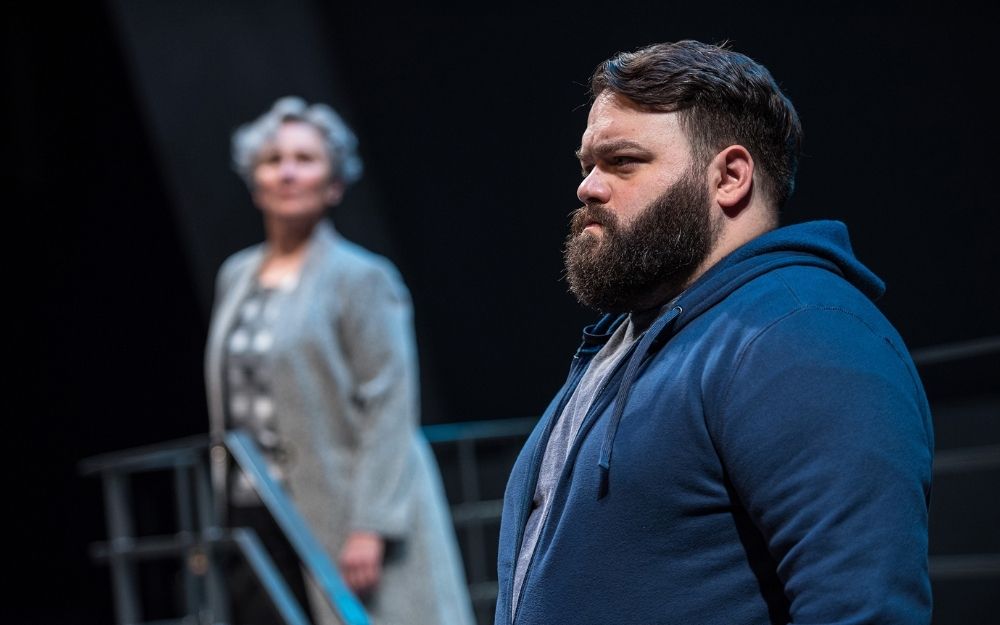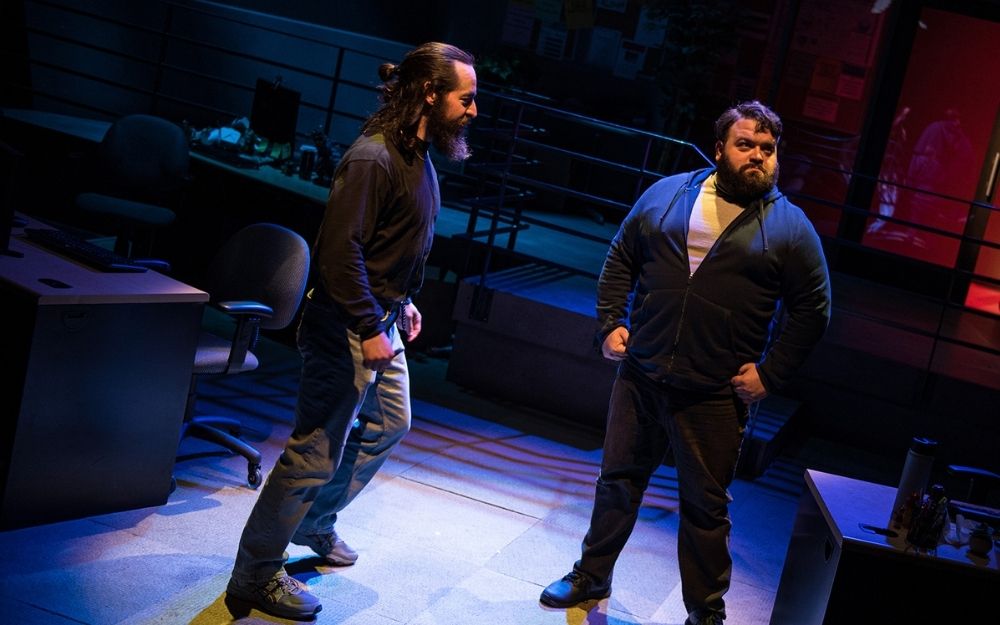 Photos by Ross Zenter
Russian Troll Farm is now playing at Forward Theater Company in Madison
Left: Sarah Day and Casem AbuLughod.    Right: Andrew Rathgeber and Casem AbuLughod
What made you decide to audition for Russian Troll Farm? 
There are several answers to that question. It's a chance to do live theater again after a long hiatus. It's an opportunity to do a full show with Forward, a company I've long admired. I'd previously only performed in its biennial Monologue Festival. 
The script intrigued me. It is a dark comedy, which takes skill to pull off well and is a fun challenge as a performer. 
It also has a stellar cast and crew. I am honored to be working with a talented group of people who are bringing to life these trolls and the world they inhabit. 
Why should we go see it?
It's funny, smart and relevant. It is definitely not going to be everyone's cup of tea, as is the case with dark comedy. 
(Editor's note: The website includes a content advisory that says the play contains adult themes and a significant amount of mature language.)
As it takes place during the lead up to the 2016 election, it still feels pretty fresh. It explores the disinformation campaign orchestrated against all of us. 
The characters are fictional but the agency they work for isn't. The playwright gives voice to these characters and humanizes them so we can see they are people too and we stand a chance of thwarting their goals of sowing chaos and division. 
This piece offers an opportunity to recognize and identify disinformation tactics still in use today and helps us realize when we are being manipulated and starts some dialogue about it.
Anything else you'd like us to know about the show?
It runs through May 8. If you are not in Madison or can't get to the live performance, you may purchase a filmed version ticket option that will be viewable until May 8, the last day of the show. Tickets are available online.
You are also on Forward's Advisory Company. What does that entail?
Forward Theater has a three-legged governorship: staff, board and Advisory Company. The Advisory Company is made up of actors and other theater professionals from Madison and Wisconsin communities, including Milwaukee. Our job is to help find works to be performed by Forward Theater Company. It's something I've recently joined. I'm hoping to bring my particular perspective to those conversations.

On acting
Casem Abulughod has played many roles as animals in Whoopensocker productions.
When did acting enter your life?
I did my first play in my freshman year at the University of Wisconsin – Washington County but, growing up, I was always doing little sketches with my four siblings and friends.  My sister Sarrah and I would put on plays with our cousins but it was not something we did all the time. 
I was home-schooled for all except the three years I went to Salam School (in Milwaukee) for third – sixth grades when my mother was a teacher there. We would have home-school gatherings once a month where there would be performance opportunities. I usually would do a puppet show for my project.
Your bachelor's degree from the UW-Madison was in Communication Arts. Did it include theater?
No. But I ended up in front of the camera instead of behind it more often than not.
And why is that?
I just enjoyed it. Whenever somebody needed a character to do something I was usually willing to try.
What is it about acting you enjoy?
The sense of freedom that comes from play is a rewarding feeling. There is something about stepping outside of yourself to pretend to be someone else that allows you to see yourself better. As a performer, I have the chance to figure out what it would be like to be that person. You're just exploring another part of being human. It's another way for me to find my own truths.
The ensemble aspect is something else that keeps bringing me back to theater. You have these moments of connection and bonding that happen. 
As a master's degree student at The City University of New York, you studied "applied theatre."  What is it?
Applied theatre is the concept of using theater as a tool to achieve an end goal like community building or education. Some of the things I worked on were "reminiscence theater," which is theater with older participants sharing their stories; "youth theater," working with young people to create their own pieces; and "community building," finding ways of sharing stories across communities, bringing people together. 
Why did you pursue a master's degree in theatre?
After graduating from UW-Madison, I was working in a job I didn't love. I was searching for something I would like to do. A mentor from my undergrad days told me about this program and suggested I audition for it.
On Improv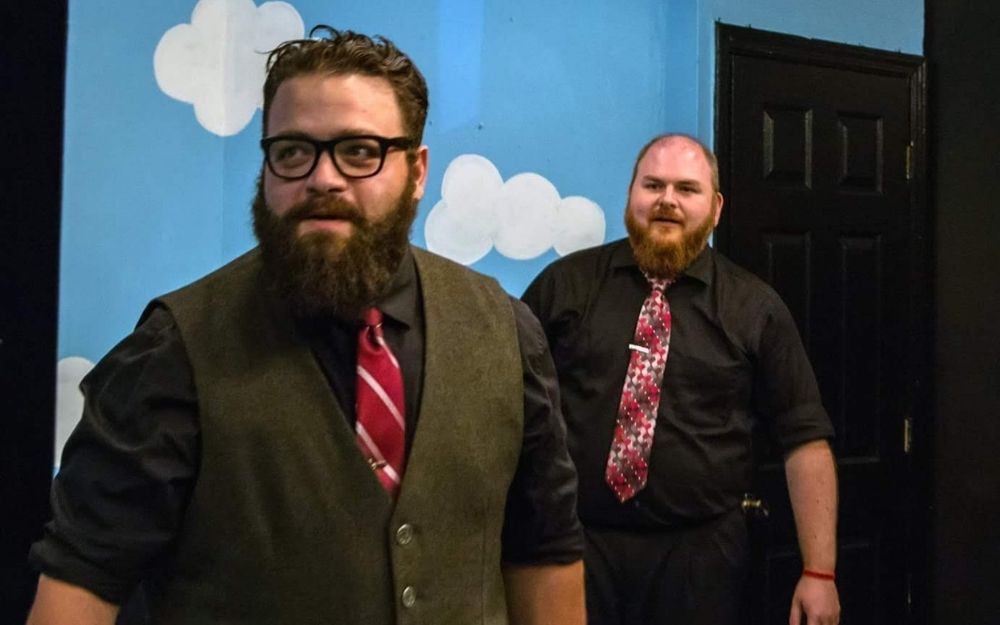 Photo by Tom Frisby
Casem AbuLughod (left) and John Steeno (right), the improv duo Jawesome, at a 2018 improv festival in Kentucky
I understand you have done a lot of improvisation. What is that like?
Improvisation has been my main performance gig for the last decade and a half. I've been with the Monkey Business Institute here in Madison as an instructor and a performer. I tell my students that doing improv is like exercising a brain muscle. The more you do it, the more you are able to expand your ability to think, understand and be creative. 
It is almost a type of mindfulness practice because it is all about listening to the other people you are working with. It's about being fully present. 
The experience of being present is part of staged theater performances as well. When you get the chance to do that on a regular basis, it really helps to strengthen your empathy, your willingness to see the world from other people's perspectives. 
It has made me better able to engage with anybody. I am listening to them in a way I wouldn't have before learning these skills.
On family life and theater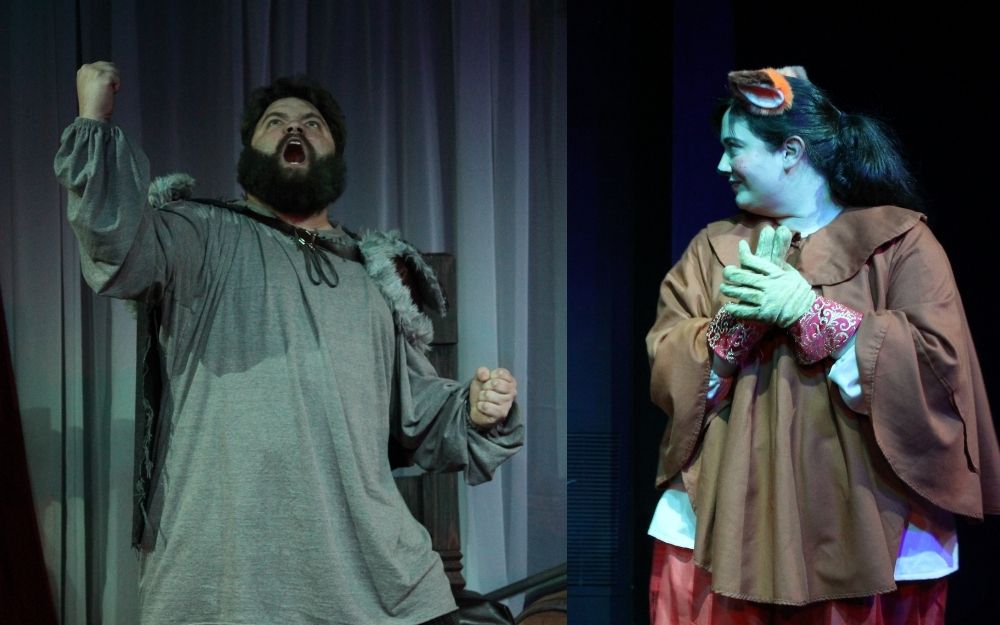 Photo by Friendor Photo
Casem AbuLughod and his wife Amber McReynolds in "Puss in Boots," a production by Are We Delicious?
Your wife, Amber McReynolds, an assistant city attorney for Madison, also acts. Did you meet on stage?
We met in a show. It's been part of our relationship from the beginning. We've been married 13 years this year. She also does improv.
How did you find the time to perform in a professional theater company while having a full-time job and a new baby at home?
I got lucky. In the past, I had been in community theater or improv and one other group I could work around my schedule because that's all I had time to do. 
Last year, we knew Mack was coming. I was able to use some of my paternity leave during the rehearsal process, which meant I could just focus on our baby and the play. I could participate in rehearsals during the day. Now that the play is on its feet and I only have to be there in the evenings, I was able to start back at work. 
What is the other group you mentioned?
It's named Whoopensocker. It's a group that works in schools with third and fourth graders. We go in the classroom once a week and help young folks write stories and plays. Then we take them and perform them at the end of each six-week period. The kids see their works performed by adults. I am working with them as a teaching artist. 
On becoming a stay-at-home dad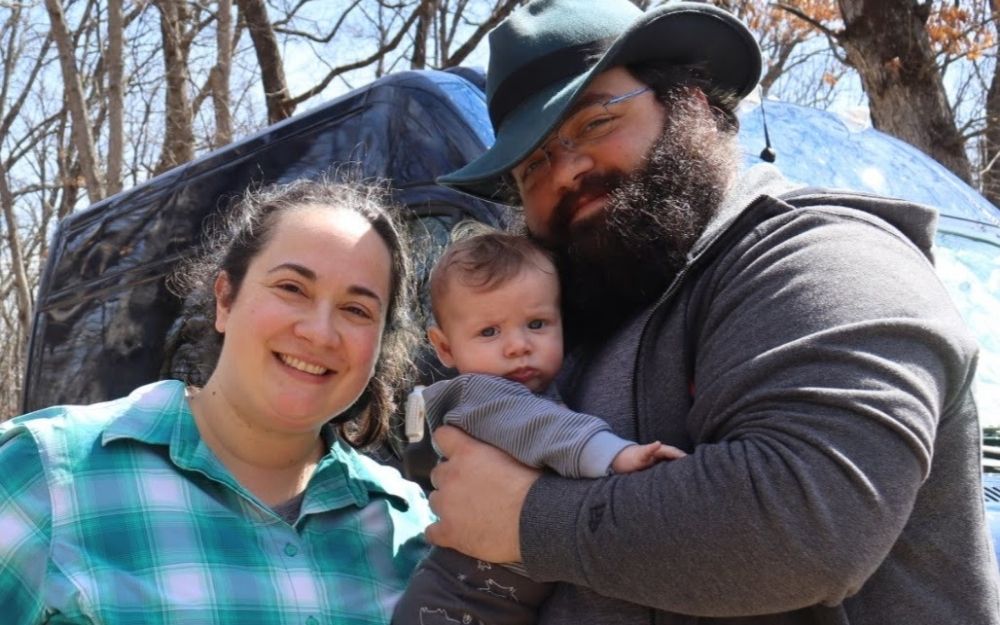 Amber McReynolds and Casem AbuLughod with their son Mack Munir AbuLughod
Congratulations on becoming a new father.
Thank you! Mack just turned five months old earlier this week. He's perfect. You'd love him so much.
It's going to be a bit tricky to do another show soon because we have this little guy. I've put in my notice at my day job and, starting in May, I'm going to be staying home with Mack, being a fulltime dad.
That's a big step. How did you decide?
Amber and I have been discussing and planning this for a while. She has been on leave and now we are approaching the end of her leave. With childcare and the pandemic all being kind of iffy, we are fortunate we are at a point financially to make this work at least for the next year. 
Have you had experience with babies?
I'm the oldest of my siblings and the oldest of all my cousins. I've been holding babies since I was 2 years old. I like to think I was a good role model for them and hopefully, I can do that for this guy. 
It may be hard for you and Amber to perform in a show together for a while.
This last show we did together was with a group called "Are We Delicious?" It brings together a group of performers who write for each other and then perform what they wrote within a week. It is a fun process. 
Amber and I did that together a couple of times. We did an adaptation of "Puss in Boots." I was the ogre and Amber was a character we invented for the story called "Fox in Gloves," who was the ogre's sidekick. It was a lot of fun.
Now we are doing collaborative shows for Mack, entertaining him.