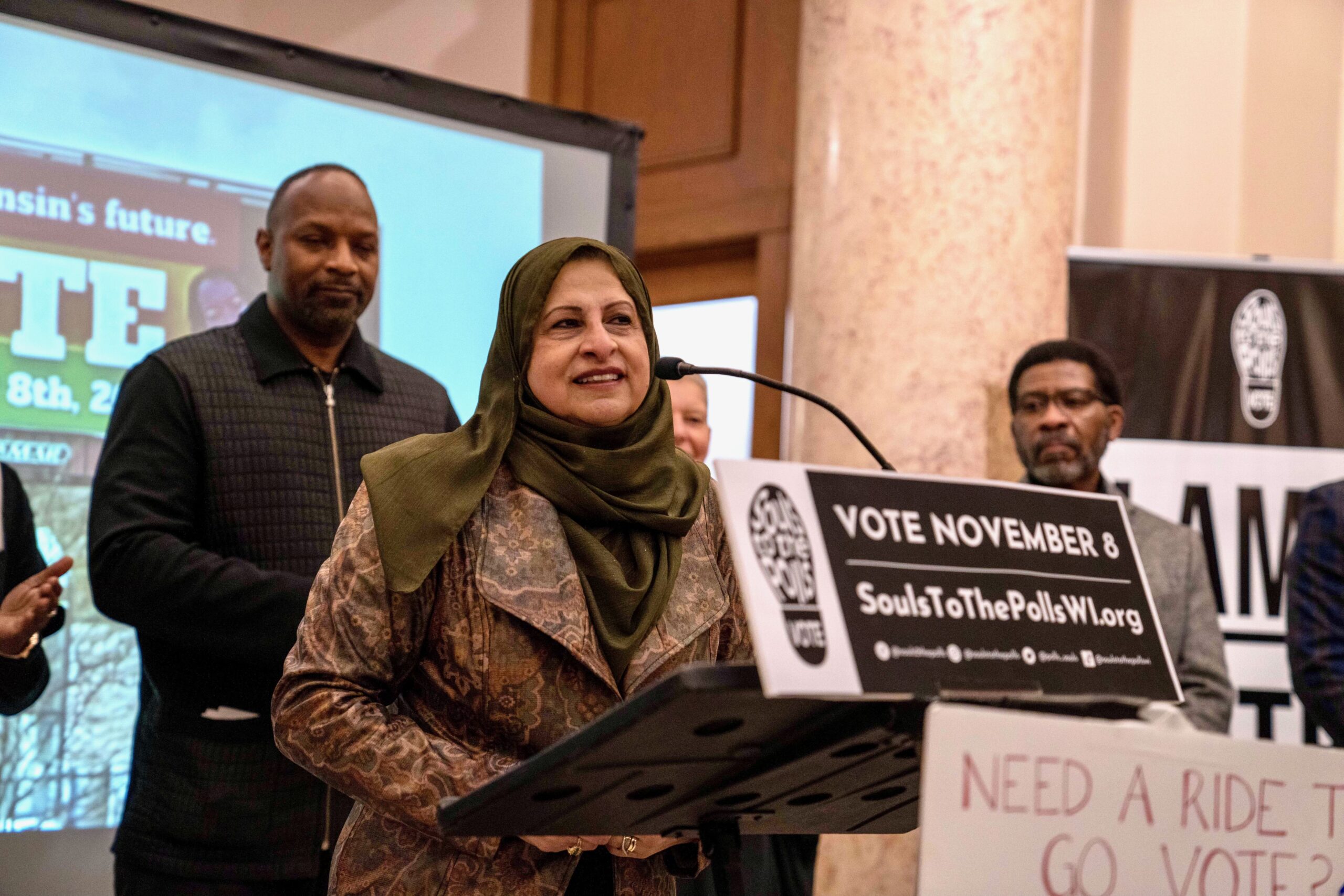 Photo by Dick Blau
Milwaukee Muslim Women's Coalition President Janan Najeeb, new chairperson of MICAH's Religious Leaders Caucus, addresses a rally for fair voting Monday at Milwaukee City Hall.
When Milwaukee Inner-City Congregations Allied for Hope tapped Milwaukee Muslim Women's Coalition President Janan Najeeb as chair of its Religious Leaders Caucus, two thoughts occurred to her predecessor, Progressive Baptist Church Pastor Walter Lanier—that Najeeb is the first Muslim to head the caucus in MICAH's 34-year history and that this historic moment came without fanfare.
"Both are incredibly significant," he said. Her appointment came without backroom deals. There was no political coup. Najeeb was chosen by a consensus of RLC members.
"It wasn't a radical act of our partners. It was not shocking or surprising. She has been part of this group for a while. She knows the terrain and the other leaders know her. It was very fluid, very natural. It's indicative of how we as a city need to move forward."   
Najeeb began her two-year term as RLC chair Oct. 20. 
"I'm humbled by the confidence they put in me," Najeeb said yesterday in an interview with Wisconsin Muslim Journal. "I take that quite seriously.
"It's also reflective of this organization that practices what it preaches," she added. "You cannot claim you celebrate diversity until you welcome everyone. MICAH, which was initially a group of Black Christian pastors, has done this in a big way. I am ready to fulfill the mission and uphold their trust." 
In her first participation in collective action in as RLC chairperson, Najeeb represented MICAH and MMWC yesterday at a press conference at Milwaukee City Hall organized by Souls to the Polls, a nonprofit led by a team of central city ministers who view a strong voting bloc as key to pressing state and local leaders to address major issues facing Milwaukee's Black community. A wide showing of Milwaukee's interfaith community participated, including Ahmed Quereshi, interim executive director of the Interfaith Conference of Greater Milwaukee.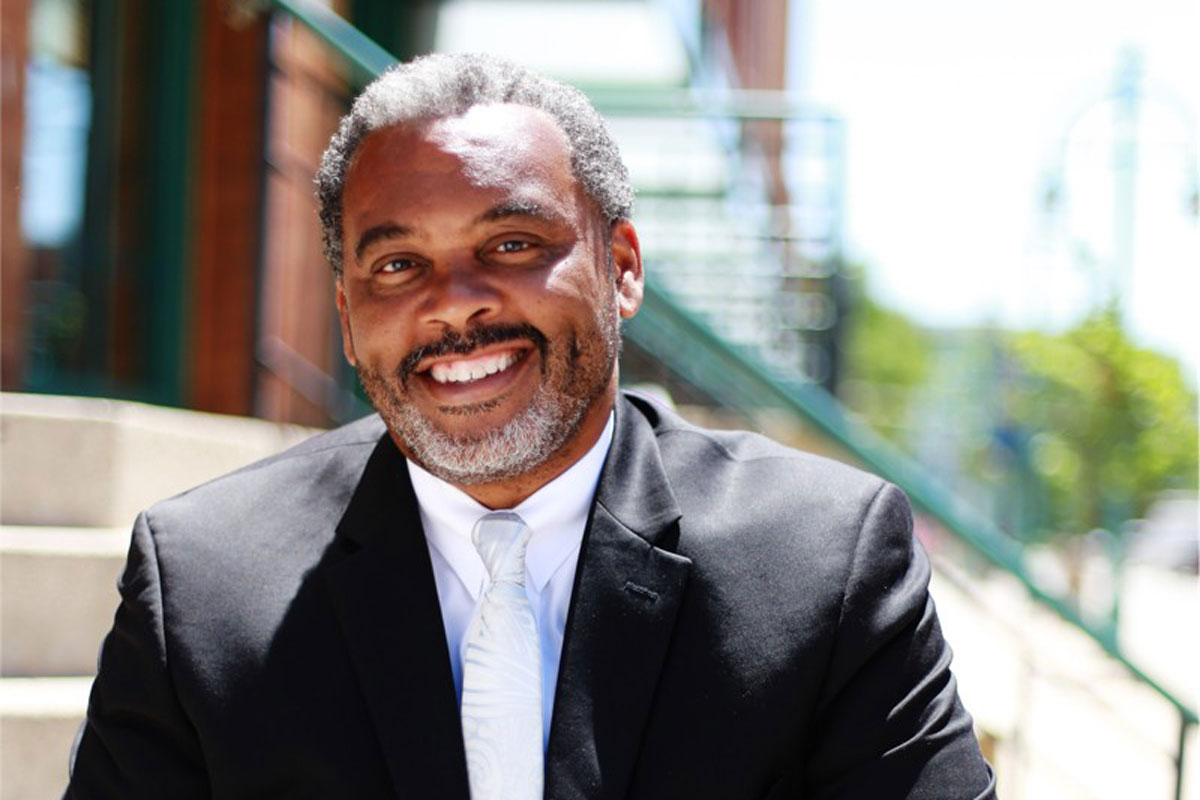 Photo by Dick Blau
Progressive Baptist Church Pastor Rev. Walter Lanier, outgoing chair of the Religious Leaders Caucus
Najeeb brings new perspectives to the table
Lanier, who served as chair of this coalition of inner-city religious leaders for the past four years, said Najeeb's appointment "reflects where we are as an organization. A Muslim is going to be in leadership of the Religious Leaders Caucus for the first time. We have cultivated a table that welcomes multiple faiths," which he said was the focus of his two terms as chair.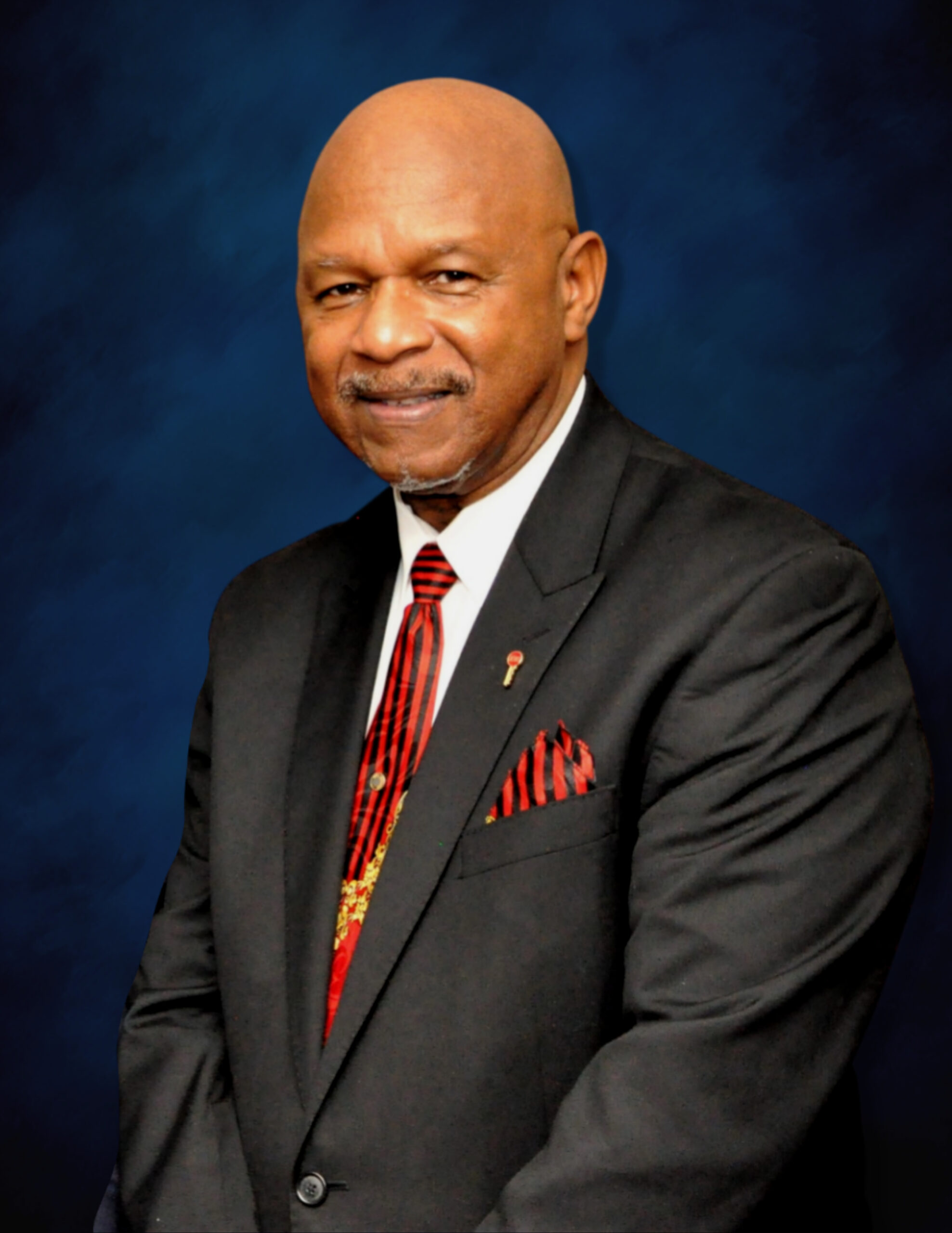 Friendship Missionary Baptist Church pastor Rev. Joseph Jackson, Jr., past president of MICAH
"We have an authentic relationship that lays the ground for long-term action together," Lanier said. "Now we can pivot into more collective action. It's the perfect time for Janan's leadership gifts to help us continue to move forward.
"She's an excellent public advocate and is very action-oriented. She doesn't lead by word only but also by deed."
"We have to be grateful to have her in this role," said Rev. Marilyn Miller, a retired pastor, a member of Cross Lutheran Church of the Evangelical Lutheran Church in America, and a past president of MICAH. "We live in a society that still has anti-Muslim, antisemitism, racial hatred and religious hatred. I'm grateful because every little push we can make to further a positive change in our society, the better. It's a multi-faith organization so having the first Muslim in this leadership role is progress."
"And, of course, MICAH is blessed because she's a phenomenal leader.  She's going to bring the imprint of her faith into her work, which helps all of us. To see the Holy in many ways is a gift to us. To have the multiplicity of faith perspectives gives us so many ways to hear and see. Everything informs you and can be part of your own transformation if you allow it to."
"Janan has been consistently engaged with us. Her wisdom and what she shares about her Muslim faith have been beneficial," said Rev. Joseph Jackson, Jr., pastor of Friendship Missionary Baptist Church. "Her engagement is benefitting me personally. I am learning. And I am sure her impact will be reflected in the Religious Leaders Caucus."
As the second woman to serve as chairperson of MICAH's RLC, Najeeb also brings a female perspective.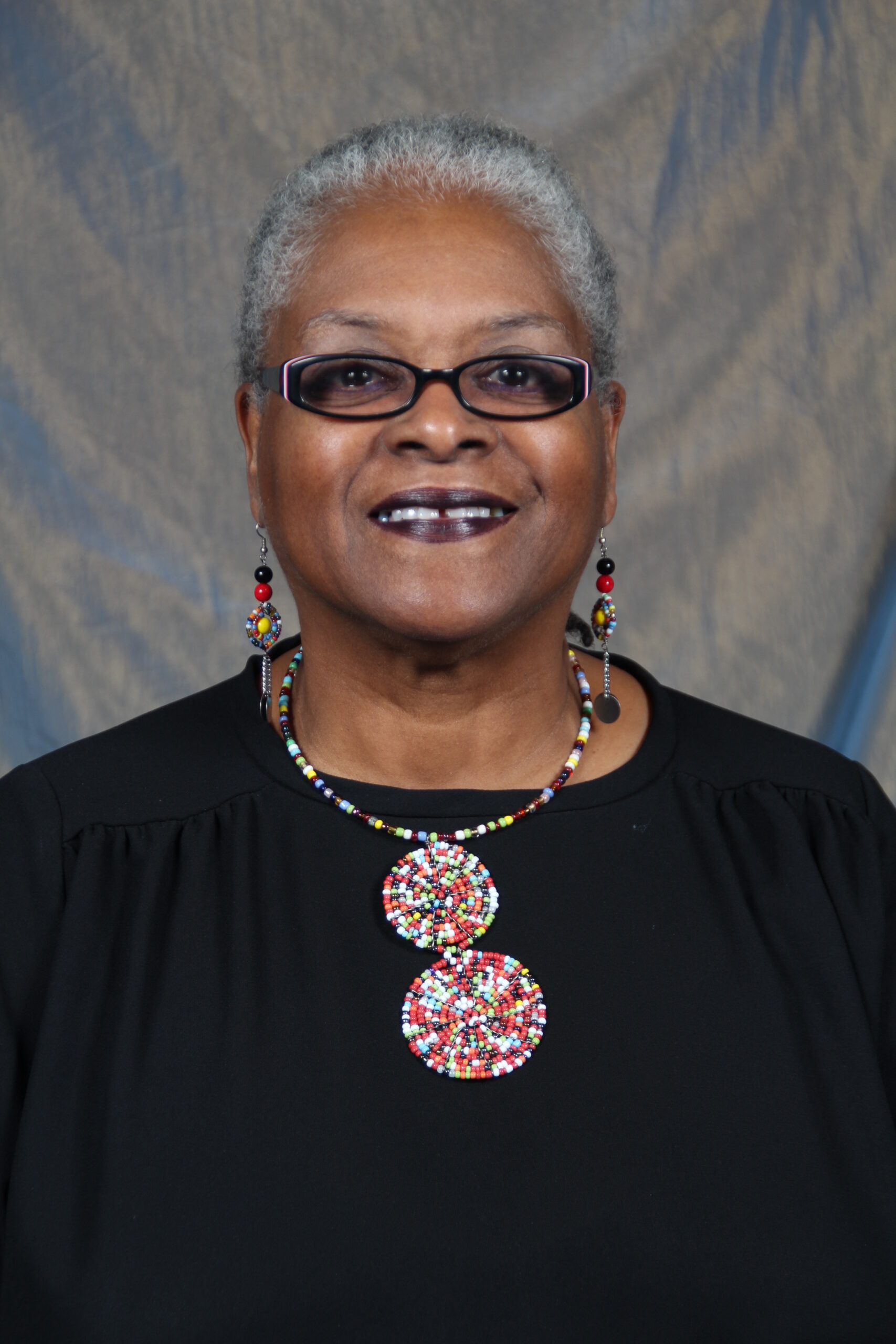 Rev. Marilyn Miller, retired pastor and past president of MICAH
Rev. Miller was the first woman to serve as the RLC chair. Najeeb is the second.
"Not all the faiths embrace women leaders," Rev. Miller said. "We're all in different places on this. I hope having a woman in this role will help us stretch and grow, and that all can embrace her leadership and give a fair opportunity to her visions. It's a teachable moment and she gets to step into it. I'm really grateful for that."
"Even in the Muslim community, too many traditional-thinking people are not ready to include women, especially in leadership roles," Najeeb said. "I want them to see organizations recognizing the strengths of women in the community."
Najeeb is also pleased to have the opportunity to show the Greater Milwaukee community that Muslims are engaged in the community and willing to serve for the good of all, she said.
What is MICAH's Religious Leaders Caucus?
MICAH's Religious Leaders Caucus is an interfaith group of religious leaders, primarily but not exclusively pastors, rabbis and imams, who serve as "the vision-bearing body for MICAH," Lanier said. "It continually reminds us we are a faith-based organization, seeking to be the hands, feet and mouth of God as we pursue justice."
The RLC holds monthly meetings where leaders share their different faith traditions with each other, particularly as they pertain to justice. "We are committed to acting together in pursuit of justice," Lanier said.
Founded in 1988, MICAH is "a multi-racial, interfaith organization committed to the justice issues of greatest impact on our communities," its website states. Its membership includes 42 congregations.
Seven Christian churches established MICAH in 1988. Since then, it has grown to include additional faith traditions in Milwaukee, including Islam, Judaism and various Christian denominations. 
"There was a time when MICAH only included Protestant religious leaders," Rev. Jackson said. "Then we started talking with some Jewish leaders. Now its blossomed to be more reflective of the interfaith community. 
"It's an open table, and not just for clergy," he continued. "Anybody can show up. There's usually a theological or religious reflection that in a real sense agitates us into some action."
As an example, Rev. Jackson cited MICAH's work to keep Felmers O. Chaney Correctional Center, 2825 N. 30th St., Milwaukee, open. "The center is doing wonderful work helping men transition from prison back into society," he said. There was talk about closing it and opening a facility for juveniles there. "As religious leaders, we are pushing for a youth facility to be somewhere else and eventually expanding the services of both," Jackson said. 
Another example was yesterday's rally at City Hall, billed as the "Last Chance to Save Democracy!" The Emergency Faith & Cultural Meeting organized by Souls to the Polls brought faith leaders and concerned citizens to City Hall to rally for fair voting policies.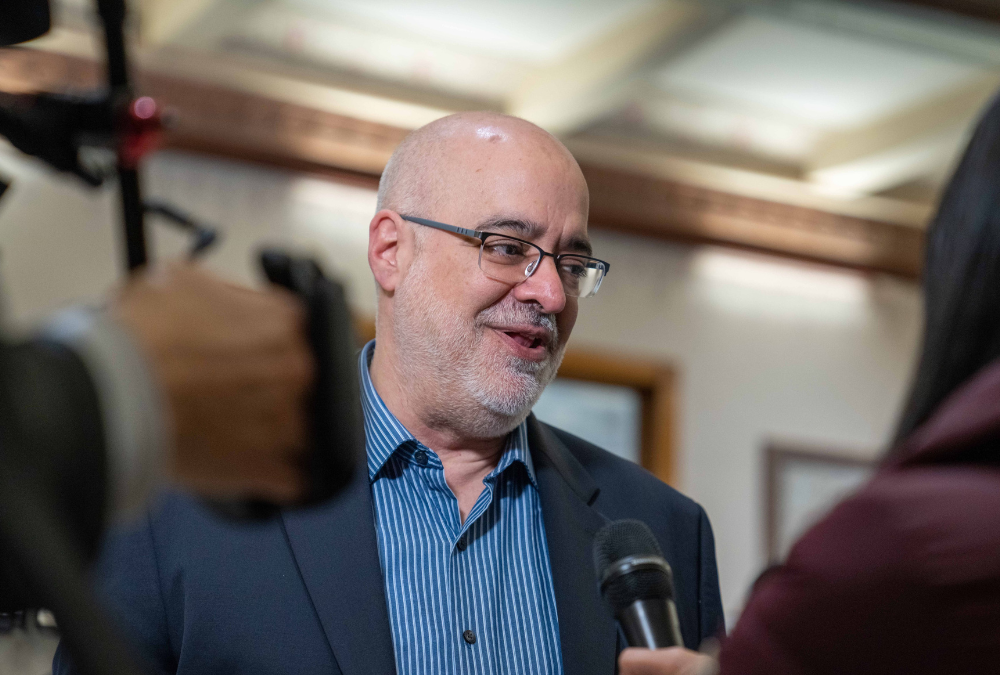 Photo by Dick Blau
Ahmed Quereshi, interim executive director of the Interfaith Conference of Greater Milwaukee,
speaks about the importance of fair voting policies.
For Najeeb's two-year term as RLC chair, which has just begun, she does not bring a to-do list of actions with her, she said. "It is important for us, as members of the Religious Leaders Caucus, to go through the process, to see where we have similar thoughts on what issues need to be addressed. In my first meeting as chair, I asked for brainstorming and we came up with quite a number of issues. Next, we have to consider what our organization can do and what the majority think is important."
Rev. Miller said she has been pleased to work with Najeeb over the years and looks forward to seeing what she will bring to her new role. "There are many of us praying for her leadership and how the Holy is going to use her to open eyes and minds, to learn from her religion," she said, adding, "I just love her energy and spirit. I'll be glad to follow her leadership."