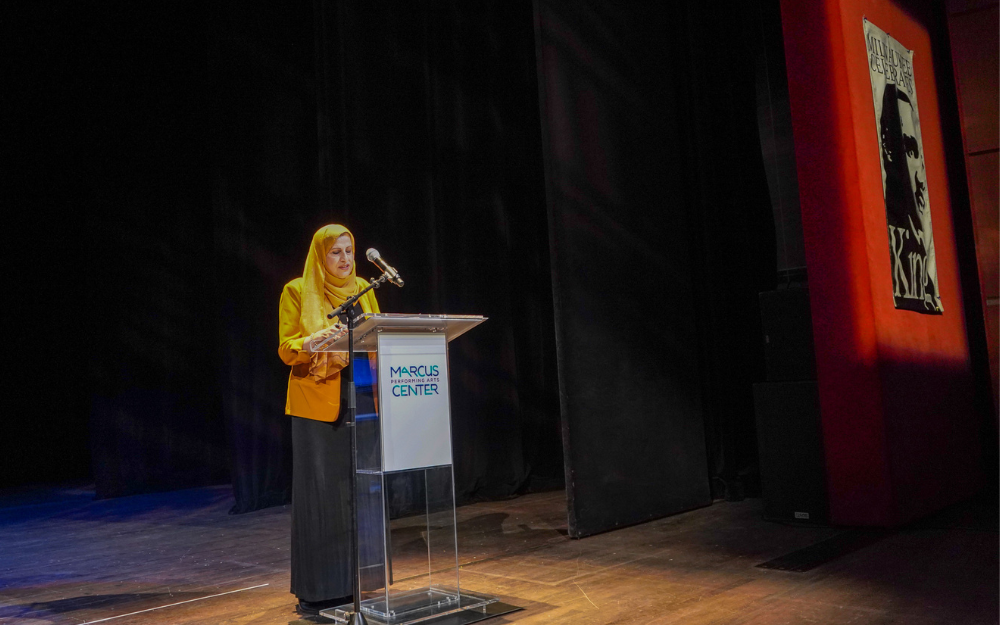 Photos by Kamal Shkoukani
Janan Najeeb, president of Milwaukee Muslim Women's Coalition, and longterm MLK Celebration Steering Committee chairperson, emceed the event on Monday, January 16th, 2023.
On Monday, January 16, Milwaukee celebrated America's greatest civil rights leader at the 39th Annual Dr. Martin Luther King Jr. Birthday Celebration. The Marcus Performing Arts Center hosted the community-wide remembrance, presented by Bader Philanthropies, honoring his timeless work and legacy of hope. 
For the first time since 2020, the MLK Birthday Celebration was held before a live audience after two years of virtual presentations during the pandemic.
The Islamic Society of Milwaukee has been a sponsor of the annual event since 2011. Janan Najeeb, president of the Milwaukee Muslim Women's Coalition, was the chairperson of the 2023 MLK Celebration Steering Committee. She has chaired or co-chaired the committee for more than 15 years and has been a member of the steering committee for 18 years.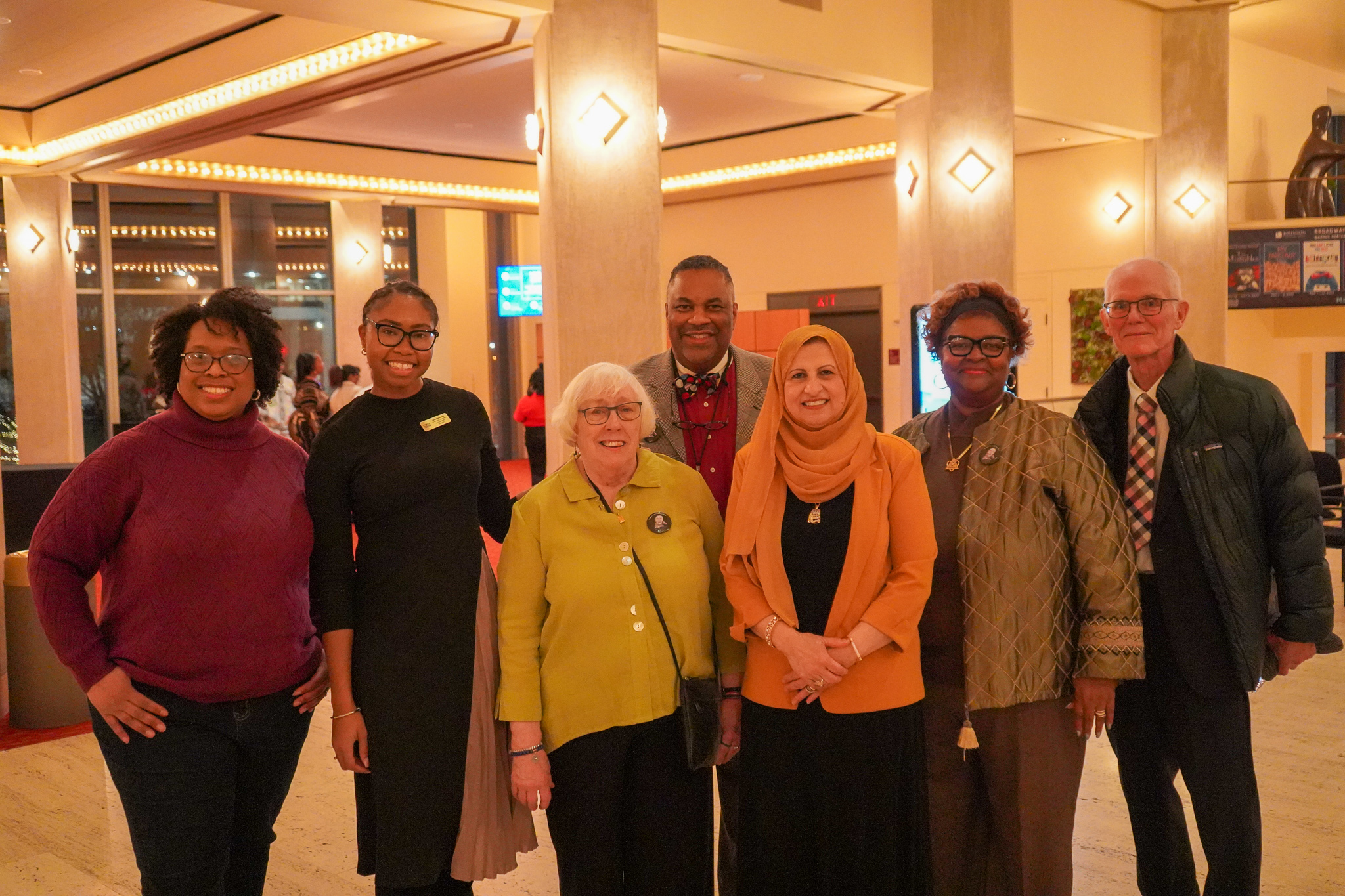 From left to right, Jacqueline Zeledon, MS_IMC, strategic communications manager, Milwaukee County Office of Equity, Leah Townsend, education and engagement specialist, Marcus Performing Arts Center, Donelle Johnson, Community Leader/former MPS Educator, Anthony D. Smith, director of community partnerships, Marcus Performing Arts Center, Janan Najeeb, president of MIlwaukee Muslim Women's Coalition, Nuntiata Portis-Buck, MS.Ed.,District Manager, Liberal Arts Office of Academics, Department of Curriculum & Instruction, Milwaukee Public Schools, Bob Peterson, Milwaukee Board of School Directors at MPS
"I believe the reason I was drawn to working on this project is because it resonated so closely with my own Islamic tradition," Najeeb explained in an interview. "The idea of spending your life working for the cause of peace, justice, human rights and equality is precisely the life example of Prophet Muhammad (pbuh) and the call found throughout the Quran. As an American of Palestinian heritage, I understand the racism and oppression faced by Black Americans and the structural racism that has kept the status quo in effect. The fact that Dr. King found respite and solace in his faith and used lessons from his faith to try and awaken the conscience of those who oppressed others based on characteristics like skin color, characteristics given by God, is so in line with the manner that Muslims are taught to counter arrogance, bigotry and oppression."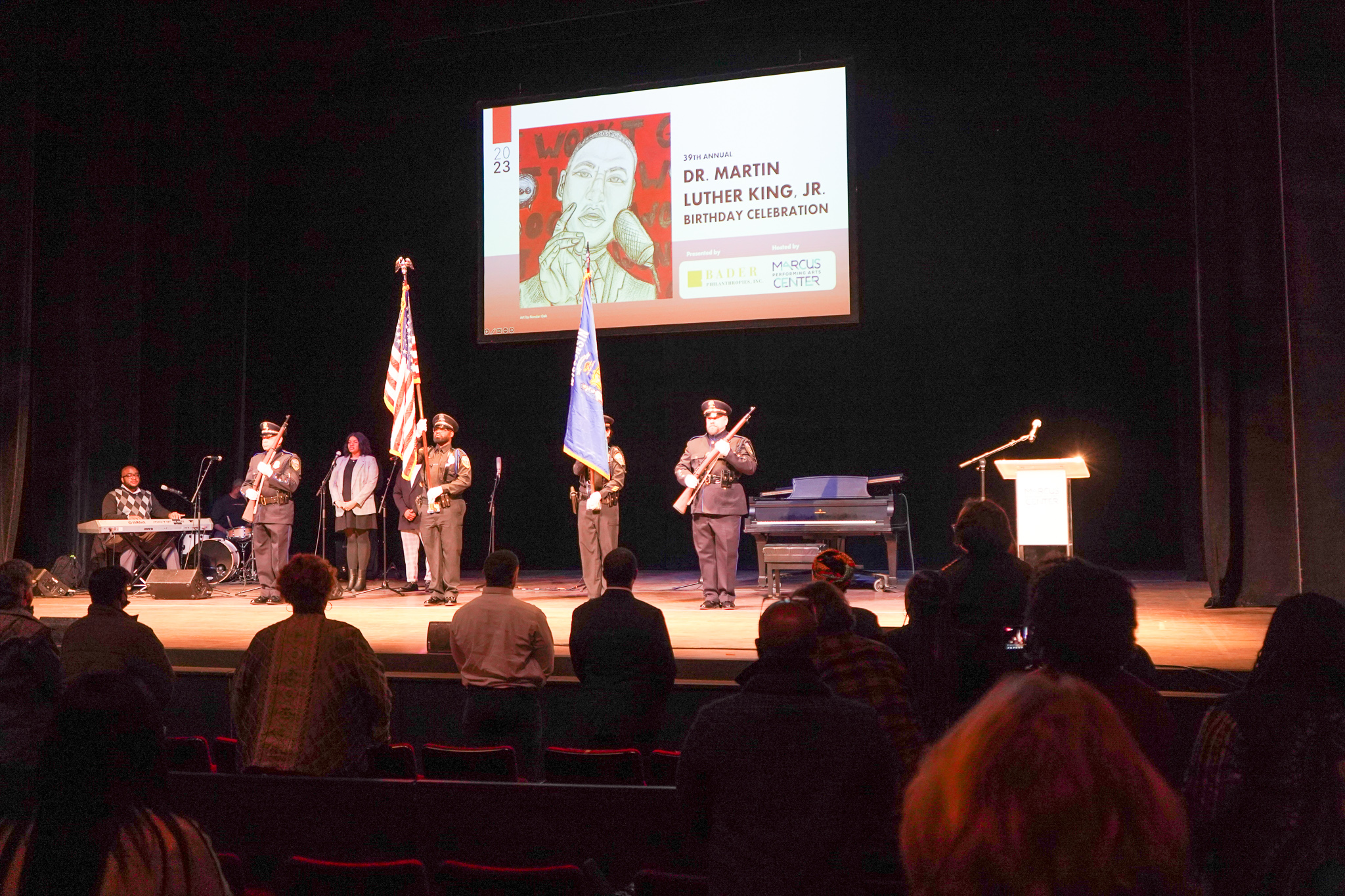 Many of the Africans brought to America as enslaved persons were Muslim but were forced to abandon their traditions. The number of Muslim Americans was small during the civil rights movement of the 1960s, and yet, as Najeeb points out, "while Dr. King was doing his civil rights work, there was another movement going on at the same time for the same reasons. That was led by the famous Malcolm X. While it is unclear why the two movements did not combine and strengthen each other, the goal was the same. Unfortunately, Dr. King and Malcom X were also assassinated within a relatively short time of each other. However, both Malcolm X and Dr. King are role models for Muslims around the world."
Working Toward a World of Peace
Speaking at the January 16 gathering at Uihlein Hall, Najeeb explained that the theme of this year's MLK Celebration was Dr. King's 1966 essay for Ebony magazine, "Working Toward a World of Peace." Quoting from that essay, Najeeb said that "there is no easy way to create a world where we can live together." Dr. King, she reminded her audience, called on all Americans to reject "violence, racism and materialism."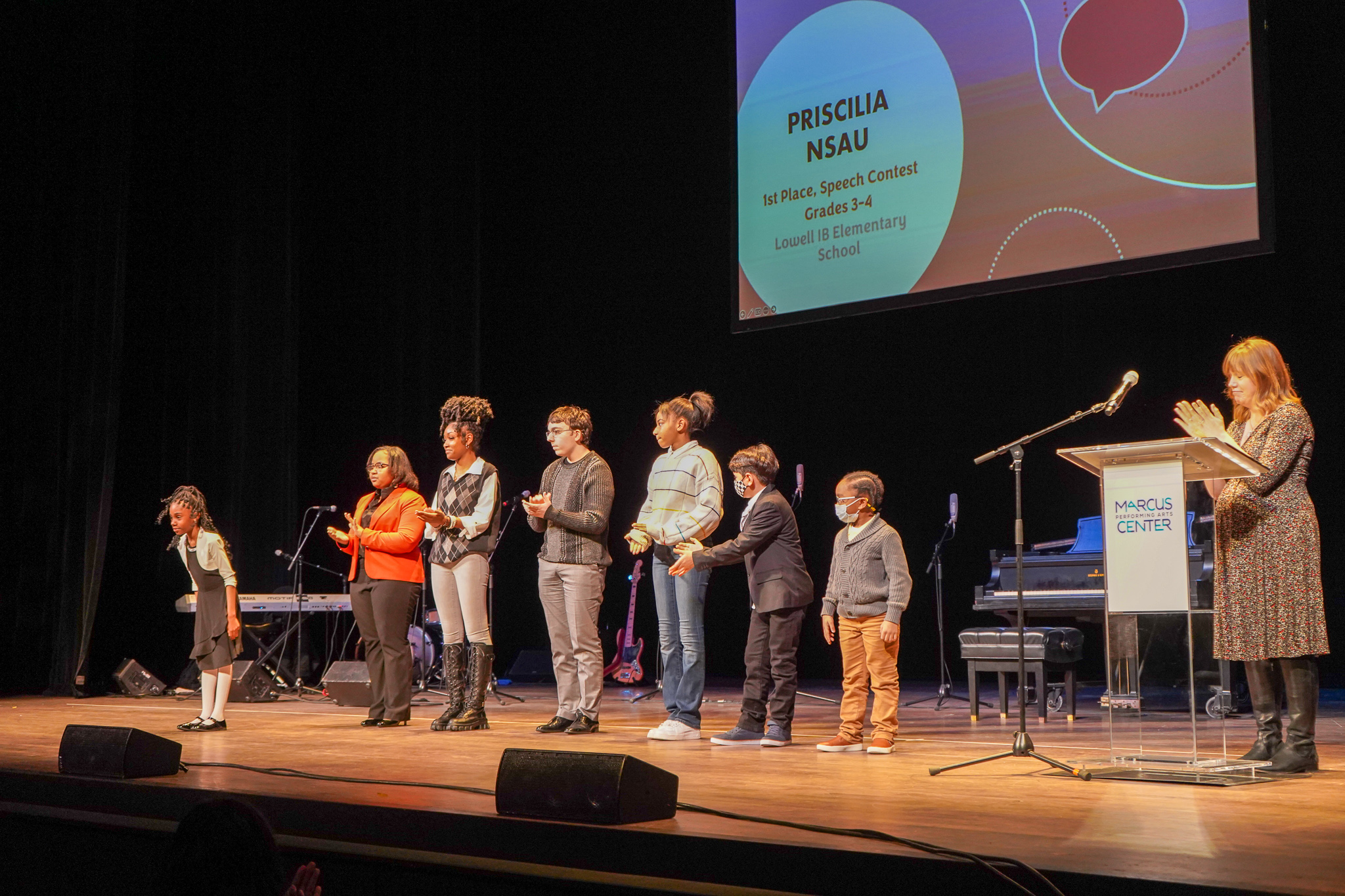 The focus of the annual MLK Birthday Celebration has long been to reach Milwaukee area primary and secondary students through a contest asking them to respond to one of Dr. King's messages by composing a speech, writing an essay or drawing a picture.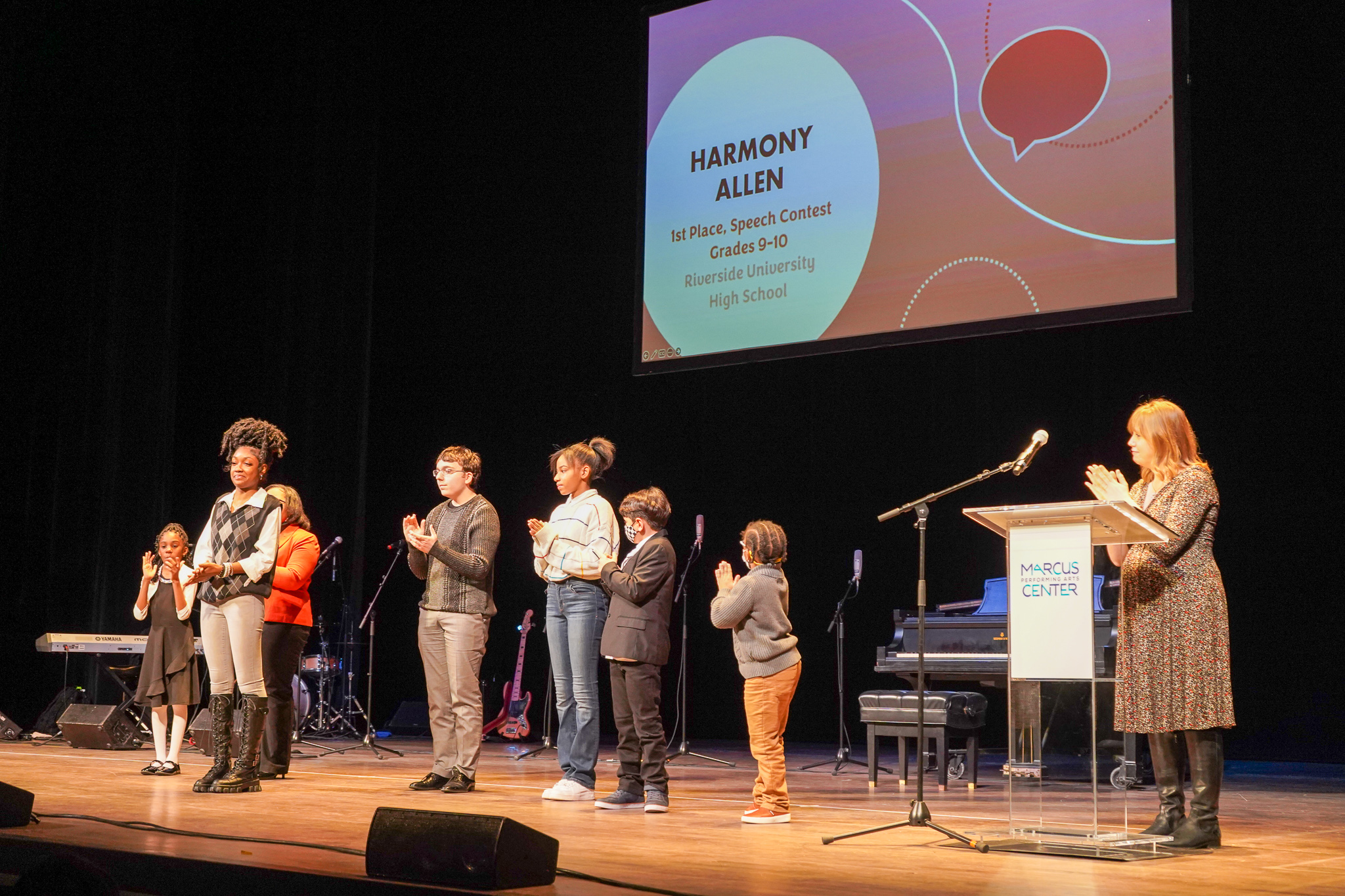 "The students who participated in the 39th Annual Dr. Martin Luther King, Jr. Birthday Celebration represents a wide variety of cultures and demographics," said Anthony D. Smith, the Marcus Performing Arts Center's director of community partnerships, in an interview. More than 2,300 entries were received for this year's contest on "Working Toward a World of Peace." Smith added, "This theme was interpreted through the lens, hearts, and minds of students who believe they can make a difference both in our community and our world.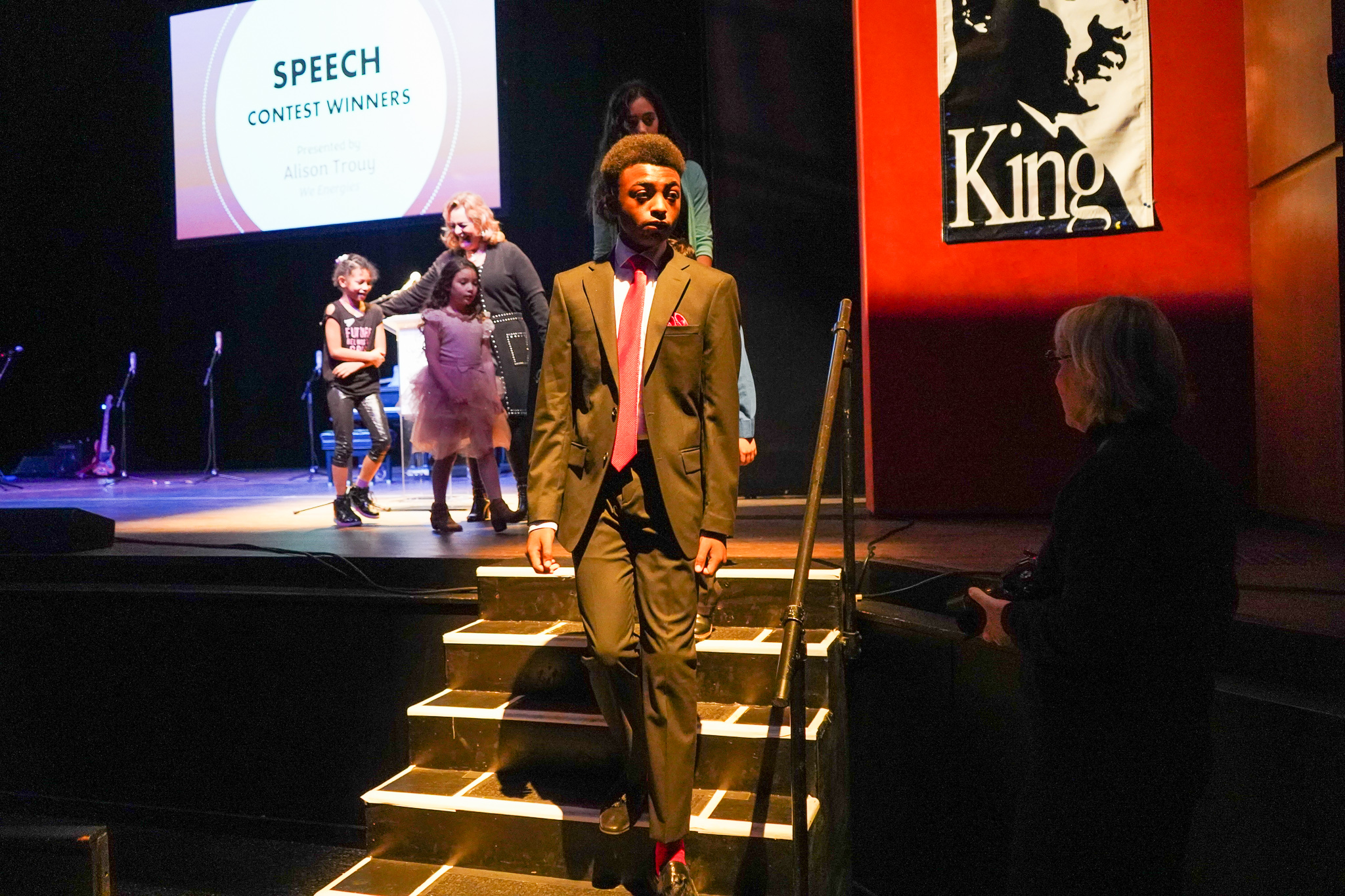 "Our MLK Celebration Steering Committee intentionally works to select program speakers and artists that reflect the diversity of Milwaukee County, and we're thrilled to partner with Antoine Reynolds Sr. and the Vincent High School Choir on this year's celebration," Smith continued, referring to musical performances ranging from "We Shall Overcome" to Marvin Gaye's "What's Going On."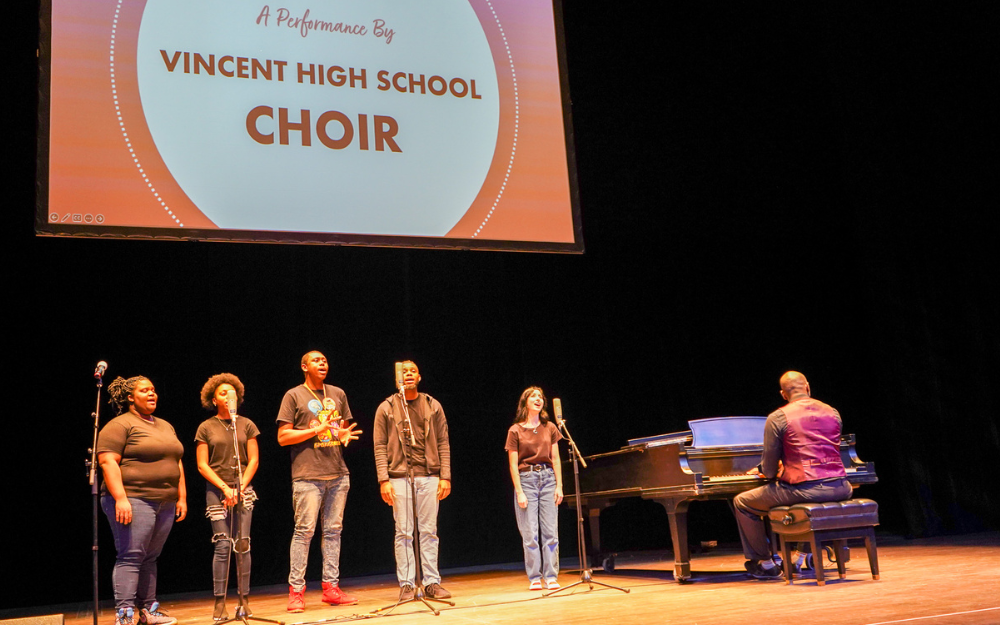 Students from kindergarten through grade 12 competed against students of their own age. The youngest winners in the speech contest delivered their award-winning words from a special stand behind the podium and, even then, they had to reach up to pull the microphone down to their level. The writing winners were brought on stage and acknowledged.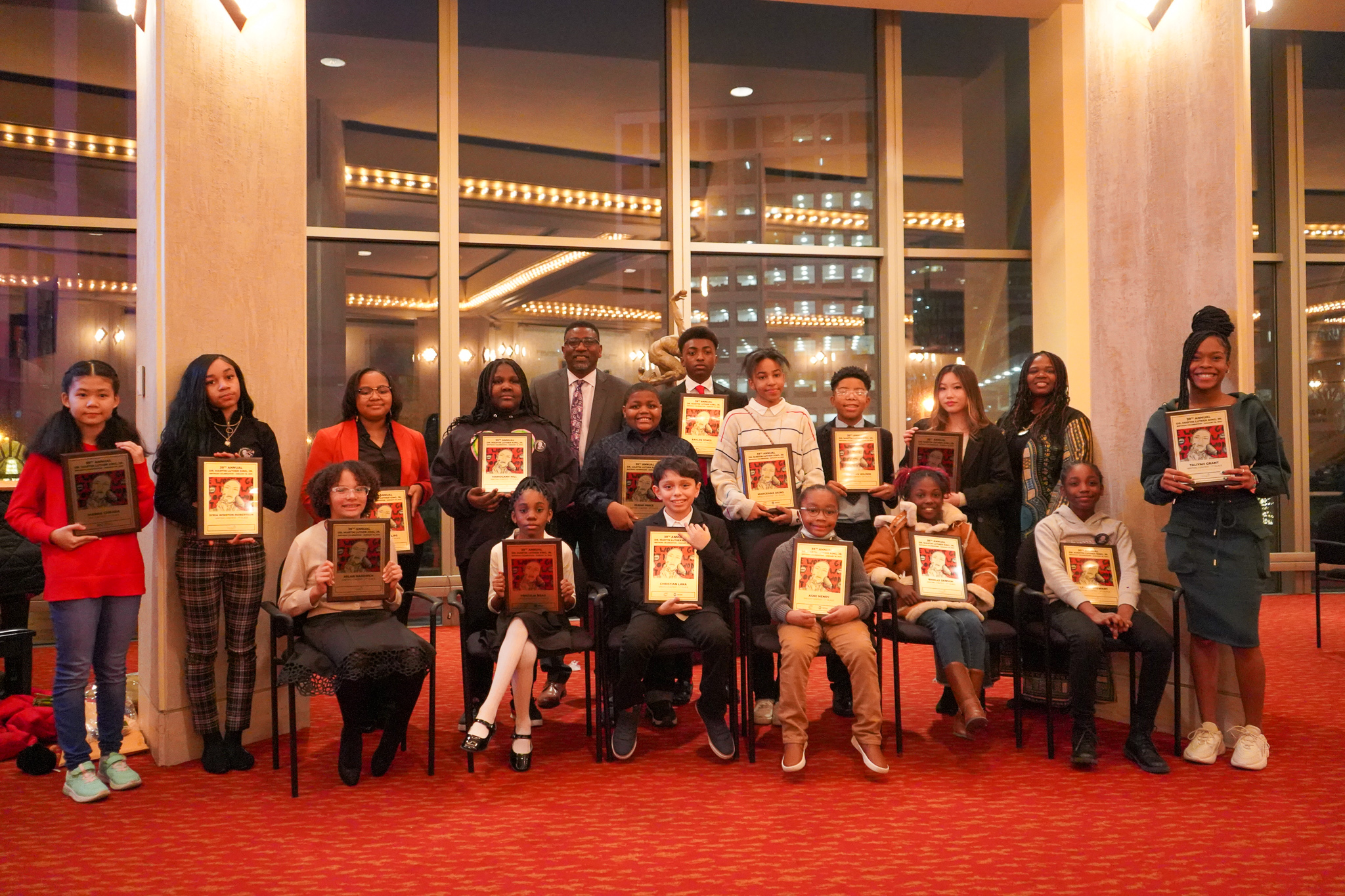 Winners in the art category saw their work displayed onscreen above the stage. In the grades 6-8 category, the first place art contest winner was given to Aida El-Hajjar from University School of Milwaukee.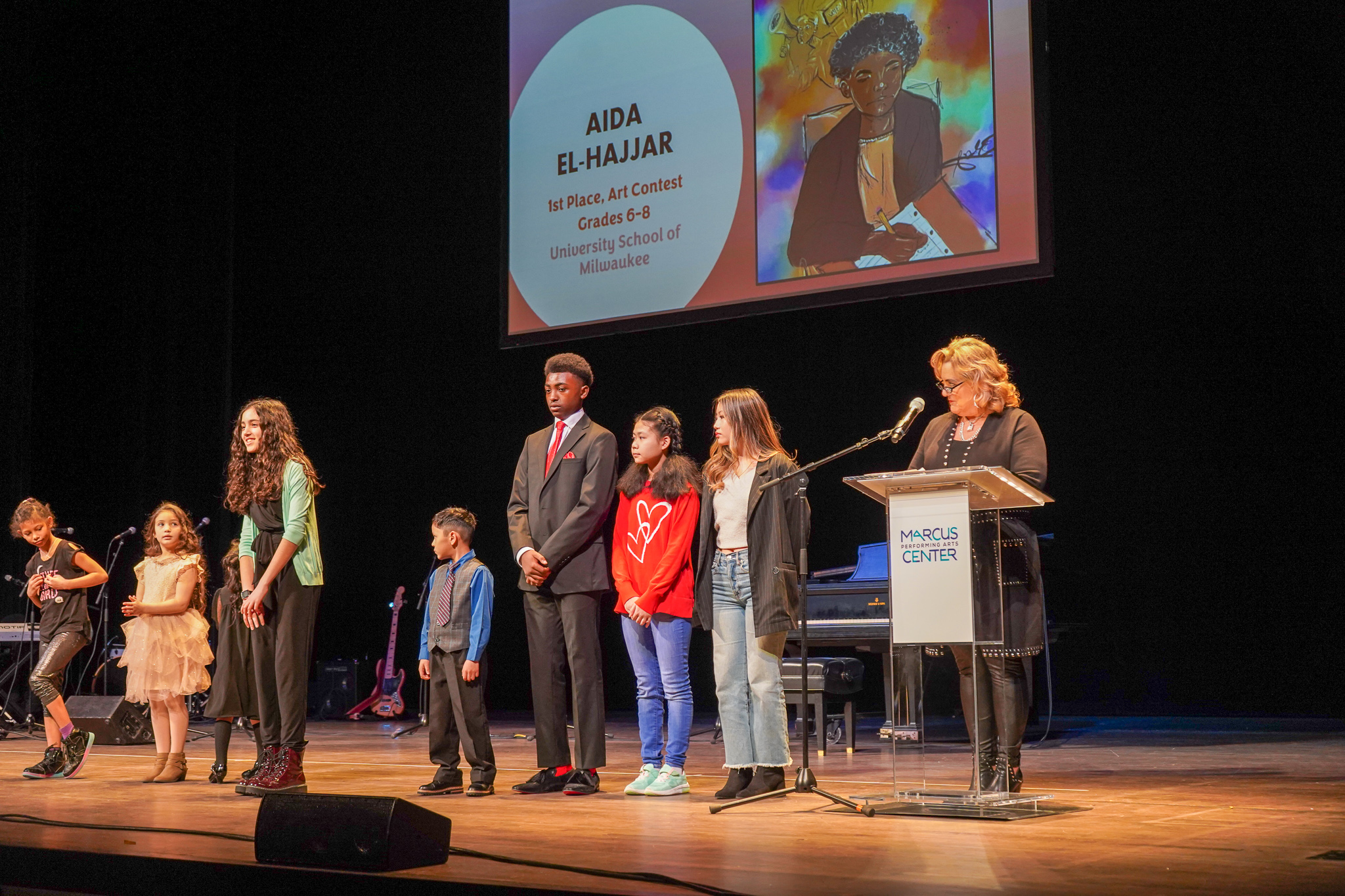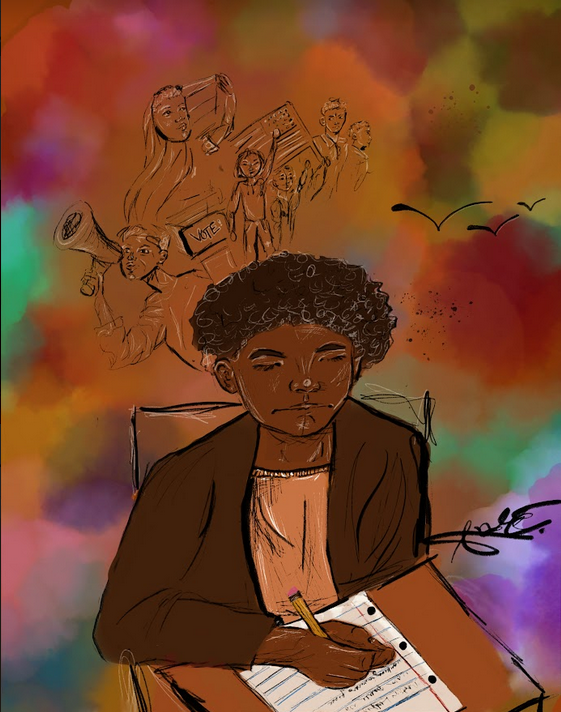 Photo courtesy of University School of Milwaukee
University School of Milwaukee student, Aida El-Hajjar won first place in the grades 6 through 8 art contest category, as part of the 39th annual Dr. Martin Luther King Jr. birthday celebration.
The student speakers related that the prophetic words and witness of Dr. King should inspire all of us to respect everyone regardless of their differences. Racism remains despite progress since the 1960s; economic inequality may have only increased since Dr. King's time and gun violence has grown more serious. Many of the students said that the world of peace Dr. King hoped for must begin with safe schools and safe neighborhoods.
Najeeb honored the MLK Birthday Celebration's Teacher of the Year, Cara Slingerland of Riverside University High School, for "inspiring students to think deeply, critically and creatively."
Several of Milwaukee's Black leaders took part in the 2023 MLK Birthday Celebration. Congresswoman Gwen Moore spoke of the need to expand violence prevention and de-escalation programs, to fight the poverty and lack of opportunity that continues to blight many neighborhoods.
"Our health is at risk because we don't follow the principles of Dr. King," she said. County Executive David Crowley said that the American experiment is a work in progress and that the race to social justice "is a marathon, not a sprint." He called on the next generation of leaders "to strive to live up to the legacy of Dr. King."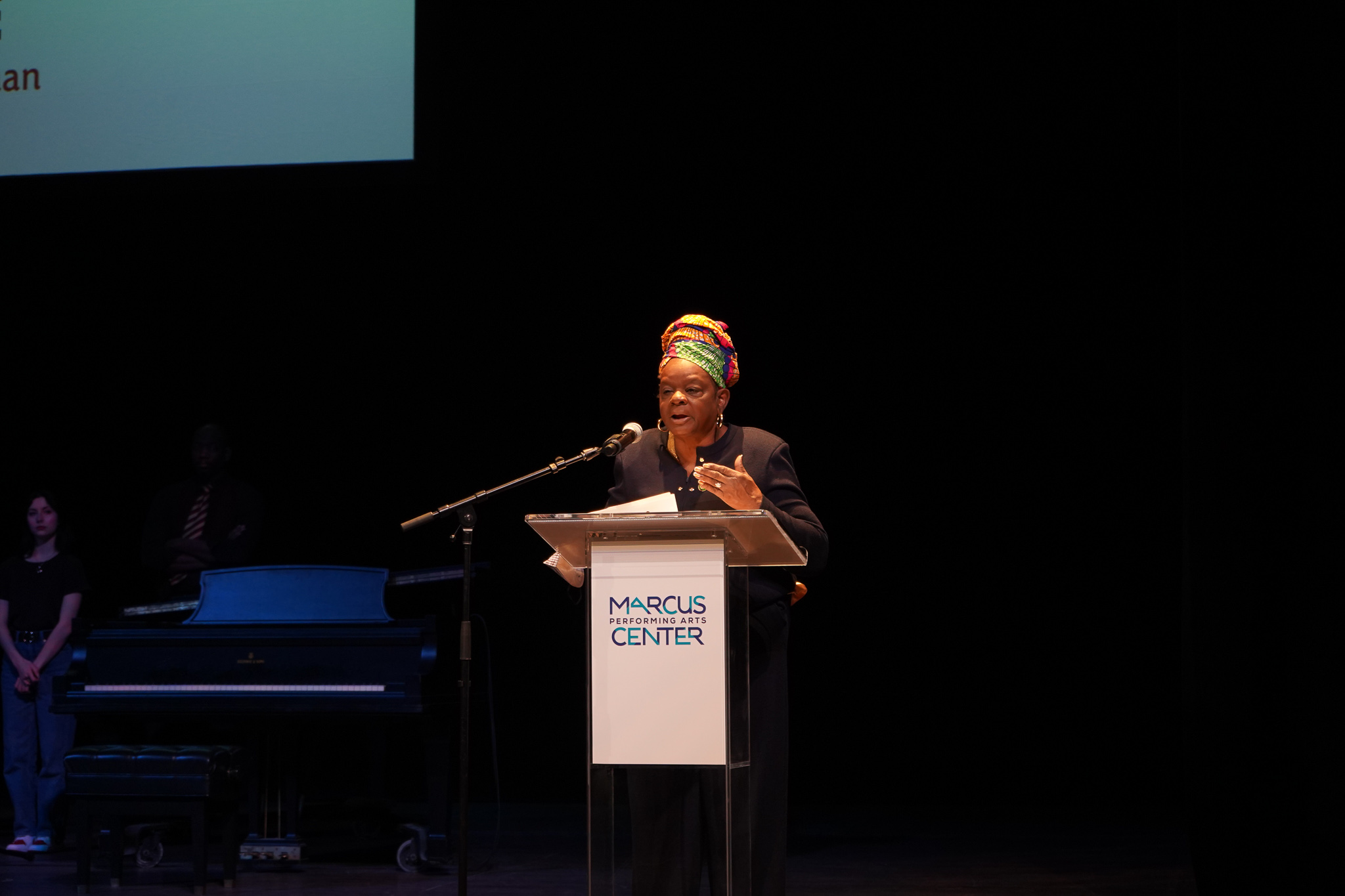 Congresswoman Gwen Moore presenting at the 39th MLK Birthday Celebration at Uihlein Hall in Milwaukee.
Mayor Cavalier Johnson joined by video, reminding the audience that Milwaukee was one of the first cities in the U.S. to organize an MLK Birthday Celebration. The first one was held here in 1984.
People and organizations from many communities participated in the event. Major Karen Holness of the Salvation Army delivered the invocation.