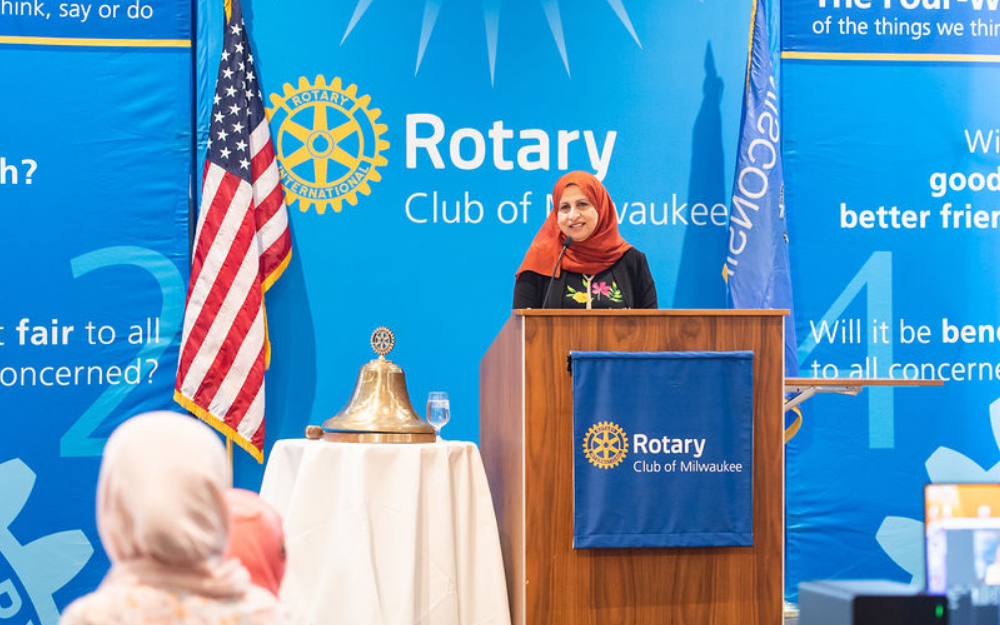 Photos by Mouna Photography
Janan Najeeb of Mequon is named the Rotary Club of Milwaukee's 2022 Person of the Year.
Rotary Club of Milwaukee named Janan Najeeb, Milwaukee Muslim Women's Coalition president and CEO, its 2022 "Person of the Year." Awarded in previous years to a governor, a mayor, a police chief, university presidents, hospital founders, industrialists, business leaders and other prominent citizens, the honor recognizes people who, "through their profession, are making the Milwaukee community a better place to live and work," says the ceremony program. 
Founded in 1913, the Milwaukee Rotary Club is a humanitarian, service organization that is part of Rotary International, a global network of over 1.2 million community leaders who "share a common desire to forge connections and make a difference in their communities," according to its website.
Almost 150 people, including Rotarians and invited guests, gathered Tuesday in a banquet hall on the third floor of the Milwaukee County War Memorial Center for the 2022 Rotary Person of the Year award ceremony. 
In a commemorative video, Milwaukee Rotary Club President Todd Bentley, president of Bentley World Packaging, said, "We're honoring Janan Najeeb today because of her tremendous contributions to the Muslim community and the entire community in Milwaukee."
What's the big deal?
Multiple organizations bestow important honors regularly. Najeeb herself has received a slew of them, including the Wisconsin Institute for Peace and Conflict Studies' Dick Ringler Distinguished Peace Educator Award, Interfaith Conference of Greater Milwaukee's Frank Zeidler Award for Social Justice and Activism, International Institute of Wisconsin's World Citizen Award, Council on American Islamic Relations National Award for Activism, American Civil Liberties Union of Wisconsin's Special Recognition Award, Wisconsin Woman Magazine's "Leader Making a Difference" and others.
Yet Rotary Person of the Year stands out from the rest. It honors a person's life's work, like the Lifetime Achievement Award at the Oscars.
"There are awards that honor heroism or philanthropy, honors that recognize student achievement or sports success. What sets the Milwaukee Rotary Person of the Year award apart is that it recognizes a special individual's accomplishments in a work environment. The Milwaukee Rotary Club confers no higher honor," explained Jeff Fleming, chairperson of the Milwaukee Rotary Person of the Year Committee. "Over the years award winners have come from the business world, from academia and from the not-for-profit world. What all the winners have in common is a record of remarkable achievement and insight." 
Milwaukee Rotary Club has given this recognition to 144 individuals since 1955. Previous winners include orthopedic surgeon Walter P. Blount, M.D., one of the first to recognize fractures in children as a possible symptom of abuse and a pioneer in the development of the Milwaukee Brace for the treatment of scoliosis; Irwin Maier, chairman of The Journal Company; Edmund Fitzgerald, a businessman who was responsible for bringing Major League Baseball back to Milwaukee; Bud Selig, America's ninth Commissioner of Baseball and a previous owner of the Milwaukee Brewers; Dr. John Raymond, Sr., president and CEO of the Medical College of Wisconsin; Gov. Tommy Thompson; Marquette University president Father John Raynor; and trailblazing businesswoman Catherine B. Cleary, the first woman on the board of several national corporations, a CEO of Wisconsin Trust Company and first woman to serve as assistant treasurer of the United States.
Some honorees left tangible landmarks like Milwaukee County Zoo director George Speidel, credited with making the zoo one of the best in the nation; Ben Barkin, founder of Milwaukee's Great Circus Parade; Harry Quadracci, founder of the nation's third-largest printing company, who helped finance the addition to the Milwaukee Art Museum designed by Santiago Calatrava; real estate developer Barry Mandel, called by Milwaukee Magazine "the man who built Milwaukee," largely responsible for downtown's residential renaissance; and Steve Marcus, chairman of the Marcus Corporation, who managed the $7 million restoration of the 1893 Pfister Hotel and played a major role in the development of Milwaukee's arts and entertainment.
Each year Rotarians nominate candidates for the award, Fleming said. "This year we received numerous nominations of very highly qualified people for this honor."
Why Janan Najeeb?
Center: Milwaukee Muslim Women's Coalition's public health coordinator Marlene Zahran
Barbara Velez, a past officer on the Rotary Club of Milwaukee's Board of Directors and principal at Velez & Associates, a firm that helps nonprofits meet their fundraising goals, nominated Najeeb. Velez serves on Rotary's Person of the Year Committee and had worked with Najeeb on the Rotary Club's Afghan refugee support project. 
"Janan Najeeb was chosen from a field of extraordinary humans who have done remarkable things," Velez said to the audience at the awards ceremony. "She rose to the top of this very competitive and worthy field because her accomplishments stood out from the day she created the Milwaukee Muslim Women's Coalition and continue to exceed any expectations today. I expect those achievements will continue to resonate and impact us for years to come.
"Decades ago, Janan was a trained microbiologist, raising five children and managing a household with a husband's own demanding career as a physician; it was certainly a full plate of responsibility. However, Janan is also a woman of faith who loves her culture as a Muslim.
"Raised principally in Milwaukee, Janan was keenly aware of the misunderstanding surrounding the beauty of Islam. She determined it was important to share what it means to be a Muslim while also respecting the differences of other religions and cultures. Imagine the courage and determination it took to fulfill that mission!
"Courage, determination and conviction have driven Janan to widen understanding and bridge the gaps. Janan has led the creation of the Milwaukee Muslim Women's Coalition, Wisconsin Muslim Journal, Wisconsin Muslim Civic Alliance, Milwaukee Muslim Film Festival and the Islamic Resource Center. In 2016, she was the first Muslim in Wisconsin's 174-year history to deliver the opening prayer for the Legislature."
Najeeb also serves on multiple boards, including the boards of Wisconsin Public Radio, Wisconsin Historical Society, the Marcus Center for the Performing Arts and the Milwaukee Rotary Club's Board of Directors.
Velez described the "tireless" work of Najeeb, the MMWC and the IRC staff in helping supply truckloads of clothing, blankets, prayer rugs, children's toys and games, and other supplies last fall to Afghan refugees housed at Fort McCoy.
"True to form, she didn't stop there," Velez noted. "In February, Janan, staff at the Islamic Resource Center and Women's Coalition launched community gatherings for Milwaukee-area teens to "Be A Buddy" to Afghan teens newly relocated here.  
"She continues to create and implement ideas that enrich the fabric of our city. Janan, as a woman, a Rotarian, a wife and mother, thank you for standing up for progressive thinking and paving the way for so many." 
Community leaders praise Najeeb in commemorative video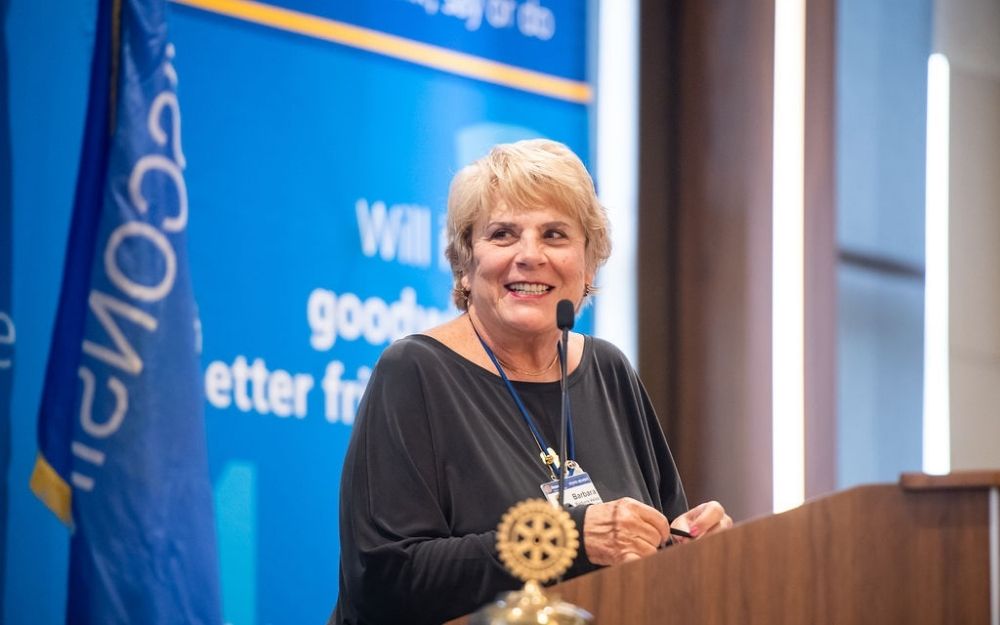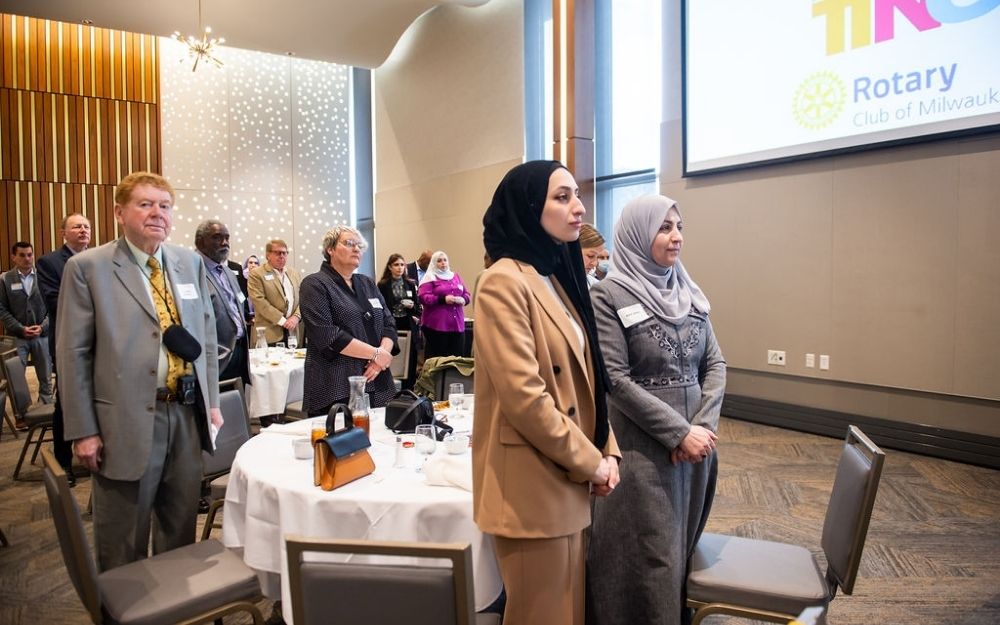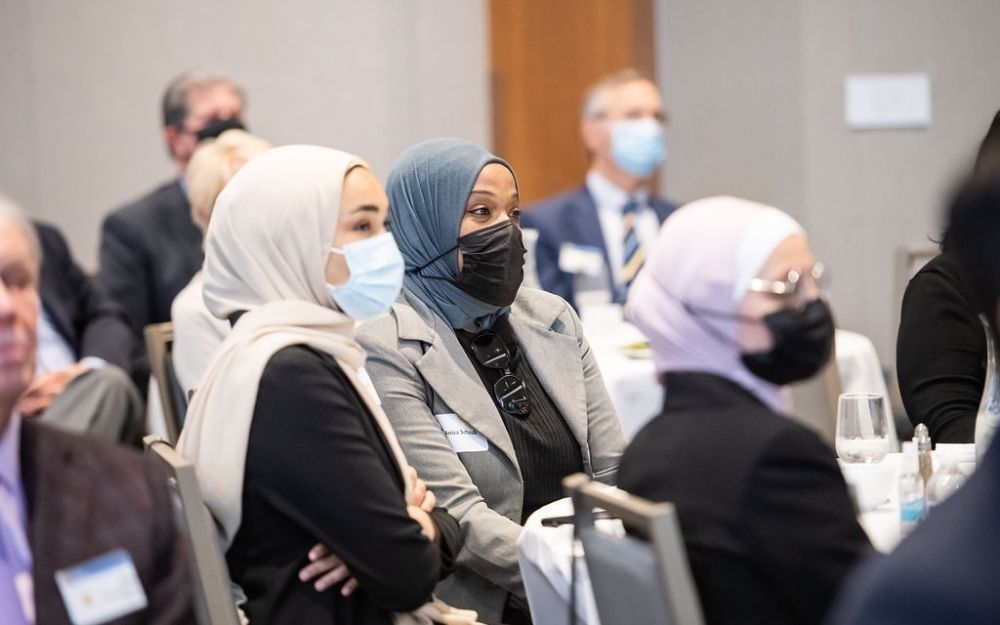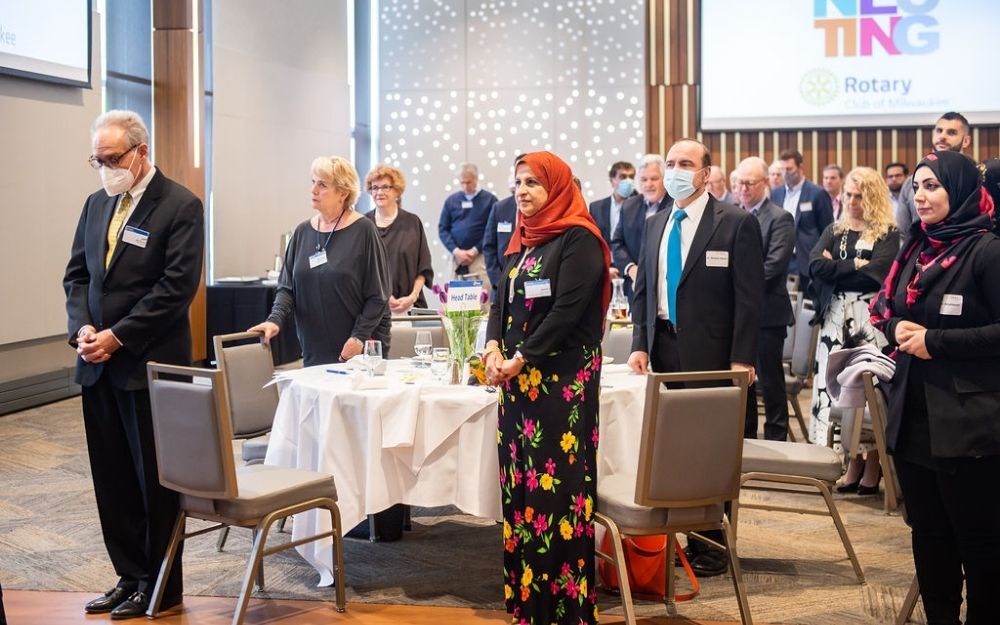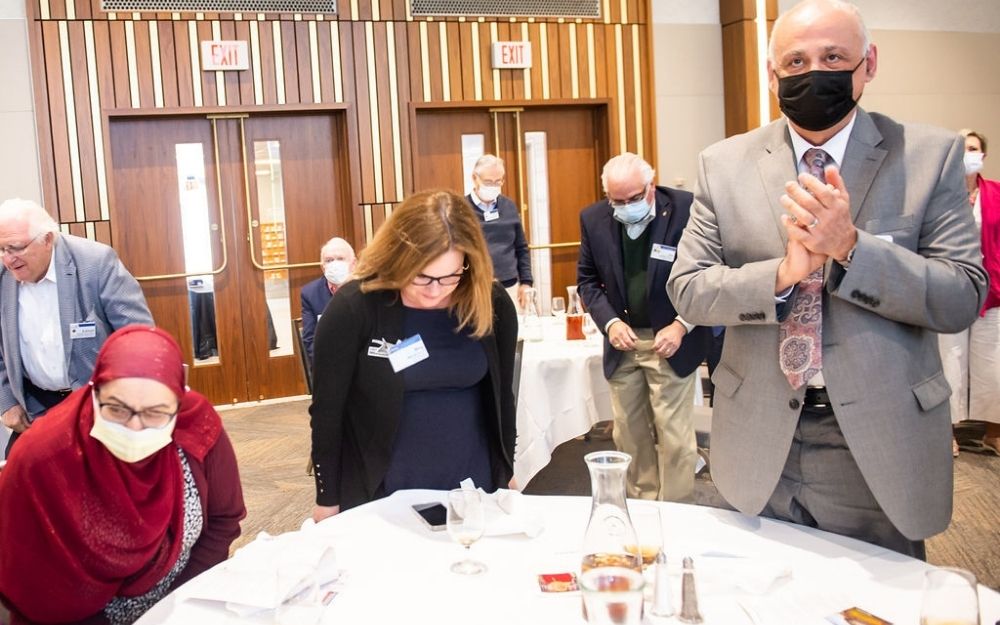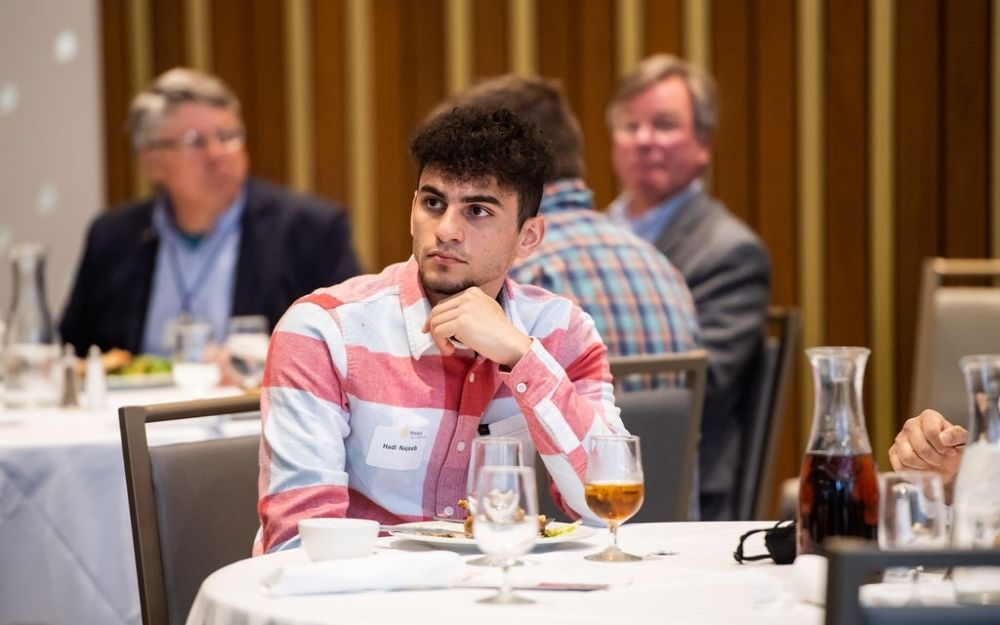 As part of the program, Rotary presented a video in which community leaders who have worked with Najeeb commented on her accomplishments.
Milwaukee Mayor Cavalier Johnson said, "Janan is a person who doesn't do it for glory. She doesn't seek recognition. She does it because it's something that needs to be done. It's just who she is. Some folks just have that drive. They get up and go because they want to make a difference and they want to see tangible results on the ground. Janan's one of those people.
"Janan's work over the years has been extremely important, no matter what side of town you are on," he added. "Janan's been a force."
Aishah Aslam, D.O., a cardiologist with Ascension Wisconsin, serves on the Milwaukee Muslim Women's Coalition Board of Directors. "I always tell my friends, when you go to other Muslim communities in different cities, if anybody ever needs any resources on the Muslim community or on Islam in general, they go to the local mosque and the local imam. But here, everybody comes to Janan," she said. 
"She's a great spokesperson for the Muslim community, but she's actually a great spokesperson for people of color in general and for women," observed Geraud Blanks, chief innovation officer of Milwaukee Film.
"You can't see her in action and not become a big fan," said Kristin Hansen, Wisconsin coordinator of the Campus Vote Project and president of Blue Sky Waukesha, a membership organization dedicated to civic education. Najeeb recruited Hansen to help launch the Wisconsin Muslim Civic Alliance to encourage civic engagement in the Muslim community. "When Janan and I first met, it was strictly as people who believed in civil liberties, but I quickly found out that she's hilarious. She's incredibly smart. She's up on all the issues."
"What has incredibly impressed me is her ability to step in and get things done," said Milwaukee Rotary President Todd Bentley. "She truly is a person of action. When the Afghan refugees came into Fort McCoy, within a very short window of time, literally days, she was able to marshal not only her community resources, but all those resources that Rotary was able to provide. The management at Fort McCoy actually came back and said the trucks Janan was involved in organizing and delivering were the most organized and the most needed trucks they received throughout the entire process."
An opportunity to build bridges
Janan Najeeb shared credit for her success with the Milwaukee Muslim Women's Coalition board and staff, and her family.
In accepting the award, Najeeb shared her personal story, described Milwaukee's Muslim community and dove in to dispelling stereotypes.
"Only in America would you witness an American Palestinian Muslim immigrant woman become Rotary Person of the Year," she said. "I am really honored because I know the giants that are in this room and the giants that are part of this organization.
"I am by birth Palestinian. I was born in Jerusalem. From the roof of my family's home, we could see into the Al-Aqsa compound, the Dome of the Rock and the Al-Aqsa mosque, which is the third holiest site for Muslims around the world. 
"I came to the United States as a 3-year-old, so I'm a naturalized citizen. Yet in many ways, I see myself as a third generation American. My grandfather was a citizen. He was a merchant who traveled between the U.S. and Palestine, spending a lot of time in Milwaukee. He is, in fact, buried in Milwaukee. 
"My father joined him as a young teen. In fact, my grandfather died in Milwaukee and is buried here. My father finished high school and his father died when he was only 16 years of age, but he continued here finished high school, technical school and served in the U.S. Army. Yes, we Muslims served in the Army. He then went overseas and got married. My brother and I were born there.
"When my family came to the United States, to Milwaukee, there was a very small Muslim community. I remember being in school and not only were my brother and I the only Muslims in every school we went to, but none of my classmates had ever met a Muslim or even knew what a Muslim was. In fact, many of my teachers didn't know anything about Islam at that time. An interfaith marriage was a Catholic and a Lutheran. 
"That experience planted the seeds of building community by building bridges and working to promote understanding. My parents were part of the first Muslim Christian dialogue group in the country that was started right here in Milwaukee by a couple of Catholic nuns at Cardinal Stritch University.
"I learned most fear of the other is simply the result of having not met someone from that particular group. I found creating opportunities for dialogue and interaction is absolutely the best way to counter erroneous narratives. I can't even tell you the number of times I have sat around a table with a group of people who never met a Muslim and literally they're fearful to even put their arms down. I usually start out by saying something to make them comfortable. I tell them, don't let this scarf scare you. I do have hair under there. It's just a bad hair day.
"Slowly, you start to see that people begin to feel a little bit more comfortable. Then we start talking about our husbands and raising our kids. We start talking about what foods we like and don't like. Pretty soon everyone feels comfortable and you realize we're all pretty much the same."
Milwaukee's Muslim Community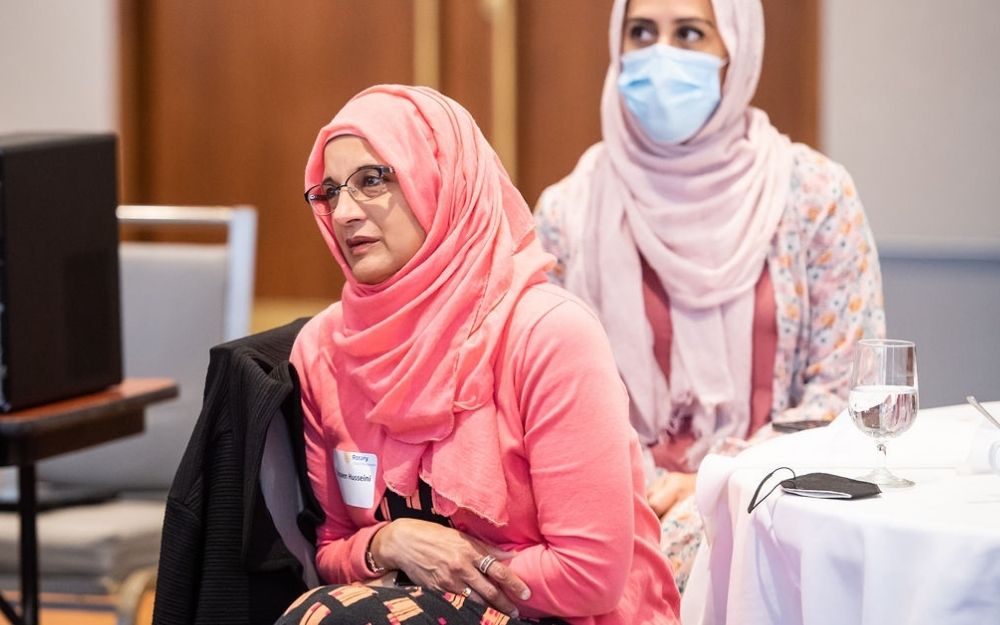 Center: Tahseen Hussaini, Islamic Society of Milwaukee – Brookfield Council Member
"What do I want you to know about your Muslim neighbors? We are an incredibly diverse community about one third of us are African American. Many don't know that about 30% of the African slaves brought to the United States were Muslim. Many were forced to leave their faith by their slave owners. Yet many African Americans decided to embrace Islam in the past 70 years as they began to trace their history. 
"The immigrant population is multi-generational and hail from dozens of countries, not only in the United States, but right here in Milwaukee. The community leans young with many families with young children, and there's a huge representation in STEM fields, particularly medicine, engineering and mathematics. There's also a significant number of business owners. It's a very philanthropic community with particular concern for victims of war, natural disasters and all types of oppression. And there's a religious obligation to care for orphans and widows that we take very seriously. 
"It's a well-educated community with the immigrants in particular representing what is often called a brain drain to the West. There are many highly educated women, particularly in medicine and education. It's a very family and community-oriented group. Waves of refugees include some being well educated and others being illiterate. Some groups have posed a real challenge these past two decades due to their needs and trauma.
Dispelling stereotypes
"Don't believe the stereotypes about Muslim women. Most are equal partners in their marriages and are the backbone of the community. American Muslim women are among the most highly educated, a close second to Jewish American woman, according to Pew Research Center survey. Don't let the expression of modesty confuse you. We are proud and very comfortable in our hijabs. In fact, we believe it's expressed in many faiths. I often look at images of the Virgin Mary or Mother Teresa. And I always say, they look very Muslim to me.
"Contrary to popular belief, Muslims are not looking to impose Sharia law in the United States … what is sharia law anyway? Is it the scary boogieman? It has five basic tenets: the preservation and protection of life, the freedom of religion, the preservation and protection of the intellect (basically free will), the protection of private ownership and property, and the protection procreation of the species, the earth and nature. That sounds very much like the Constitution to me. 
"They often say battles are fought on paper in the court of opinion. And this is usually done by creating definitions that are not accurate, but serve to build a specific image. "Jihad" is the perfect example. What does jihad mean? Who came up with the idea of holy war? That's actually a term of the crusaders. Who decided to hijack that term and impose it on us? Jihad means struggle. The greatest struggle is to do what is right within your heart. It's a very beautiful term." 
Commonalities between Muslims, Jews and Christians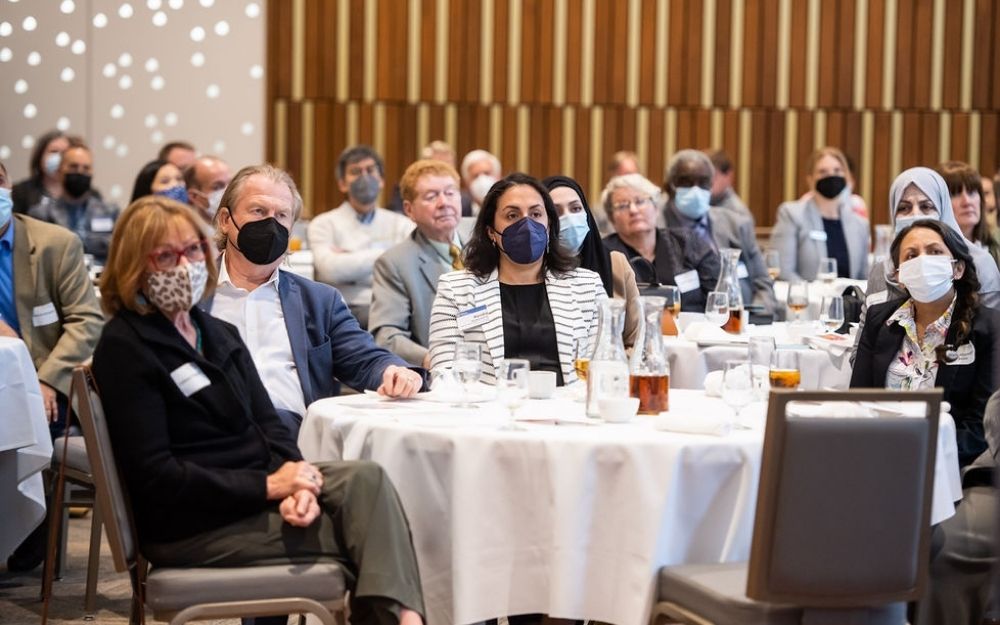 Muslims pray to the God of Abraham, as do Jews and Christians, Najeeb noted. Muslims pray facing the direction of the Kaaba, the building in the center of Islam's holiest mosque, located in Mecca, Saudi Arabia. "We believe it was built by Prophet Abraham and his son Ishmail, and was the first place on earth for the worship of one God.
Muslims consider Jews and Christians fellow people of scripture "or people of the book," she explained. "We share the same moral code, believe in one God, the God of Abraham, the creator of the universe. We use the word Allah because it's simply the Arabic word for 'God.'" Najeeb said she enjoys interfaith discussions because she knows much of the same content as Christian and Jewish participants due to the commonalities in their holy scriptures.
"We believe in the virgin birth of Jesus, who we believe is a beloved prophet, and we have immense love for the Virgin Mary. In fact, there's an entire chapter in the Quran on Mary."
Najeeb ended her speech by quoting the translation of a favorite passage from the Quran:
"Oh humankind! We created you from a single pair of a male and a female, and made you into nations and tribes, so that you may know and cherish one another, not despise each other. Truly the best among you in the sight of Allah is the most righteous of you."
An engaging Q & A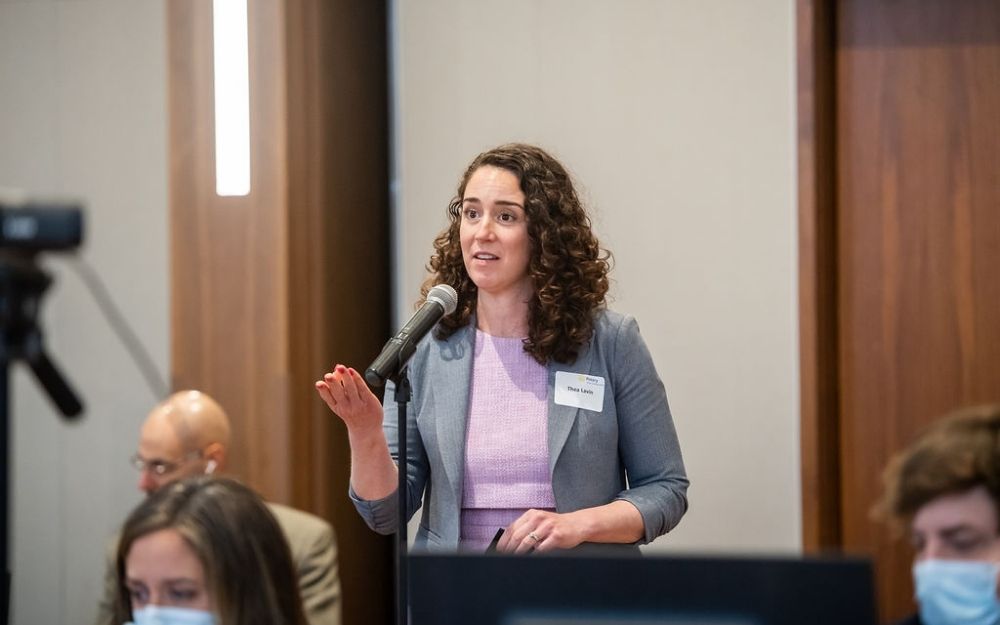 Managing director of Supporting Hope Thea Lavin asked, "What can we do to assist you?"
Marquette Professor Emeritus Bob Ashmore posed the first question, asking Najeeb what she proposed the United States do regarding Israeli human rights abuses against Palestinians. 
"So much for avoiding politics," she responded. "As a Palestinian, I believe that to achieve peace, our country needs to be an honest broker and needs to think about Palestinian civilians who have been suffering for 70 years, including the demolition of their homes and the open-air prison of Gaza."
Velez asked about the reason Muslim women wear hijab.
"Modesty is something that was revealed in all faiths; it's not particular to Muslims. And modesty is not just for women. References to it are found in the Quran and in the tradition of the prophet. There are many reasons for it. It designates you as a person of faith in the same way it does a nun or an Orthodox Jewish woman or Amish woman. We don't say they are oppressed; we see them as being people of faith.
"It also has to do with the purpose of our creation, which is to do good on earth. We believe when people deal with us based on our character rather than our legs or cleavages, that elevates the conversation. This is our public attire. The idea is to elevate society, to deal with each other on a different level."
Attorney Ahmed Quereshi, former president of the Islamic Society of Milwaukee, commented that Najeeb's mother is also "a leader and a powerful woman. I would like to give you the opportunity to discuss the influence your mother had."
"Many within the Muslim community know my mother's a powerhouse," Najeeb said. "She definitely raised strong men but she also raised strong women. The most important thing she taught us is that you never accept what is wrong. You never accept injustice. You stand up for what is right because you don't answer to people, you answer to God."
Thea Lavin, managing director of Supporting Hope, which supports the House of Home Vision School in the West Bank, asked, "What can we do to assist you?"
"Maybe you have a little more information now," Najeeb said. Speak up and correct people when they speak untruths about Muslims, she said. "I go back to the words of Archbishop Desmond Tutu, who said, 'If you're not actively going to be part of the solution, that means you are part of the problem.' 
"And Prophet Muhammad, peace be upon him, said that if you see an injustice or you see a wrong, try and stop it with your hand. If you can't, then use your voice or write against it and, if you can't, then continue to hate it within your heart. That means we can never be okay with injustice." 
Special moments during the ceremony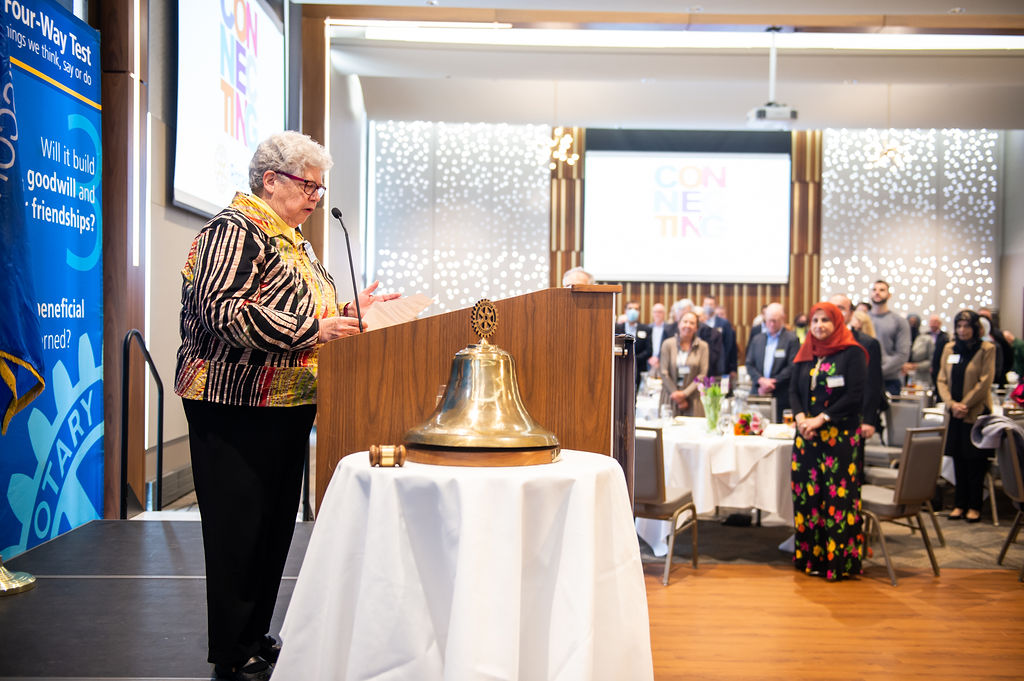 Sister Kathleen O'Brien, provincial coordinator for the School Sisters of St. Francis, offered the invocation.
Among other special moments at the event were the appreciation Najeeb showed to her family, fellow members of the MMWC and for her IRC staff; the announcement of a donation Rotary is to the YWCA in Najeeb's honor; and a heart-touching invocation by Sister Kathleen O'Brien, the provincial coordinator for the School Sisters of St. Francis.
Throughout her speech, Najeeb thanked people in her life that contributed to her work. At the top of the list was her family and especially her husband Waleed Najeeb, M.D., whom she good-naturedly joked, "is a physician with four specialties so he was never available." She praised the MMWC and IRC staff "who share her vision and work tirelessly."
Rotary selected the YWCA, with its mission to eliminate racism, empower women and promote peace, justice and freedom, as an appropriate organization to contribute to in honor of Najeeb.
Sister Kathleen O'Brien, provincial coordinator for the School Sisters of St. Francis, former provost of American Islamic College in Chicago, and senior vice president emerita for Academic Affairs at Alverno College offered an invocation she said she chose with Najeeb in mind.
"The Prophet Muhammad (peace be upon him) had many, many wise sayings. This one struck me as very appropriate in thinking about our person of the year," she began. "'The one who guides to something good has a reward similar to that one doing it.' In maybe our special Rotary way, we are rewarding this wonderful guide, Janan, for her life of guiding to the good.
"In that spirit, the invocation today is what Muslims would call du'a, prayers of supplication. Here are several that we call upon Allah to bestow on Janan.
"May Allah bless you and keep blessing you always with peace, happiness and success in all your life of this dunya and hereafter.
"May Allah protect you and your family, bless you with endless happiness, fulfill all your dreams and aspirations, respond to your du'as and reward you with a home for you in Jannah.