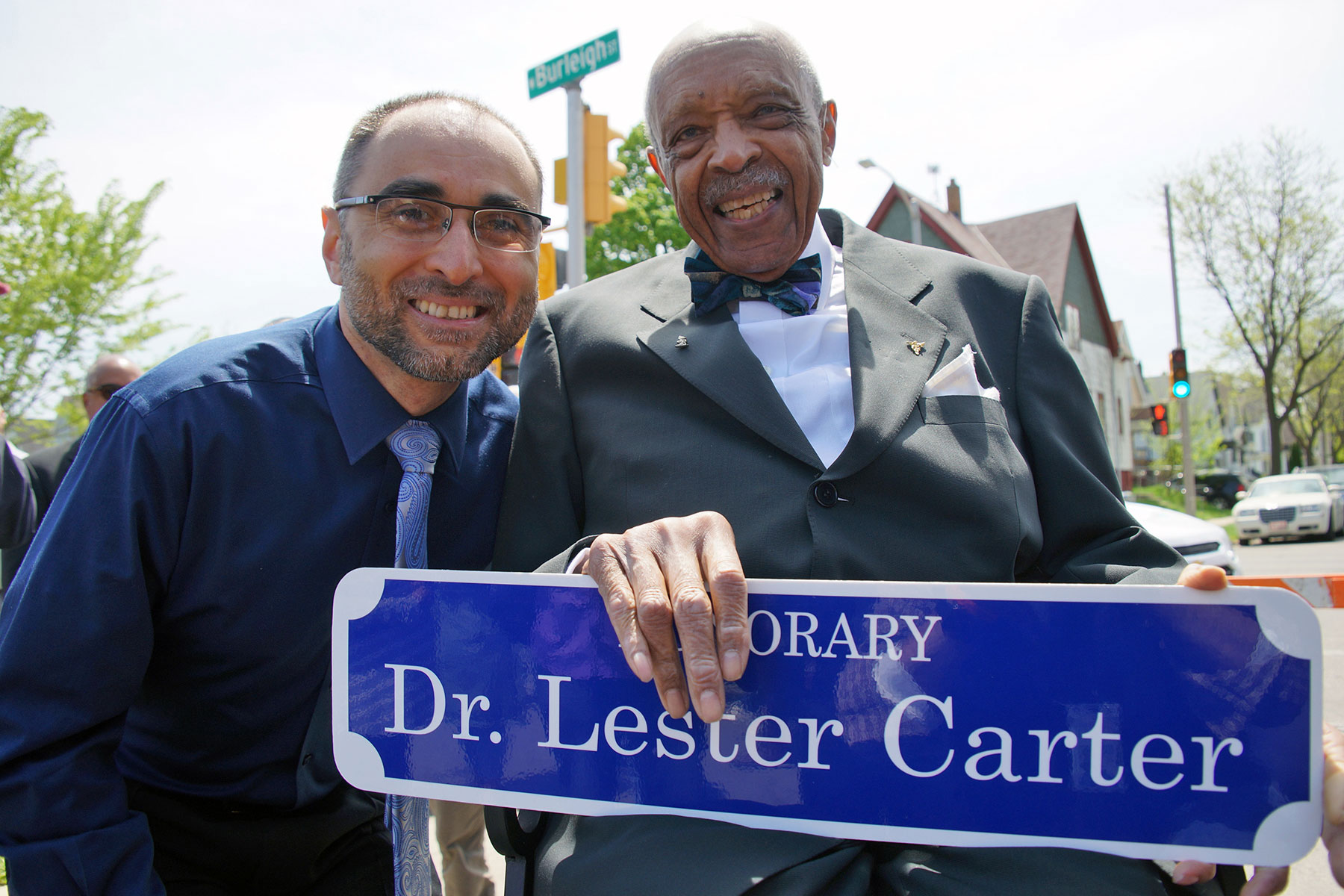 The City of Milwaukee celebrated the lifelong service of Dr. Lester L. Carter, Jr., for his pioneering and community service as a pharmacist, with an honorary street name dedicated on May 18.
Dr. Carter was one of the first African-American pharmacists in his hometown of Omaha, Nebraska before relocating to Milwaukee and founding his own pharmacy in 1968.
"As we work tirelessly to improve the health of the community, I am proud to take a moment to pay homage to one of our forbearers in this fight, Dr. Lester Carter," said Khalif J. Rainey, representing the Amani neighborhood as Alderman of the 7th District. "For 50 years, the patrons of Carter Drug Store have been the recipients of his courtesy, respect, and health expertise. That is why I am thrilled to lead a street sign naming in Dr. Carter's honor for the 2400 block of W. Burleigh Street, where his pharmacy has stood as a cornerstone for community health."
With five decades in business, Dr. Carter served multiple generations in the area. The honorary street sign naming ensured that future generations would remember the 87 year-old as a pillar in the community.
Growing up in Nebraska, Lester Carter idolized botanist George Washington Carver and was inspired to follow in his footsteps. He served in the United States Navy during the Korean War, then attended Creighton University as a 1958 graduate of the Pharmacy program.
The young African American pharmacist did not know anything about Milwaukee when he moved into what was then an all white, German neighborhood. A customer once told him in those early days that he would not last six months. That person was correct, Dr. Carter lasted six decades.
"I enjoy coming to work each day because I love people," Dr. Carter recalled. "I felt that the education I was fortunate enough to gain should be put to good use, providing patients with the best quality care possible. To be able to give beneficial services like information and medications to improve health, wellness, and quality of life for people in the community, that makes everything all worthwhile."
In 2014, Dr. Carter teamed up with Hayat Pharmacy who purchased Carter Drugs, now Hayat-Carter Herbal. Widely known as "Dr. Carter" to his customers and peers alike, he was awarded an honorary Doctorate from the Medical College of Wisconsin in 2015. He is also nationally recognized for his many custom preparations, and is sought out as an expert in herbal remedies.
"Dr. Carter has always been someone I have looked up to. I have tremendous respect for him as a pharmacist and as a person. I am very proud of him and am very blessed to have him in my life. This just makes me want to work harder to continue to serve the community the way he does​," said Hashim Zaibak, Pharm. D., President and Founder of Hayat Pharmacy. "I am glad that the City of Milwaukee recognized such a dedicated pharmacist who has been serving his community for over 50 years."
His personal story runs parallel to Dr. Carter's, and that similar background forged a strong bond between both men. Zaibak was born in Palestine and came to the United States in 1992. He always enjoyed math and science, and wanted to do something where he could help people. He graduated from the University of Illinois at Chicago in 1999 and went to work for Osco Drug in Milwaukee. By 2011 Zaibak was able to open his own pharmacy. He chose the named Hayat after the Arabic word for 'life,' which was symbolic for a medical organization that sought to improve the lives of its community.
Like Dr. Carter, Zaibak is also well known by his patients and organizations in the community as a helpful, educated medical counselor. He dedicates his time to giving health education presentations and has been recognized for his service to the community with multiple Pharmacist of the Year awards.
Hayat currently has ten pharmacy locations in the Milwaukee area, with Dr. Carter continuing to work at his original store at the corner of 24th and Burleigh streets.
"Hayat Pharmacy has allowed me to express myself without putting limitations on anything, saying I can't do this or can't do that. It's a wonderful privilege," added Dr. Carter.