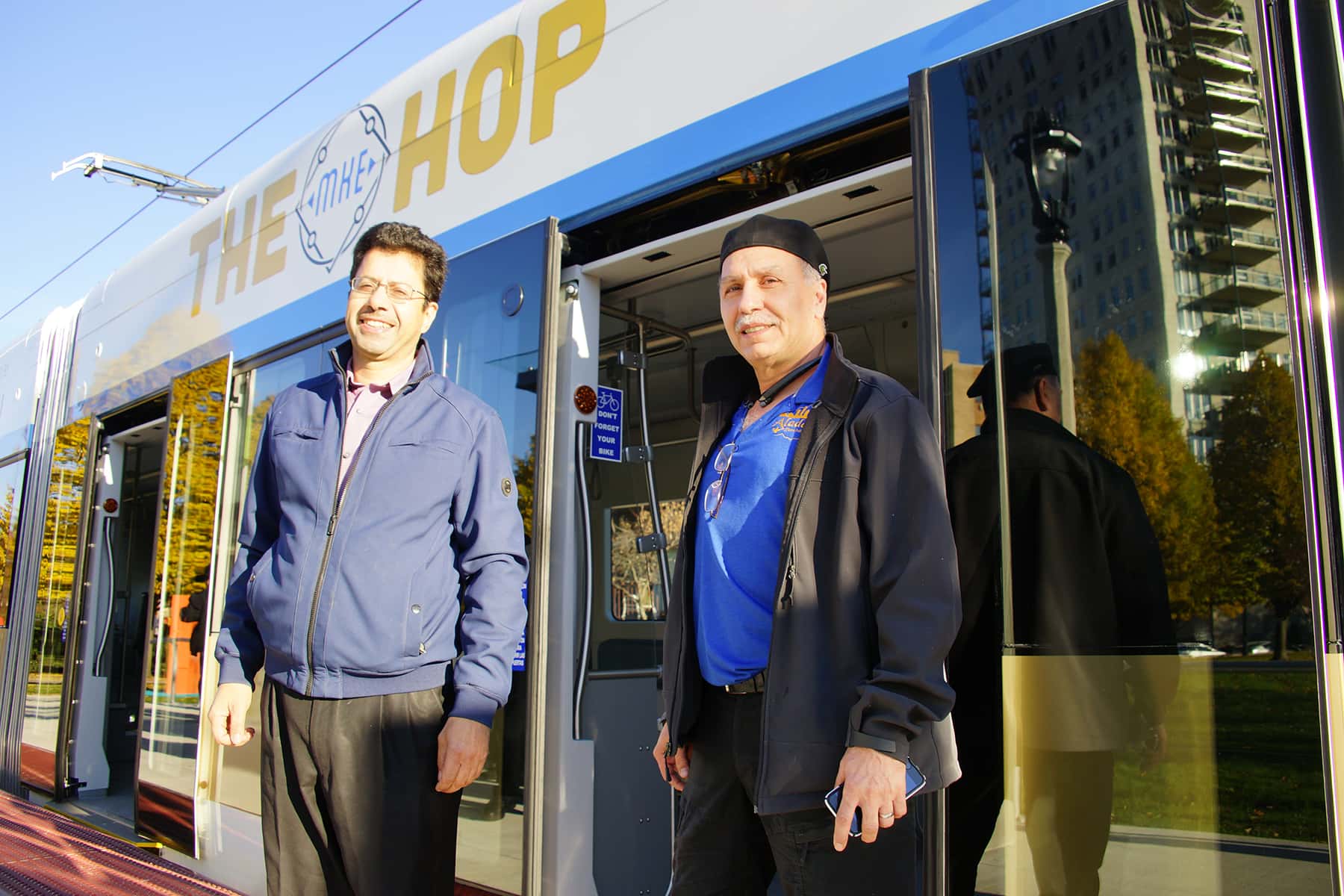 Milwaukee's new $124 million streetcar started passenger service on November 3, and immediately began connecting people and neighborhoods on its opening weekend by adding another mode of public transit for the Muslim population who work downtown.
The Hop is a new, modern fixed-transit network that further enhances Milwaukee's aspirations as a world-class city with cultural attractions, educational institutions, and historic architecture.
The M-Line's 2.5-mile network of 18 stations loops from Upper Downtown at Burns Commons to the Historic Third Ward at the Intermodal Station. One of the popular stops along the route is the Milwaukee Public Market, with its variety of food selections.
"I am very excited about the new Streetcar, I hope it will connect the city better and inspire more development," said Azmi Alaeddin, owner of Aladdin. "I think the biggest incentive is for workers downtown, to get to their office and explore new places to eat during lunch."
Two of Alaeddin's restaurants are located along key stops of The Hop. Each of the 67-foot-long streetcar vehicles can carry 150 passengers, and make an end-to-end trip in about 15 minutes depending upon traffic.
"I think this is awesome, and now I have a way to get around Downtown without having to re-park for lunch, and I don't have to walk to the Public Market in the cold," said Emily Ali, a Muslim Freshman at UW-Milwaukee. "I also like how the Streetcar stations are matched with the Milwaukee Bus routes. So at Burns Commons I jump on the 30 or Gold line to get to my classes."
Thanks to a $10 million sponsorship deal by the Forest County Potawatomi Community, rides on The Hop will be entirely free for the first year of operation. The fleet of five streetcars will run seven days a week, 5:00 a.m. to midnight Monday through Friday, 7:00 a.m. to midnight Saturday, and 7:00 a.m. to 10:00 p.m. Sunday.
"This is about progress, it is about the future, and it is about bringing this community together," said Milwaukee Mayor Tom Barrett, during the November 3 kick off celebration. "At a time when we have a nation that is bitterly divided, a state that is bitterly divided, the purposes of the Streetcar is to bring people together – and bring places together. It is a connection to build a more vibrant community."
The L-Line will be the Streetcar's next extension, projected to start service in late 2020. That will take the route to the Lakefront. A transit station is planned in the first floor of the Couture tower.