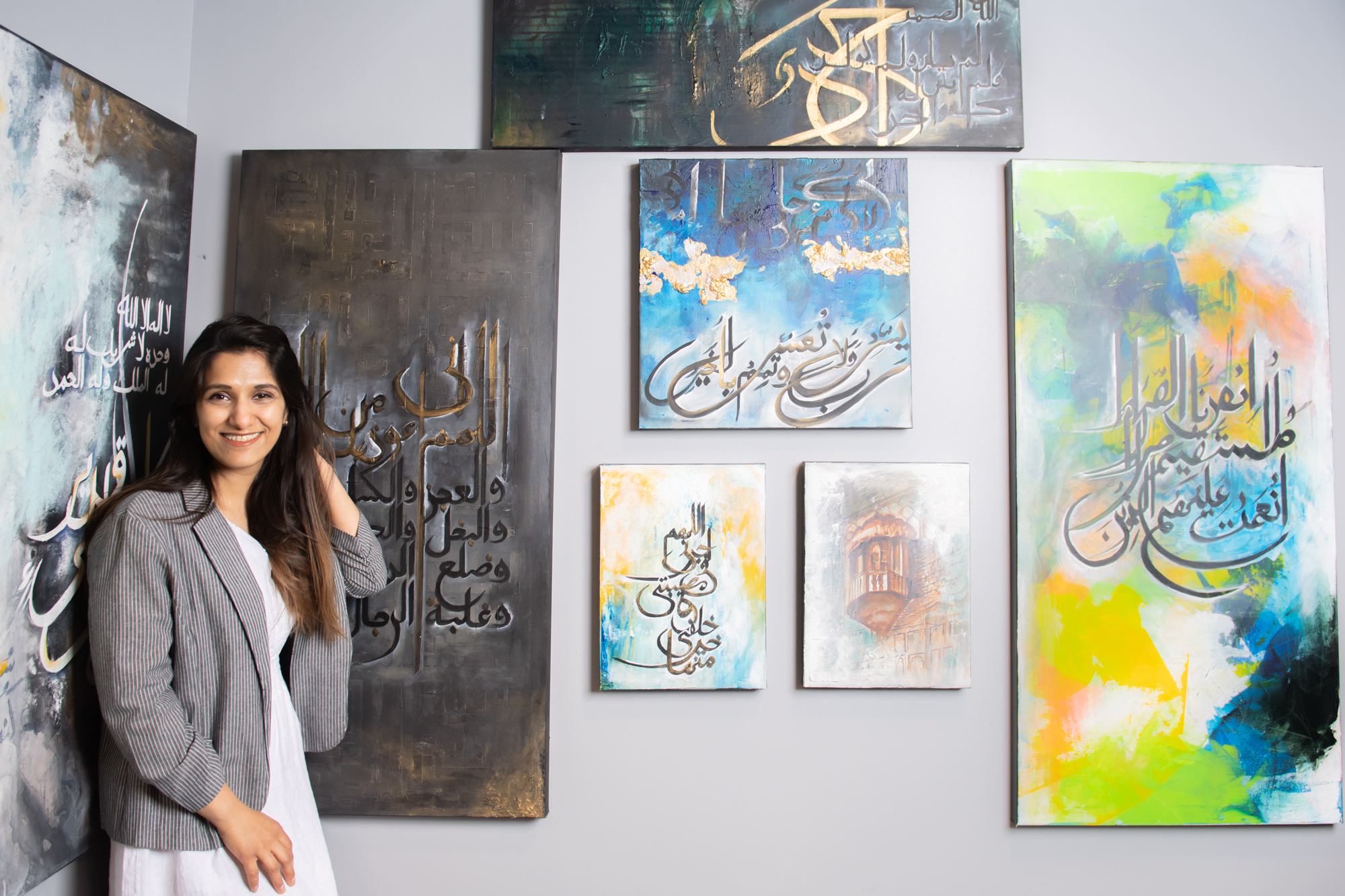 Photo by Mouna Rashid
Pakistani artist Rida Fatima will lead a workshop at the Milwaukee Muslim Women's Coalition's Networking Brunch on Feb. 24.
Milwaukee Muslim Women's Coalition's February Networking Brunch features renowned Islamic artist Rida Fatima of Pewaukee, who will guide participants in writing with their names in an ancient Islamic script on a painted background, creating a piece of art to take home. 
The brunch is open to the public and will be held from 10 a.m. to 12 p.m., Friday, Feb. 24, at the Islamic Resource Center, 5235 S. 27th St., Greenfield. It includes a buffet provided by Taqwa's Bakery & Restaurant. The fee is $15. Register here.
MMWC Networking Brunch Is held the last Friday of each month. It begins with time for socializing and enjoying an Arabic meal, followed by a lecture or workshop by a guest speaker. The topics and speakers selected are intended to appeal to a diverse audience, creating an opportunity to enhance interfaith and intercultural understanding, said organizer Cherrie Hanson, MMWC special project manager.
About the artist
Rida Fatima of Pewaukee is an award-winning artist whose architectural paintings and calligraphy have been exhibited in galleries in New York, Chicago, St. Louis, Richmond, Columbus, Portland, New Brunswick and Laguna Beach, California. Her work won "Best in Show" at an exhibit at the Old Orchard Gallery in St. Louis. One of her designs was chosen by a company for its logo. The Council on American-Islamic Relations (CAIR) has displayed her work at its annual banquet annually.
Fatima studied interior design at Hunderkada College of Visual and Performing Arts in Islamabad, Pakistan, which led to her interest in architectural paintings. She sketches buildings on trips back to her native Pakistan, where she especially admires the points and curves of the mosques. Once back in her Pewaukee studio, she develops those sketches into paintings that give her a sense of connection to her homeland.
Calligraphy entered Fatima's repertoire when well-known calligrapher Rasheed Butt visited her college to offer the students a three-day workshop. A chance encounter with him in an art supply shop later that same day led to the opportunity for Fatima to study calligraphy with him. Butt taught her kufic script, the earliest style of Islamic writing, used by early Muslims to record the Qur'an.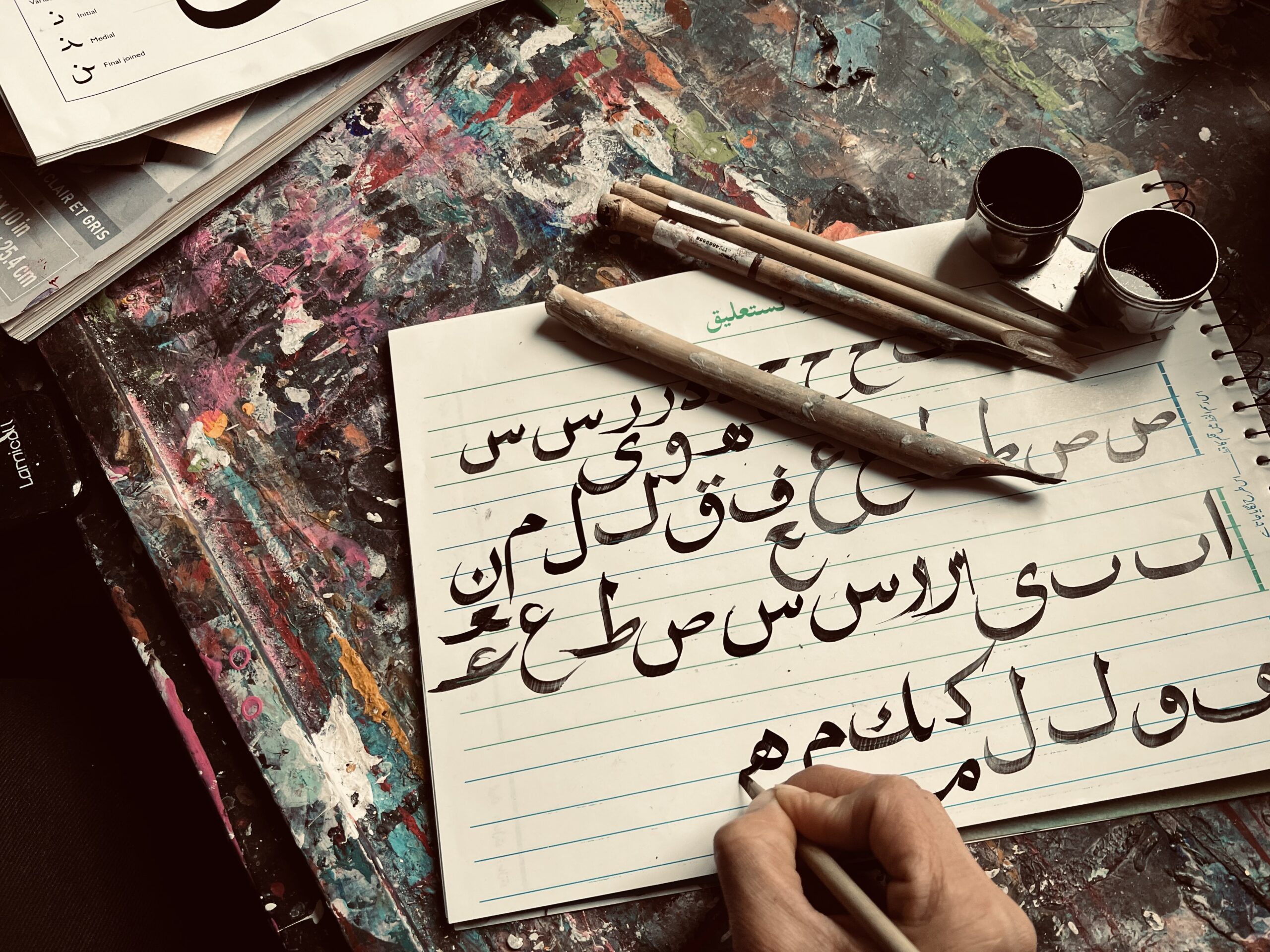 Photo by Rida Fatima
When Fatima moved to America as a newlywed at 22, she began thinking more about the verses from the Qur'an she was writing, she said. She began researching the history of particular verses, trying to understand "why the Prophet recited it at a particular time."
"I found it gave me a strong connection to my own being and to the message I want to give to the world," she explained.
In the years since, she is now 34, Fatima practices calligraphy regularly. "It is therapeutic," she said about dipping her bamboo pen in ink and sliding it across paper.
What to expect at the workshop
Fatima has developed the ability to draw a variety of scripts, including nakash, the script she will teach at the MMWC Networking Brunch. Nakash is easy to read, and one of the easier ones to write, Fatima said. 
"And that's the thing—if you have Arabic calligraphy in your home, you should be able to read it so that it is giving you the blessings (of the verse)," she said.
Fatima will give each workshop participant a paper that she has hand painted to serve as a background for their calligraphy. While there are types of specialty paper for calligraphy, she chose paper of similar quality that she found at Michaels, an art supply store. Any paper of smooth texture that allows their pen to glide over the page works well, she explained. The other tool provided to everyone will be a Sharpie felt-tip pen.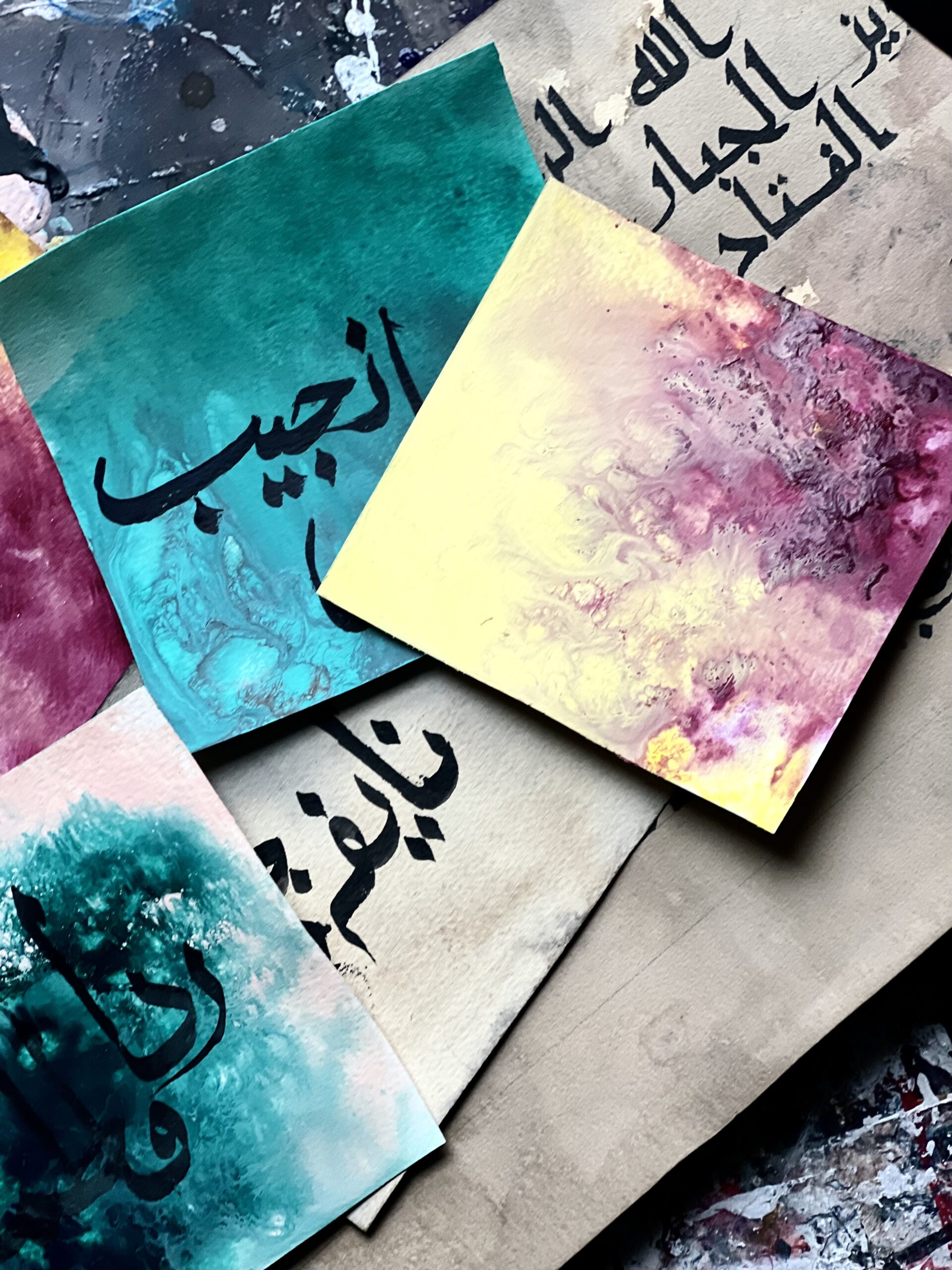 Photo by Rida Fatima
"I want them to use supplies that are easily available in case they want to find them later," she said.
Fatima will talk about the history and significance of calligraphy, and help the participants write their names in nakash script. From teaching many art classes in calligraphy, she has found "that it is harder than most people think it will be." Everyone will have practice papers to start before moving to the painted backgrounds.
She hopes everyone will create a beautiful art piece, featuring their name, that they will be happy to keep.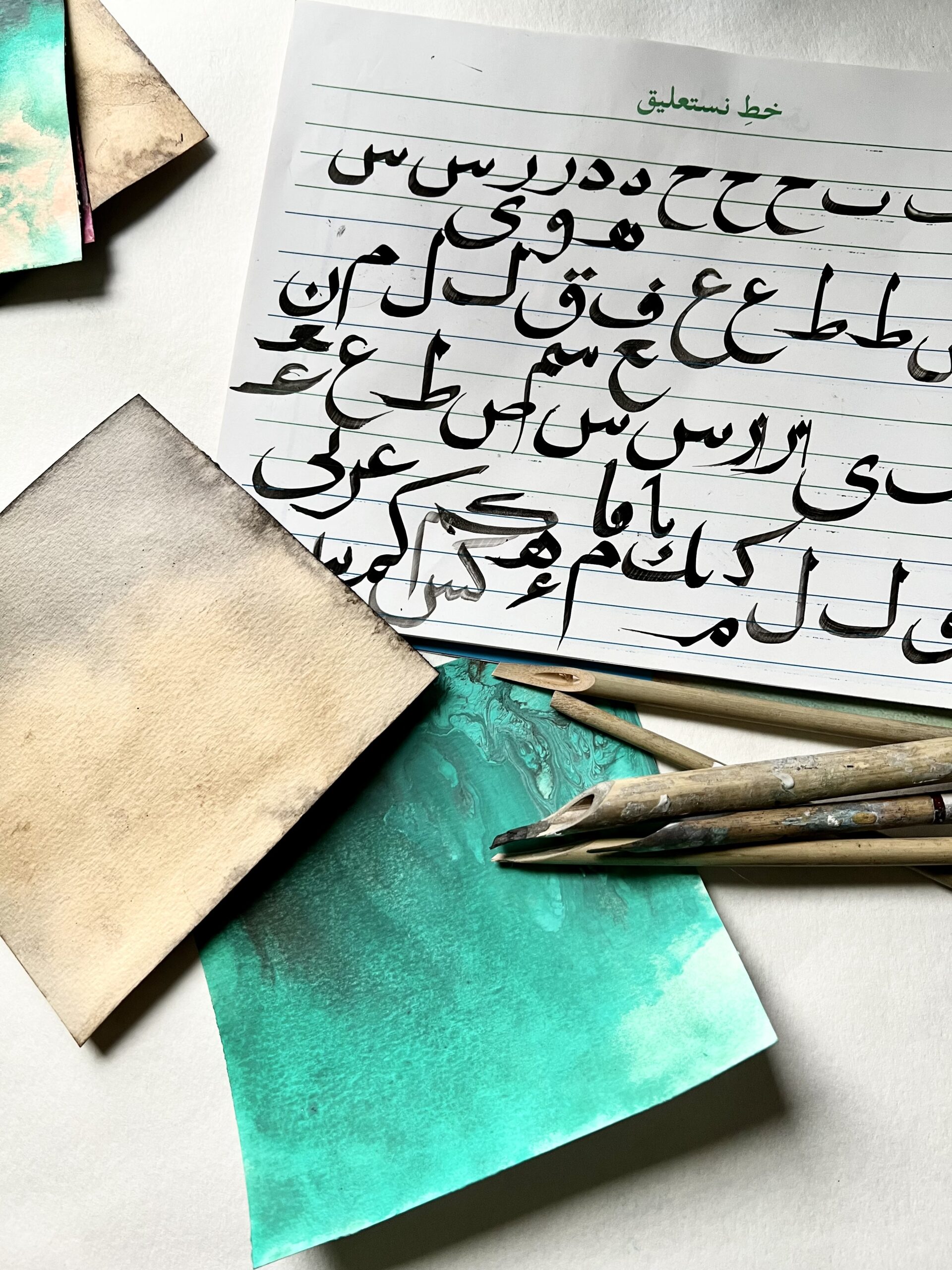 Photo by Rida Fatima
"Most of all, I hope everyone learns to enjoy the process so much that they practice when they go home," she said. "If they like it, they may decide to buy a bamboo pen and practice often. 
"They'll discover how calming it is."