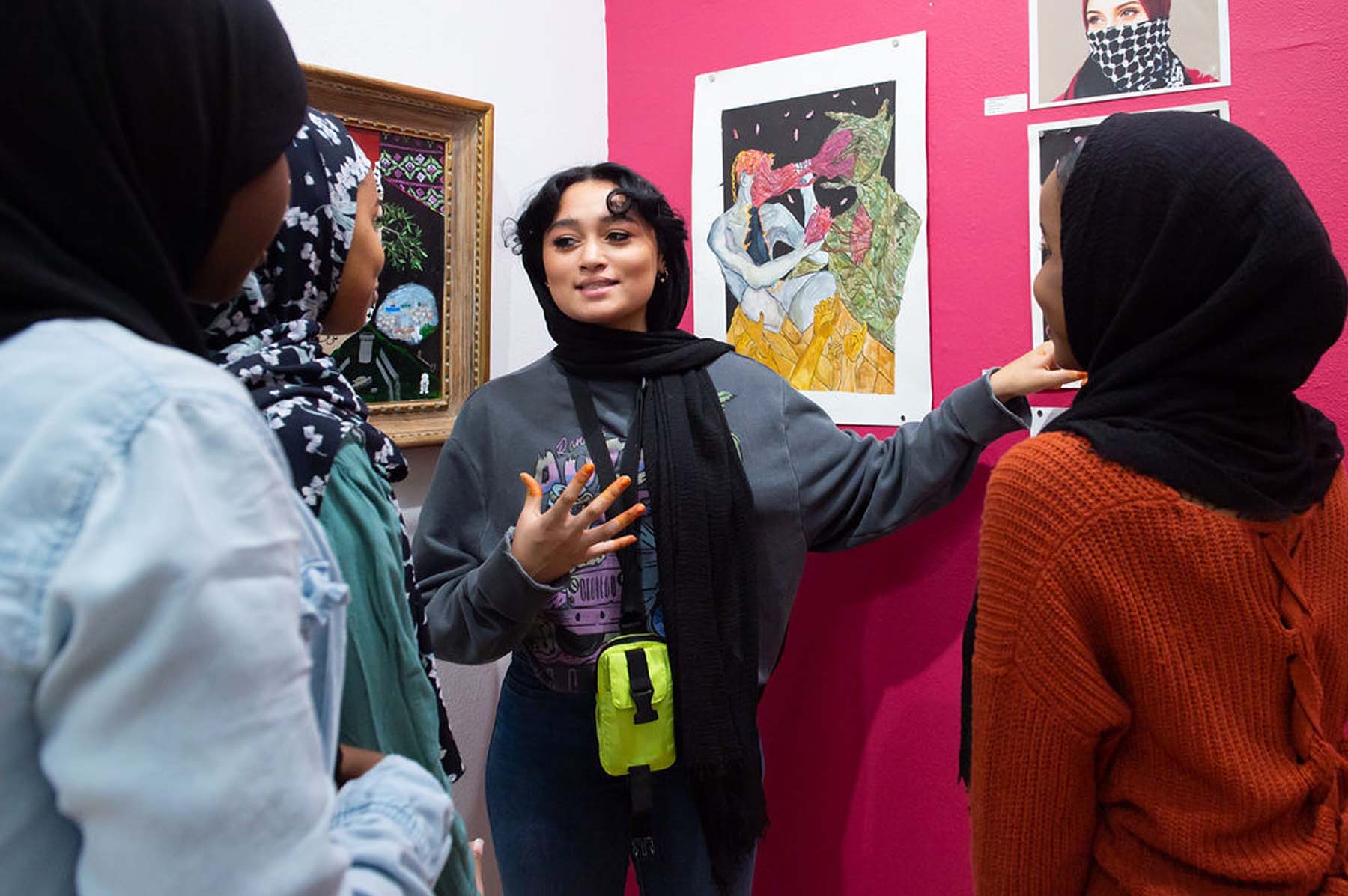 The corner of South Fifth at Walker Street is quiet, but inside the cream-city-brick, storefront building at 839, the Walker's Point Center for the Arts, all three galleries are buzzing with the artists showing tonight and their friends, supporters, and even a few parents.
Saturday, November 23 at WPCA was the opening of the Underground Muslim Art Show produced by local arts organization Fanana Banana. As graphic artist Nayfa Naji, one of the co-founders, explains, "'Fanana' means 'artist,' in Arabic and 'banana' gives it that goofy, catchy, creative vibe." The goal of Naji and her co-founder, artist Amal Azzam, is to provide a platform for Muslim creatives to showcase their talents. Submissions for the November 23rd show were predominantly local but also national and even international, with submissions from the UK and India.
It's easy to pick out the artists in the crowd, especially when they're posing next to their self-portraits.
Omar Ece, 18, does digital work that has a distinctly Goth style. "I usually make the drawing itself black and white, but I'll [add] little accents." He pointed out the "accents of red around my eyes" in his self-portrait. He uses photos of himself and model photos that he finds online, but one especially spooky piece is abstract. He named the group of pieces on display at Walker's Point Sixth Sense. "I define my art as an extension of me, another way to just live," he said. I asked him about the neon halo around his head in the self-portrait, and he said, "When I create the art, I go more with the flow and I try not to think about it too much."
On the opposite wall, Amal Azzam's work stands out for its very dominant color – pink. "My work is identified by my artist name 'Mila Hakim,'" Azzam tells me. So why the pink, which is having a weirdly hypnotic effect on me that I like? She says that "in college and after college . . . whenever I was stressed, I enjoyed creating in pink. It's a challenge to sit for 5+ hours on my laptop and create in one color." Pink, in keeping with the theme of tonight's show, is actually a pretty subversive color the way "Mila" applies it. She says using pink gives her the opportunity to "enjoy creating a twist on a lot of cultural icons, religious icons," as well as her own "religious identity," as in the digital print "Masjid Drip." Other pieces, like "Monster Handshake" make a point by adding another color – green – to the pink, creating a violent contrast with a normally soothing color.
This is Nada Alzalloum's third show in less than a year, one in Milwaukee last summer and another in Chicago. At WPCA on Saturday night, the 27-year-old artist displayed a group of digital photos for the first time that featured juxtapositions created in Photoshop. The results are new photographic pieces that are like powerful, non-verbal memes. For instance, a refugee man, clearly on a long, hard journey with a little girl on his back, appears to be walking across glitzy, glittering Times Square in NYC. "My focus is to get people to stop thinking of them as refugees," she said, and "just look" at these newcomers in our midst. Placing humans in flight in a new context suddenly makes the refugees visible to our eyes. One of Alzalloum's digital pieces shows a little girl clutching a small stack of books. It was taken in a refugee camp, not, as in the background of her image now, the Harvard University Library. In another one of Alzalloum's photos, an inflated raft packed with fleeing refugees pulls up in the Grand Canal in Venice. 
"Why should we exclude them just because their life circumstances are different from ours?" she says of the subjects of her digital mash-ups.
But not all of the art on display at WCPA was digital. Janine Katbeh, 16, of Nathan Hale High School painted a collage of fragmented scenes on canvas that is "basically a mural of Palestine," Katbeh said,  "split into different components" or sections that look like fragments of shattered glass, including the central Palestinian woman's partial face and eye. "And growing out of the eye, an olive branch, which is a symbol of peace and freedom," Katbeh interprets her painting for me.
"I guess I just wanted to tell the story of Palestine in a painting," Katbeh said, but "I felt one piece wasn't enough, that's why I split it up into multiple pieces. A lot of people don't know" what the situation of Palestine and Palestinians really is, and "I think art is a good way to express that," she said.
Another painter, Noor Fleifel, 18, showed paintings and small drawings that were instantly want-able, with an expressive yet controlled style, disturbing yet witty surrealism employing both figures and abstraction.
Marcela O. Garcia, the WPCA Executive Director, introduced the evening's live performance pieces by spoken word artist Zeki Abulughod and flamenco guitarist Qays Alakeidy, 32, who has been playing guitar for only 8 years, since he heard a man in Egypt playing at a riverside market and asked for lessons. 
Visitors that night included Angela Swan, MFA Student in sculpture and community engagement at UWM and artist-in-residence at Laurel Oaks Senior Center; Nailah Johnson, a dancer, singer and organizer of  Leaders Igniting Transformation; Jake, 27, an artist who lives in the Walker's Point neighborhood; Sausan Naji, Nayfa's mom, who set out the healthy spread; Noor Fleifel's mom and dad.