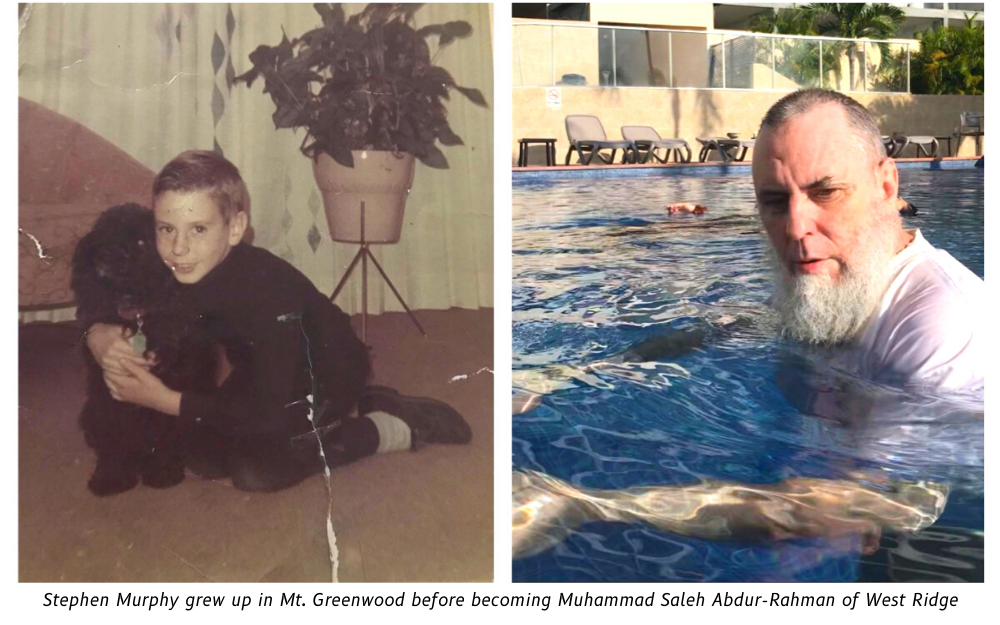 Muhammad Saleh Abdur-Rahman, 60, grew up an outsider in Mt. Greenwood. He found purpose in West Ridge, whose Muslim community helped his family after his untimely death.
West Ridge- Stephen Murphy was born in Mt. Greenwood in 1960, the youngest of four children in an Irish Catholic family.
But he did not find his niche in the Southwest Side neighborhood. Instead, he headed to the polar opposite corner of the city, settling in West Ridge, one of Chicago's most diverse neighborhoods.
West Ridge is where Murphy lived and went to services in a mosque after converting to Islam. He took the name Muhammad Saleh Abdur-Rahman.
Saleh, as he was known, immersed himself in his new religion and began traveling the world, visiting mosques. His travels led him to Panama, where he fell in love, got married, and started a family.
Saleh retained his Chicago residence, though, and he and would come back periodically to work as a cab driver.
Saleh with daughter Sakinah, 17, in Panama.
He returned to Chicago this fall, thinking there would be more opportunities to make money than in his adopted home of Panama. But during his time back, Saleh contracted coronavirus.
Saleh died Nov. 20 at age 60. He is survived by his wife and two daughters, ages 17 and 20.
"Saleh was a unique person," said Ayman Shalaan, Saleh's friend and former roommate. "Someone who is changing their life, that is very hard to do. Most people stick with what they know. That was the first thing to impress me" about Saleh.
Saleh didn't find contentedness in life until later, but his struggles never dimmed his friendly demeanor, friends and family said.
Growing up, Saleh battled addiction. The situation led to a strain in his family. But at 25, Saleh went into recovery and found solace in Islam.
That decision furthered tension with his family on the Southwest Side. Some relatives disowned Saleh for his religious conversion, but he found comfort in his new life, said Catherine McGivney, Saleh's cousin. Saleh would happily take the bus from Mt. Greenwood to West Ridge to attend the mosque and meet with fellow congregants.
"He was sweet and kind, and he had an innocence to him," said McGivney, who grew up with Saleh in Mt. Greenwood. "Everything went wrong for him, all the time. He never criticized or got mad. He prevailed through it."
Around 2004, Saleh moved in with friends he met through the mosque, including Shalaan. The two lived together in Uptown and then near Warren Park in West Ridge until 2015 when Saleh was living part-time in Panama and Shalaan moved to the suburbs with his family.
Through connections at the mosque, Saleh became a cab driver. He worked hard at the job and enjoyed interacting with people, Shalaan said.
"He was my father's age, but I was close to Saleh's mind and thinking," Shalaan said. "He would tell me many stories from his life, and we became very close friends."
Through Saleh's religious connections, he traveled with Muslim groups to mosques all over the world. While visiting Panama, Saleh met a woman and they married. The couple had two daughters, Sakinah and Safiyah, and Saleh grew to love his life as a family man, Shalaan and McGivney said.
To support his family, Saleh would come back to Chicago during the tourist season and drive a cab, sometimes working 20 hours a day, both said. Coming back to Chicago kept him connected to the Muslim community, where he found acceptance and a new purpose in life, Shalaan said.
"He was very happy, working here to support his family and then going back to be with them," he said.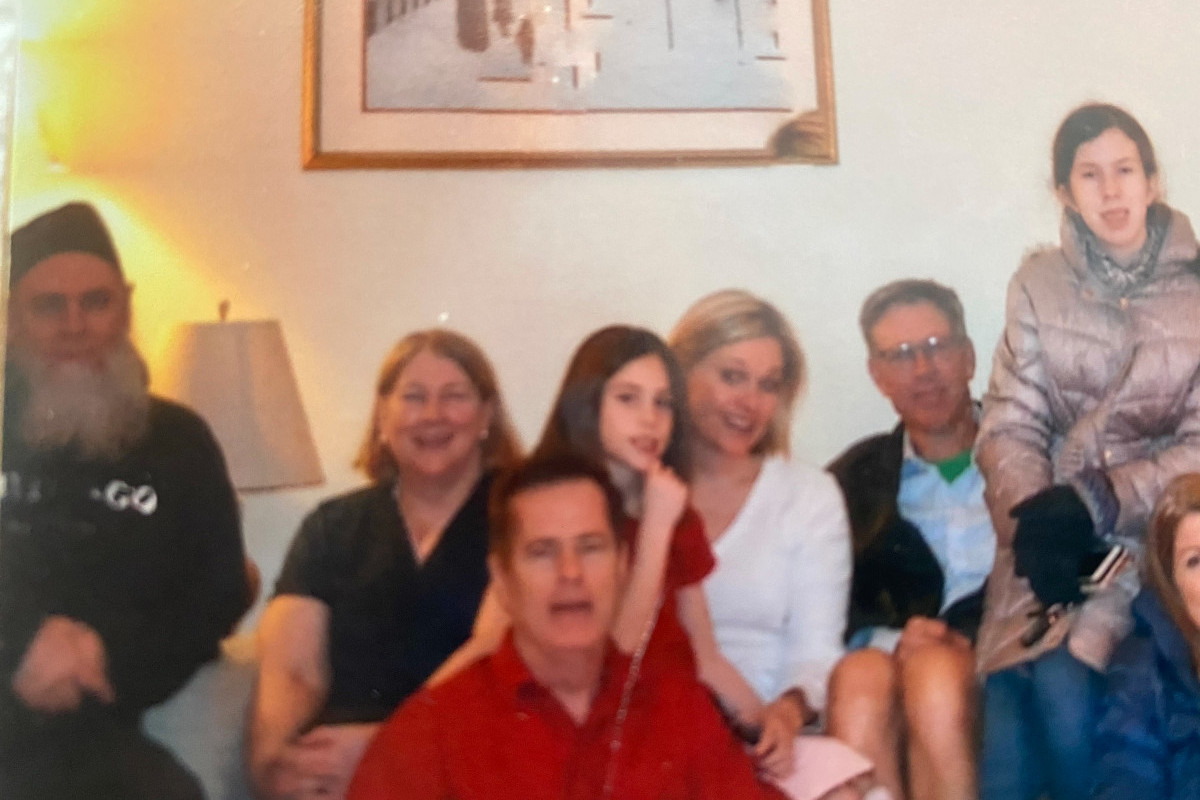 Muhammad Saleh stayed close to some of his South Side family members after his conversion to Islam.
Saleh was planning to come back to Chicago last March, just as the pandemic broke out in the United States. His flight to Chicago was grounded, and Saleh waited until he could return for work.
That chance came in September when Saleh returned to his West Ridge apartment and drove his customary long hours, this time working for ride-hailing platforms instead of a cab service.
After about a week back in Chicago, Saleh got sick, Shalaan said.
Saleh's family hadn't heard from the patriarch, so they reached out to Shalaan, who also had trouble reaching his friend. Shalaan called his old landlord, who he knew from his days living with Saleh.
The landlord checked on Saleh and called him an ambulance, Shalaan said.
"The sad thing was, he just got back from Panama, trying to make some money for his family after being out of work for six months," he said.
McGivney, who was one of the only family members still in touch with Saleh, heard from Saleh's wife, Elena, that her cousin had contracted coronavirus and was in the intensive care unit at Swedish Hospital. McGivney and Shalaan came to look after Saleh, relaying information to his family in Panama, who had trouble getting emergency visas.
In consultation with his family in Panama, McGivney and Shalaan made the painful decision to take Saleh off a ventilator.
"It's so sad that he is gone," McGivney said. "He loved that life that he found. It didn't always look like it would turn out that way."
Saleh's death leaves his wife and two young daughters without a husband, father and caretaker. But the Muslim community of West Ridge made sure the family would not be alone.
After Saleh's death, his friend, Kevin Lee, started an online fundraiser for Saleh's family.
Saleh helped Lee convert to Islam. Just as was done for him years ago, Saleh helped Lee become part of the Muslim community in West Ridge, and they became travel companions.
"Just from my 10 years of being friends with him, I come to a conclusion that he was the best person I ever met in my life," Lee wrote in the GoFundMe.
Asking his fellow Chicago Muslims to support Saleh's family after his death, Lee raised more than $27,000. Donations can be made to the fund here.
The funds will help Saleh's family retain housing and help his daughters pursue their education, according to the GoFundMe. McGivney and Shalaan are keeping in touch with Saleh's family, reminding them of their connection to Chicago and all the people who loved their husband and father.
"Saleh had a white heart. 'White heart' means he doesn't carry anything in his heart against anybody," Shalaan said.
"He never carried any bad thoughts or hate for any person. I'd like to keep that approach in my ways."