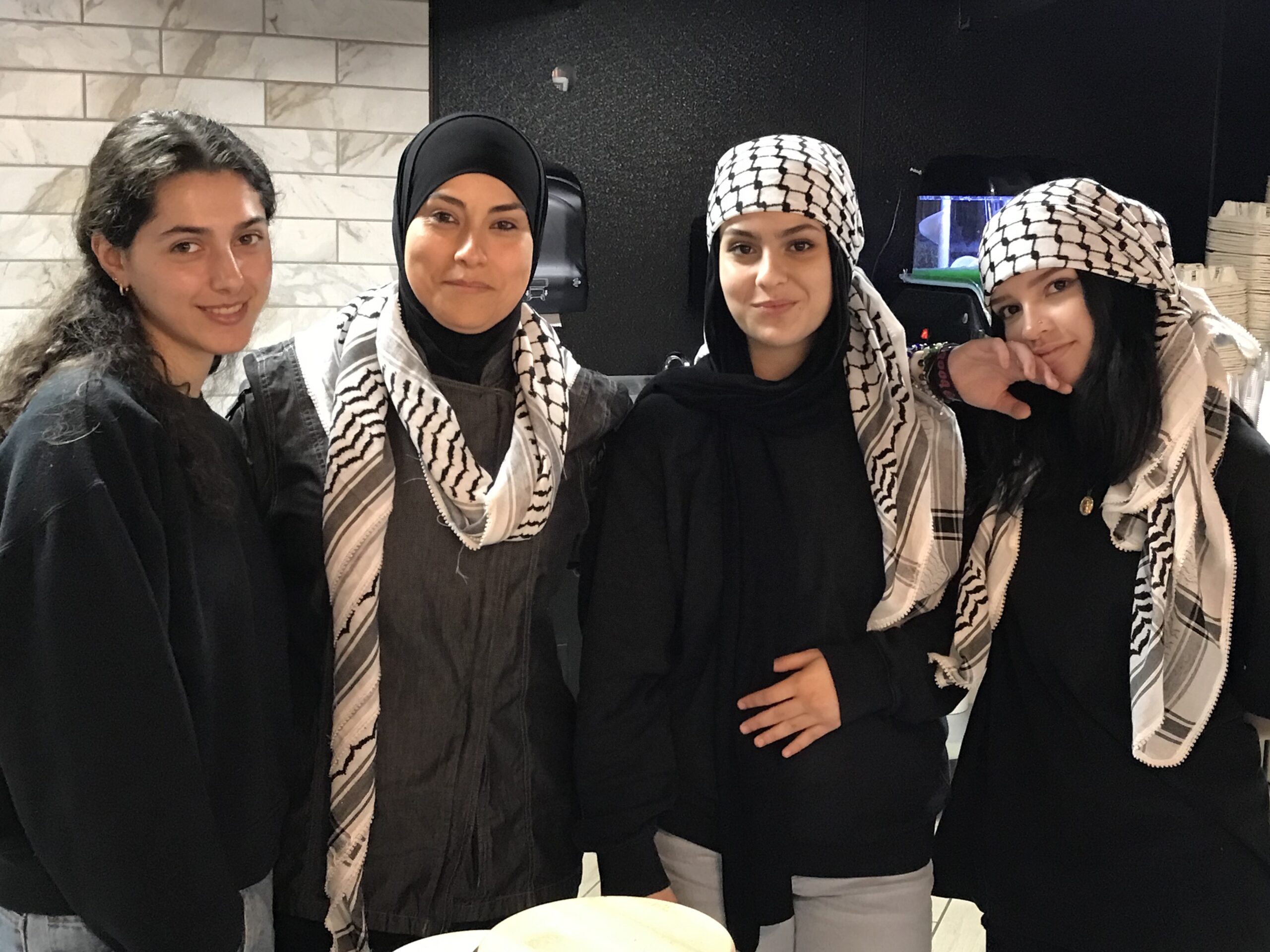 The team at J. Wonderland (from left to right) Sadeen Sabbagh, Beth (Boythayna) Sharid, Jennan Abuthiab (Sharid's daughter), and Yalibth Torres.
"It's a long story" Beth Sharid says with a smile when asked about her life. "But I'll make it short." However, even when told in abbreviated form, it's a life that has taken her across four countries, two continents and several occupations. It's a story written in the language of hard work and an endless reserve of energy, coupled with a skill for creativity.
Since June, Sharid has operated J. Wonderland, a unique waffle-crepe-coffee-juice bar inside Pita Palace at 789 W. Layton Ave.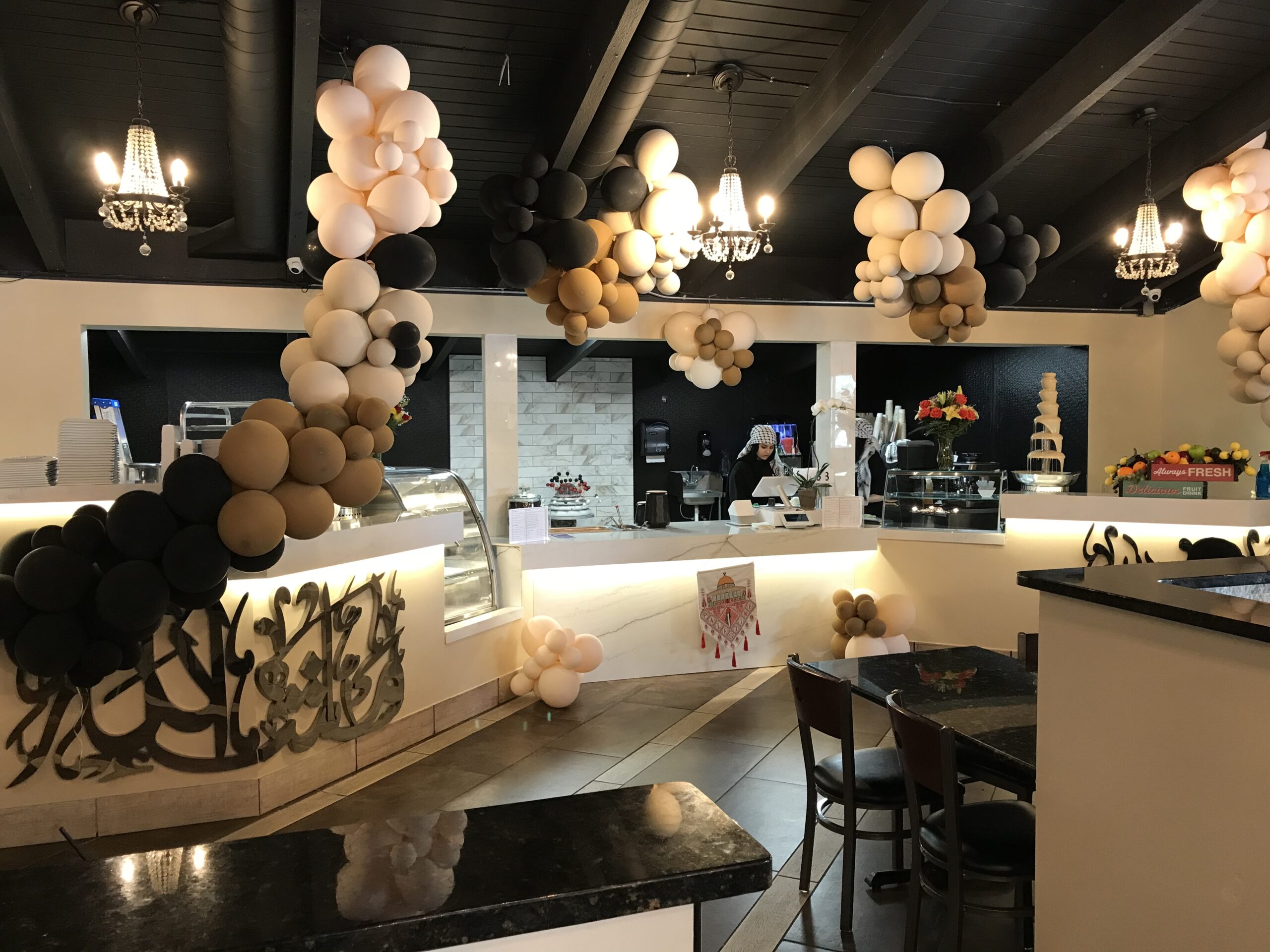 J. Wonderland is nestled inside Pita Palace with a large counter filled with to-go sweets, Turkish coffee, chocolate fountains and cafe seating.
While Turkish coffee and mint tea are dispensed, the menu focuses on a colorful amalgam of American influences. The waffles and crepes explode in carefully choreographed flavors of fruit, ice cream, chocolate and peanut butter. The fruit smoothies are beautifully presented in glass mugs topped with paper umbrellas and a fruit garnish.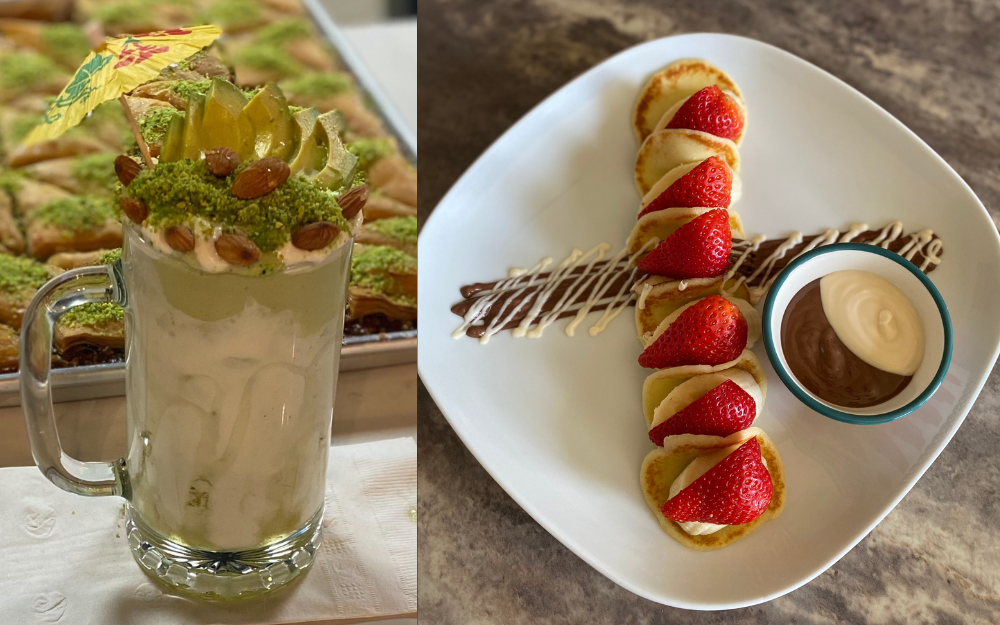 Many of the delicious items are not for calorie counters, but J. Wonderland also serves smoothies made from beet and parsley juice intended to detox and cleanse. A sprig of parsley adorns the smoothie made from parsley and kiwi. The trick, Sharid says, is making healthy drinks taste good. She succeeds.
Hard work and determination are part of her family legacy 
When her father was 12 years old, he marched with a party of men and boys on a 30-day trek from Palestine to Kuwait. Eventually he established a contracting business. 
Sharid was born in Kuwait, but the family of eight brothers and four sisters moved back and forth between Kuwait, Jordan and Iraq. 
In 1995, an older brother came to Madison to study engineering at the University of Wisconsin and the family's center of gravity began to shift to the U.S. Every country where she lived, she says, left an indelible impression.
At age 14, she learned to draw and, hoping to become a fashion designer, became a professional seamstress. Four days before her twentieth birthday, she arrived in the U.S. Her first American home was with family members in Racine where she worked at All Saints Hospital in the daycare department for the facility's doctors and nurses. "I loved the kids, they were like my own!" she recalls.
But then, she adds, "I changed my path" and found an outlet for her creativity at Racine's Larsen Bakery, famous for its kringle, where she made pastries and other desserts and found special joy in decorating cakes. 
"I loved it because I was sharing special moments with people—their birthdays, their weddings," she explains.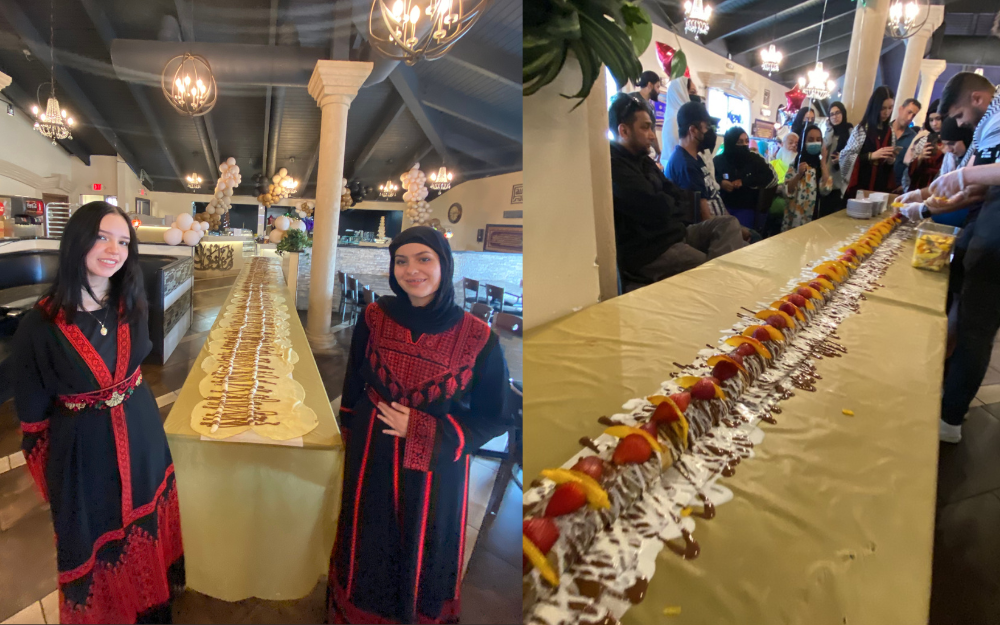 Chef Beth made an unprecedented 20ft. long crepe to celebrate the grand opening of J. Wonderland with her new customers. (Pictured are Yalibth Torres and Jennan Abuthiab)
From there, her pathway continued in baking and expanded into other areas of food and beverages. She worked servicing the bakery departments of Pick'n'Save stores in Kenosha, Racine and Milwaukee and made cheesecake for Piggly Wiggly. She even left Wisconsin for two months for a food-related job "but I didn't love Chicago," she admits. Five years ago, she launched her own catering company and began a working relationship with Abu Yousef Majdi Abdullah, the owner of Pita Palace, that led to the opening of J. Wonderland.
"He offered me the idea," she says of Abu Yousef Majdi Abdullah, who became her business partner. "He told me, 'What do you think you can do? I trust you—just do it.' When I get an idea, I'll create it on my own—I don't Google it or look for it on YouTube. I started making waffle batter and gave him a sample. He liked it!"
Pita Palace is a large restaurant almost cavernous in dimension with a high ceiling, tiled floor and plenty of seating. The space is large enough to comfortably accommodate a separate but related business within its walls. Sharid was given the western end of the building for her waffle-juice bar, which formerly contained a separate room for private parties and functions. She replaced the west-facing windows with a solid wall, built a service counter and replaced the wall with a low divider marking J. Wonderland's section of Pita Palace. Customers order at the counter and enjoy their selections at tables on tables or take them as carry-outs.
"We agreed to the deal last September," Sharid says of her arrangement with Pita Palace. "We started putting it together in November. I designed the whole thing and built it from scratch."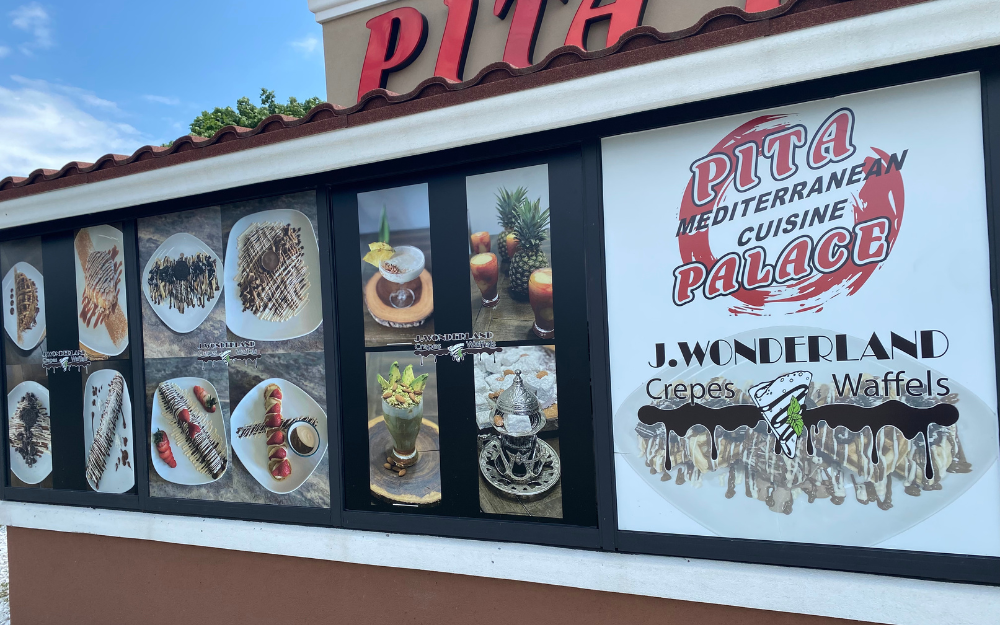 J. Wonderland, waffle-crepe-coffee-juice bar is located inside Pita Palace at 789 W. Layton Ave. 
Prices for smoothies range from $6.99 to $10.99 and include an array of flavors such as lemon and orange and unusual options such as avocado with honey and cream. A good way to sample her juices is by ordering the fruit cocktail, which combines strawberry, mango, banana and orange. Five crepes and eight waffles are on the menu, priced from $8.99 to $12.99. Many of them feature fruit. However, for the ultimate sugar high, try the crepe made from Oreos, Snickers, Twix and M&Ms. Sharid's waffle on a stick is a great idea for the Midwest region known for its state and county fairs.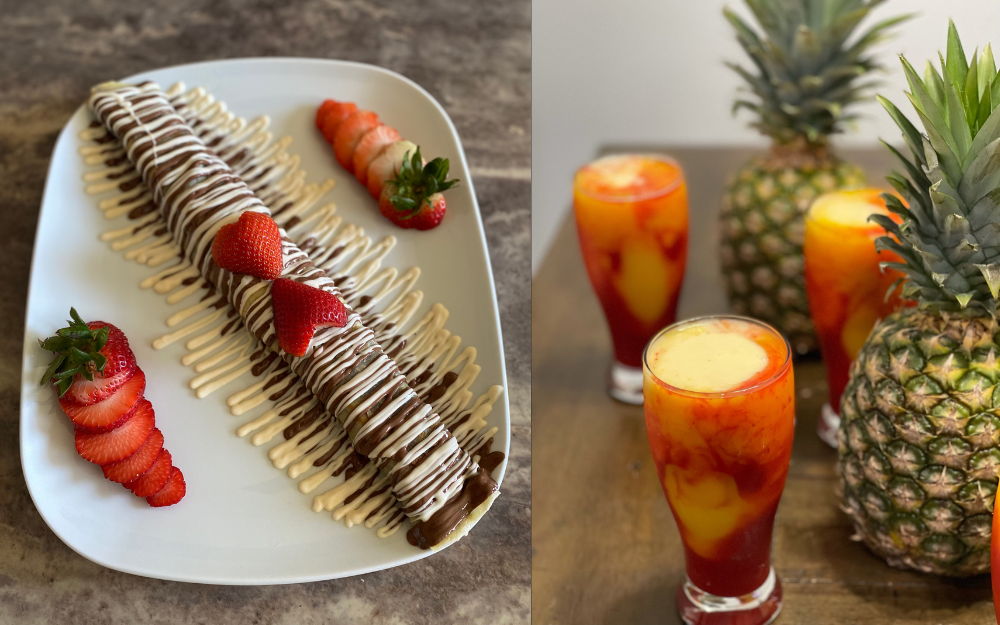 Crepes are made-to-order and smoothies are made from fresh fruit and herbs.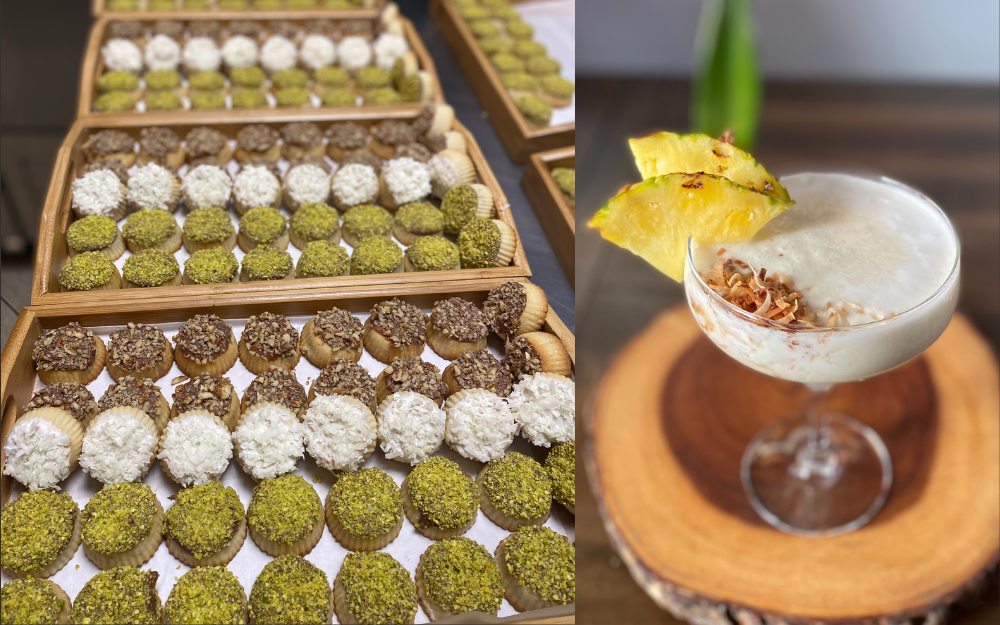 "It's a process, step by step," she says of building J. Wonderland but also, perhaps, of her life. "This corner will guide me to other things—not just crepes and waffles," she continues, smiling mysteriously while alluding to future plans. "It will be the biggest thing I'll ever do in my life—hopefully soon."