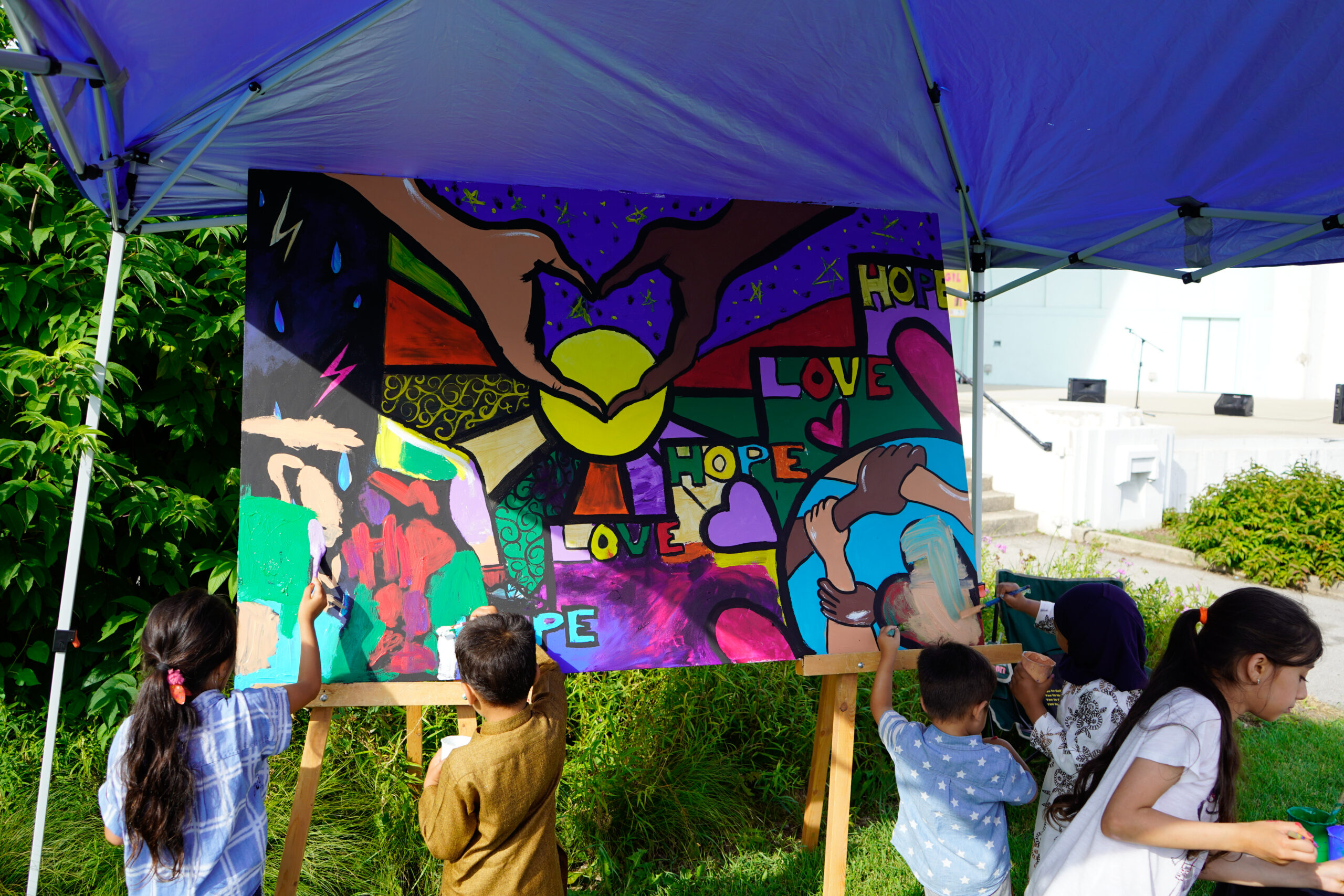 Photos by Kamal Shkoukani
Milwaukee Muslim Women's Coalition initiated a city-wide COVID-19 vigil, held Sunday in Milwaukee, to remember the 15,000 Wisconsinites who lost their lives to COVID-19 since the pandemic began in 2020.
"That's like a good size town in the state of Wisconsin," said Governor Tony Evers who came from Madison for the vigil. "When I think about those 15,000 people, I think of their loved ones left behind, their neighbors and their friends. Those 15,000 deaths took the heart out of our state."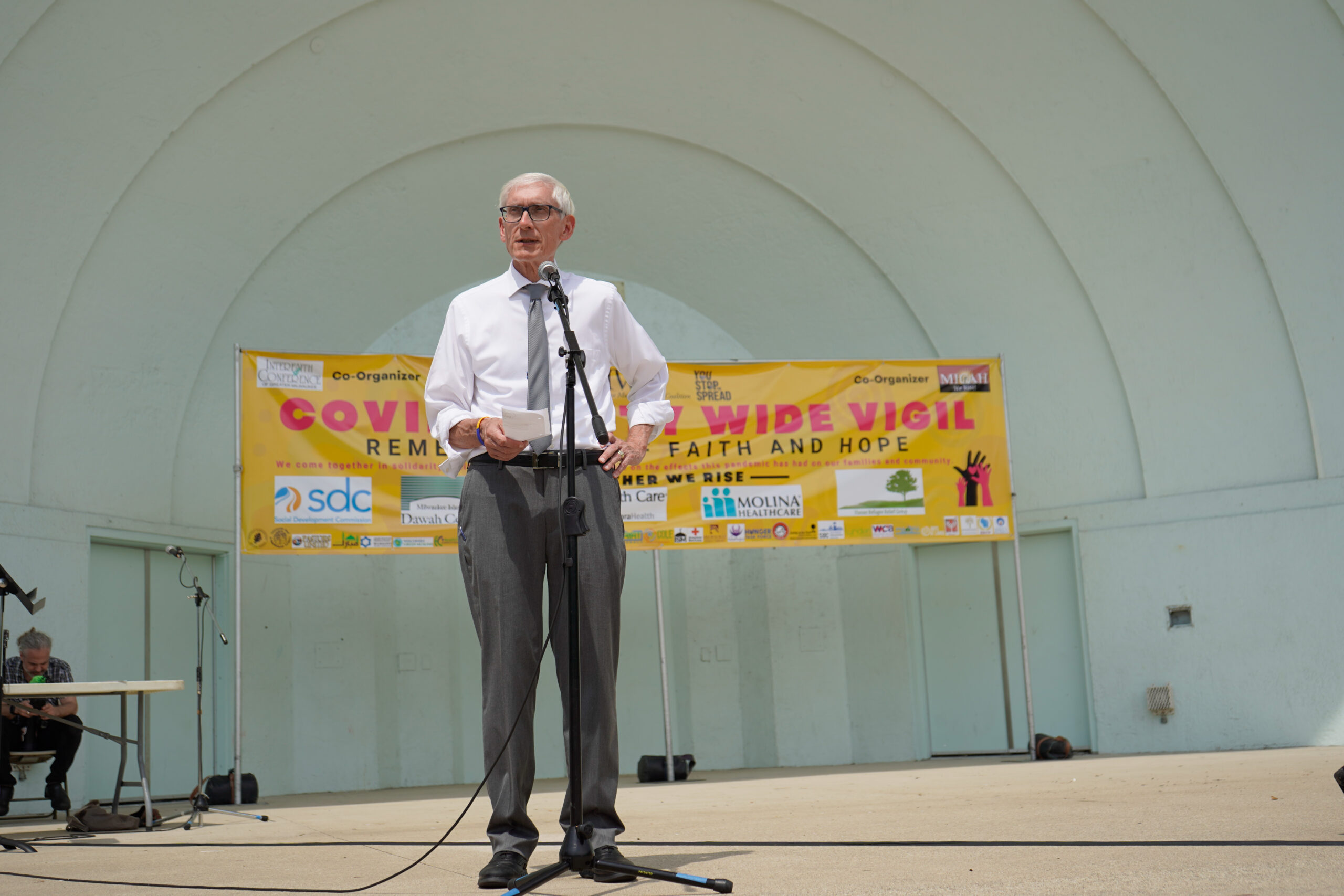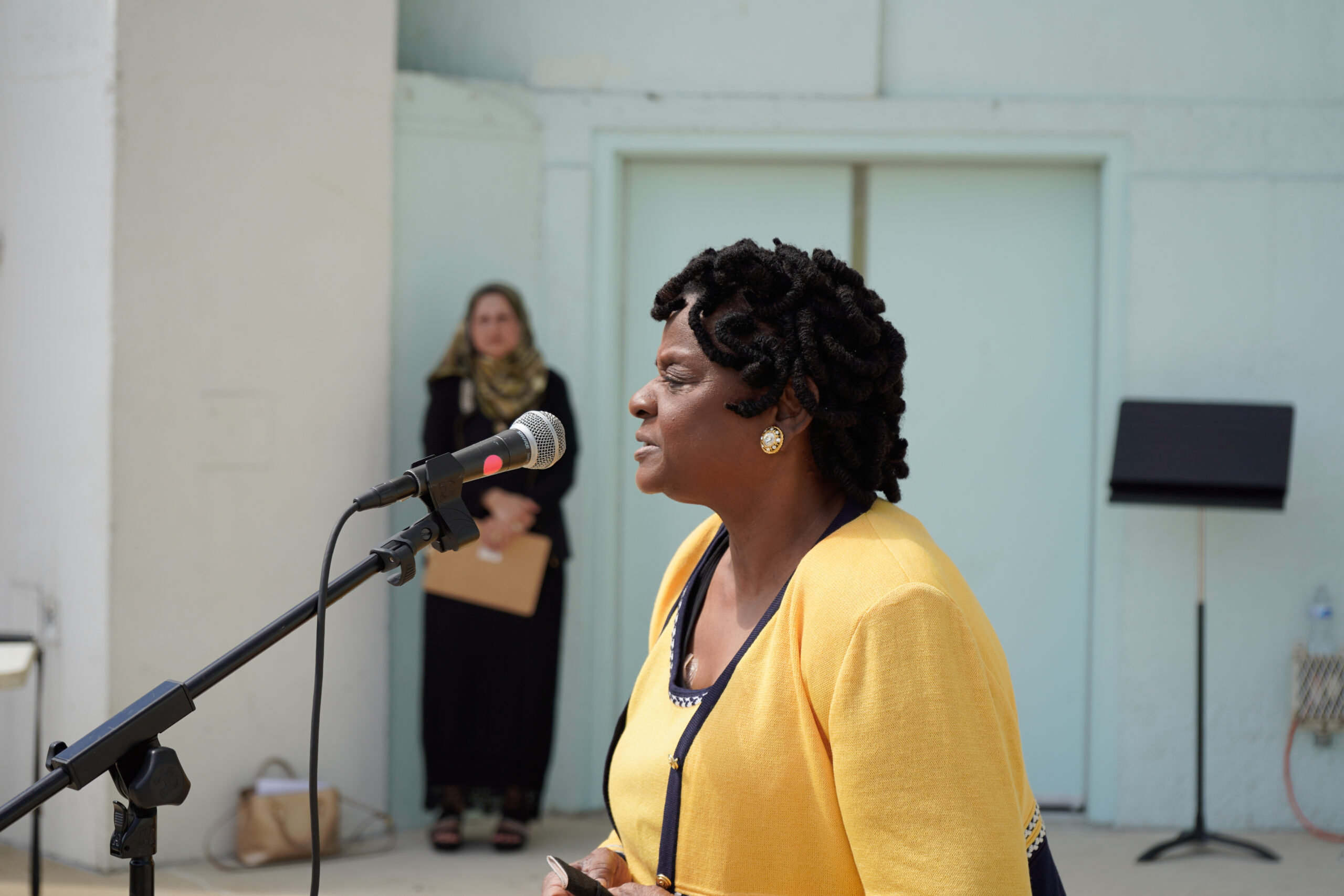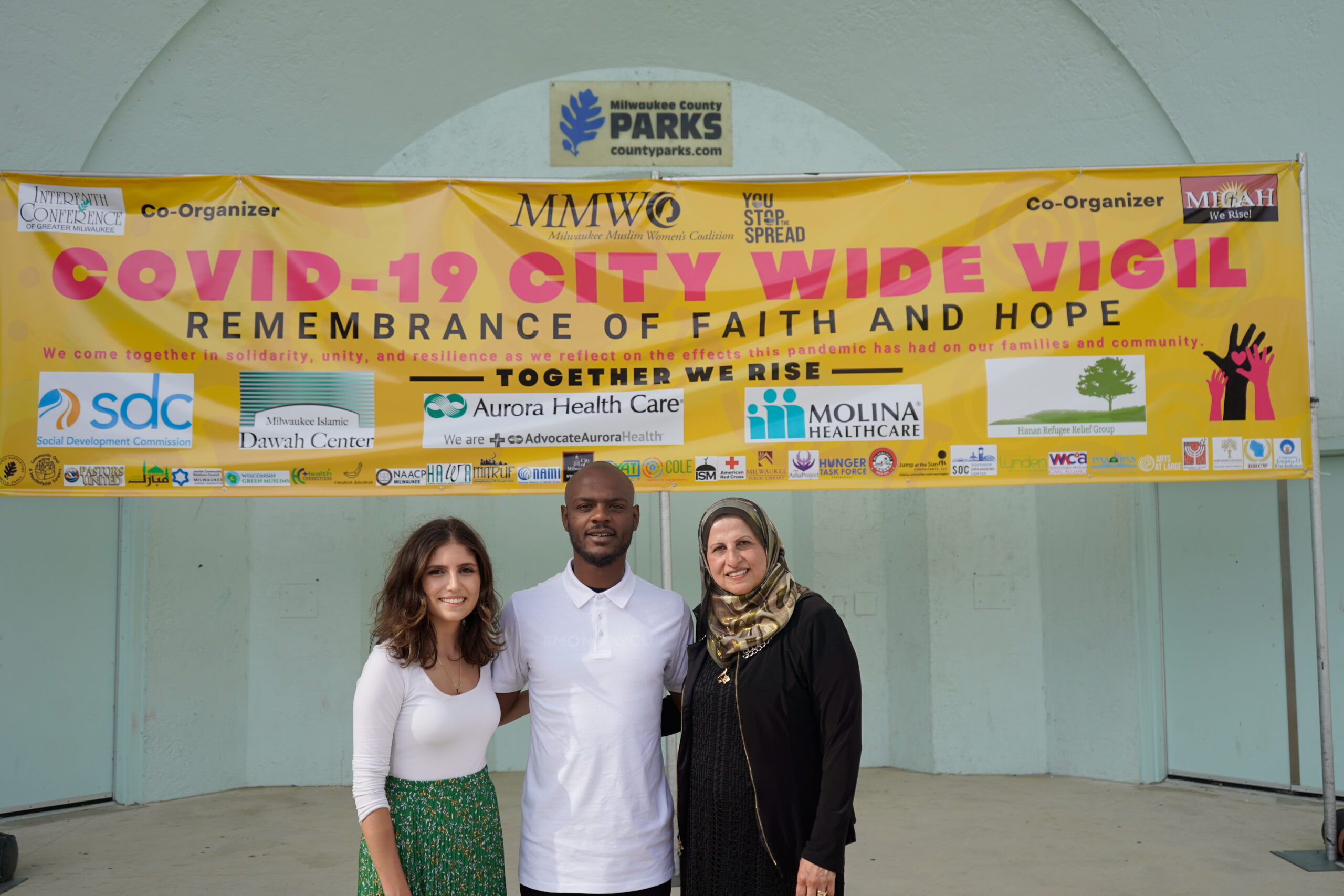 The four-hour event included prayers, commemorative speeches, music, an interactive art installation, poetry, resource tables, on-site vaccinations and activities for families and children, including the opportunity to pet Milwaukee Police Department horses.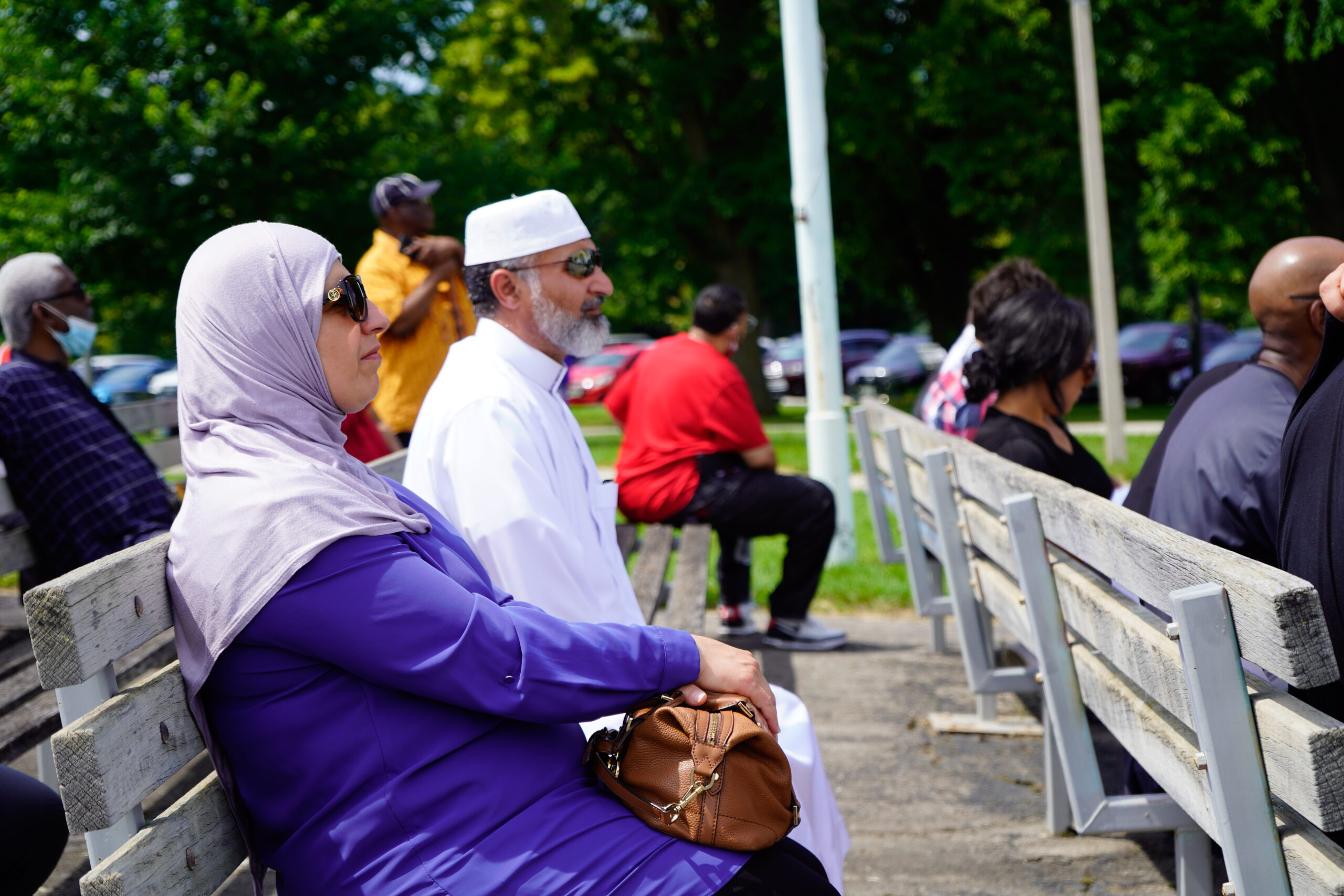 "It is the first time we have a chance to bring the entire community together to recognize what we have gone through and what we have overcome as a community during these past two and a half years," said MMWC president Janan Najeeb in an interview before the vigil. "We are also providing resources, including COVID-19 vaccinations, at-home COVID tests and information about mental health services."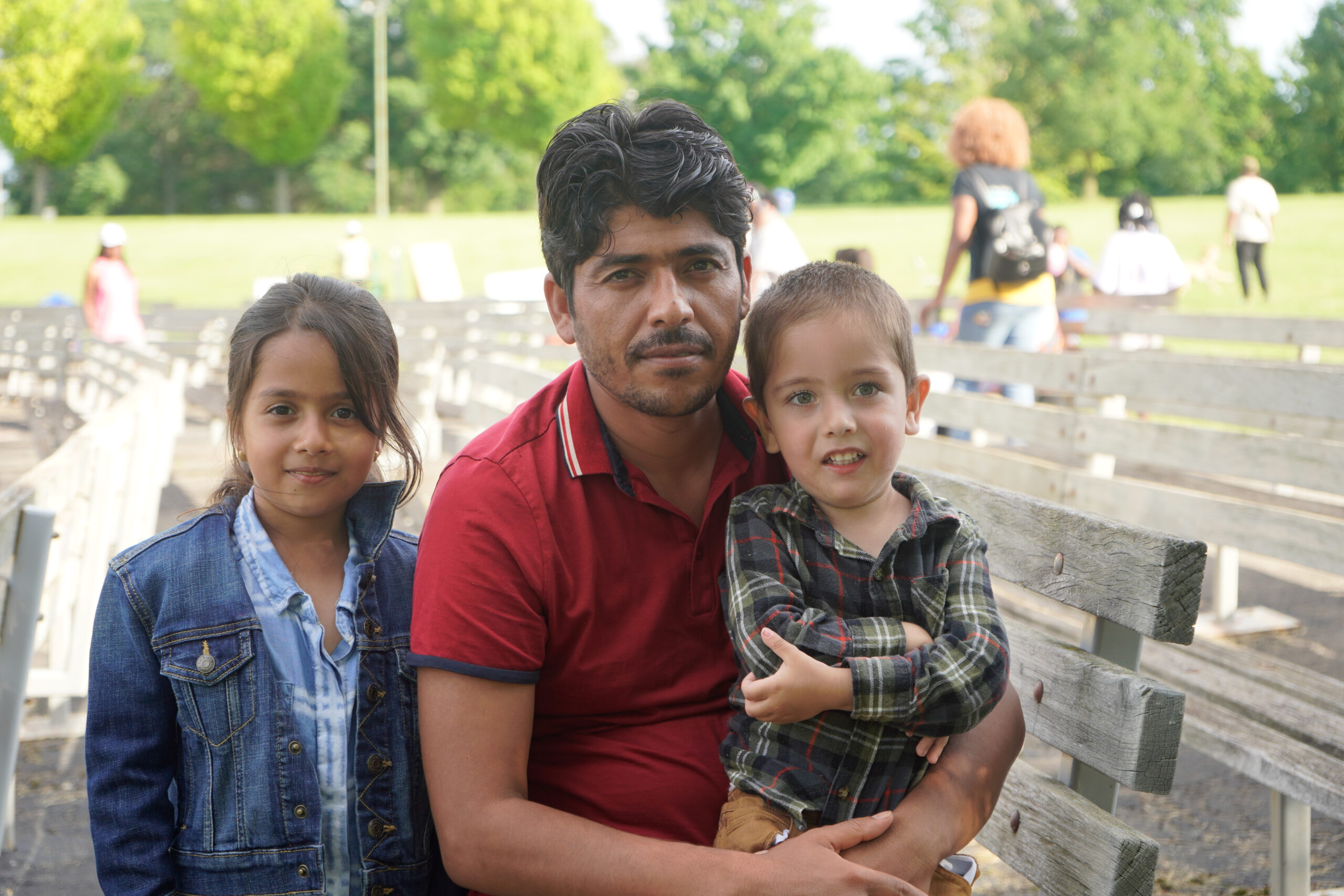 MMWC is a recipient of state COVID-19 response funds to support health education and outreach, Najeeb noted. "This program creates an opportunity to bring people together in solidarity, unity and resilience as we reflect on this pandemic and the impact it has had on our families and community," Najeeb said.
"In this time of political polarization, we need to raise awareness of the stark inequities in access to healthcare. Many of us have been working in silos; many individuals have been suffering privately. It's time to come together."
Faith leaders unite in hope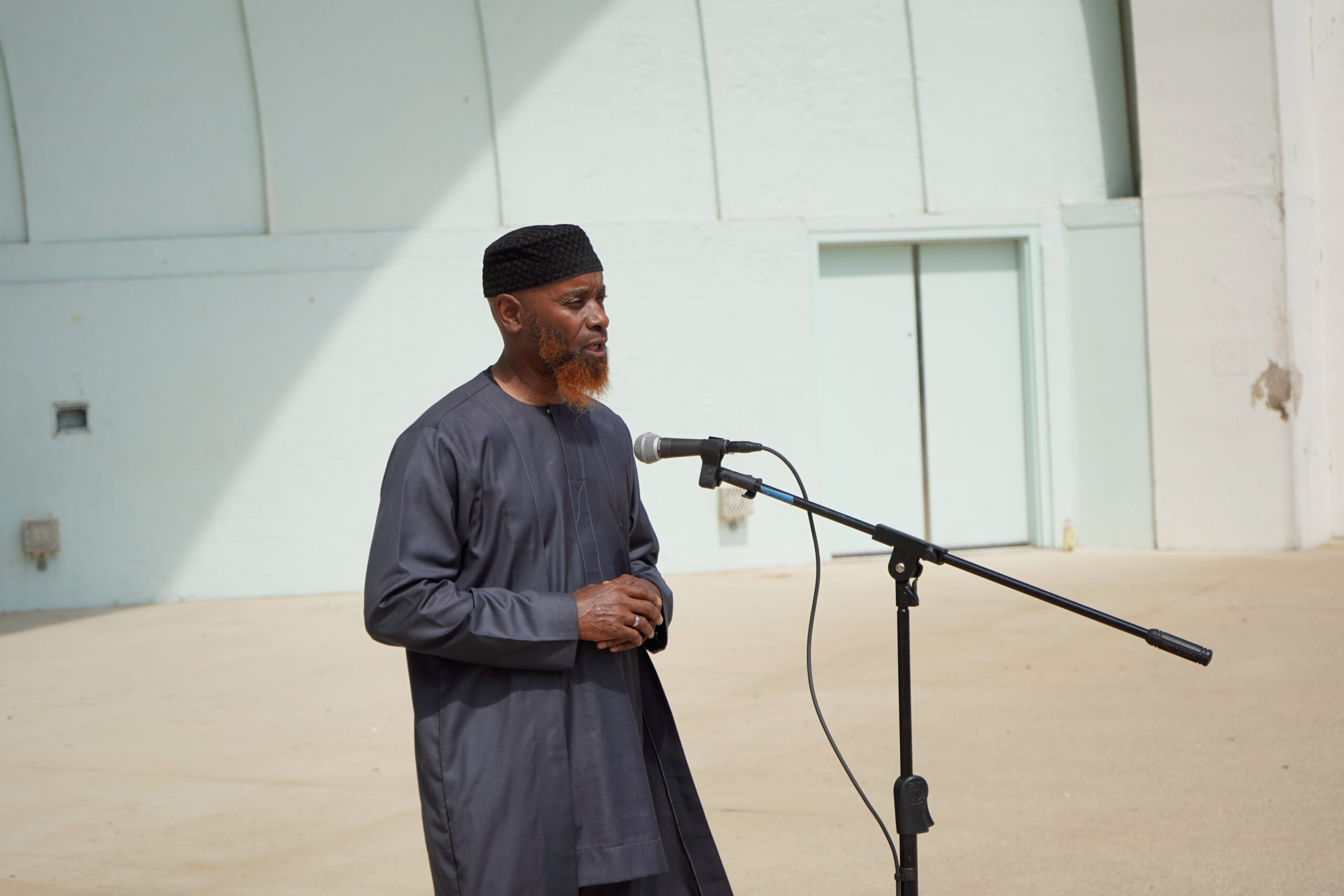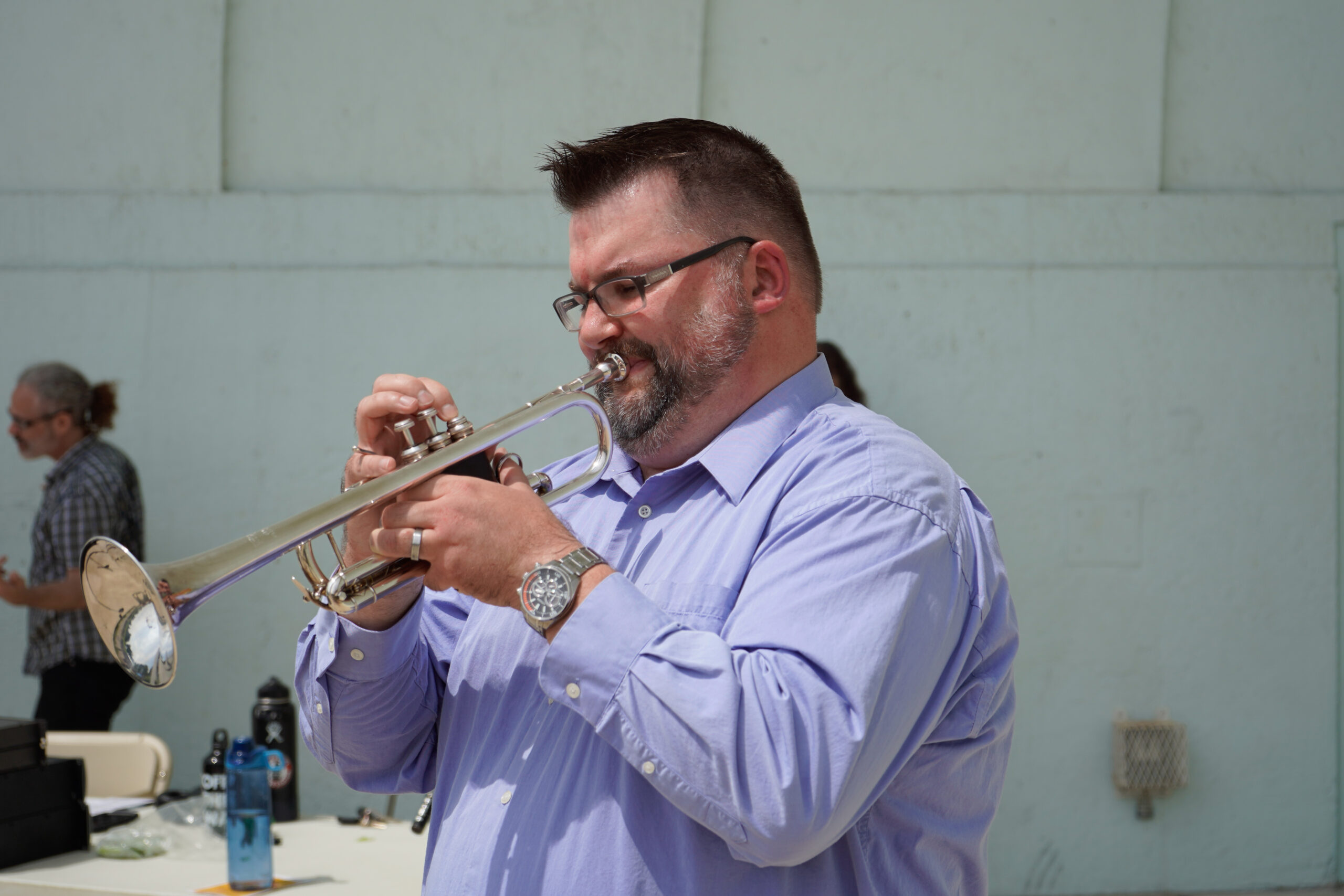 Taps, played by well-known Milwaukee trumpeter Eric Sperry, started the commemorative ceremony, followed by a moment of silence for pandemic victims, which included family members of some attendees.
Pastor Joseph Jackson of Friendship Missionary Baptist Church and president of MICAH paraphrased Psalm 133, saying, "How good and how pleasant it is for brothers and sisters, communities and congregations, family and friends to come together in unity!
"MICAH has been around for 34 years. It is a social justice organization that addresses systemic issues. We fight the struggle for equity, equality and justice. This last three years has been a real struggle and a time of some pain in uncharted land. We want to continue to lift everyone, all the congregations, all the faith communities, up in prayer.
"We must stay in the fight because if we don't stay in the fight, we lose hope. Getting our folks tested and vaccinated has been an issue of health equity. MICAH has taken on this challenge along with others across the city and state," said Jackson.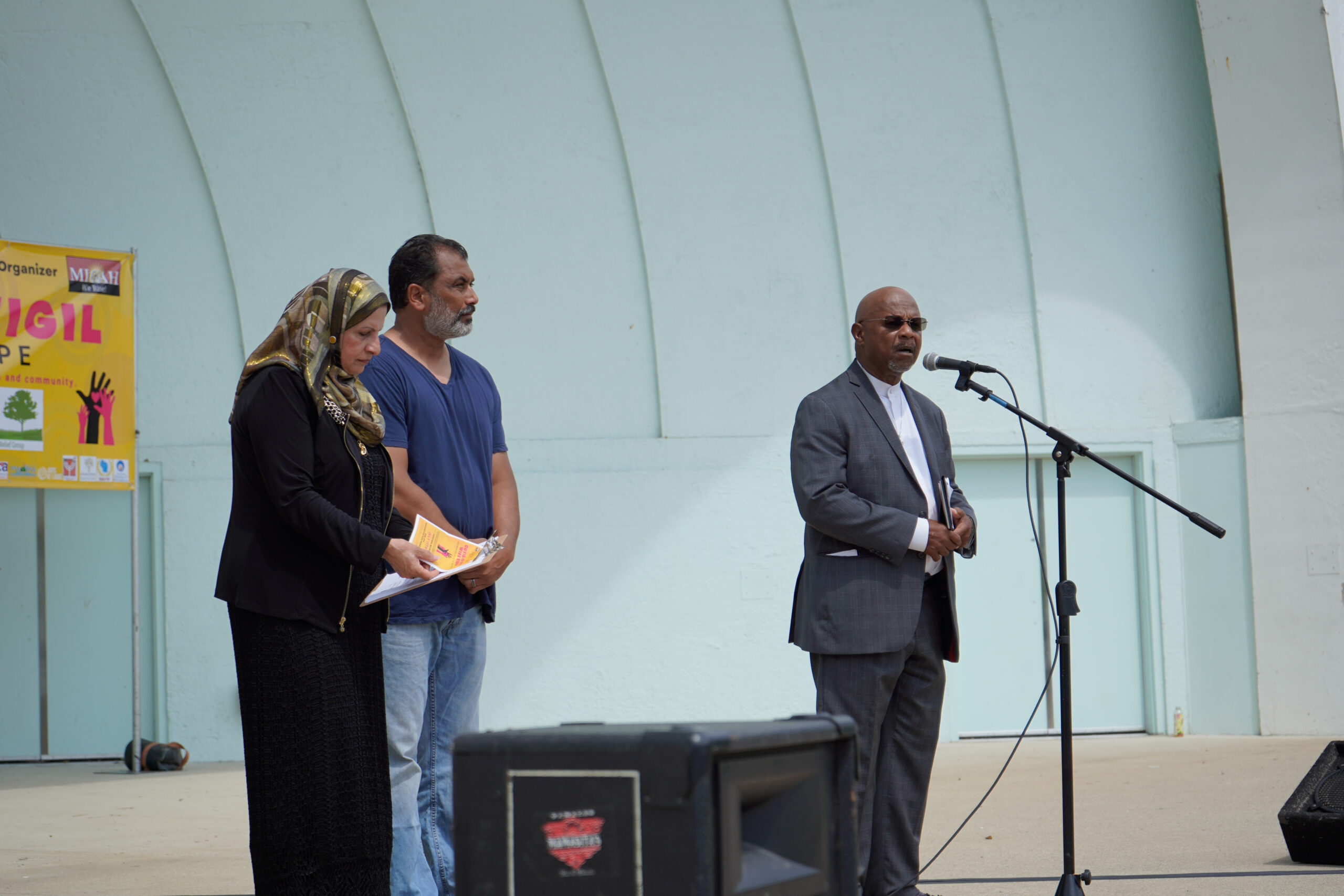 Jackson added a word of thanks to Ericka Sinclair, CEO of Health Connections, a non-profit that works with churches and other organizations to administer vaccinations and provide COVID-19 testing in Milwaukee.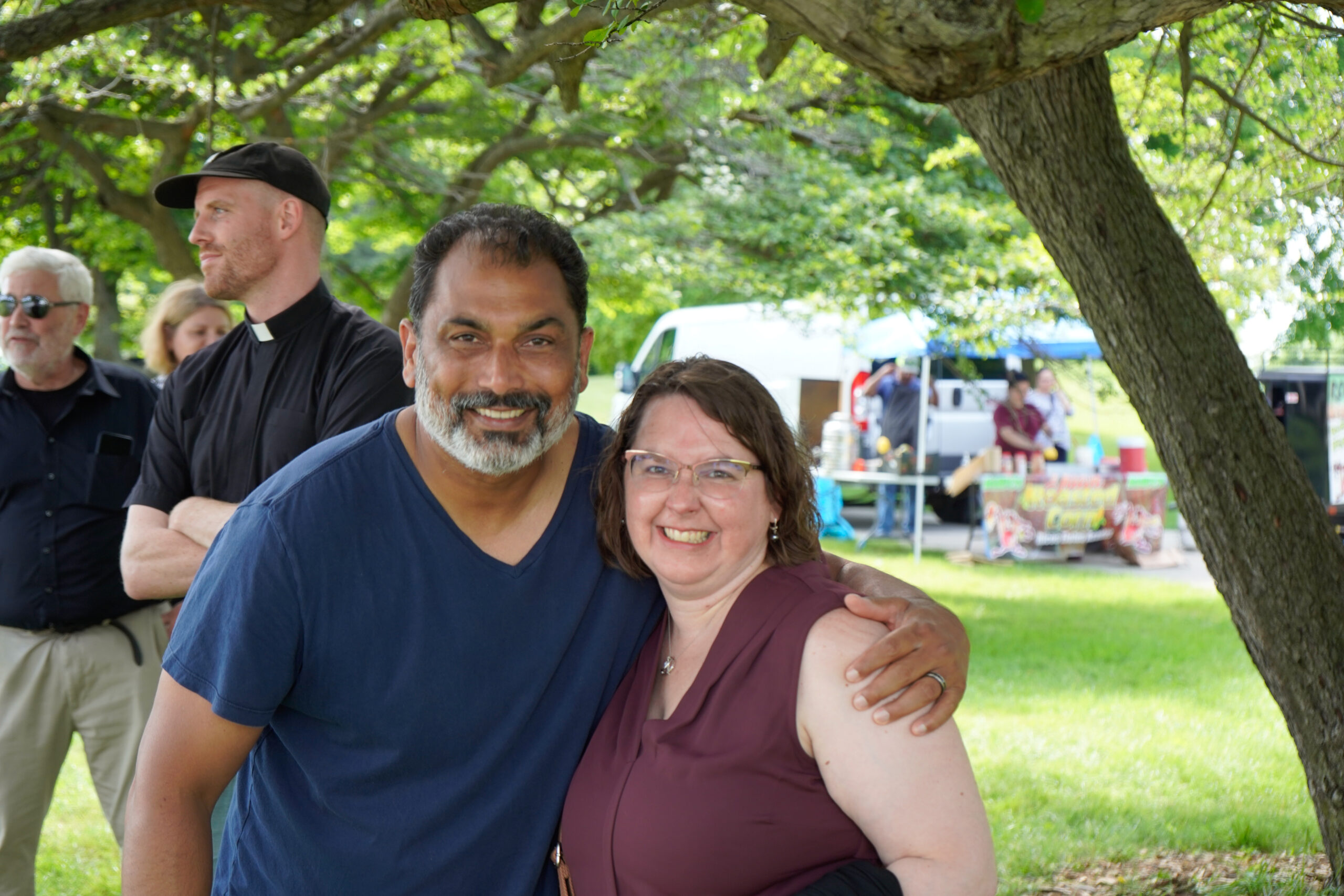 Pardeep Kaleka, executive director of Interfaith Conference of Greater Milwaukee and a representative of Milwaukee's Sikh community, shared memories of the pandemic years. He recalled the uncertainty in March 2020 of what it meant to be in a pandemic, then mask shortages and people rallying to make them, the murder of George Floyd and protests in Milwaukee, news of scientists creating vaccines, social distancing, families not being able to reunite for holidays "to the point where we don't even know how to embrace some of our loved ones.
"We have all been affected," he said. "We need to care about one another because this pandemic has taught us, we are all in this together."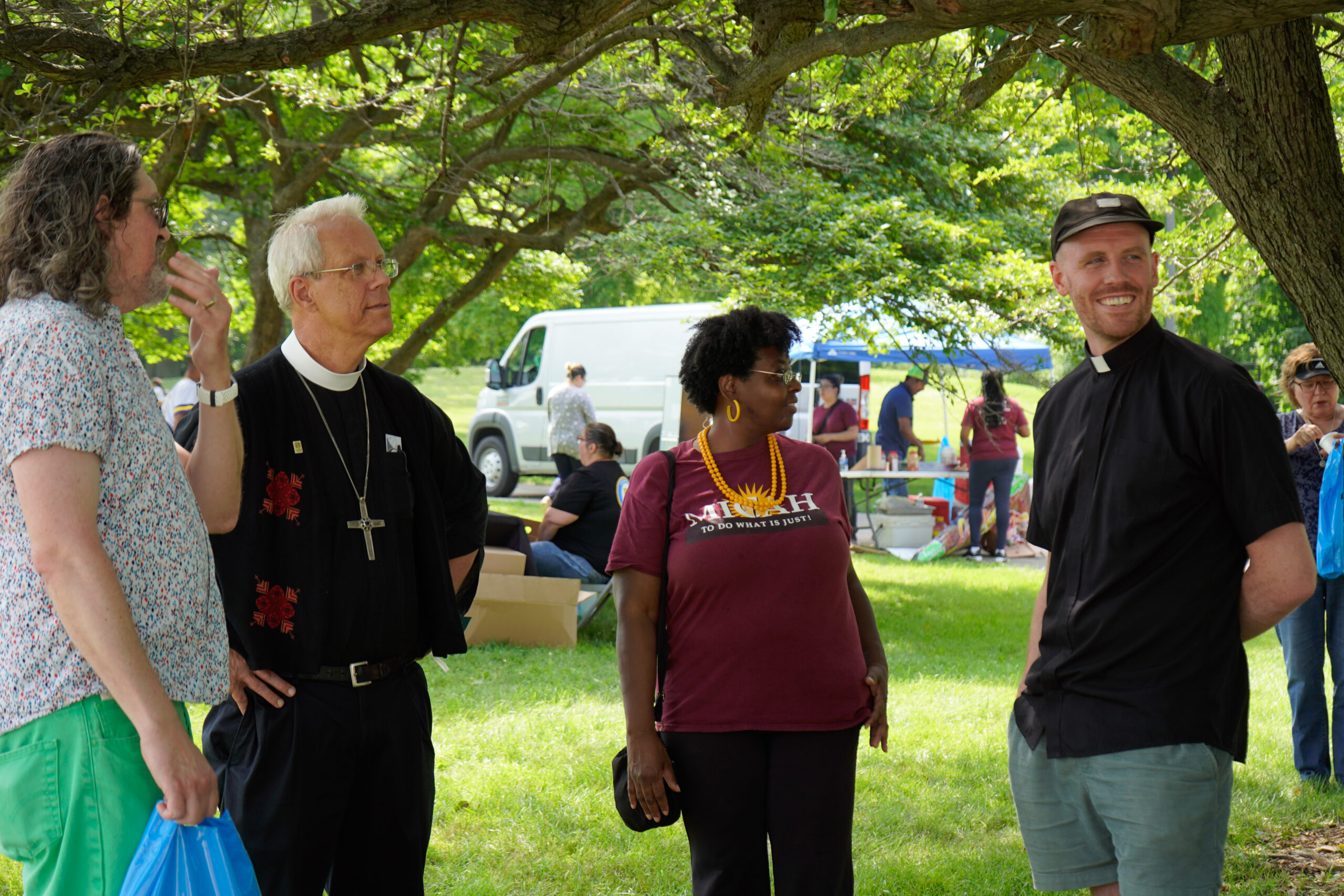 "We were in one of the best states when it came to the number of COVID cases until politics started getting involved," said Najeeb. She praised Gov. Evers as "a trail blazer, one of the first in Wisconsin and in the United States to ask for mandates to keep everyone safe." The audience broke into applause. "He is not only a responsible governor," she continued. "Because he had been a superintendent of schools, he knows and cares about our children." The audience applauded again.
Other faith and community leaders who participated in the vigil include: State Rep. Francesca Hong (76th District) of the Asian American Pacific Islander Coalition, Bill Ahlhauser of the Milwaukee Bahai Community, Cantor David Barash of Congregation Emanu-El B'ne Jeshurun, Rev. Reirin Gumbel of the Milwaukee Zen Center, Fariba Farahbakhsh of MTO School of Islamic Sufism, Amin Phakhruddin of the Islamic Society of Milwaukee, Auxiliary Bishop James Schuerman of the Archdiocese of Milwaukee, Anup Singh of Sikh Gurudwara of Brookfield, Pastor Thad Winkle of Bethel-Bethany United Church of Christ, CEO Hashim Zaibak of Hayat Pharmacy and Pastor Teressa Thomas-Boyd of the Wisconsin Council of Churches.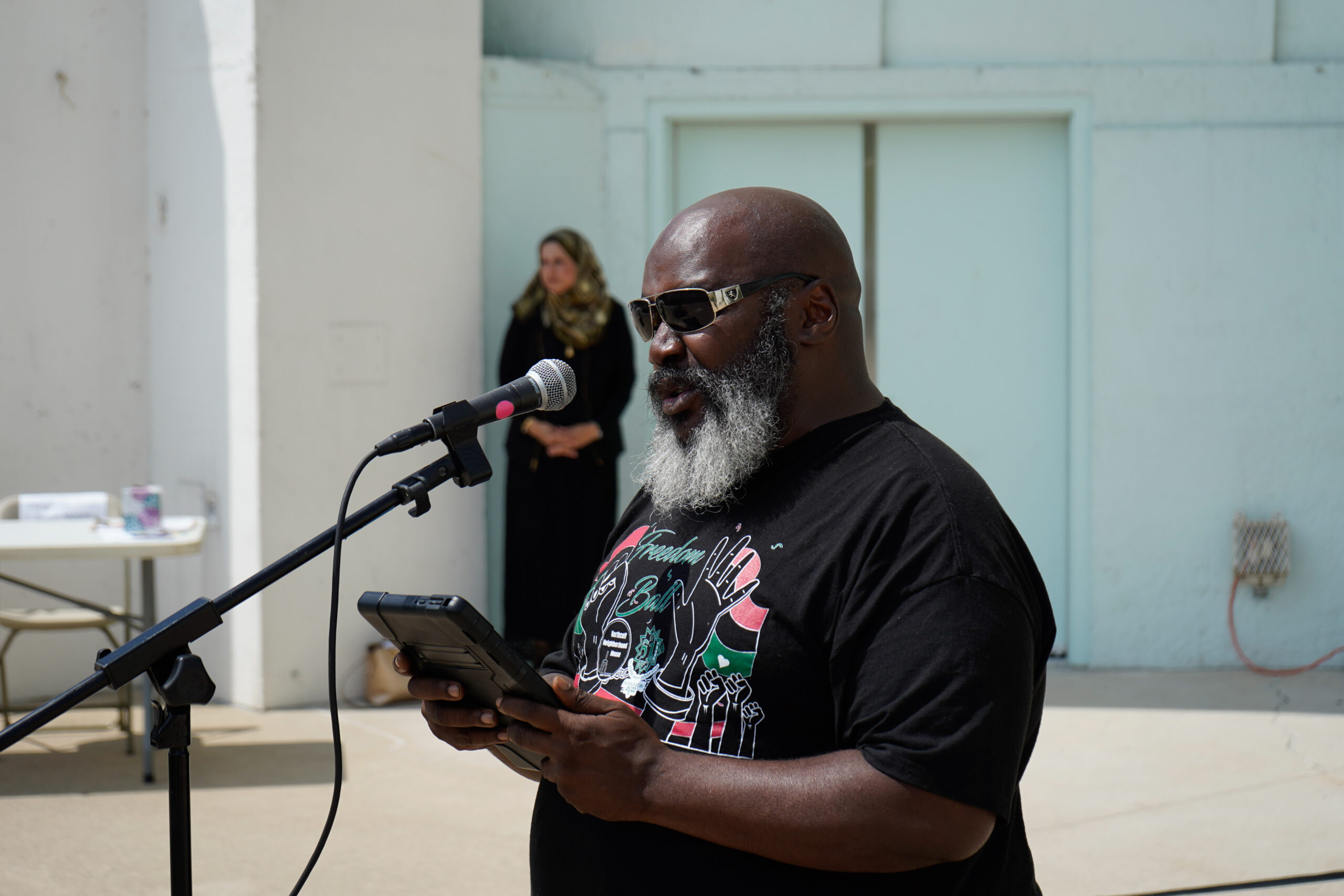 Poetry and music were performed by Milwaukee Poet Laureate Shomari Willis, poet Zeki AbuLughod, singer Constandi Kuttab, saxophonist Alvin Turner, singer Bentley Williams, and Blessed Deliverance Choir Group directed by Pastor James Phillips. 
Vigil wins widespread support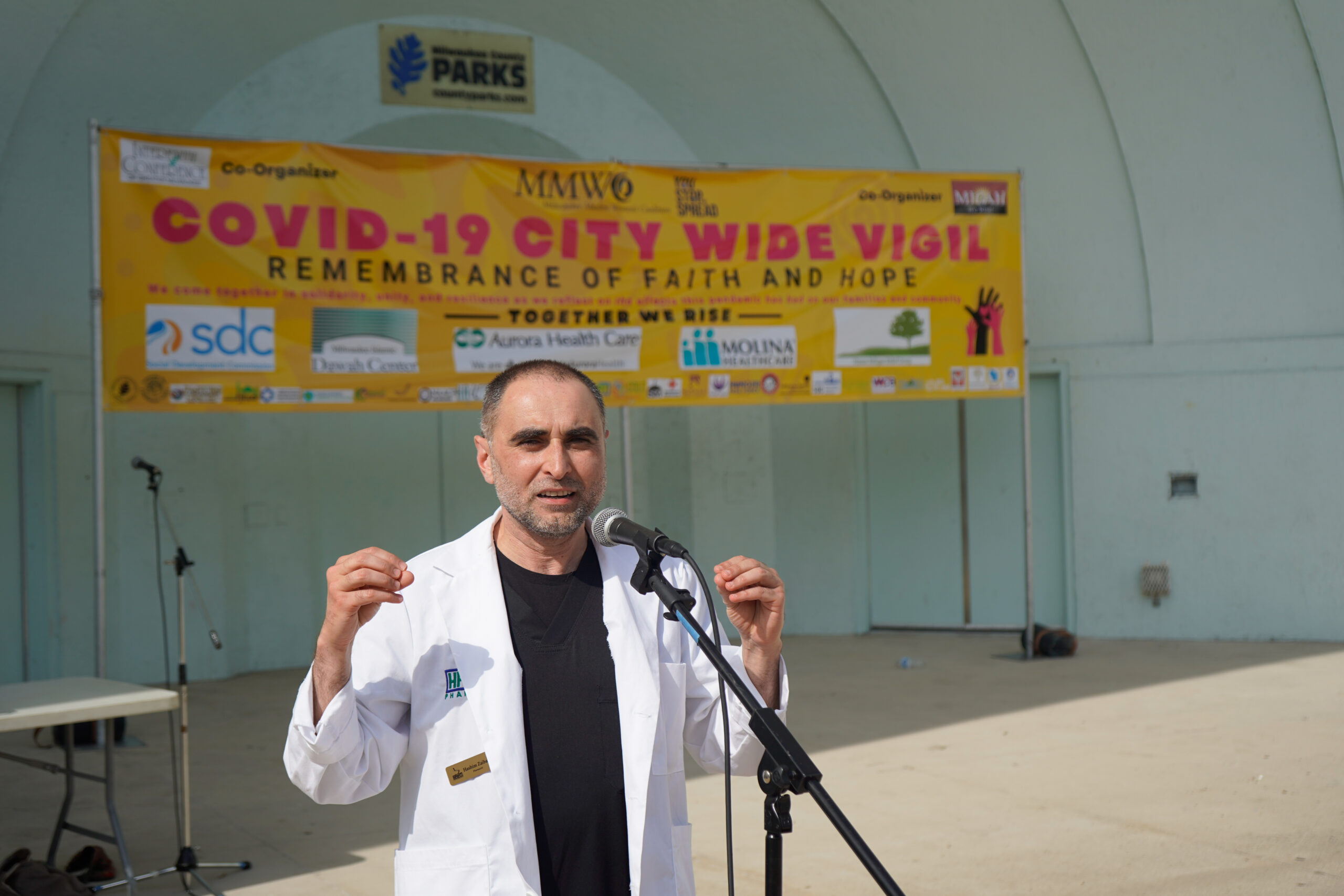 "We were thrilled with the great response we had from the community," Najeeb said. In addition to the main co-sponsors, a number of organizations contributed as sponsors or community partners. "This is really important as we work to address vaccination hesitation and educate ourselves about the impact of the pandemic."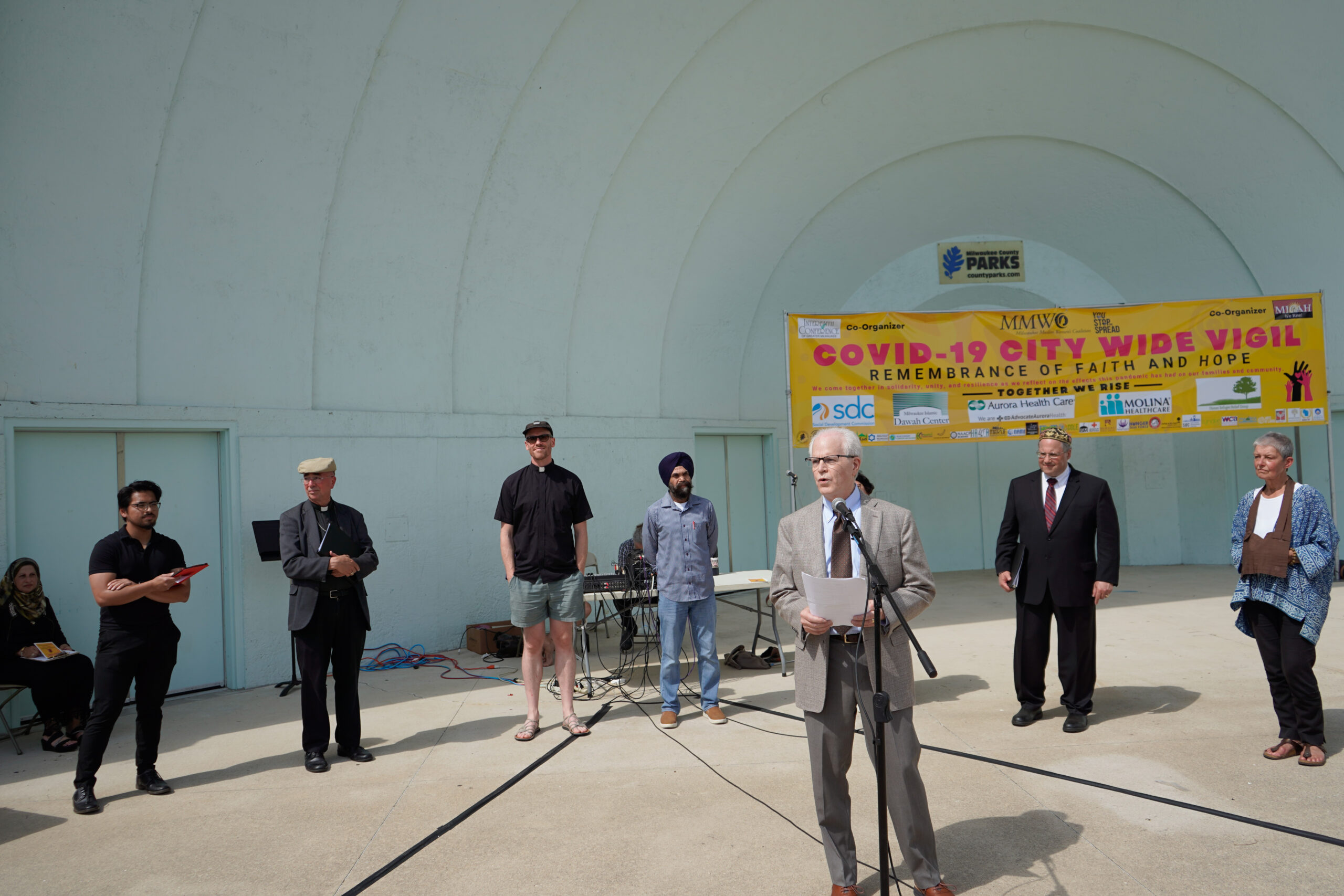 Additional sponsors include: Hanan Refugee Group, Social Development Commission, Aurora Health Care, Molina Healthcare, Wisconsin Muslim Civic Alliance, Burmese Rohingya Community of Wisconsin, Community Oral & Maxillofacial Surgery, Wisconsin Council of Churches Community Health Program, Congregation Emanu-El B'ne Jeshurun, Institute Medina Masjid Al-Qur'an, Masjid Mubarak, Lynden Sculpture Garden and Tikkun Ha-Ir.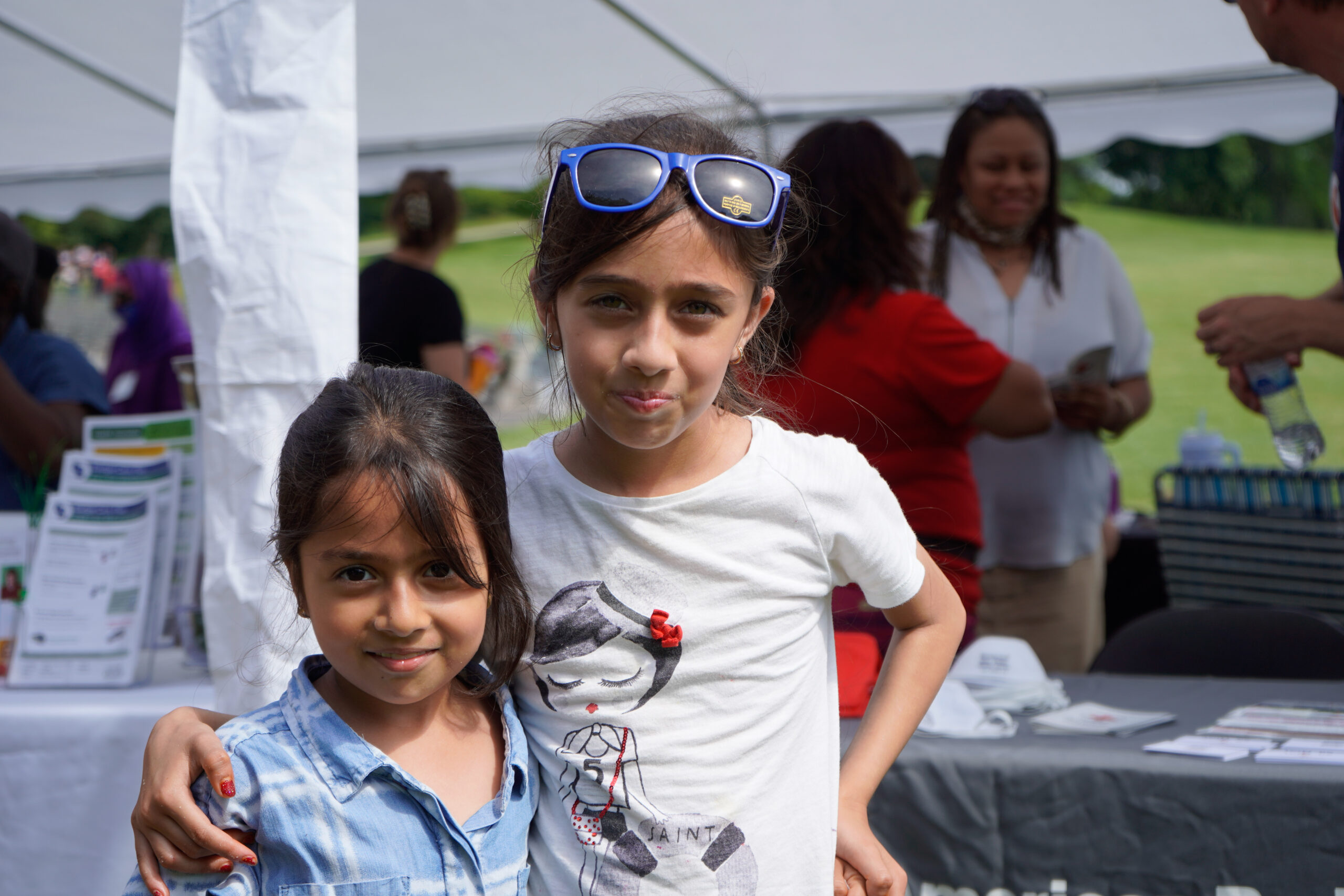 Community partners, who provided information and other resources, include: Pastors United, Fanana Banana, Hayat Pharmacy, Ma'ruf, Arts @ Large, Wisconsin Green Muslims, Islamic Society of Milwaukee, City of Milwaukee Office of African American Affairs, Health Connections, Milwaukee Public Library, Jump at the Sun Consultants, Coalition of Lead Energy, Southside Organizing Center, Proudly Supporting Milwaukee County Parks, American Red Cross, Milwaukee Turners, NAACP Milwaukee, The Asha Project, National Alliance on Mental Illiness, Hmong American Women's Association, Hunger Task Force and the Jewish Community Relations Council of the Milwaukee Jewish Federation.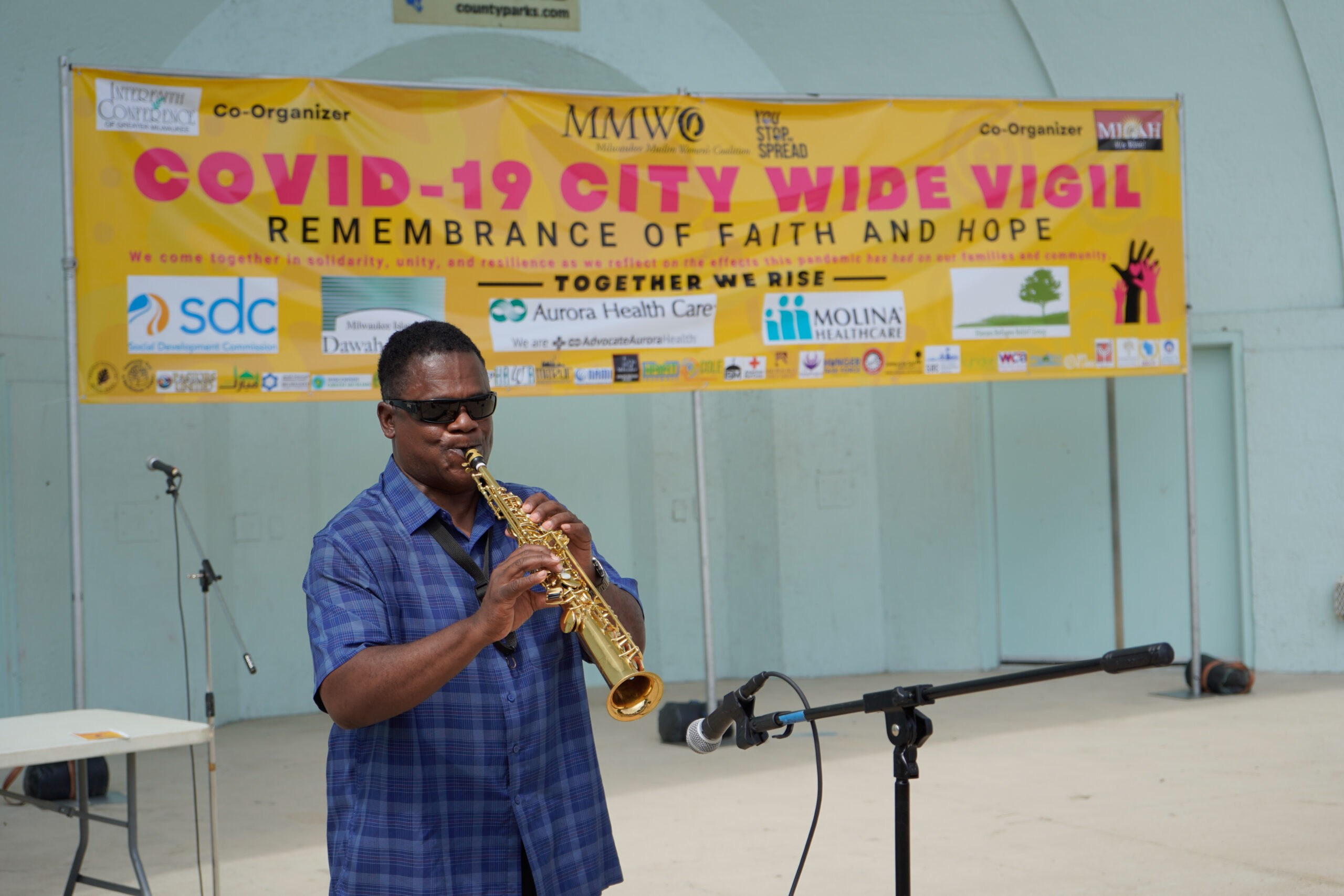 Najeeb praised MMWC's public health coordinator Marlene Zahran, "a very special person who led the way in planning this event."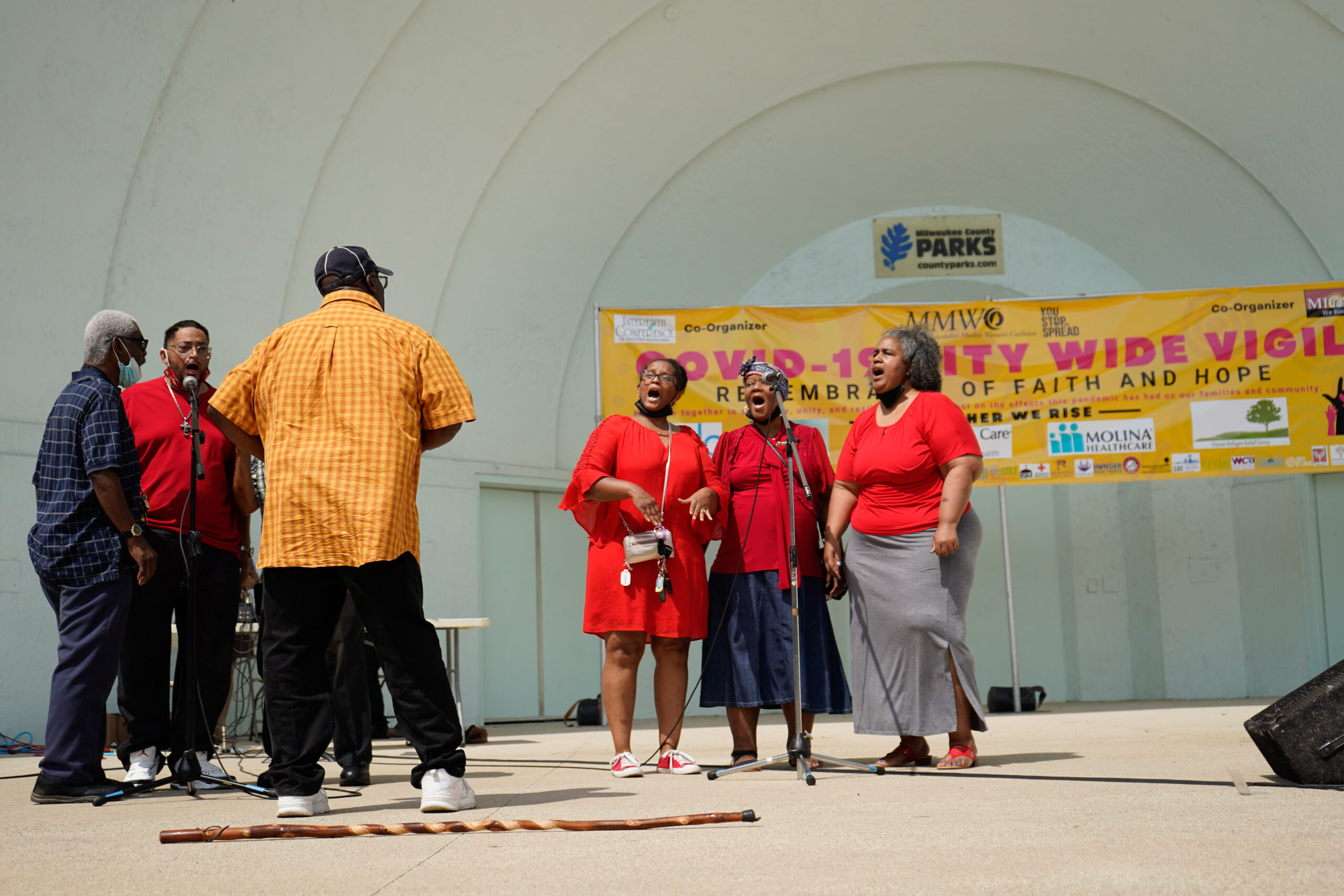 "It truly brought me joy to see families and friends coming together to reflect on the impacts COVID-19 has had on their lives," Zahran said of the 200-300 people she estimates visited the vigil and resource fair. It gave them "the safe space" to reflect on losses and "acknowledge the hope and resilience we still have" among others who also lost loved ones throughout the pandemic," she said.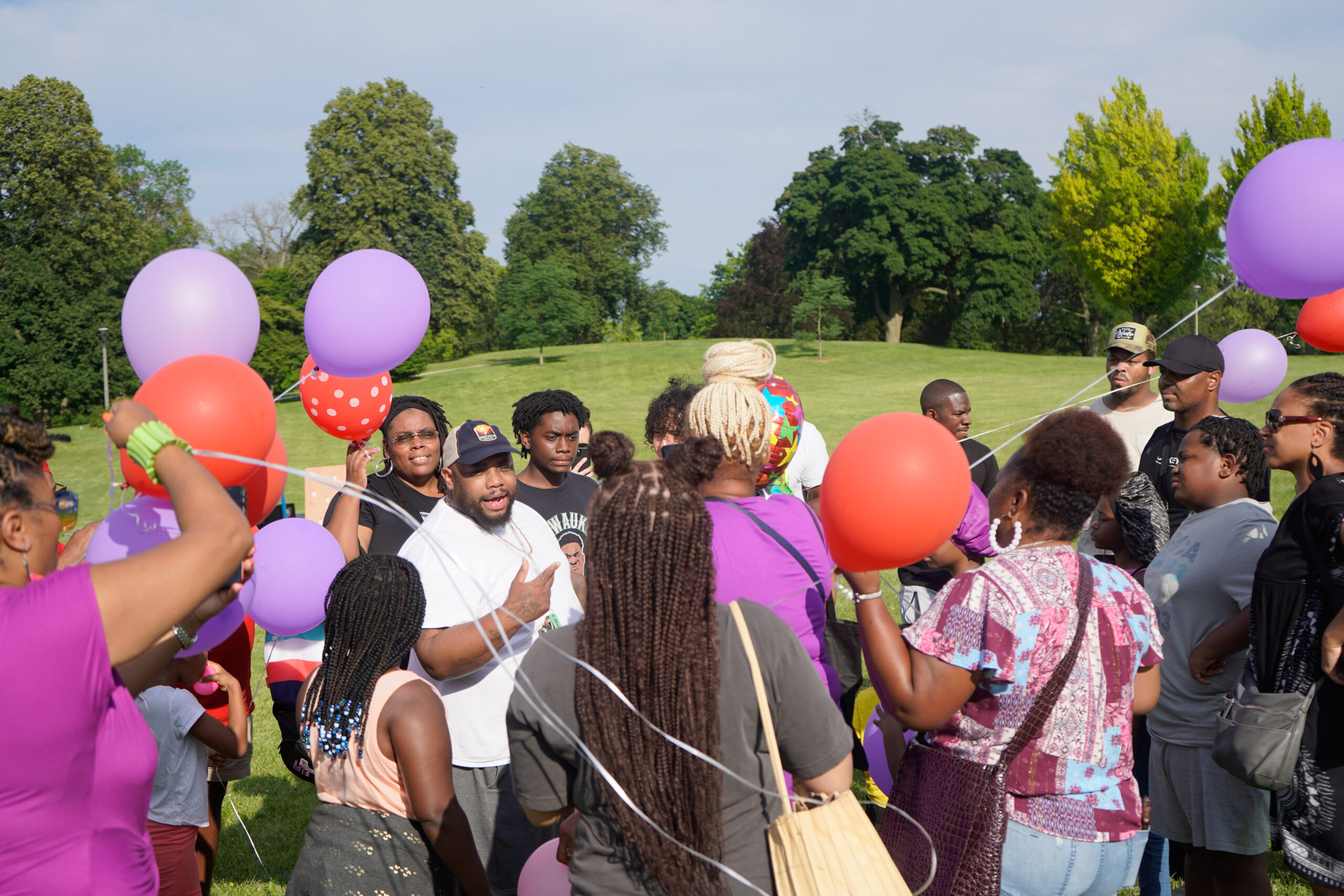 "Many nonprofit organizations got together to talk about how they can be there for the community in case another COVID-19 surge occurs, bringing awareness and resources to underserved communities," Zahran added.
Additional reporting for this story was contributed by Aziz Aleiou and Mahmoud Malas.