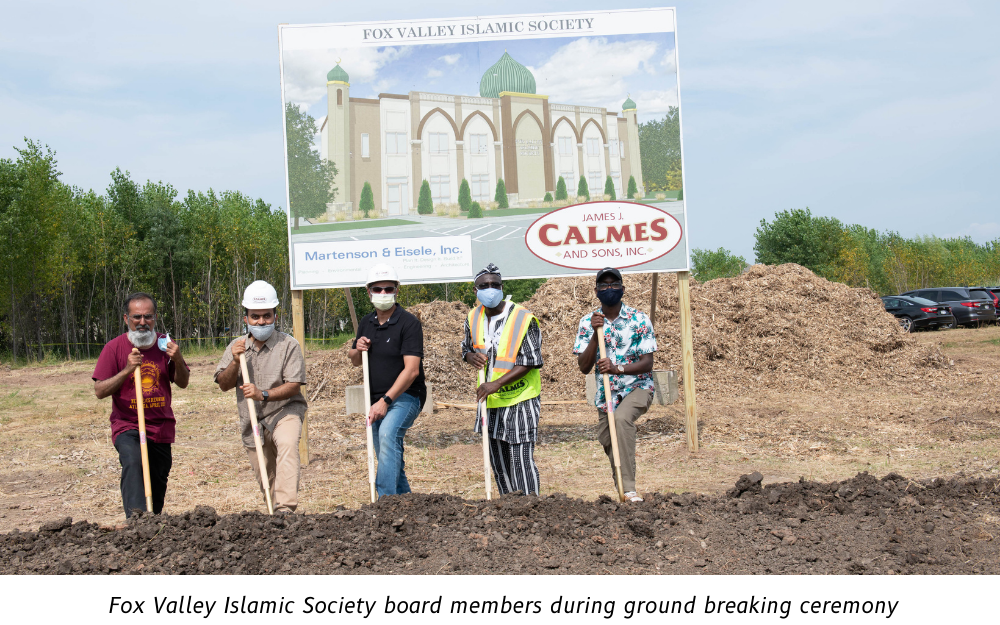 Akhtar Sultan understood as well as anyone what a new, larger mosque would mean to the Fox Valley's growing Muslim community. It would be a place of prayer, but also of fellowship — large enough to host the entire community on the holiest days of the year. It would allow members to expand their educational programs and outreach, especially for young people.
And he wanted everyone in the community — not just a few affluent donors — to embrace that mission and help make it a reality.
Akhtar Sultan did not live to see the opening of the new, 12,000-square-foot masjid, now taking shape on seven acres in the northeast Wisconsin city of Neenah. He died unexpectedly in December following a heart attack at the age of 54. But Sultan played a crucial role in laying its foundation, helping to raise nearly $700,000 in pledges.
"He really wanted to see the community together. He wanted everybody to be involved," Munazza Sultan said of her late husband, an engineer, and father of five who emigrated from Pakistan in the 1990s.
"He was really inspired by his father, who used to say, 'If I work for other people's kids, God will take care of my kids.' And I think he was living by that," she said.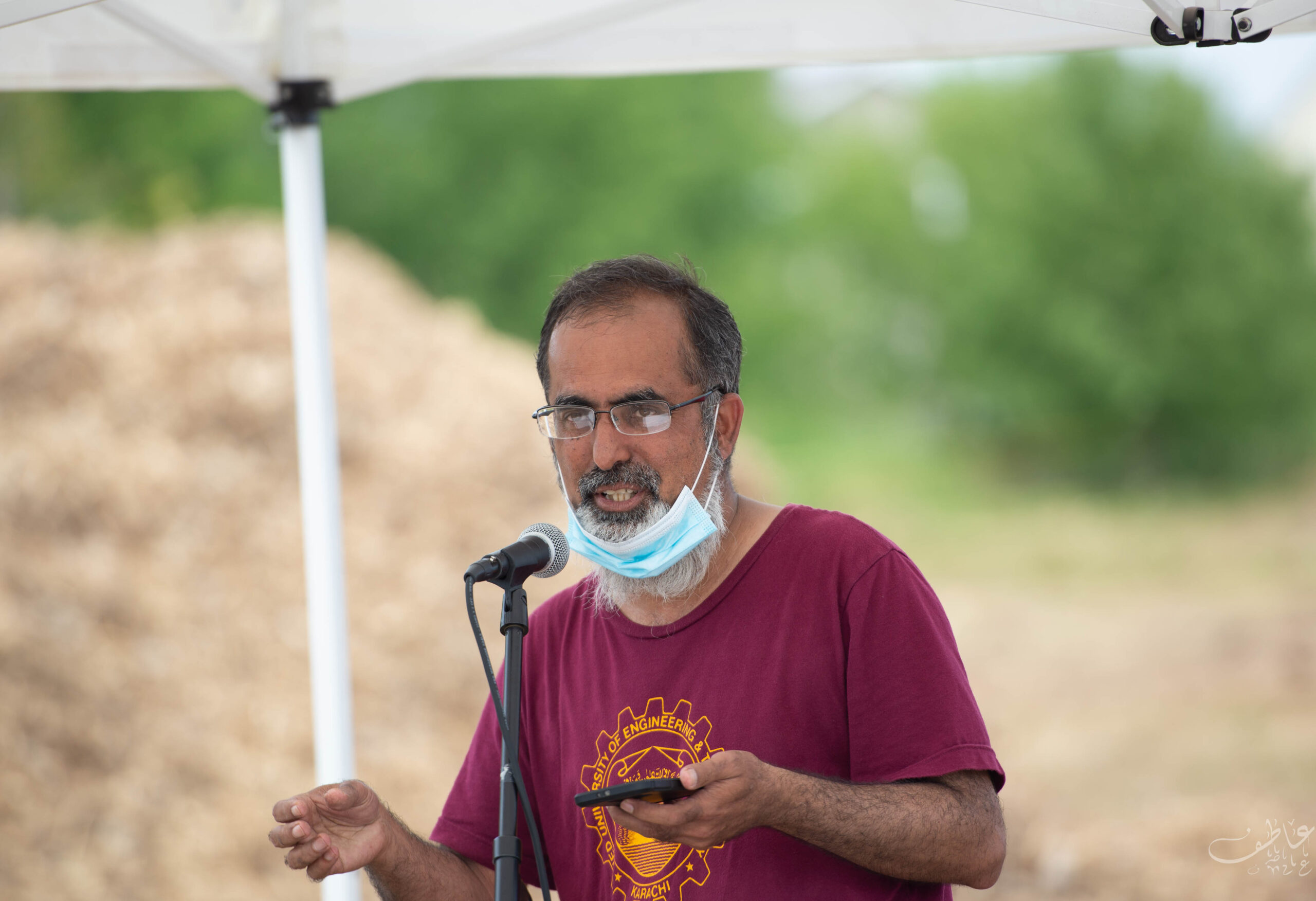 Akhtar Sultan speaking at the groundbreaking event of the new mosque, last August
One of Wisconsin's oldest Muslim communities, the Fox Valley Islamic Society broke ground in August on what is projected to be a $1.9 million project and expects to have the first phases completed this year.
The new, three-story building — with its domed minarets and other Islamic architectural influences — sits just one block northeast of the small, nondescript masjid that has served area Muslims from as far away as Green Bay for four decades.
The society, founded in the 1970s with about 10 families, has grown significantly since then with an influx of immigrants and refugees from around the world. And members wanted a spiritual home that would better serve that diverse and growing community.
"We have outgrown our space," said Islamic Society President Mamadou Coulibaly, a professor of geographic information systems at the University of Wisconsin-Oshkosh. "For some of the prayers, there was not enough room … and for Ramadan, we would have to rent a bigger hall.
"And we wanted something that looked like a mosque," he said.
The new building will feature a larger, first-floor prayer hall; an expanded space for women on the mezzanine; a library for the broader community; and rooms for Sunday school, offices, and community gatherings, like those for Eid celebrations and the annual interfaith gatherings it has hosted for two decades, said Coulibaly.
He said he expects the shell and first floor to be completed by the end of this year, with interior work on the mezzanine and basement to be completed after the second round of fund-raising.
"It's very exciting. … We feel very blessed," Coulibaly said, adding that the project has drawn support, not just from local Muslims, but among city leaders, the interfaith community, and others.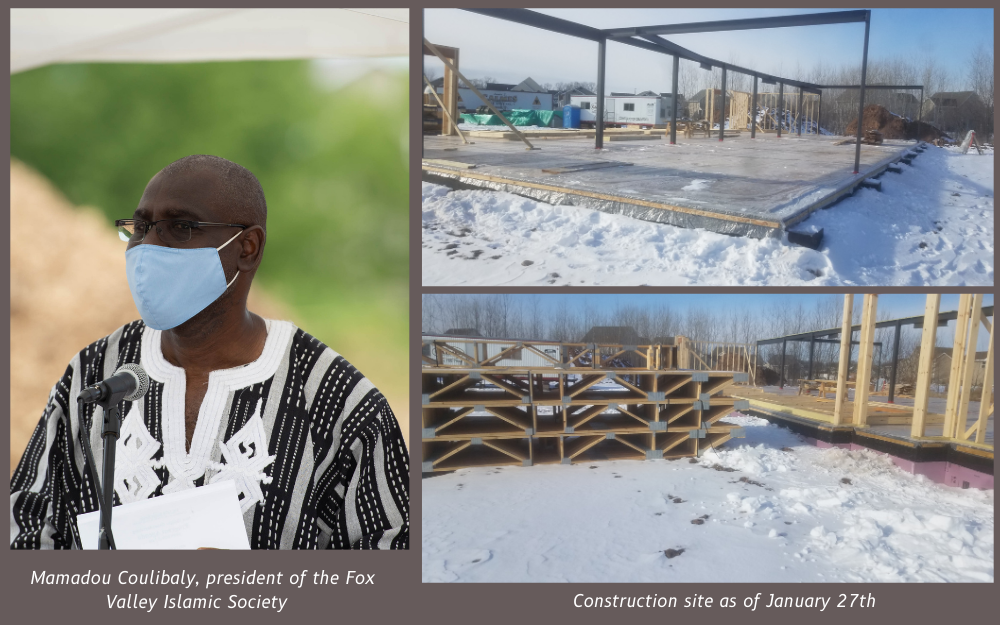 "I know there are many in our community who did not believe this would ever happen."
Plans for the new mosque date back more than a decade, to December 2006 when a founding member, Nasreen Majid, wrote a check to buy the first five acres as she was dying.
"She was a great member, and one of her goals was that we would have a new mosque," said Mohammed Rashid, who was president at the time and now lives in Minnesota.
The Society raised the money to buy two additional acres and in October 2007 announced plans to build a new Mosque. But the proposal never got off the ground, Rashid said, in part because the Great Recession made fundraising more difficult.
Community leaders resurrected the plans in 2017 and began working to build support for the project in the broader Muslim community.
Those types of community gifts and grassroots mobilizing are typical of the way many mosques have been built in the United States, especially in smaller communities like the Fox Valley Islamic Society that do not have full-time Imams or administrators, said Amir Hussain, chair and professor of theological studies at Loyola Marymount University in Los Angeles.
"That's really what happens at a lot of mosques," Hussain said, noting that Islam does not have the kind of centralized structures seen in traditional mainline Christian denominations. "There is no organized structure to help people do this … no national headquarters or fund-raising bodies."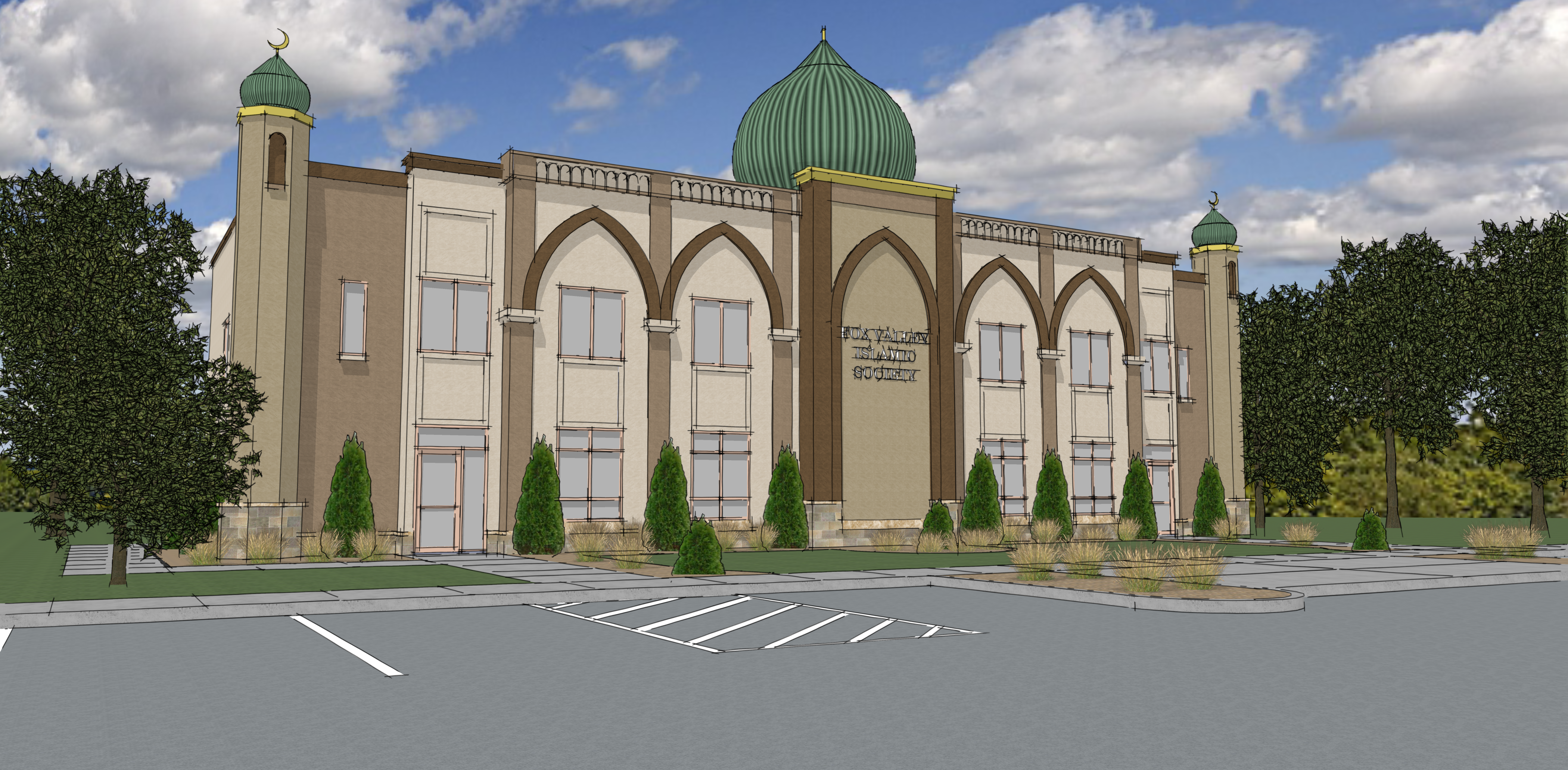 The Fox Valley Mosque rendering. (photo ©: James Calmes and Sons Inc)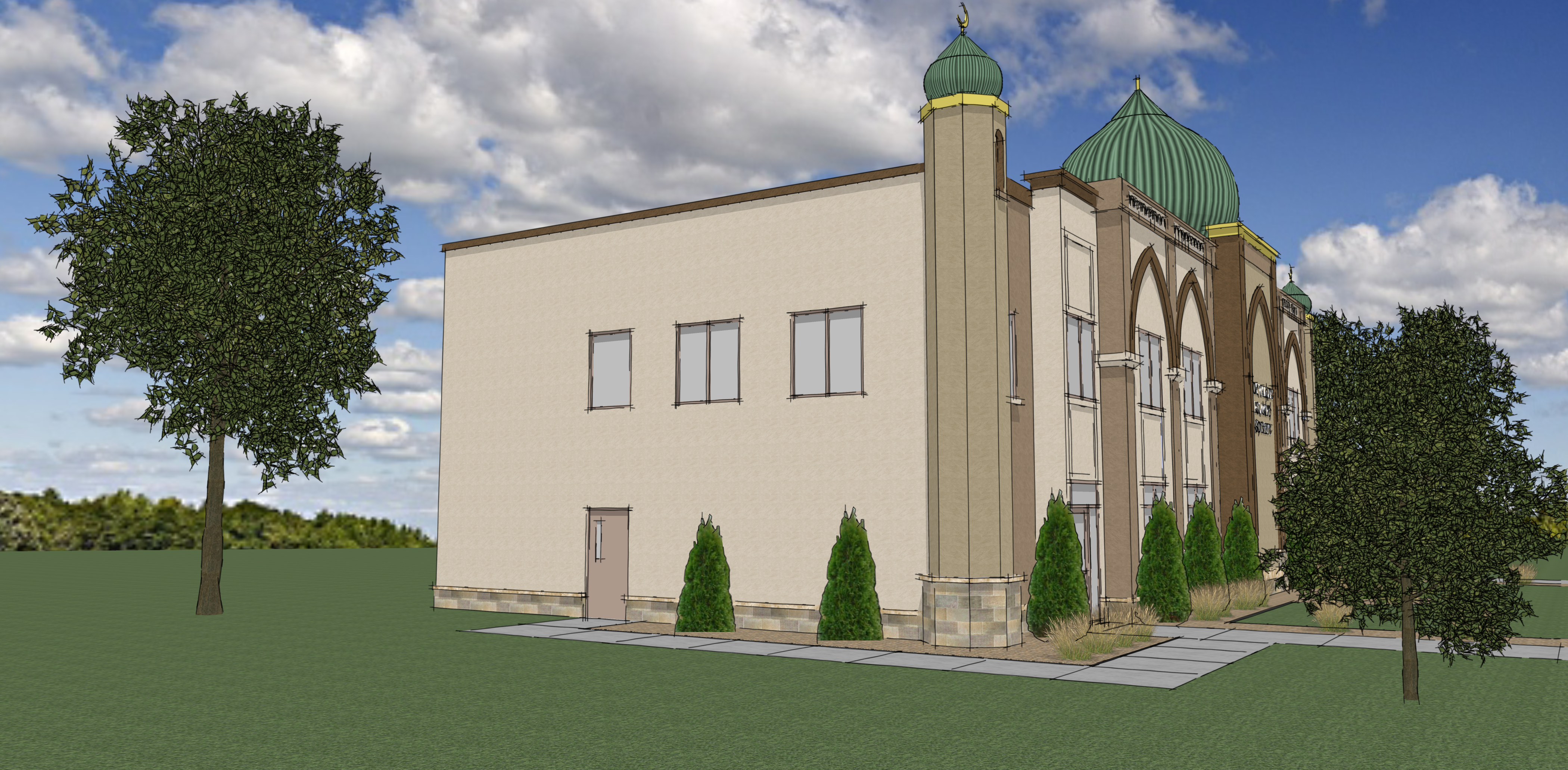 Akhtar Sultan, who served as the society's vice president, spearheaded much of the fund-raising, eliciting donations from individuals and other mosques from as far away as California and Texas. An engineer and scientist at Kimberly-Clark, Sultan was well-known and respected in the Muslim community. He was so visible — leading daily prayers and programs, visiting members in their homes — that some assumed he was the Imam, said Coulibaly. And his commitment and vision helped sell many members on the need for the new mosque.
"He led the community by doing. … He was always ready to roll up his sleeves before asking others to do so — and always in a quiet and humble way," said Jo Phillip, who represents the Society on the local interfaith council known as Esther.
"He worked really hard to get people to understand why we were building this mosque. It's not for ourselves but for the community in the future."
There were some hurdles along the way, financial and logistical, according to Coulibaly.
The community did not see the kind of virulent anti-Muslim rhetoric that has accompanied some mosque construction projects over the years. And the project has been widely supported by its interfaith partners and passed unanimously by the city council. But a number of residents voiced concerns about traffic, property values and other land-use issues during the Planning Commission hearings.
The Society scaled back the size of the project, in part to rein in costs, and hired a new design-build firm. And a few weeks ago, it sent out an emergency plea for $20,000 to close a budget gap, a request that elicited $30,000 in just a matter of days.
But they are now on track to open the doors of the new masjid for prayers before the end of the year, Coulibaly said.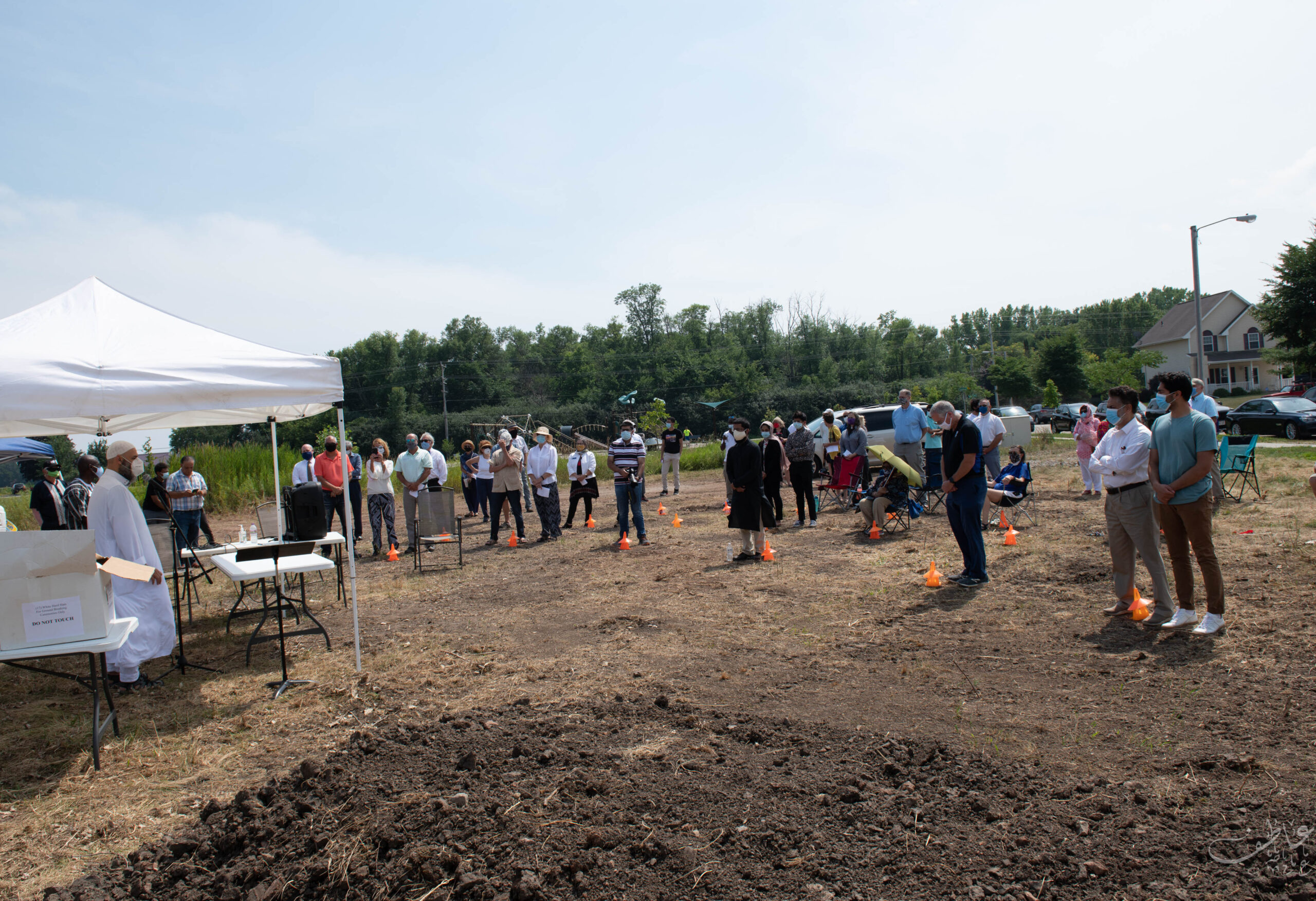 Prayer at groundbreaking lead by Imam Mohamed Abdelazim of the Appleton Mosque
When they do, they will acknowledge and honor the many people who helped to make the masjid a reality — many who will be on hand and others who did not live to hear its muezzin's first call to prayer.
People like Nasreen Majid. Like Akhtar Sultan. Like the Rev. Joel Schlachtenhaufen, a retired Lutheran pastor and longtime interfaith partner, who rallied supporters on behalf of the Muslim community before the Neenah City Council.
"We do not know who among us will see the mosque completed. But we believe this is God's walk. And may God use us the way it pleases him," said Coulibaly. "And whether the mosque is completed or not … we do our part. And whatever happens, that's God's decision.