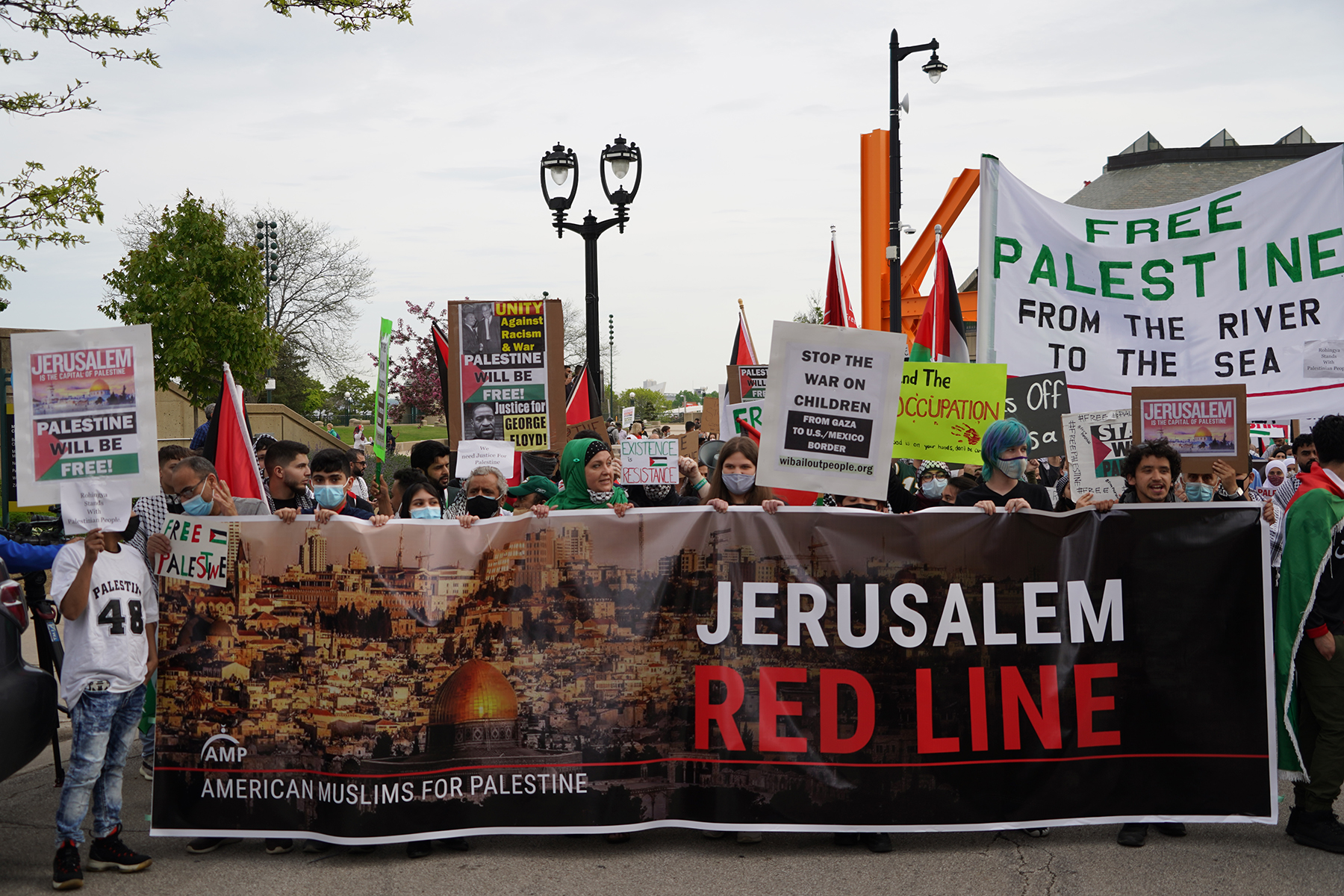 Photo ©
Lее Mаtz for the Wisconsin Muslim Journal
A crowd gathered Thursday evening at "The Calling," the orange sunburst artwork on the east end of Wisconsin Avenue, for a "Free Palestine" rally planned by a coalition of organizations.
A post on the Wisconsin chapter of Bail Out the People listed the sponsors: American Muslims for Palestine, Islamic Society of Milwaukee, Milwaukee Muslim Women's Coalition, Jewish Voice for Peace, Voces de la Frontera, Rohingya American Society, several mosques, and Students for Justice in Palestine chapters from Marquette University and the University of Wisconsin – Milwaukee, and Muslim Student Association chapters from MU and UWM.
Hundreds, possibly 1,000, shouted "Free Palestine," "End the Seige on Gaza" and other chants to the beat of a snare drum. Big green, white, black and red Palestinian flags waved and signs announced: "We Can't Breathe Since 1948," "Pakistan for Palestine," and "Justice is our Demand," among countless others. Many wore keffiyehs, the black and white Palestinian scarfs. Passersby in cars honked and waved.
Speeches in front of "The Calling" bookended a march down Prospect Avenue that stretched from the east end of Wisconsin Avenue almost to Juneau Avenue. Mahdi Jaber, a recent UWM graduate, and others led the lively crowd in chanting between speakers and from the back of a truck as marchers followed.
People sitting at picnic tables in Juneau Park raised their hands in peace signs. Two women stood and raised fists in solidarity. One cyclist, stood with his bike and yelled, "This is what happens when you lob missiles," but no one appeared to have heard him.
The crowd marched in front of the Knickerbocker Hotel, where diners sat at tables on the patio, silently watching the protesters pass by. Several photographers ran beside the marchers, snapping pictures. A couple of TV stations filmed from cameras on tripods.
Youth led the way
The rally, one of several in Wisconsin in support of Palestinians over the week, featured an array of speakers from a variety of organizations.  The speakers reflected the diversity of the crowd, including representatives of AMP, ISM SJP, JVP, BLOC (Black Leaders Organizing for Community), RAS and a Columbia-solidarity collective.
Sana Hamdan, a young member of American Muslims for Palestine and a Palestinian American, highlighted the diversity of the coalition at the rally, raising several cheers as she said: "Though part of my identity is rooted in the Palestinian cause, I want each of you to know that no matter your religion, no matter your ethnicity, no matter your background, each and every one of us is responsible for this cause. We have a level of ownership to free Palestine, just as we have a level of ownership for our Black brothers and sisters in America, our Columbian brothers and sisters, our Kashmiri brothers and sisters, our Syrian brothers and sisters, our Somali brothers and sisters, our Uighur brothers and sisters, and our LatinX brothers and sisters."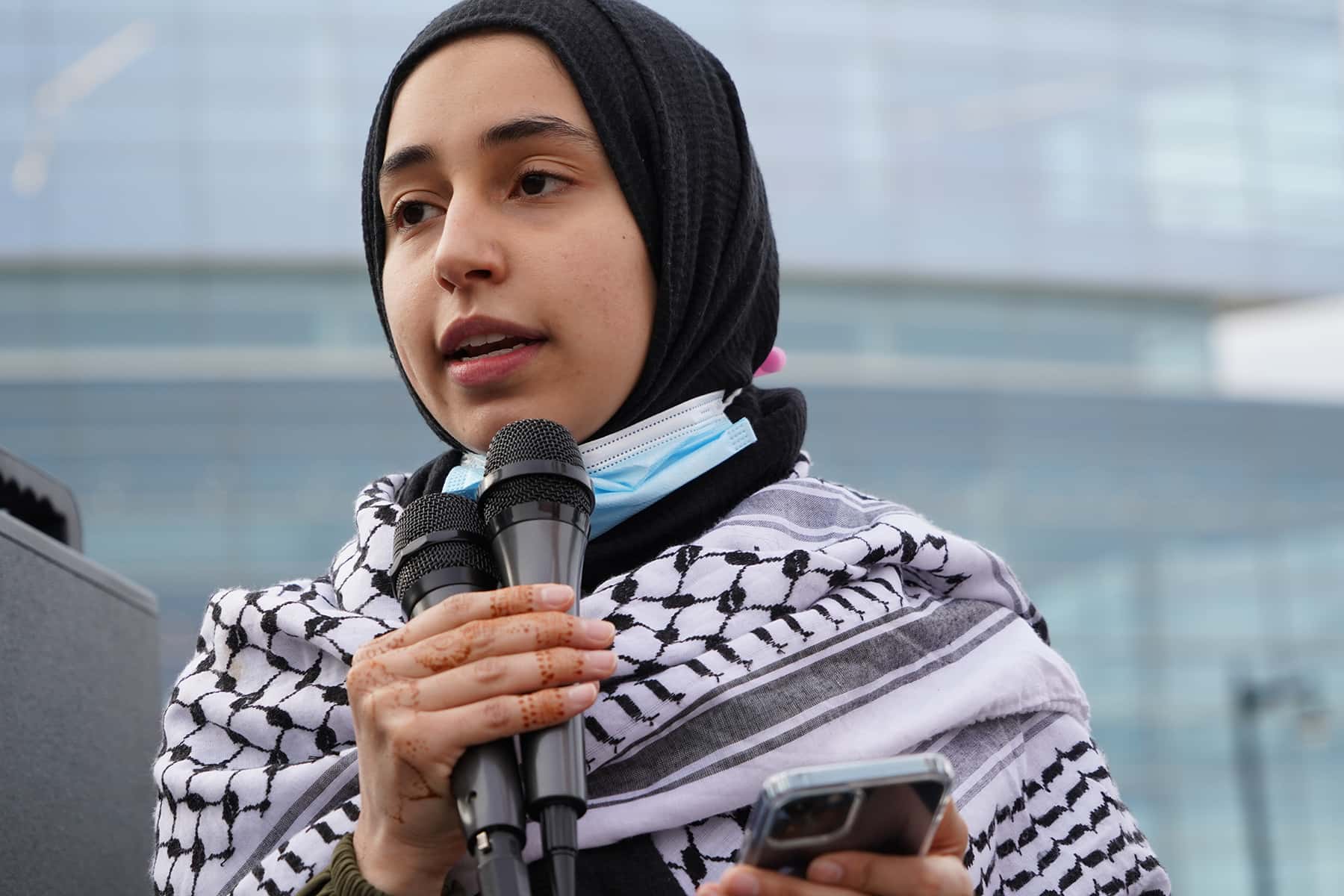 Sana Hamdan of American Muslims for Palestine called for solidarity with the Palestinians.
Youth from the SJP and MSA chapters of MU and UWM took the microphone. "We feel there is a change in the air and part of the reason this is so is because youth are behind it," said Yasmeen Atta of MU's SJP.
She was joined by representatives from the SJP chapters who honored the Palestinians killed in the current violence: 227 including 64 children. They held up posters listing the names of the children killed, read their names, and held a moment of silence.
SJP speakers also listed their grievances: killing of civilians, bombing of homes and schools, economic hardship and families being forcibly removed from their homes. They called for those at the rally to contact elected officials to call for boycott, divestment and sanctions against Israel.
Representative of Jewish Voice for Peace shows solidarity
Dr. Rachel Buff, one of the founders of Jewish Voice for Peace's Milwaukee chapter, shared a poem she wrote for the occasion.
"I thought about how we meet at these horrible, horrible, stinking times, and I thought about the ways we come together and how beautiful that is," she said in introduction.
Her "Poem for Radical Milwaukee #Free Palestine, 5/21" spoke about unbearable times "of murder, of the violence wrought by empire, by xenophobia and white supremacy, by anti-Semitism and by Transphobia" and how we "meet because we can't abide these moments alone." It talked of the diversity of those who come together in solidarity and in grief to say: "No more."
Othman Atta, director of the Islamic Center of Milwaukee praised Dr. Buff's courage and others in JVP, calling them "very courageous people who are standing up for their Jewish community and for their faith."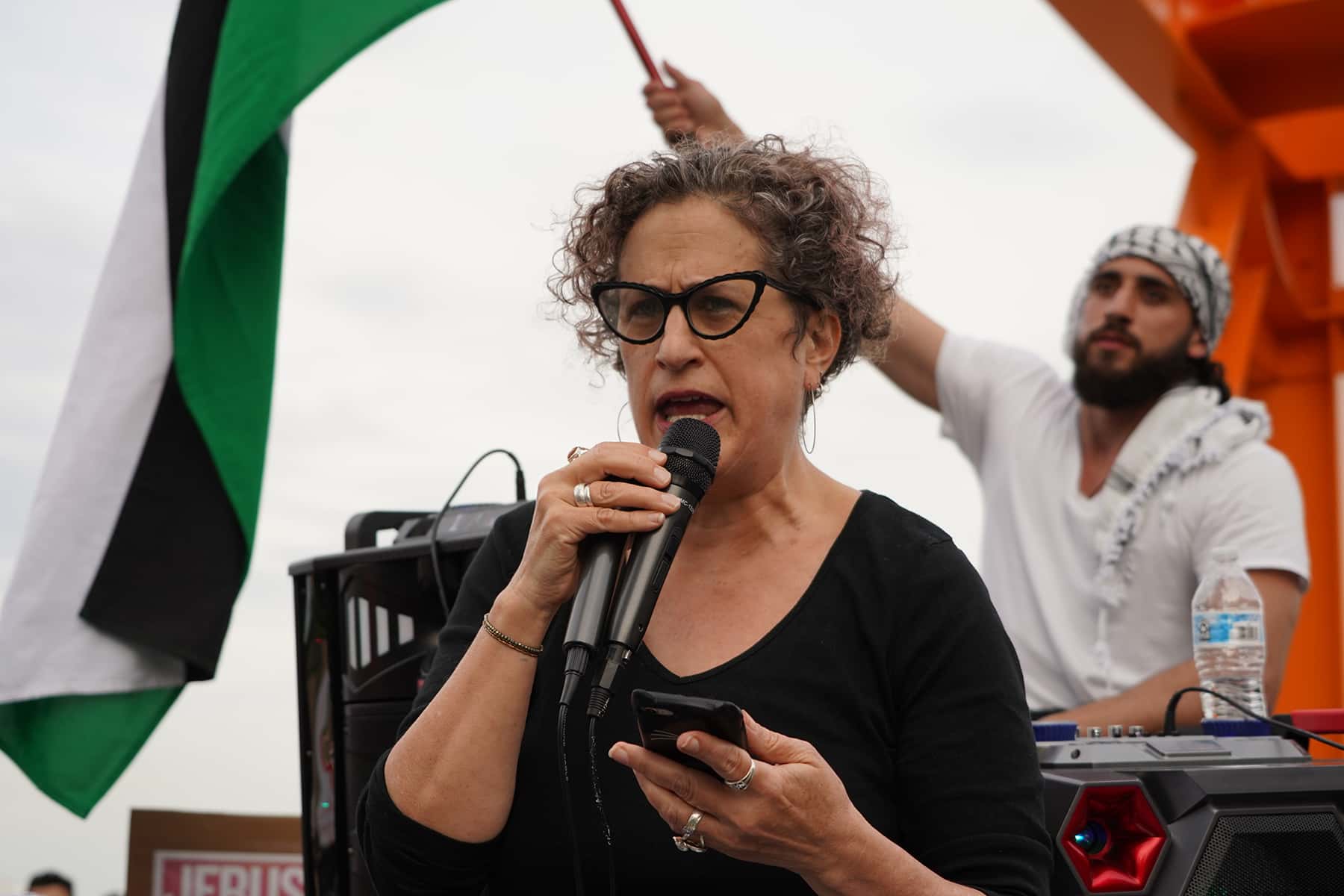 Dr. Rachel Buff of Jewish Voice for Peace shared a poem she wrote for the rally: Poem for Radical Milwaukee #Free Palestine.
In an interview this week prior to the rally, Dr. Buff explained, "The organized Jewish community in this country, particularly since 1967, has tended to be very, very Zionist. It is just assumed that if you are Jewish, you are pro-Israel. JVP was an organized group of folks questioning this, whether Zionism is really a fundamental Jewish value.
As Dr. Buff and eight others saw in 2014 "the last big siege by Israel, I just couldn't stand it anymore," she said. "I watched the organized Jewish community rally around Israel unquestioningly. We got together and said we have to be able to criticize Israel. We've got to be able to stand in solidarity with Palestinians, so we founded our Milwaukee JVP chapter."
Taking that stand has had a cost, she admitted, recounting how she was dismissed from teaching Sunday school at a local synagogue for sharing a "rudimentary history" of the Palestinians and found herself unwelcomed at her synagogue. She and her family now worship at a synagogue in Chicago. "There was no synagogue in town that had room for anyone that had even a non-Zionist position.
"As an American Jew, I resent being used as an excuse for this militarism and slaughter," she added. "This does not represent my security and it is not making me or anyone I know or anyone I love safe."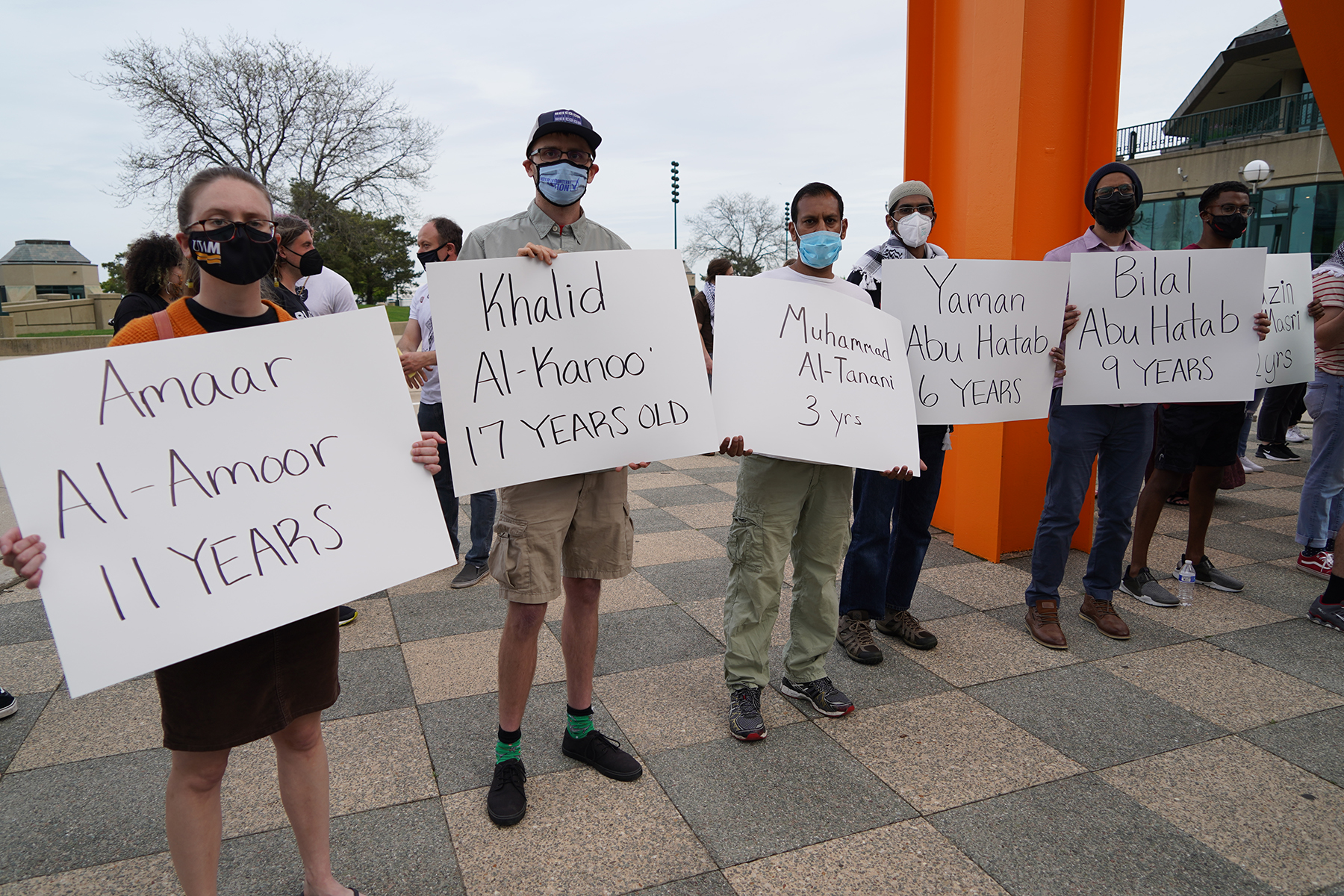 Members of Students for Justice in Palestine remembered 64 Palestinian children who had been killed in recent violence. 
BLOC pledges support
Kyle Johnson, a representative from BLOC, Black Leaders Organizing for Community, said, "As a Black organization, we share much of the same trauma whenever a marginalized group of people is mistreated anywhere in the world." Our "quests for liberation, equity and self-agency" are "intrinsically linked."
"Our hearts are with those in Palestine," he said. "State-sanctioned violence against any group of people is wrong and that is what is currently transpiring in Gaza and around Palestine … We must call out human rights abuses whenever and wherever they happen in the world.
"We stand in solidarity with the millions of people around the world of all faiths – in the U.S., in Israel, in Palestine and beyond who are protesting the Israeli government's violence against the Palestinians. We call on the Israeli government to cease the siege on the Palestinians. The violence must end.
He drew applause when he added, "We also call on President Biden, Secretary of State Blinken and Congress to re-examine the usage of American tax dollars in military aid sent to Israel each year. Those tax dollars are used to continue to subject the Palestinian people to human rights abuses and to further an apartheid state."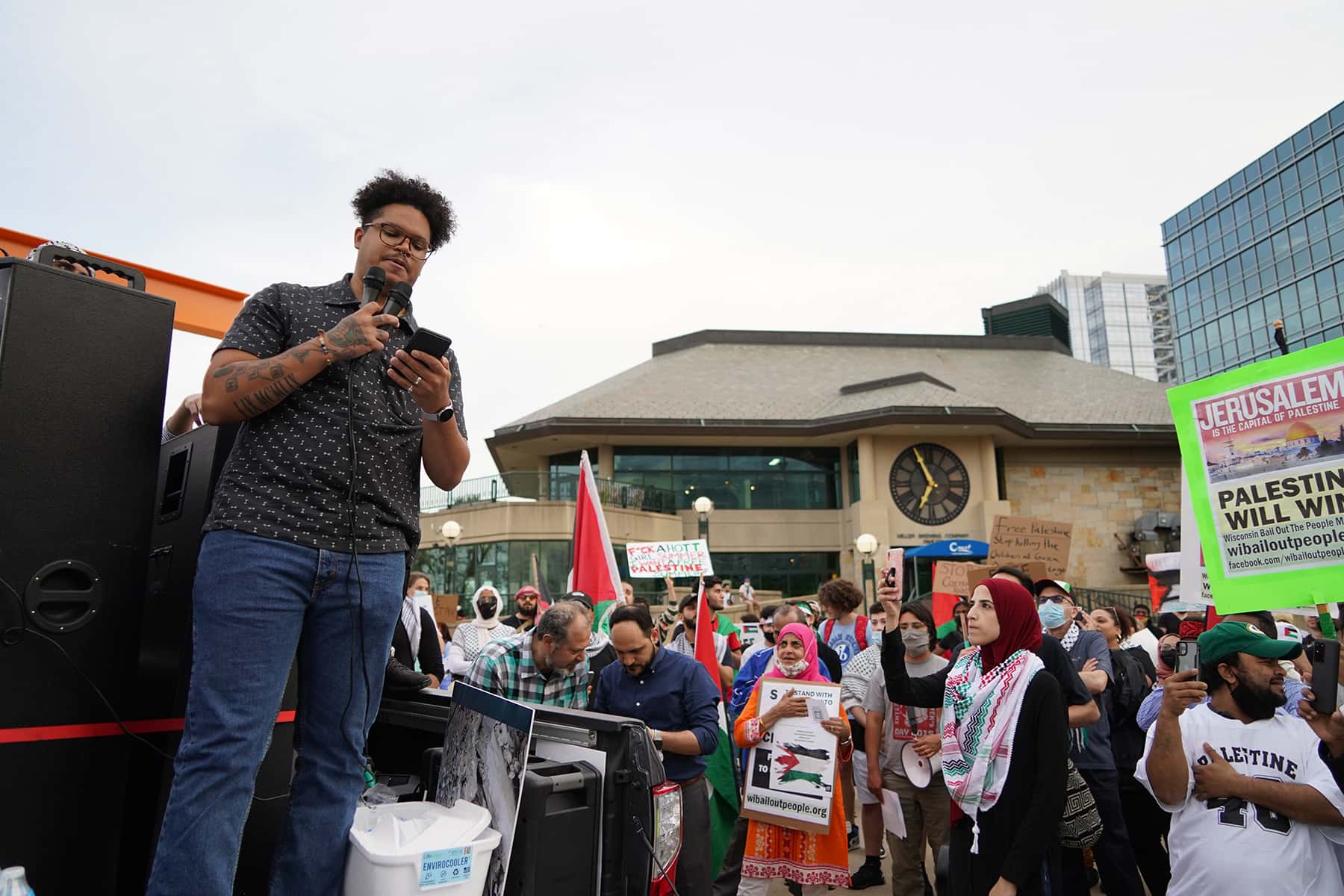 Kyle Johnson of Black Leaders Organizing for Community (BLOC) said BLM and Palestinian struggles are "intrinsically intertwined."
Both ISM's Othman Atta and Johnson said that while they denounce Israeli actions against the Palestinians, they both also denounce anti-Semitic rhetoric and violence against the Jewish people, and recognize that many Jews have joined the Palestinian cause.
ISM's Atta said, "If anyone is supporting our cause because you hate the Jews, we don't need your support. We want you to support this cause because it is a cause of justice."
"Our work is not done."
His voice breaking and hoarse, Munjed Ahmad of AMP announced a ceasefire had been called. "But Palestine is still occupied. Our work is not done. We will continue until Palestine is free," he said, then led the crowd to chant: "Free, free Palestine."
Even with the announcement of a ceasefire, Gaza is still under siege, protestors said.
"Gaza is not a state. It is a strip of land," explained ISM director Atta, a Palestinian American. "It is only 25 miles long. It is at its widest only 12 miles wide. It has no army, air force, navy. The people there are impoverished. The people there are suffering. Fifty percent of the people there are children and 96% of their water is undrinkable. They don't have a functioning sewer system.
"But do you know what they've got? They've got courage," he said. Atta called for a stop to U.S. military aid to Israel.
With an emotional delivery, Ahmad explained, "I stand here on behalf of American Muslims for Palestine and I take an oath that the organization has taken years ago, that we will not leave our brothers and sisters in Palestine without a voice. Our voice will be their voice."
Ahmad said, "These protests are great but this is not our mission. Our mission is to free Palestine. To do that, we need to contact our representatives."