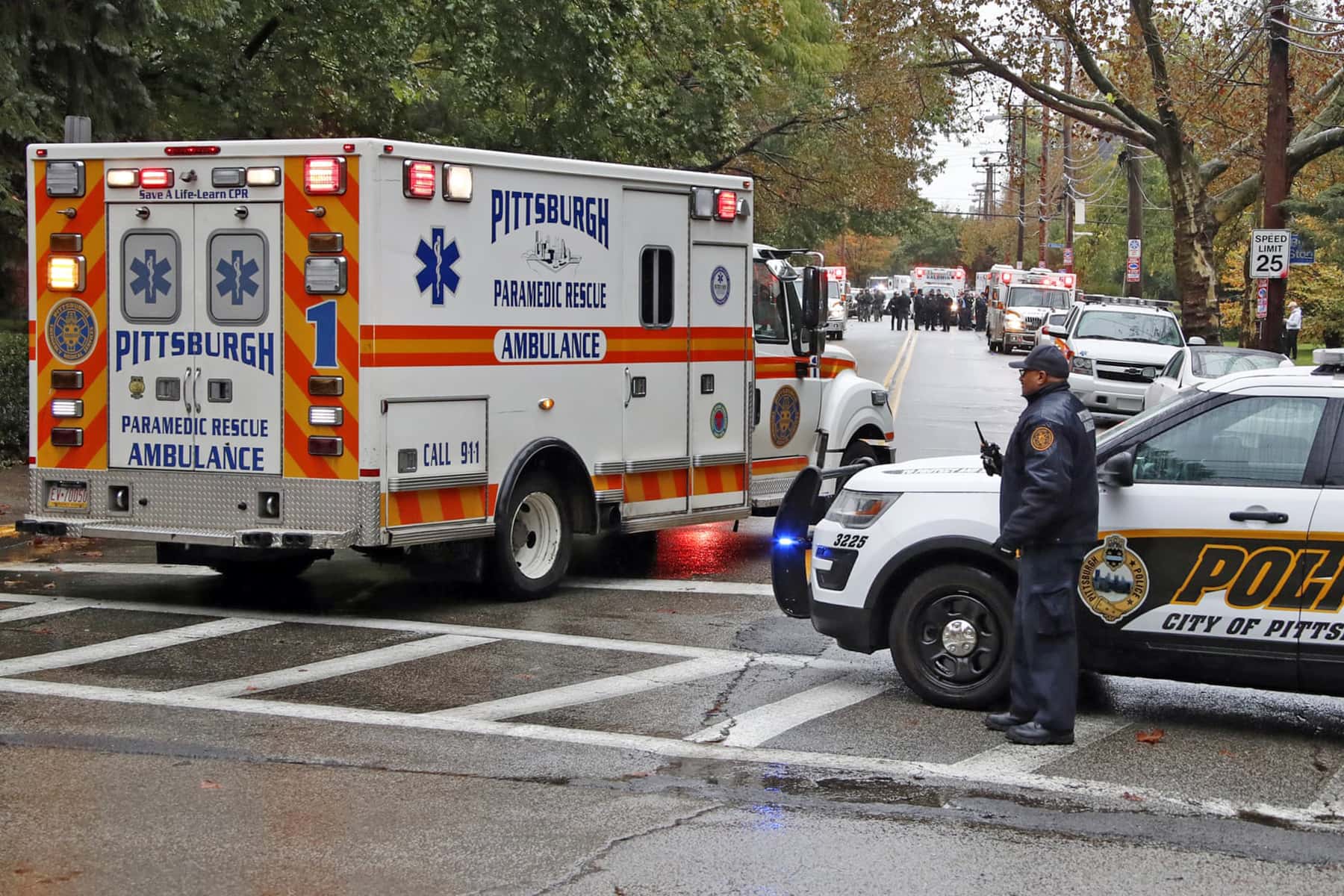 Robert Bowers appears to have used the platform Gab to accuse Jews of bringing 'evil Muslims' into US.
The alleged gunman who reportedly shouted "all Jews must die" before opening fire in a Pittsburgh synagogue on Saturday regularly posted antisemitic conspiracy theories on an extremist social media site, including accusing Jewish people of trying to bring "evil" Muslims into the United Officials named the suspect as Robert Bowers, of Pittsburgh.
His age was unclear, but he was reported to be 46. He was taken into custody shortly after the shooting, officials said.
On Gab, a social media network favored by white nationalists, neo-Nazis and other "alt-right" figures, including those kicked off other social networks for hate speech, there was until late on Saturday morning a profile for a "Robert Bowers" who had posted frequently about Jewish control of the American government. The account was taken down but archived versions of the page remained available.
The account suggested white Americans and "Western Civilization" were "headed towards certain extinction", and that Jewish and Muslim people were to blame.
The final post read: "I can't sit by and watch my people get slaughtered. Screw your optics, I'm going in."
That post, from Saturday morning, referenced "HIAS", a global not-for-profit organization, founded in 1881 as the "Hebrew Immigrant Aid Society" to help Jews fleeing pogroms in Russia and Eastern Europe. It now protects the refugees, The post claimed the organization "likes to bring invaders in that kill our people".
The author of the posts was someone "steeped in the debates of the alt-right", said the Southern Poverty Law Center (SPLC), which tracks American hate groups. The SPLC posted on Twitter that the alleged gunman's social media postings "show adherence to antisemitic conspiracy theory that Jews are trying to destroy the white race through immigration – aka 'white genocide'".
The final post appears to reference a debate within the American "alt-right" over the "optics" of different kinds of public advocacy for white nationalism, SPLC analysts said.
Public records for a 46-year-old Robert Bowers from Pittsburgh contain several possible email addresses for him that include the phrase "onedingo", the social media handle used by Robert Bowers on Gab.
HIAS works with the US government to help resettle a wide range of refugees. The organization has worked to mobilize other Jewish organizations against the Trump administration's attempts to limit and block the admission of refugees, particularly Muslims and, more recently, those from Central America.
The Robert Bowers account reposted another user who wrote: "Open you Eyes! It's the filthy EVIL jews Bringing the Filthy EVIL Muslims into the Country!!"
In an initial statement, HIAS made no reference to the alleged shooter. "There are no words to express how devastated we are," the organization wrote.
The Robert Bowers Gab posts also repeatedly criticized Donald Trump for not being a true ally of white nationalist.
"Trump is a globalist, not a nationalist," Bowers wrote. "There is no #MAGA [Make America Great Again] as long as there is a [Jewish] infestation."
The account also shared a post criticizing of Trump for charges brought by federal prosecutors against a small number of violent white supremacists after protests in Charlottesville, Virginia last year during which a counter protester died.
Shortly after the shooting, the Twitter account of Donald Trump Jr, the president's son, liked a tweet that highlighted the posts containing the alleged shooter's criticism of Trump.
Several of the posts also referenced internal divisions among white nationalist and conspiracy theorist groups, including one post that suggested supporters of the "QAnon" conspiracy theory were deluded. Gab was founded by Andrew Torba in August 2016, after the rightwing activist Milo Yiannopoulos was permanently banned from Twitter for encouraging the online abuse of a black Hollywood actor.
The site, which brands itself as a refuge for "free speech", has been popular from the beginning with white nationalists and neo-Nazis and has been called "Twitter for racists".
It was banned from the Google Play app store last year, for violating the company's hate speech policy.
Gab confirmed in a public statement on Saturday there had been a verified account with the same name as the alleged Tree of Life gunman. The site said it had suspended the account but saved all data associated with it. Gab pledged that it would fully cooperate with a law enforcement investigation.
"Gab unequivocally disavows and condemns all acts of terrorism and violence," the statement said.
On Twitter, Gab's official account defended the site against accusations it had created a platform for hate and terrorism to flourish, and suggested violent terrorists used many different social media sites. It shared an article about Twitter postings by Cesar Sayoc, the man accused of sending mail bombs to prominent Trump critics.
By late afternoon, Gab's Twitter account announced that PayPal had cut off its relationship with the site. A PayPal spokesman confirmed the move.
"The company is diligent in performing reviews and taking account actions," a spokesman, Justin Higgs, said. "When a site is explicitly allowing the perpetuation of hate, violence or discriminatory intolerance, we take immediate and decisive action."
Higgs said PayPal "has been closely monitoring Gab and was in the process of canceling the site's account before today's tragic events occurred".
In response to Paypal's public comments, Gab responded: "'Hate' is subjective."
Gab also bragged on Twitter that it had "been getting 1 million hits an hour all day."