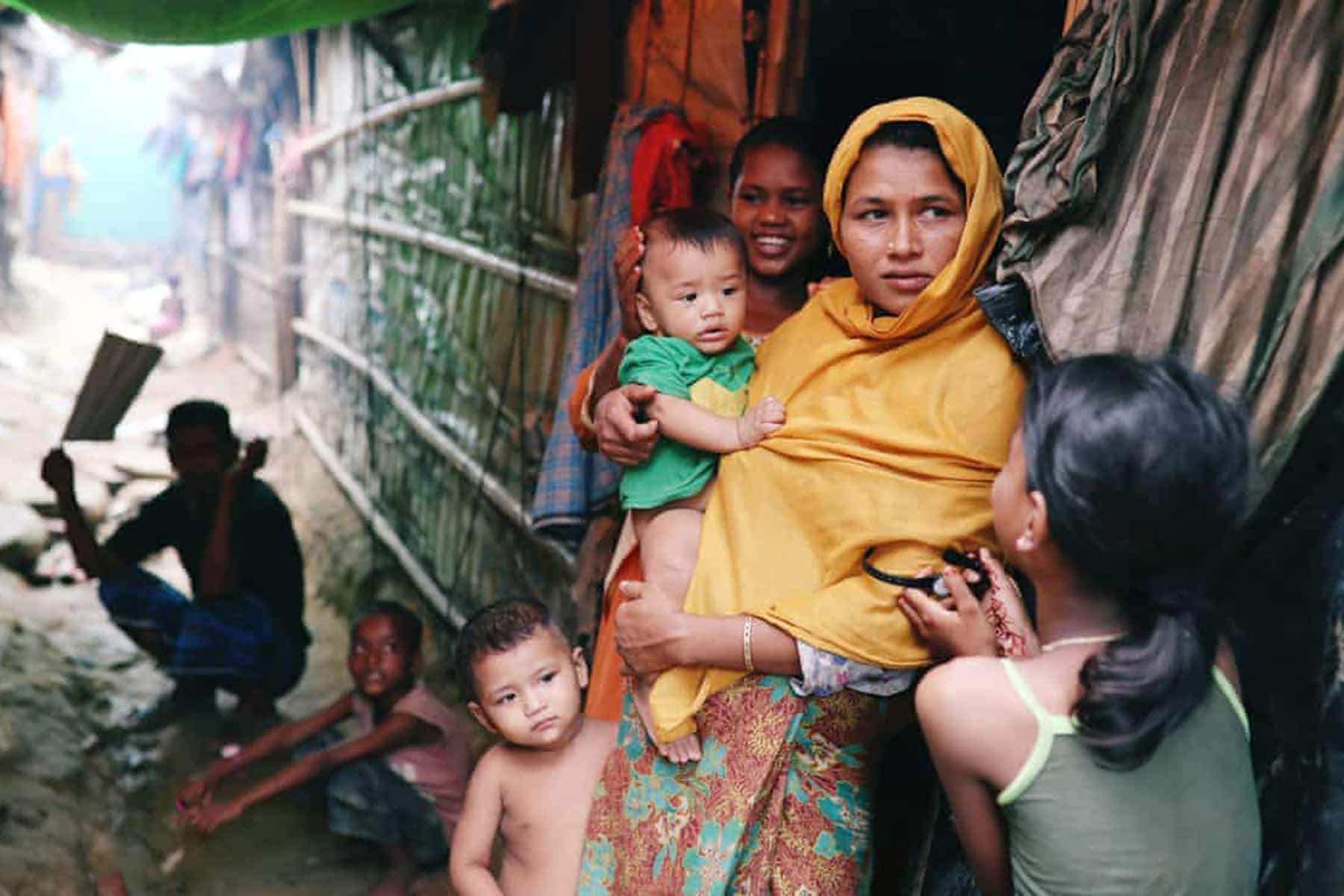 The governments of Bangladesh and Myanmar are to push ahead with the repatriation of thousands of Rohingya this week, despite objections by the UN, and against the wishes of the refugees, who spoke of being "terrified" at being sent back.
Fear gripped the camps in Cox's Bazar in Bangladesh over the news that, without their consent, 4,355 people had been placed on a list of Rohingya approved for return by Myanmar. The first repatriations are due from Thursday, but not everyone who is on the list has been informed and it is unclear how it was compiled.
Rohingya refugee Mohammad Ayaj said that his father, Mohammad Shaker, 58, had died of a heart attack last week after suffering days of anxiety and sleeplessness at the prospect of being forcibly sent back to Myanmar. "Minutes before my father collapsed, he said to me, 'Hide your brothers and sisters and save them from repatriation. Do not return to Myanmar, where you will face the violence again'," Ayaj told the Observer.
More than 700,000 Rohingya have fled across the border to Bangladesh after a campaign of violence in Rakhine state in August 2017, described by a recent UN fact-finding mission as genocide, was carried out by the Myanmar military and some Buddhist Rakhine people against the Muslim minority. Tens of thousands of Rohingya were killed, and UN investigators found evidence of mass rape and torture. A UN official said recently that the genocide in Rahkine was "ongoing."
Residents of the Cox's Bazar camps said that, such were the fears of being sent back, two Rohingya refugees in Unchiprang camp had attempted suicide. Dil Mohammad, a 60-year-old Rohingya, tried to take his own life hours after neighbors told him his name was on the list. On Tuesday, Hamid Hossain, 55, attempted suicide after being told by a Bangladesh camp-in-charge (CIC) official that he would have to go back.
Mohammad Ismail, who lives in Jamtoli refugee camp in Cox's Bazar with his wife and six children, said: "Around me there are 13 other families who have been told that they are on the list but do not know how. Like me, they all do not want to go back to Burma, and are very confused and anxious. We do not know what is going to happen to us."
The logistics of the repatriation remain opaque. Aung Thuerin, a member of the Union Enterprise for Humanitarian Assistance, Resettlement and Development in Rakhine, said the first group of 2,000 "approved" refugees would be sent back to Myanmar by boat or land in "batches" of 150 per day. They would be processed in the Hla Phone Khaung transit camp in northern Rakhine state, which can house up to 30,000 people, before being relocated to their "original villages."
But as most Rohingya villages were razed to the ground during the violence and most Rohingya land confiscated and given to local Buddhists, there is a question as to how this will be possible. Some new "model villages" have been built, but owing to limited UN access in the region little is known about the conditions the Rohingya would return to. There is still deep-rooted hostility to them in Rakhine's Buddhist community.
While Mohammad Abul Kalam, Bangladesh's refugee relief and rehabilitation commissioner, told the Observer all returns would be "totally voluntary", there is evidence that pressure is being put on Rohingya refugees on the list, who are being told by Bangladesh officials to be "ready to leave."
"The CIC told me: 'You will get the call any day this month and you will have to cross the border'," one Rohingya said. Several refugees reported an increased presence of security forces in the camps.
UNHCR will begin interviewing all the refugees on the list in the next few days but spokesperson Caroline Gluck said the agency would "not be facilitating the returns nor be providing transport or any other assistance" because it did not believe that the conditions in Rakhine state were safe or that the rights of the Rohingya particularly their guarantee of citizenship, could be assured. Gluck said that that it was "really unclear" what would happen to refugees who did return, but that the UNHCR had made it clear they would be offering no support if they were kept in camps.
The reason for the rushed repatriation is said to be political pressure from both Bangladesh and Myanmar. An election is due in Bangladesh in December: the one million refugees in Cox's Bazar are a sensitive political issue in the poverty-stricken country.
China is also said to be putting pressure on Myanmar to start repatriation and has donated 1,000 prefabricated houses for returnees.
On November 9, 42 NGOs, including Oxfam and Save the Children, released a joint statement warning that the repatriation of the Rohingya was premature and dangerous. This was echoed by Yanghee Lee, the special rapporteur on the situation of human rights in Myanmar, who this week urged the governments of Bangladesh and Myanmar "to halt these rushed plans for repatriation."
Rohingya refugee Oli Ahmed, who fled Myanmar last September, was last week informed that he, his wife and his four children were on the repatriation list, despite never having been asked if they wanted to go back. He said the prospect of being forced to return filled him with horror.
"I have a 13-year-old daughter and her name is there in the list," he said. "I feel extremely unsafe to take her to Burma where they raped and even murdered girls of her age. The perpetrators of violence against our community have not been punished in Myanmar."
"We do not want to live in a foreign country forever," Ahmed added. "We will return to our homeland on our own but only when it is safe."
Shaikh Azizur Rahman and Hannah Ellis-Petersen