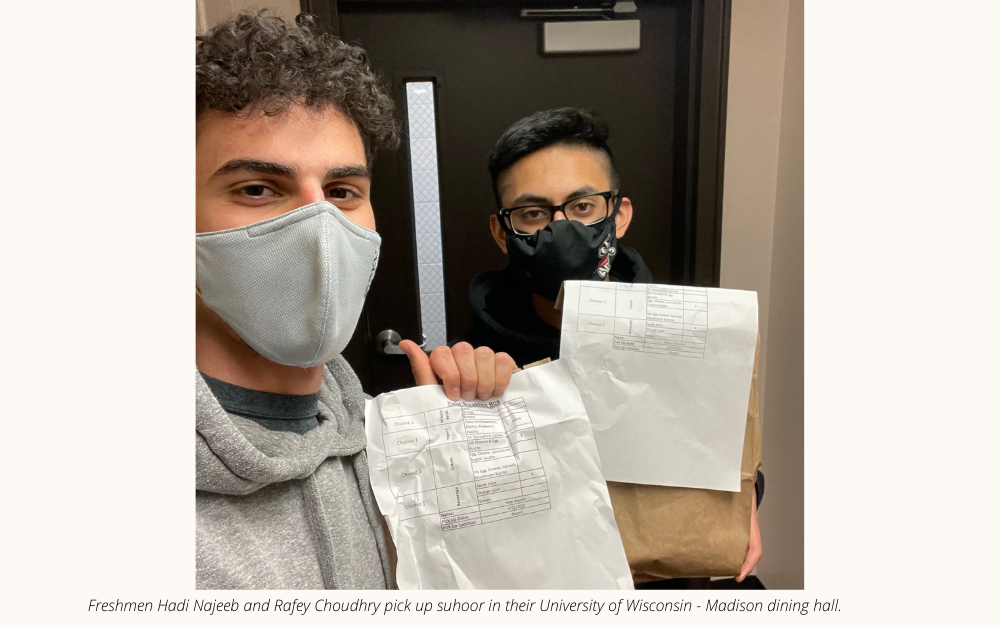 University of Wisconsin – Madison freshmen Rafey Choudhry of Brookfield and Hadi Najeeb of Mequon are on their own for Ramadan this year.
They both live in residence halls on campus and are experiencing Islam's holiest month of the year away from home for the first time.
Like other practicing Muslims in Wisconsin, Choudhry and Najeeb are fasting from food and drink for a 15-hour stretch each day during Ramadan, from April 13 – May 13 this year. Through it all, they are finishing papers and projects, and studying for final exams that begin May 2.
"My mom was stressing about what I would do for suhoor," Choudhry said about the pre-dawn meal before fasting all day.
Najeeb said he had planned to save fresh fruit from iftar, the evening meal, and keep some snacks in his rooms to eat at 4 a.m. Choudhry's mother may have prepared care packages to send her son. Then they learned UW-Madison's University Housing is providing Ramadan Meal Service.
UW–Madison is one of a growing number of universities across the country offering special meal plans for Muslim students during Ramadan. University Housing's Ramadan Meal Service offers Muslim students a breakfast bag of halal food options for suhoor that is delivered to a nearby dining hall for evening pick-up.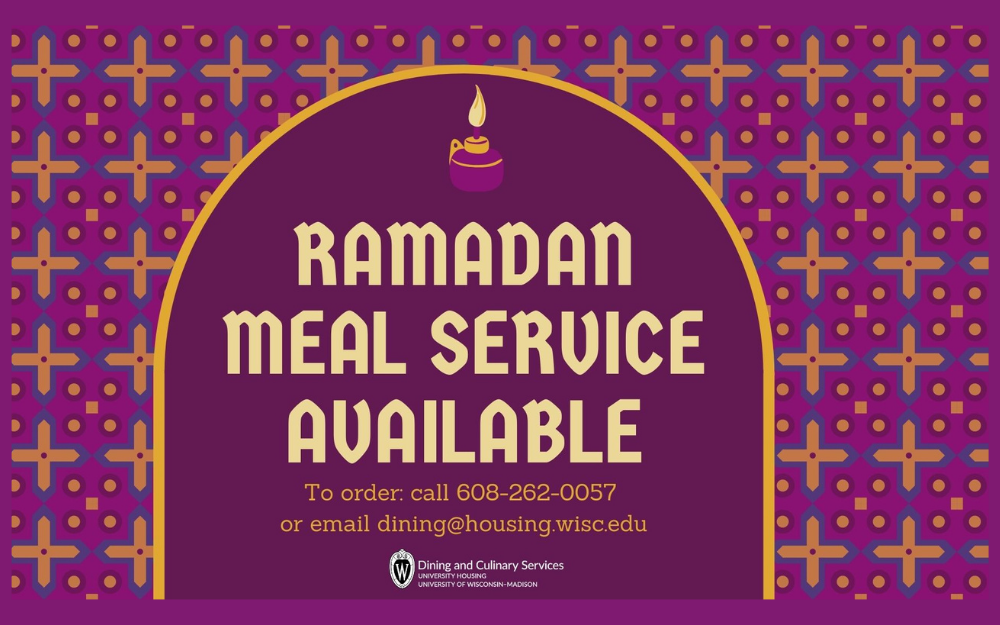 We're here for you!
University Housing page on UW-Madison's website announces:
"If you are observing Ramadan and are in need of meal service to accommodate your needs we're here for you. All meals are Halal certified and will be available for pick-up at the market of your choice."
"It is super easy," Najeeb said. "We call them, select our options and they send it to the dining hall in my dorm where I pick it up in the evening. The options are good and it is enough. I usually can't finish it."
Students can place orders by phone or email during business hours. Same day orders can be accommodated if made by 2 p.m., and students can order ahead for Saturday and Sunday.
Menu options include one fruit (an apple, orange or banana), one yogurt (strawberry, peach, blueberry, cherry or dairy free), one entrée (halal-certified Southwest chicken and egg burrito; egg, cheese and spinach on an English muffin; or vegan egg and cheese, spinach and mushroom burrito) and a beverage (apple juice, orange juice or water).
Developed in collaboration with students
"We attempted to start offering the Ramadan Meal Service last academic year. Just as we were getting into the start of Ramadan, the pandemic hit," said Peter Testory, UW-Madison Director of Dining & Culinary Services for University Housing. "We had the service available for Muslims who stayed on campus.
"This year we were able to reorganize, coordinating with the Equity and Inclusion Council and the Muslim Student Association. We wanted to launch it correctly so we partnered with the student group."
A week before the start of Ramadan, the new program was announced. An email went out to all students and the service was advertised on University Housing's page on the UW-Madison website.
Testory expects the program to continue, he said. "When Ramadan falls in the academic year, we will most certainly do this."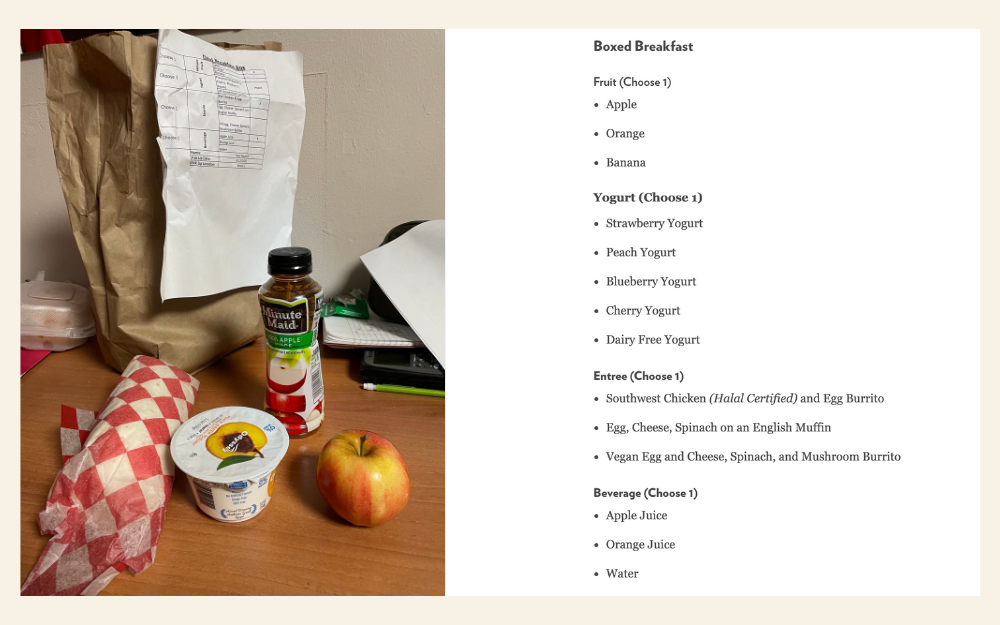 Hadi Najeeb unpacks breakfast burrito suhoor in his dorm room.
"An important service," regardless of numbers
Only a handful of students are using the service now, Testory said. "But from our perspective, that is fine. The option is there for students who want the service. Regardless of how many do, it is important to have it available."
Although UW-Madison does not formally collect data on the number of Muslim students at the university, "our Multicultural Student Center estimates about 300-400 students who identify as Muslim here, based on participation in campus groups," said Brendon Dybdahl, UW-Madison Director of Marketing & Communications, Division of University Housing. That is out of a total student body of 45,540 for the 2020-21 academic year.
The number of Muslims in on-campus residence halls is probably only a small fraction of the total Muslim students.
Najeeb said, "I know the vast majority of students in my dorm and I have found only one or two who are fasting. Still, they are providing this service for us. It's very good."
Chaoudhry said there are only two students in his dorm using the service. "It's surprising that they are accommodating only two of us here. It's really helpful."
"My mom was so relieved when I told her about the service," Choudhry added.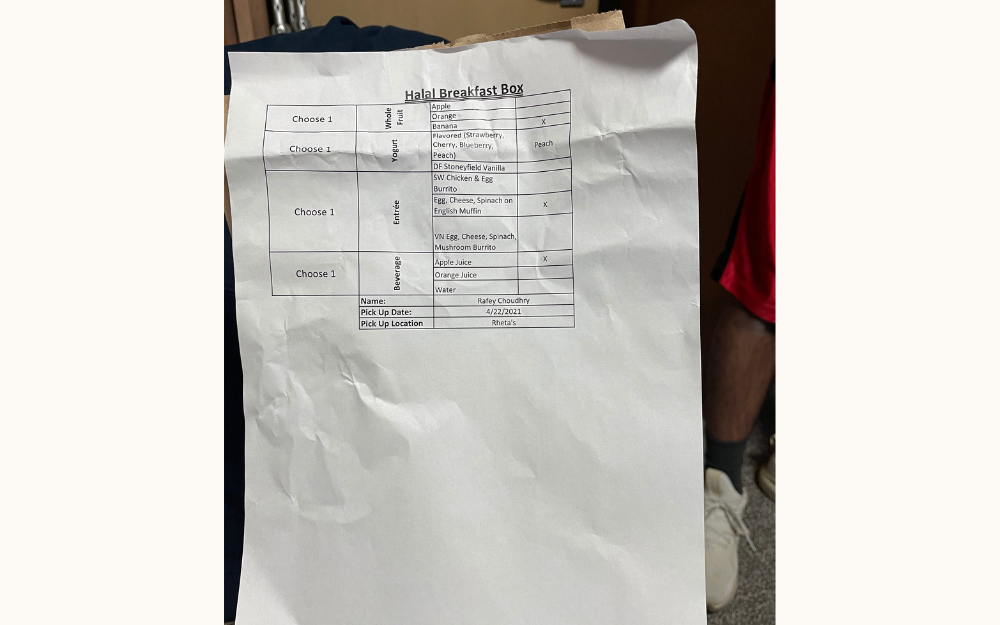 Rafey Choudhry chose egg, cheese and spinach on an English muffin for suhoor.