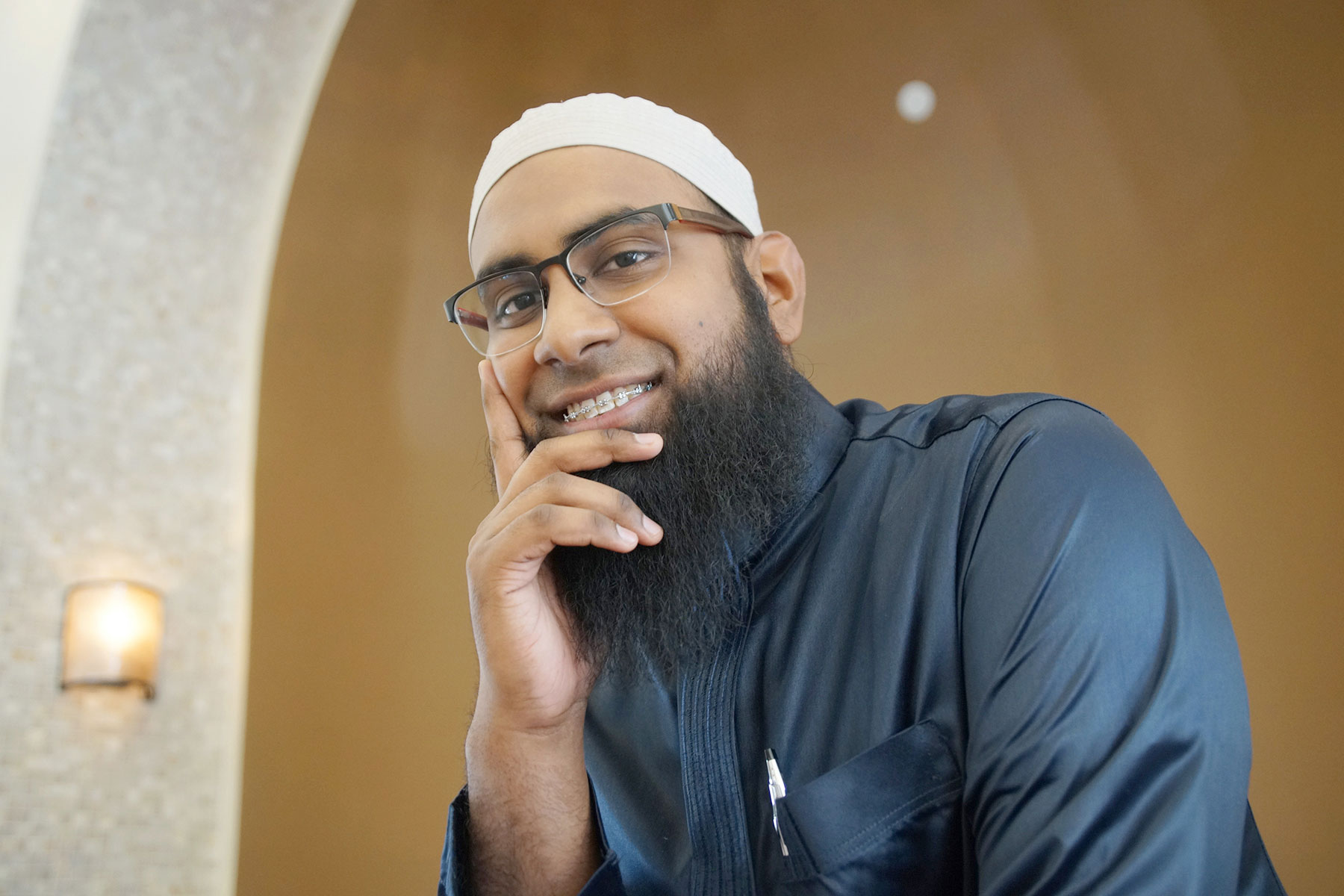 From December 22 to 31 Shaykh Noman Hussain led a group from Milwaukee to the holy cities of Makkah and Madinah.
The Winter Umrah was organized through ISM Brookfield. The Wisconsin Muslim Journal sat down with Shaykh Hussain and talked about his pilgrimage, and the journey he led for 50 members of the local community. The video segments and written Q&A were produced separately, but combined here into a single package.
Q: How is a Umrah different from a Ḥajj, and what was your first experience like for each?
Umrah is considered the minor pilgrimage whereas Hajj is known as the major pilgrimage. Umrah can be performed anytime throughout the year, whereas Hajj is restricted to 8th through 12th days of Dhul Hijjah, the final month of the islamic year. Umrah is relatively simple compared to Hajj in the rites and rituals that must be performed. Furthermore, Hajj is mandated for every muslim to perform at least once (if they are financially and physically able) in their lifetime and Umrah is voluntary, yet recommended to perform.
My first experience visiting the Haramain was actually when I performed Umrah for the first time. My family and I travelled there in March of 2011. For any Muslim, being present in the court of Allah, in front of the blessed Kaa'ba for the first time is the most awe-inspiring, knee weakening, humbling, tear inducing experience we will ever have in our life. It completely moves your soul and transforms your mind and heart in an unimaginable way. Performing the rites for Umrah was done with caution and care, and once complete, the relief and peace felt was unforgettable.
Having performed Umrah, you would think that performing Hajj would not be difficult. I mean, you've visited the holy sites before, got a "lay of the land" so to speak, but nothing can prepare one for the hectic, beautifully organized chaos of Hajj. I was blessed to perform my first Hajj in November of 2011 with my wife, sisters, and brother-in-law. Being one of literally millions of worshippers wearing the same two, white garments, performing the same tawaf, sa'ee, living in the same tents of Mina, raising our hands in the blessed area of Arafat, sleeping on the same dirt ground of Muzdalifah, throwing stones at the same three idols, sacrificing an animal like every other pilgrim, SubhanAllah (glory be to Allah), there are absolutely no words to describe the oneness a pilgram feels with your fellow Muslim brothers and sisters on that same journey. And there are certainly no words to encompass what its like to devout every single action of every day of the Hajj to our creator and Lord, Allah.
Q: When making a journey to Mecca, how is going as a Imam different than a pilgrim?
When going to Mecca, you are always to conduct yourself as a pilgrim. I am still required to perform the same rites as anyone else visiting, but when going as an Imam and guide for a group of other pilgrims, the added responsibility of directing, guiding, counseling. and supporting those who have journeyed with you is placed on your shoulders as well. Although very rewarding, being a khadim (or servant) to those that are visiting the House of Allah is a cumbersome, humbling experience as well.
Q: What was your favorite part of the Umrah, and what feedback did you get from the individuals who traveled with you from Milwaukee?
My favorite part of this Umrah was conducting the historical tours of Makkah and Madinah and reliving and retracing the footsteps of our beloved Prophets Ibrahim (may peace be upon him) and Muhammad (sallaallahu alayhi wassallam, may peace be upon him) in these cities. Most, if not all, individuals from our group provided positive feedback about our trip.
Q: Considering the Wisconsin winter and headaches at airport customs, what was your least favorite part of the travel experience?
In the Islamic tradition, there is a saying of the Prophet Muhammad (peace be upon him) which can be translated as, "Traveling is a small portion of punishment." Other than the difficulties that come from just being a Muslim that is traveling, this narration can be applied to things like being away from family (I travelled alone), homely comforts, and such. Because no matter where you may go, at the end of the day, there is no place like home.
Q: What part of Umrah are you most excited to share with your non-Muslim friends?
I think I'm most excited about sharing the fact that the rituals performed in Umrah are almost a reenactment of the Islamic narration of the life of the Prophet Ibrahim (or Abraham, peace be upon him), who we believe to be the father of the three monotheistic faiths (Christianity, Judaism, and Islam).
Q: Of all the people you met along the journey, who was the most interesting and why?
The Turkish visa ban was lifted two days before we departed Madinah for the United States. On our layover in Istanbul, Turkey, I reached out to an acquaintance by the name of Osman from a previous Umrah trip I was part of. He resides there and had told me if I were ever in the city and needed help I could contact him. With a group of 50 individuals and a seven hour layover, this generous man coordinated – in less than 48 hours – a luxury bus tour of the the city and its famous sites, and had us dine at one of the finest restaurants in the city – all at his own expense. He did not know any of us on a close, personal level, but it was his intention to revive the generosity the Prophet Muhammad (peace be upon him) exhibited towards travelers, and he wanted to honor those that had just visited the city of the Prophet and performed the Umrah.
Q: When people prepare for Umrah, is there a common misperception?
Many times, those preparing for Umrah are most uncertain or anxious about performing the rituals properly. That is why, before we perform the journey, I conduct a two-hour seminar that goes through each part of the Umrah step by step technically, and I also provide practical tips and feedback as well – like what to pack, what not to pack, and such.
Q: Have you seen any impact between the sacred history of Mecca and the modern commercialization?
A lot of the sacred history of Makkah has been destroyed or covered up by the modern commercialization of Makkah, particularly in the area directly surrounding the Kaa'ba and Masjid al-Haram. The huge, luxury hotel towers with high-end shopping malls, fast food restaurants, and bright lights. For some, there is a saying about how hajj will become like a vacation.
Q: In November, the Saudi foreign ministry started prohibiting photos and videos in Mecca's Masjid al-Haram and Medina's Masjid an-Nabawi in part due to the disruption from Selfies. What was your observation of pilgrims recording their journey?
Although the prohibition was put in place, enforcement of it was weak. With the introduction of the cell phone, particularly camera phones, into our lives, it was hard not to notice everyone's inclination to document their journey in photos. It was still going on during our visit and was very noticeable.
Q: When do you plan to return to the Holy City, and what will you look forward to most?
InshaAllah, I am hoping to perform Hajj later this year in August. I look forward to serving the pilgrims of Hajj again.
Q: Do you have a message for individuals in Milwaukee who are considering an Umrah?
If you have the means, do it. Don't wait until you are old. Use it as a preparation for performing the Hajj. Make sure to go with a quality group that is experienced and utilizes a good scholar or imam as a guide. You can always join me in the future.