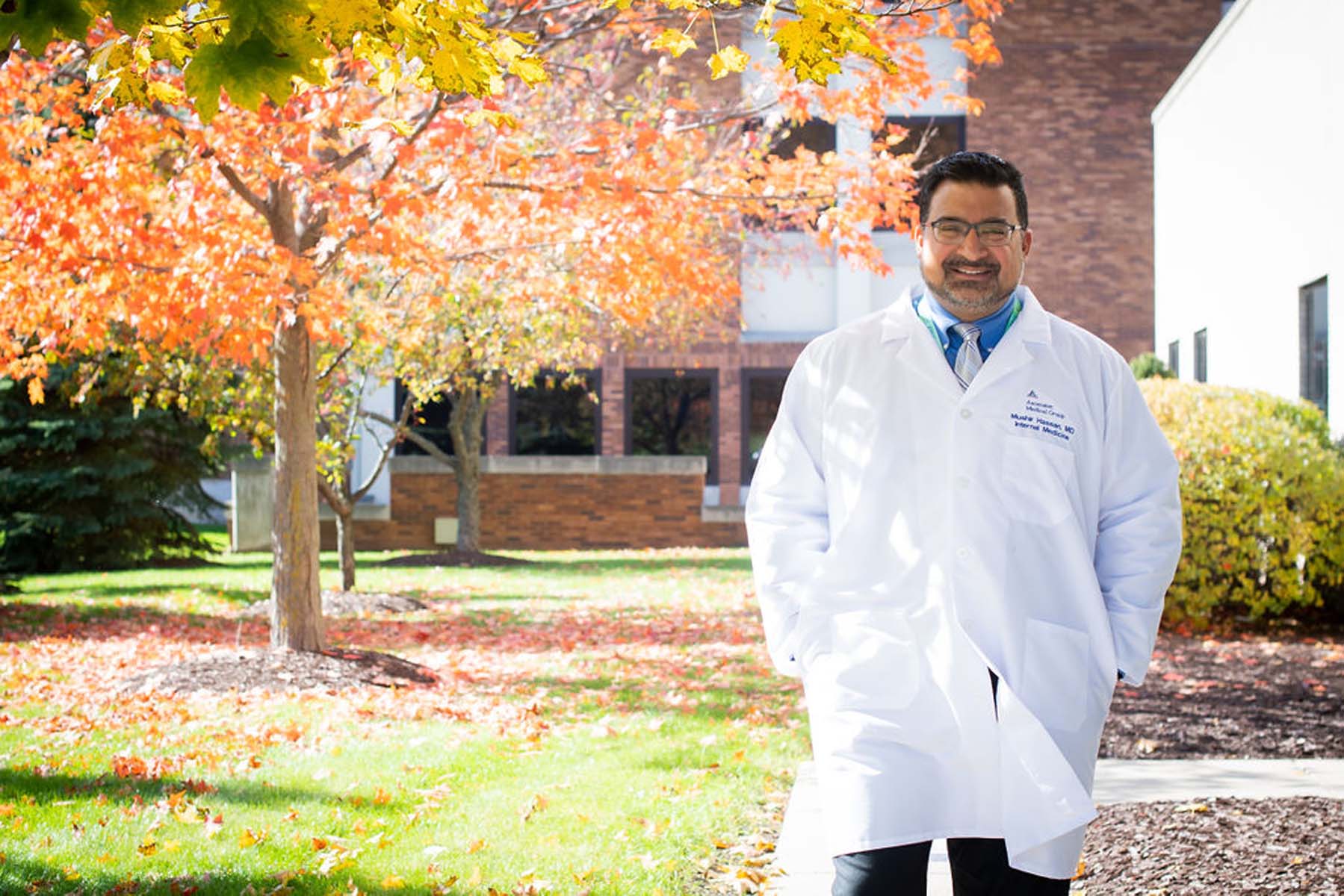 The image of the elderly white male doctor delivering babies and taking out gallbladders has been replaced by a tapestry of doctors of every race, religion, and gender. Patients can now be assured they are getting the best medical care the world has to offer.
"Our physician workforce is very diverse in general in America, said Dr. Mushir Hassan, vice president of medical affairs at Ascension Elmbrook Hospital. Dr. Hassan, who is a graduate of Northwestern University's Feinberg School of Medicine, has practiced medicine fulltime for more than 19 years as part of Elmbrook Internal Medicine.
And while he is not an immigrant, he is very aware of the importance of immigrant physicians to the delivery of medical care in southeastern Wisconsin.
"To be very clear, there is no way we could deliver medical care in this country, were it not for immigrants." And, Dr. Hassan added, "If we were to have a lack of a diverse physician workforce, primarily through having illiberal immigration policies," the United States would be "at risk for shutting down delivery of healthcare in inner city America."
One of Ascension's latest recruits, said Hassan, is Dr. Aishah Aslam, a Muslim female cardiologist who "specifically came to us here because she wants to work with underserved populations. And I'm so proud of her. She just started this month."
Ascension Healthcare merged with Wheaton Franciscan Healthcare in 2016 and is now the largest Catholic healthcare system in the U.S., with 6,000 doctors and 120 hospitals. Like Wheaton, Ascension is committed to "serving all persons with special attention to those who are poor and vulnerable," according to its mission statement.
Both Ascension St. Francis Hospital on 16th Street and Ascension St. Joseph's Hospital on Chambers Street serve Milwaukee's traditionally underserved urban population.
Dr. Hassan had been the chair of Elmbrook's Department of Medicine from 2009 to 2014. From 2014 to 2016, he served as the hospital's vice chief of staff. "Both those positions are elected by the medical staff," Dr. Hassan said. "In those positions, you're advocating on behalf of the doctors to make sure they have the tools to provide quality care to patients."
In July 2016, following the Ascension/Wheaton merger, Hassan said he "flipped to the other side" in becoming Elmbrook's vice president of medical affairs. "In my new role, I'm advocating on behalf of both the hospital and the doctors to make sure we're delivering good patient care."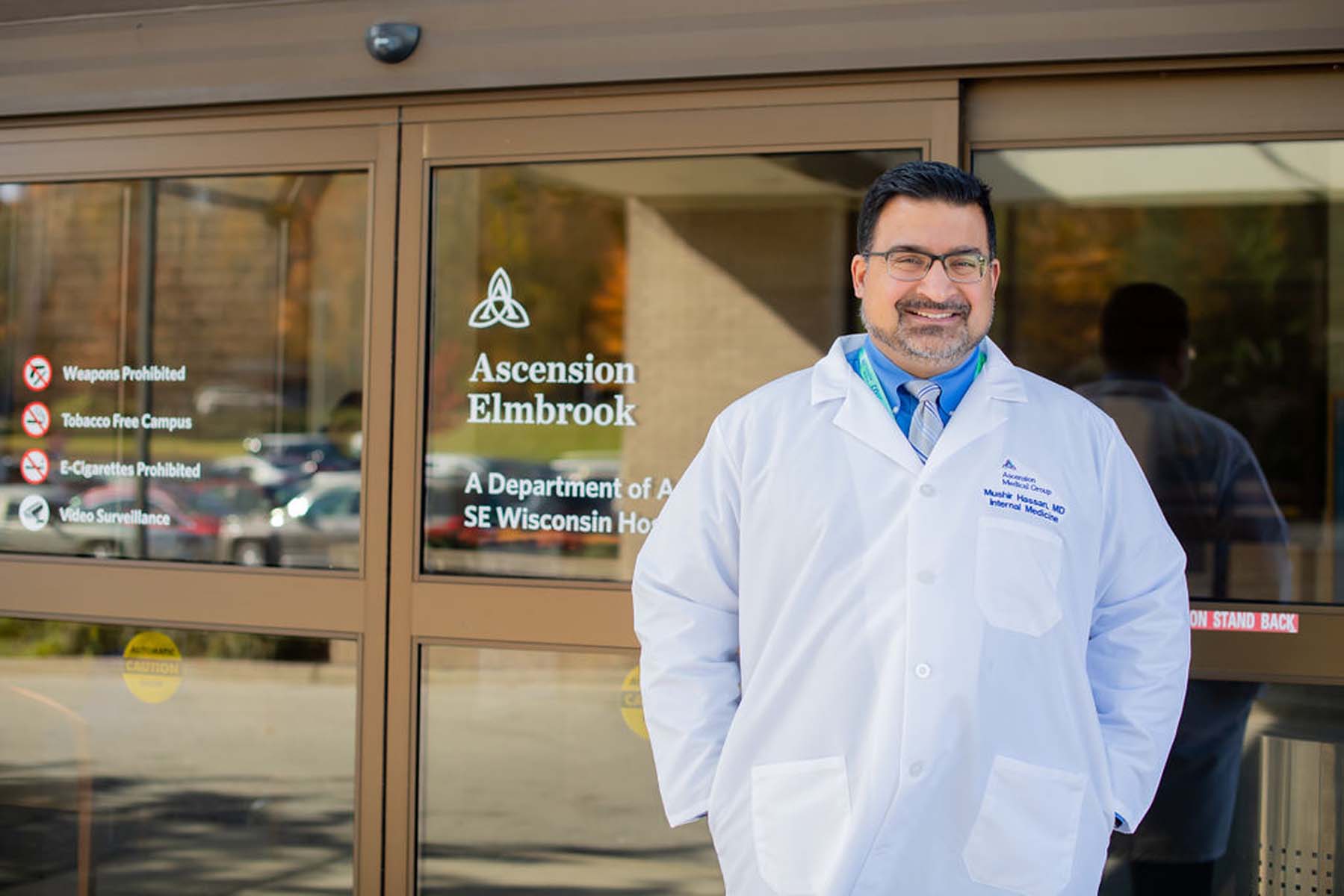 In terms of physician leadership, "you want to be in a position where you're able to affect some change with your peers while not being seen as strictly a yes man for corporate think," Hassan said. "Having close to a 20-year history of being on the medical staff here and having lots of relationships that have been built up over that time has made it a lot easier for me to have the gravitas to do that."
One example of how he is able to manage his new role was Elmbrook's recent acquisition of a second surgical robot.
Dr. Hassan explained that "Elmbrook Hospital has always been known as an outstanding place to have minimally invasive surgery." That now includes cutting-edge robotic surgery. Elmbrook already had one surgical robot, but doctors wanted to expand the program, and Dr. Hassan was able to make the case to the administration that "adding a second robot, latest generation, was adding to having a robotic program of excellence." The cost of the second surgical robot, the Da Vinci XI, made by Intuitive Surgical, was $3 million. The robots are used in general surgery, urology, and gynecology.
"The surgeon's sitting on a console, and they can see inside [the patient] through the video camera. . . .How they move their fingers is how the scalpel will move." According to Dr. Hassan, surgeons must have specific training on the use of surgical robots, which result in smaller incisions and patients "getting back to work more quickly."
If patients are interested in this type of surgery and are out of network, Dr. Hassan said, "Honestly, some of the doctors [at other networks], if you pushed them, they might say, 'You want to go see Dr. Chiang at Elmbrook.'"
The relationships Dr. Hassan has built and maintained through his medical practice have also benefited the local Muslim community.
Before ISM West was built, Muslims from Elmbrook and GE Healthcare met for Friday prayers at the Pavlic Center on the Elmbrook campus. "Wheaton was friendly to us saying, 'you can use our space because we of course believe in nurturing everyone's spiritual wellbeing.' We prayed there for a couple years, and as word got out, our congregation got bigger, and we outgrew the space."
Elmbrook was "also very helpful during Ramadan" when one-thirtieth of the Koran is recited each night. "It was getting kind of late for us to be going back and forth to the big mosque [at 13th & Layton]. And in a good way, Layton had a problem. Layton was full. And so the auditorium [at Elmbrook] was used for 100, 150 people to gather every night during Ramadan. And everyone remembers that. They remember praying here."
Dr. Hassan recalls that "one of our high-school-age kids came up to me one day in Ramadan. And he said, 'I've got a question for you. How come you get this room every year?' And I said, 'Because I ask.' And he said, 'Yeah, but how do you get it?' And I said, 'Look, always have good relationships with those that you work with, and when it comes time to ask for volunteer things, they're much more willing to say yes.' He's grown up here, just like me, and I want him to be me in 30 years."
In the meantime, Dr. Hassan emphasized that he is "still a real doctor three half-days a week," when he continues to see patients. "I want to keep up my clinical skills as a physician. It's much easier to talk with doctors if I'm actually doing what they do."