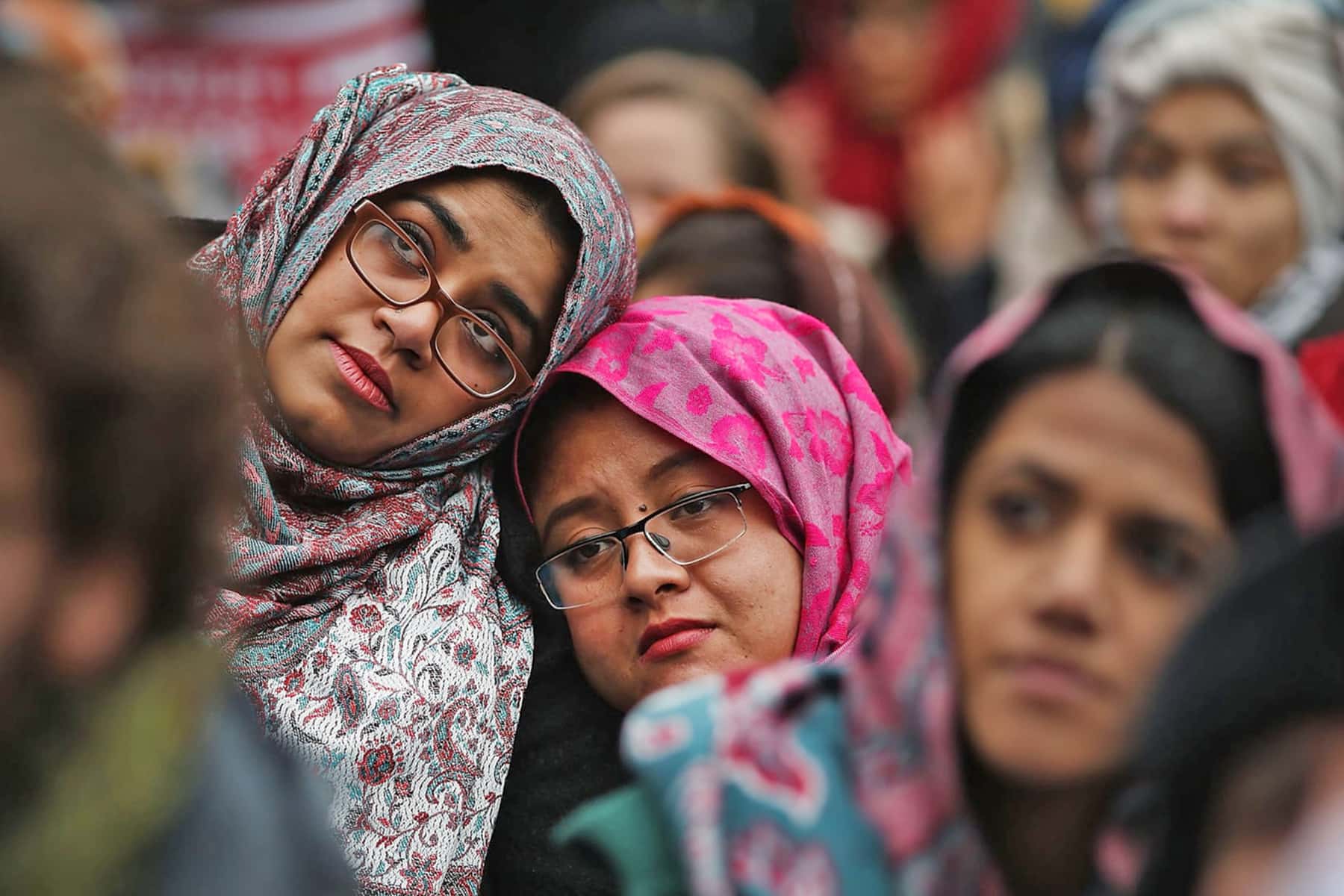 Thinktank New America found 71% of Republicans surveyed said they don't believe Islam is compatible with US values.
While most non-Muslims in the US are accepting of Muslim Americans, Republicans are far more likely to have potentially negative views about them, according to data released Thursday. New America, a thinktank working with the American Muslim Institution, conducted 1,165 interviews in four metropolitan areas prior to the 6 November midterm elections.
Perceptions of Muslims in America are especially prescient in advance of an election cycle that has highlighted racial, religious and economic divides. Donald Trump has capitalized on anti-Muslim sentiment to rally segments of his base which oppose immigration – most flagrantly with his travel ban from several majority Muslim nations.
Trump also recently referred to a US-bound caravan of migrants as an "invasion" – making flimsy, unproven claims that "Middle Easterners" were among them. The results provide mixed signals into these perceptions.
"Political ideology" – to be specific, describing oneself as a Republican – "is the strongest indicator of negative attitudes toward Muslim Americans," according to these researchers. Seventy-one percent of self-described Republicans agreed they don't believe Islam is compatible with American values, compared to an overall 42%.
Sixty percent agreed with the idea that Muslim Americans weren't as patriotic as non-Muslim Americans, compared to 38% generally. Fifty-six per cent of Republicans surveyed agreed they would be concerned if a mosque or Islamic center were constructed in their neighborhood, compared to an overall level of 33%.
And slightly more than half – 53% – disagree that the influx of Muslim candidates for public office is positive for America, compared to 31% of the entire response pool.
But overall 85% of non-Muslim Americans agreed "diversity is a good thing for America," the survey found. About the same amount "believe their fellow Muslim citizens contribute positively to the US economy and to society."
Some 66% of participants also told surveyors that it's a "positive sign of progress for our country that over 100 Muslim Americans ran for public office in the 2018 election cycle."
The same pool of respondents nonetheless expressed concerns about Muslims' place in America. About 60% said Muslim Americans were equally patriotic to non-Muslim Americans – meaning some 40% did not, surveyors said.
More than 50% said they were concerned about the spread of Islamic extremism in America. Despite the professed support of diversity, about one third of survey-takers reported "feeling uncomfortable when they see Muslim Americans wearing a veil."
The same amount of participants also agreed they "would be concerned if a mosque or Islamic center was built in their neighborhood, and believe Muslims should be subject to extra security screenings at airports."
Non-Muslim Americans, when pressed to offer a guess, said they believe 60% of Muslim Americans want to assimilate with American society "or have respect for American laws" – meaning a "significant minority [is] assumed to lack these feelings," surveyors claimed.
Non-Muslim Americans also overestimate the number of Muslim Americans in the US, data shows. While non-Muslim Americans think 16% of the populace is Muslim, only about 1% of the US population actually identifies with the religion. The belief is especially prominent among respondents with "less income, less education and who consume no news," surveyors said.
The survey, which was conducted before a an antisemitic gunman killed 11 worshipers in a Pittsburgh synagogue on Saturday, also found that few Americans thought there was a lot of antisemitic discrimination.
Seventy-one per cent of non-Muslim Americans surveyed agreed Muslim Americans endured a lot of discrimination – at nearly the same levels experienced by African American and transgender individuals.
"Relative to other minority groups, only one-third agree there is a lot of discrimination against Jews in America," the survey found.
Robert McKenzie, survey director and senior fellow at New America, said he was interested in determining "if we could quantify anti-Muslim attitudes at the state and local level."
"The survey is the first step to better understand why people have these fears," he said.