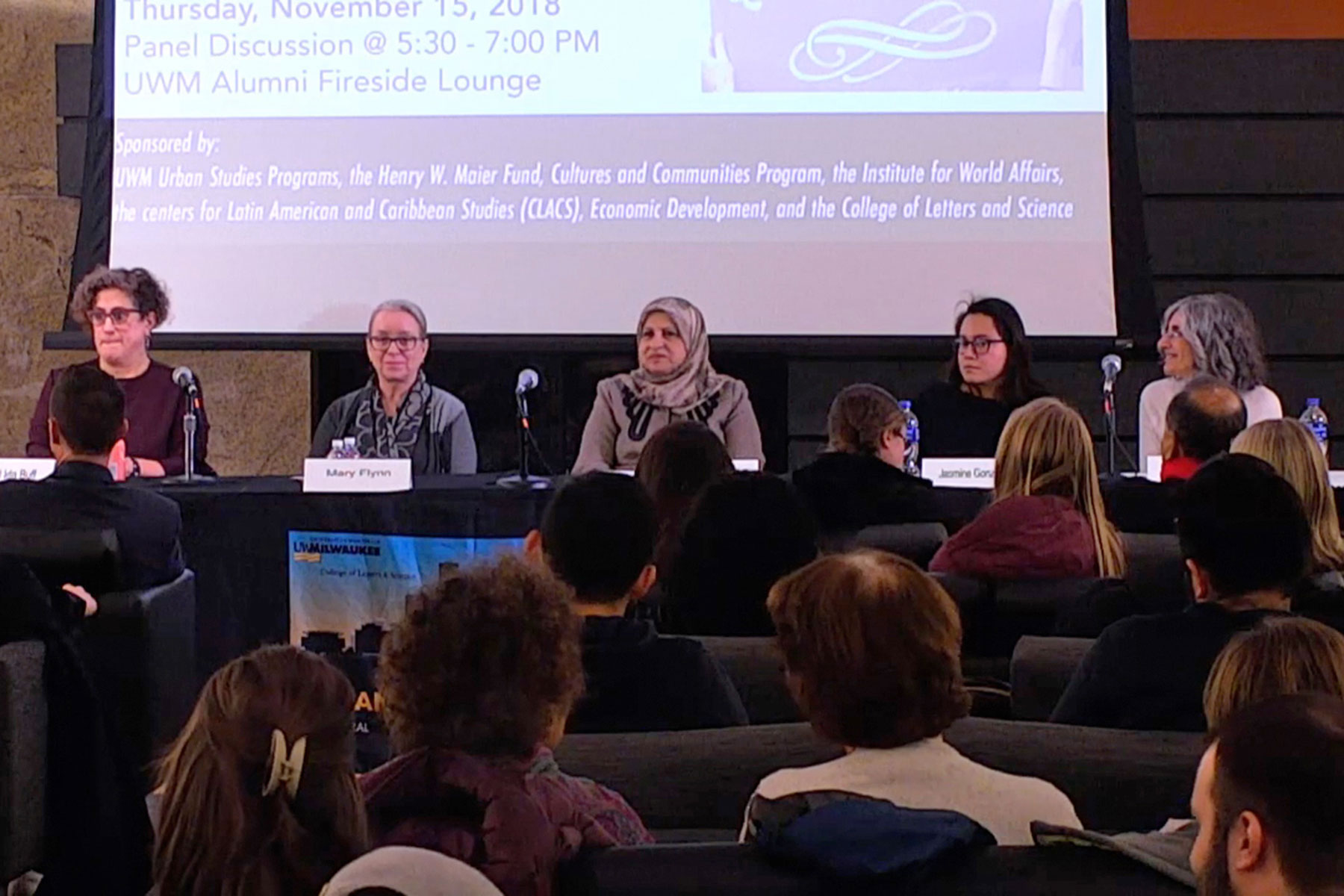 The 12th Annual Henry W. Maier State of Milwaukee Summit was held on November 15 in the UW-Milwaukee Union Alumni Fireside Lounge, featuring a distinguished panel of community leaders and policy experts who discussed the hot topic issue of immigration.
"Immigration and the City in the Trump Era" covered different aspects of immigration policy, immigrant rights, and refugee resettlement experiences in Milwaukee under the current federal administration, and highlighted different advocacy efforts.
Panelists included Rachel Buff, UW-Milwaukee Department of History & Cultures and Communities Program; Mary Flynn, Program Manager of Refugee Resettlement, LSS of WI and Upper MI; Janan Najeeb, President, Milwaukee Muslim Women's Coalition; Jasmine Gonzalez, Communications Coordinator, Voces de la Frontera; and Karyn Rotker, Senior Staff Attorney, ACLU of WI.
The speakers talked about how for more than a century, the identity of the United States had been grounded in the belief that the population was a "nation of immigrants." They gave numerous examples and powerpoint statistics showing how immigrants have made innumerable contributions to the economy, infrastructure, and culture of America.
From building railroads and bridges that linked communities, to bringing innovation and new ideas, they have settled in local neighborhoods that thrive throughout the country. However, the current administration of the federal government has abandoned this rich legacy, and turned its back on humanitarian issues that resulted from failed American foreign policies.
"The sanctuary movement of the 1980s gained traction in churches, temples, and mosques, becoming fairly widespread," said Buff. "Pushback came in the early 1990s, when Republican politicians began to demonize "sanctuary" as a place of crime a place of danger and to link immigration with crime and danger."
Refugee admissions have been curbed to a historic low, and people with "temporary protected status" who fled their homelands due to natural disasters or civil wars are being sent back. Many of the changes have been presented under the guise of protecting against threats to America's national security. But the policies stand in stark contrast to the will of the people.
"A lot of this is based on the ideologies of the individuals that are enforcing these types of policies. Some are biblical, like how 19th century settlers felt destined to expand across North America because they believed they had special virtues – often known as manifest destiny," said Najeeb. "Slavery was justified by using cherry-picked Bible verses, with slaves obeying their earthly masters."
Despite increased attention on anti-immigrant sentiments, Americans across the country largely embrace immigrants of all faiths and cultures and want the government to do the same. Such encouraging efforts between U.S. citizens and immigrants are not limited to big cities or liberal-leaning areas. Recent immigrants have established themselves both in diverse urban areas and rural locations across the United States. Nearly three-quarters of Americans now support granting legal status to immigrants originally brought to the U.S. without papers as children.
"In 2006, Jim Sensenbrenner introduced the Immigration Bill H.R.4437, which would have made it a felony to be undocumented. But also, it would have criminalized anyone who did not report an undocumented individual," said Gonzalez. "That would have criminalized people who were doing nothing but existing in Wisconsin."
Studies have shown that communities have benefited from opening opportunities to immigrants, and successfully integrating them into the fabric of American society. The recent barrage of exclusionary immigration policy proposals are attempts to sow the seeds of fear, anxiety, and distrust. Rather than pursue policies that set immigrants apart, members of the community should seek to highlight the assets that immigrants bring to the nation.
This audio was recorded live during the event, and includes remarks from all the speakers but not the question and answer segment after the formal program concluded.
© Photo
James M. Harris and UW-Milwaukee