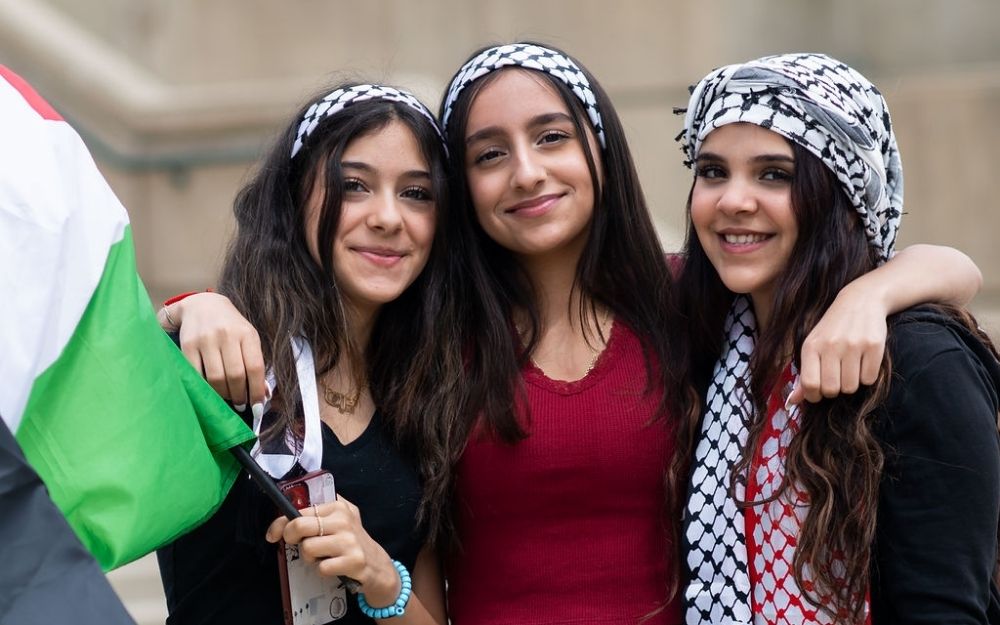 Photos by Mouna Photography
Diverse organizations collaborated Sunday to commemorate the 74th anniversary of the nakba, which means "catastrophe" in Arabic, with a protest in Milwaukee for Palestinian human rights.
The nakba marks the expulsion of hundreds of thousands of Palestinians from their homes and ancestral lands by the Israelis. It is remembered annually on May 15, the day after Israel's founding on May 14, 1948. 
This year it follows on the heels of the killing of respected Palestinian American journalist Shireen Abu Akleh in the West Bank and the horrific scene of Israeli police beating mourners with batons as they carried her coffin.
Several hundred people gathered Sunday afternoon at "The Calling," the orange sunburst public artwork, 900 E. Wisconsin Avenue, to hear speakers, a poet and a singer who called for Palestinian human rights. 
The rally began with chanting, "Free, free Palestine," "Not another nickel, not another dime, no more money for Israeli crimes," "When I say Shireen, you say Abu Akleh," and other slogans led by Mohammad Ziad. 
Speakers addressed human rights abuses, including "the military murder of a beloved journalist, continuing demolition and confiscation of homes, brutalization of worshippers at Al Aqsa Mosque, the Israeli government's Apartheid policies, illegal settlements, the military murder of Milwaukee's own beloved elder Omar Assad, colonial occupation" and more.
Several speakers criticized the role of the United States government in supporting the Israeli government's suppression of Palestinians with U.S. tax dollars, as well as Zionist organizations in the United States that send money to the Israeli government. They called for boycott, divestment and sanctions.
Some also urged those gathered to contact their government representatives on a weekly basis, demanding the American government "withdraw support from an Apartheid regime" and to ask candidates seeking election where they stand on Palestinian human rights.
The following organizations collaborated to organize the protest for Palestinian human rights:
American Muslims for Palestine
Jewish Voices for Peace – Milwaukee Chapter
Islamic Society of Milwaukee
Milwaukee Muslim Women's Coalition
National Lawyers Guild
Muslim American Society
Ma'ruf Center for Youth Innovation
Marquette University's Students for Justice in Palestine
University of Wisconsin – Milwaukee's Students for Justice in Palestine
Ascension Lutheran Church AMIS (Ascension in Mission)
Peace Action Milwaukee
Progressive Democrats of America
Masjid Al-Qur'an
Masjid Al-Taqwa
Masjid Mubarak
Rohingya American Society
© Photo
© PHOTO Mouna Photography