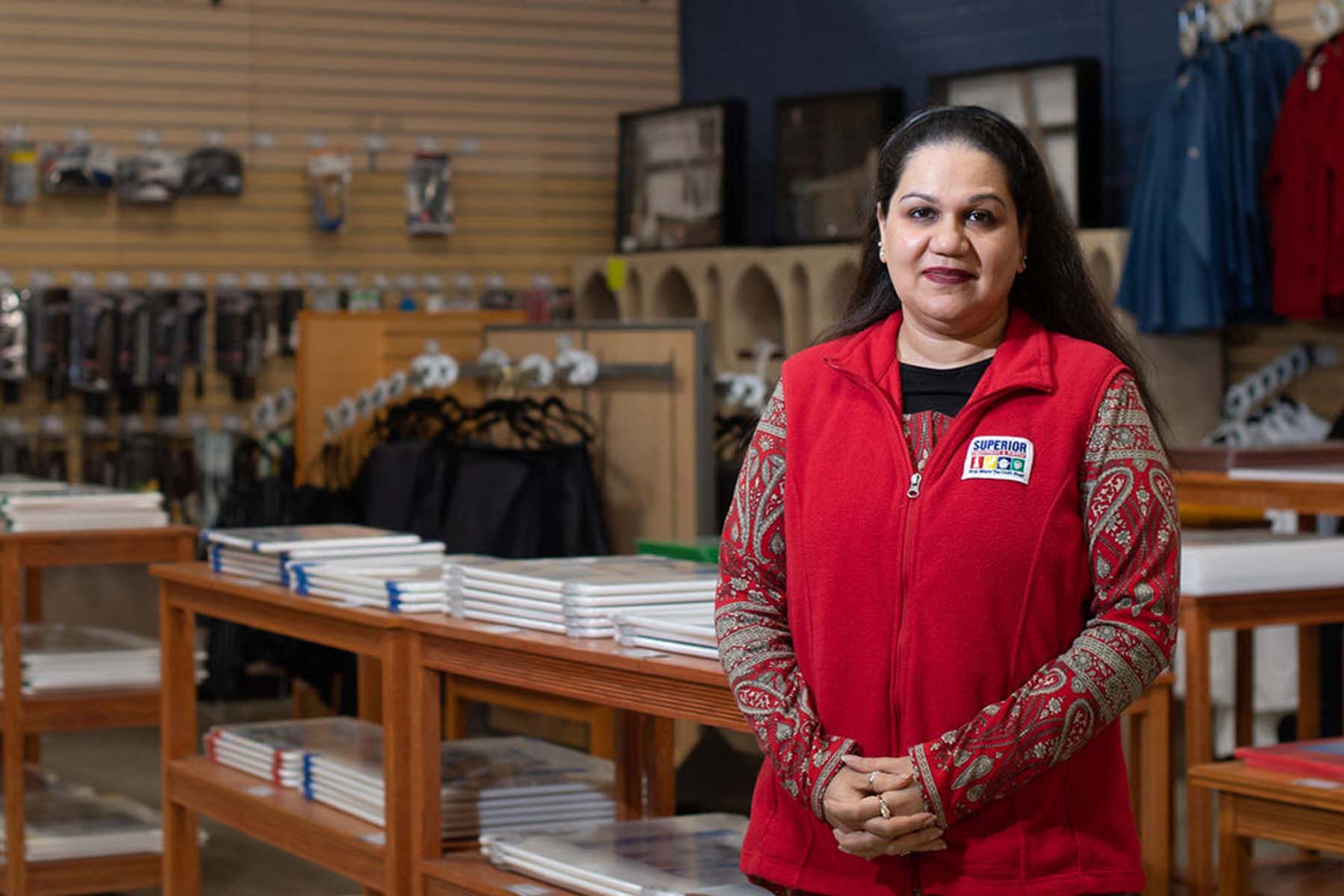 Superior Equipment & Supply's headquarters at 4550 S. Brust across from the
Milwaukee County airport is large enough to be a hangar for 747s.
The 50,000 square foot showroom holds a wide range of products typical of a restaurant-supply
business. Chef's jackets in blue, red, white, black, and olive are displayed on one wall. The
arena-sized space holds industrial dough mixers, deep-fryers, and stoves as well as an array of
small wares – dishes, wooden spoons, and potato mashers suitable for walk-in customers who just
like to cook. The invitation to "Shop where the chefs shop!" is a key element of the Superior brand.
One corner of the showroom is decked out as a coffee house to train aspiring baristas. Through
double doors lies the gleaming restaurant kitchen where cooking classes are held. For the past
fifteen years, Superior Culinary Center has been a growing aspect of the business.
Superior's CEO Samina ("Sammy") Mahmood runs the business with husband Muhammad
("Mike") and their four sons. Muhammad is from Bombay and Samina hails from Hyderabad,
India. "We basically had an arranged marriage. That's how we met. I moved [here] when I got
married."
Her husband "doesn't like the limelight," is how Sammy explains her role as CEO. But Sammy
has been responsible for the ideas behind Superior's expansion through her focus on the
customer's wants and needs. "Originally my husband was into all equipment – coolers, freezers,
cash registers" for restaurants and supermarkets. The couple got married in 1989 and "I joined
the business," working in the store, Sammy said. "People wanted to buy different things, but they
wanted to buy from us, so I started researching and that's how we got into the packaging, the
small wares, china, all the different product segments."
Sammy describes Superior as a "family-owned, food-service, design-build company." Her vision
for the company "has always been to work with medium to small-sized businesses, basically
from concept to finish . . . designing the kitchens, the dining facilities . . . providing a complete
solution."
Superior has been on Brust for the past 10 years. They have doubled in size since moving from
their previous location at 13 th & Oklahoma. The company currently has 15 employees, mostly
administrative, Sammy said.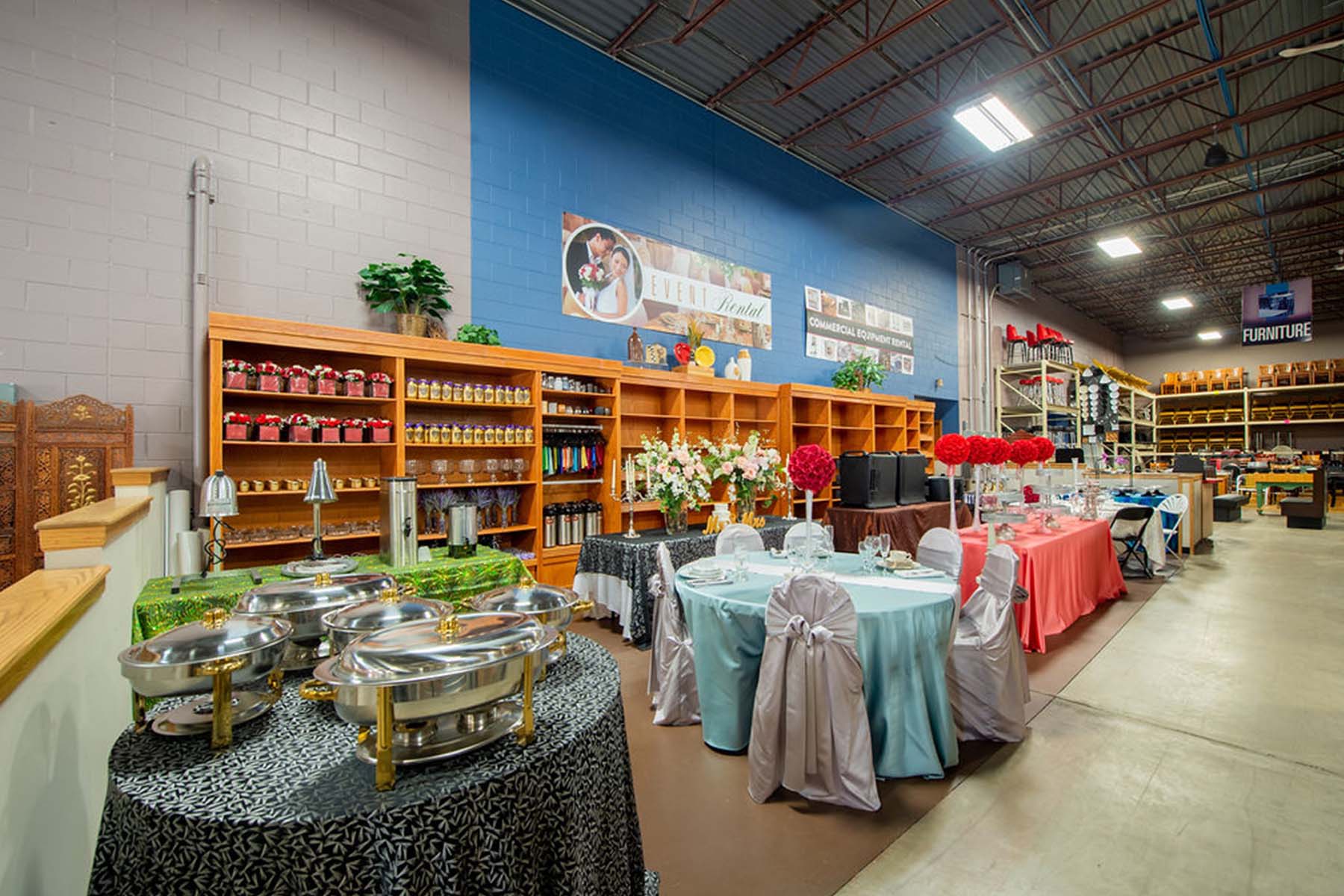 An important aspect of the company's business today is the public sector. UW-Madison and
UW-Green Bay have been clients. "That's where our main strength has been. But I do want to
take that expertise and help my medium to smaller businesses," Sammy said. "A lot of times
people have a dream, but they really don't know what they want or how to go about it, and I
think at this stage in my life that's how I want to give back to the community, work with the
medium to smaller-size businesses who don't have these resources at their disposal."
As a "woman and minority-owned" business, Superior is able to attract government contracts
through large-scale events where companies meet with government customers. "The marketing is
very different for them. We go to these different events and that's how I met with a lot of
buyers." Nevertheless, she said, "It's very difficult for a small business. The competition is really
huge, hundred-million-dollar companies. We are the small guy, trying to make it happen, to live
the dream."
But Sammy also says that "over the years, with the network I've built, there's a lot of well-
wishers who've helped me along. I couldn't have done without their support and help. They've
been very good to me. And that's why I think now I have to give back to people" who are just
starting out in the restaurant business.
For a family business like Superior, growth and expansion are often the result of personal
concerns on the part of the owners. The cooking classes, said Sammy, began when "I had health
issues, and I realized how important food was."
In addition to the MBA she earned at Loyola University of Chicago in 2011, Sammy has a
"culinary management degree" through the international culinary program at The Art Institutes
(Ai). She started out doing "free demos' and expanded into teaching cooking classes. Today her
sons, Faisal, who also handles sales for the business, younger son Sameer, and other chefs from
the area teach at Superior Culinary. "We do a lot of hands-on classes," said Sammy, "teaching
techniques but also teaching the importance of eating healthy and how the food we put in our
bodies is so important."
In more than thirty years of married life, Samina and Muhammad have traveled extensively, and
they "always end up in the kitchen, no matter where we are," she said. A semester in Rome while
earning her MBA "was my biggest eye opener, how the Europeans would shop every single day,
buy fresh food every single day, and cook every day. Even though I do come from an Indian
background and my parents and grandparents lived that life, it hit me so hard when I looked at
people around me, my community," and saw "all this frozen food and processed food."
In response, Sammy started cooking classes for kids, teaching them "the life skills of learning
how to cook. One fine day I'm like, if my kids could learn, I'm sure other kids could learn."
Seven years ago, Superior started a 10-week summer camp. "We had almost 60 kids last year,"
she said.
"Kids are totally into it. And they learn so fast," she said. Classes for girl and boy scouts and
school field trips now occur throughout the year, in addition to bachelorette parties and corporate
team-building events for adults. "I'll do a lot of different themes for corporations," Sammy said.
Corporate customers can "cook for a cause," donating the food they produce to firefighters or the
military. Or they can participate in the wellness program Sammy has created.
Cooking students who come to the showroom, she said, usually respond, "'Wow, we didn't even
know this place existed!'" Superior sells "professional cookware," for walk-in customers who
are "not paying the crazy prices you would pay at Williams Sonoma or Crate & Barrel." Brands
offered include professional lines like Vallrath and Winco, she said.
And "even when I'm doing work for the general contractors, when they're building this huge
facility, their teams come over to do the team building," Sammy said. "Food is such a uniting
factor. Everybody loves to talk about food, they love to try it."