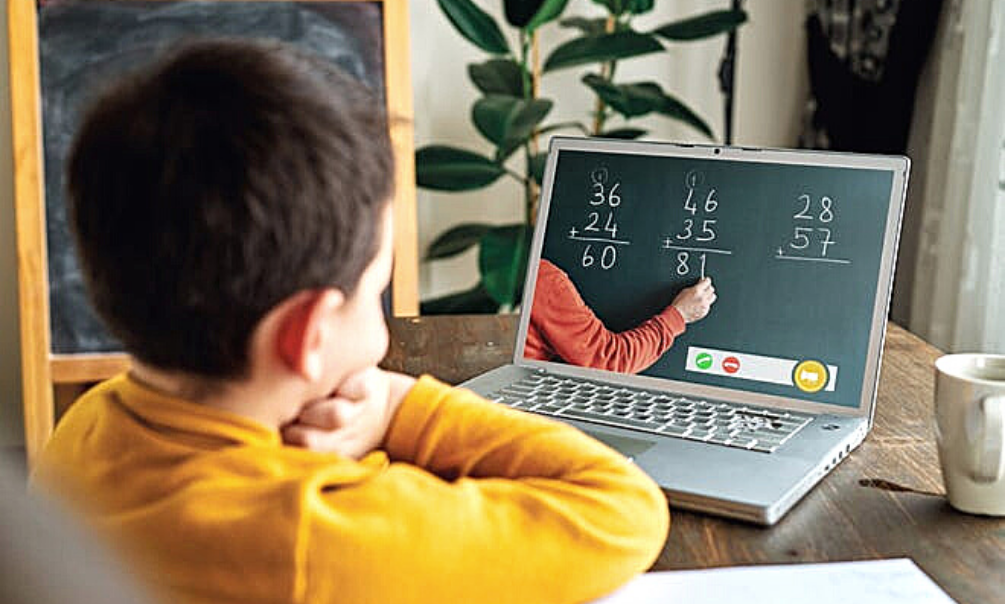 A two-part series on virtual learning at Salam School of Milwaukee.
A month into fully virtual learning at Wisconsin's largest Islamic School, Salam School of Milwaukee, the Wisconsin Muslim Journal checked in to see how this new educational experience is working out.
Salam School includes Salam Middle and High School, 4707 S. 13th St., and Salam Elementary School, 815 W Layton Ave. Together, they have 950 students from pre-kindergarten to 12th grade.
Are students learning?  Are parents coping? Can teachers, guidance counselors, administration, and staff manage the new demands of their jobs? What is lost when school goes online? What is gained?
Salam School teachers, parents, students, guidance counselors, and administrators recently shared their views about the first month online.
Part I addresses the tough challenges faced by members of the elementary school community, from teachers to students to the parent to administrators, and asks how online learning may impact the youngest students during these important years when they build the foundations for a lifetime of learning.
Part II takes an in-depth look at learning online during the critical middle and high school years when children are growing into young adults, learning social skills, defining their identities, and pushing themselves academically in Salam School's college preparatory curriculum.
Part 1: Working together to create the new normal for young students
While students went online in the spring, it was a sudden shift in response to emergency measures taken to cope with the rising COVID-19 pandemic. Since then, the school administration and faculty had planned for the possibility of a blend of in-person and online learning. They researched best practices and considered how to address potential problems.
Then, in July, the City of Milwaukee Health Department mandated school closures until the infection rates drop, and Salam School administration and faculty went into high gear to get ready to go 100% online. A recent surge in COVID-19 cases led Wisconsin Gov. Tony Evers to declare a new public health emergency this week, a sign that virtual school will continue to be the new normal for some time to come.
"For many younger students, school is the first time they experience structure and routines. Countless behavioral and social skills are taught in classrooms at these developmental levels," said Salam Elementary School Principal Khawla Asmar.
The administration and faculty worked together to create as normal a school atmosphere as possible. It begins at the top, with Head of School Wanis Shalaby arriving at his office in the middle and high school building every morning at 9 a.m., the start time for virtual classes. Principal Asmar is also in her office in the Elementary School. They stay until 3 p.m., but remain "on call."
"I am on the job 24/7," explained Mr. Shalaby. "Being a school leader is not just a position; it is a lifestyle."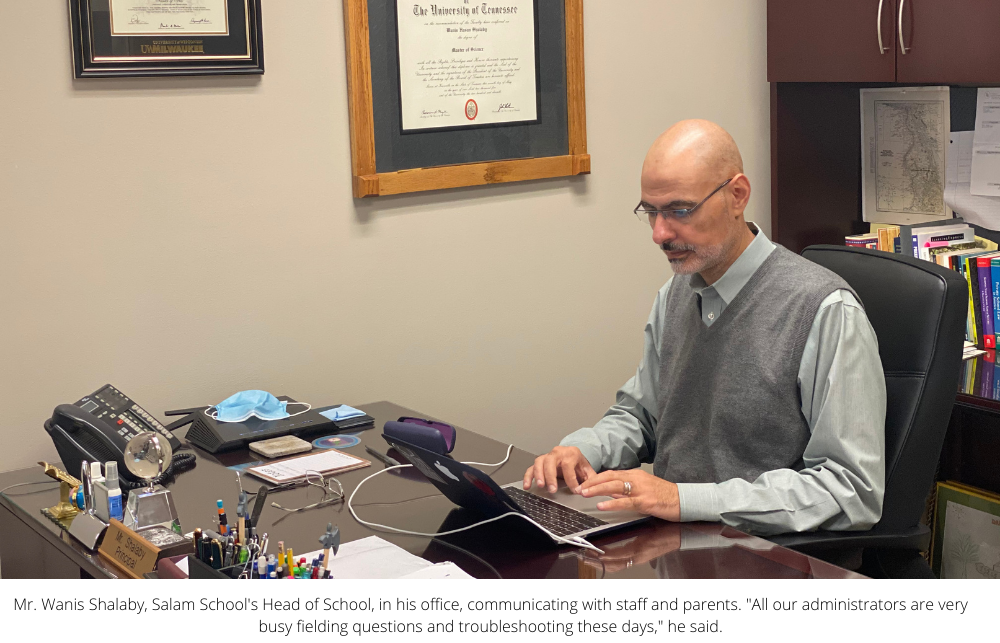 All the usual business of the schools proceeds as usual. "The whole administrative team is doing so much," said Mr. Shalaby. There are teachers' lesson plans to review, email to answer, reports to read, and to write, progress to monitor, the finalizing of the 20-21 school budget, and preparing for the annual audit. "And this year is pretty special because the Salam School is getting ready for accreditation," he added.
And because of the pandemic, there are additional demands. "The current COVID-19 situation is causing me to field many requests to meet with many people in the Salam School community," Mr. Shalaby said. "I am meeting with parents to accommodate their children's virtual learning needs. Recently, parents in need of more Chromebooks emailed me their requests."
To prepare for online learning, Salam School ordered Chromebooks for every student. To help support the demand, some parents who could afford it opted to buy their own and make their children's Chromebooks available to others who needed them.
Building a nurturing environment
Technology is critical and there are still challenges with internet access for some families, as well as the limited language and technical abilities of new immigrant parents who are not able to assist their children. But some of the biggest challenges come from the developmental stage of the young students themselves, said Ms. Asmar.
Short attention spans of children, the inability to work on activities independently or to follow directions and maintain focus, and limited language skills make the virtual learning experience particularly difficult for elementary-aged students, she said. "Children cannot be redirected as all the students are online at the same time and calling out a student in front of their peers is not a positive practice."
Teachers in the lower elementary grades have created partnerships with parents to support the young students' education, Ms. Asmar said. Both play critical roles, she said.
"The teachers have done a remarkable job creating work packets and discussing them with parents, face-to-face, weekly.  The student will have the work needed without having to use forms and other media, providing less stress. This really helps limit the frustration parents face and builds connections. Lessons are videotaped and posted so students can access them anytime they need them repeated, to accommodate parents who work and wish to interact with their child's virtual learning."
Wearing multiple hats
One person who understands the challenges both teachers and parents face is Alison White. Her experience as a parent "is intertwined with being a teacher," she said. She teaches 5-year-old kindergarten fulltime at Salam Elementary School and is the mother of two students. Her daughter Zaynab, 7, is in second grade and daughter Ruqayyah, 5, is in K5.
"We go to school every day and I work from my classroom. It has been difficult," she said. "I teach the entire day and my kids are left to do their own work. When I teach my class, I can see that maybe 50% of my students have their mom right next to them to help them with the computer, but my kids are on their own." She has to trust Zaynab to focus on her class and not chat online, but she knows she does sometimes.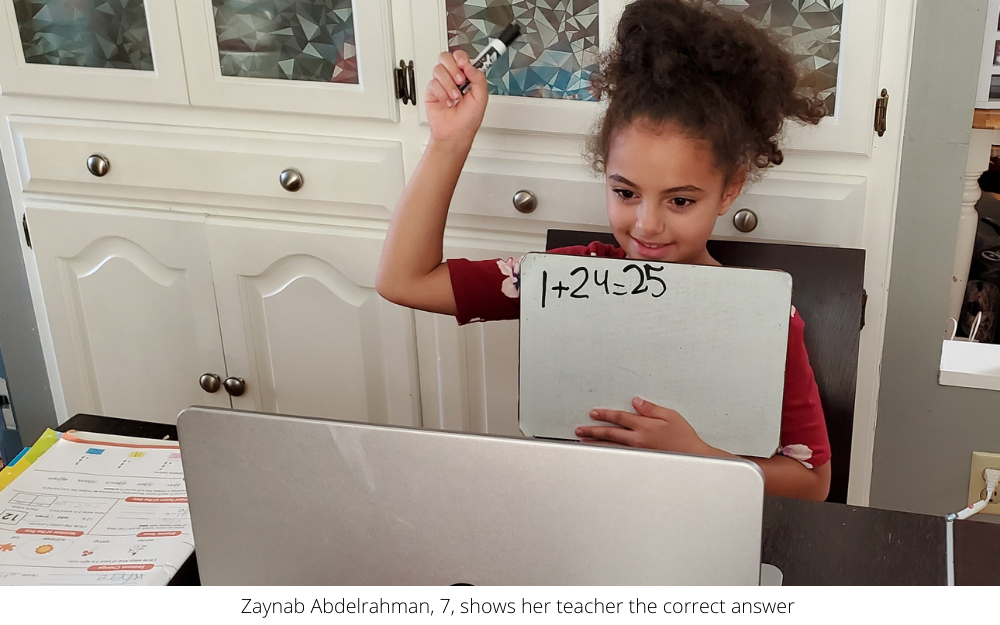 On the other hand, online learning has taught Zaynab to use technology earlier. "She knows how to submit Google documents. I never in a million years thought my second grader would be able to do that!"
Ruqayyah, who is in the classroom with her, will run up and say, "Mama, Mama, my teacher said I have to do this and I don't know where it is."  White asks her class to "hold on one second," and she helps her daughter. "It is tough being in both roles at the same time. During the day, I never actually get a chance to take my own breath.
"Before each new class period, Ruqayyah will say, 'Ok, Mama, after this, am I done? Am I done? When am I done? How come I have to do this all day?'
"My K5 students are the same age and I get it all the time.  When they get back from lunch, it starts. 'Ms. White, are we done? Are we almost done? What do we have to do now?'
"This is really new," said White, who has been teaching K5 at Salam Elementary for six years. "When the kids are in school, they have so much fun, they don't want to go home at the end of the day."
Children miss the personal connection—hugs from each other or from their teachers, having a one-on-one conversation with a friend at their table, playing together, she said.
"As a teacher, it is hard for me, too," said White. "When I see them doing their work and can't be there next to them to help them hold the pencil the correct way or help them erase what is on their paper—those tiny things you take for granted."
Children also miss the classroom atmosphere, she added. Instead, "they may be in a room where their mom, dad and grandma are talking, and babies are playing, with a lot of noise in the background. "We don't know the impacts yet. We will see how it turns out in a couple of months, if the level of learning will be the same."
And there are some students with additional challenges. "We have a lot of students from the Rohingya community who are brand new to the country and a lot of the parents don't speak English. They don't understand much and can't help their students at home."
And, although Salam School has made Chromebooks available to all students, some students don't have the internet at home. "The kids will be using the parent's phone for the first half hour of the day, then they are out because the parent had to go to work and took the phone."
Even with the challenges, virtual school is well worth it, White said. "Until we are sure how to get rid of the virus, this is the only way to be safe.
"I've noticed that my kids, who during a regular school year are sick about once a month, have not been sick with anything since February, and neither have I or my husband. I wish we could go back to school, but we don't want to put anybody's life at risk."