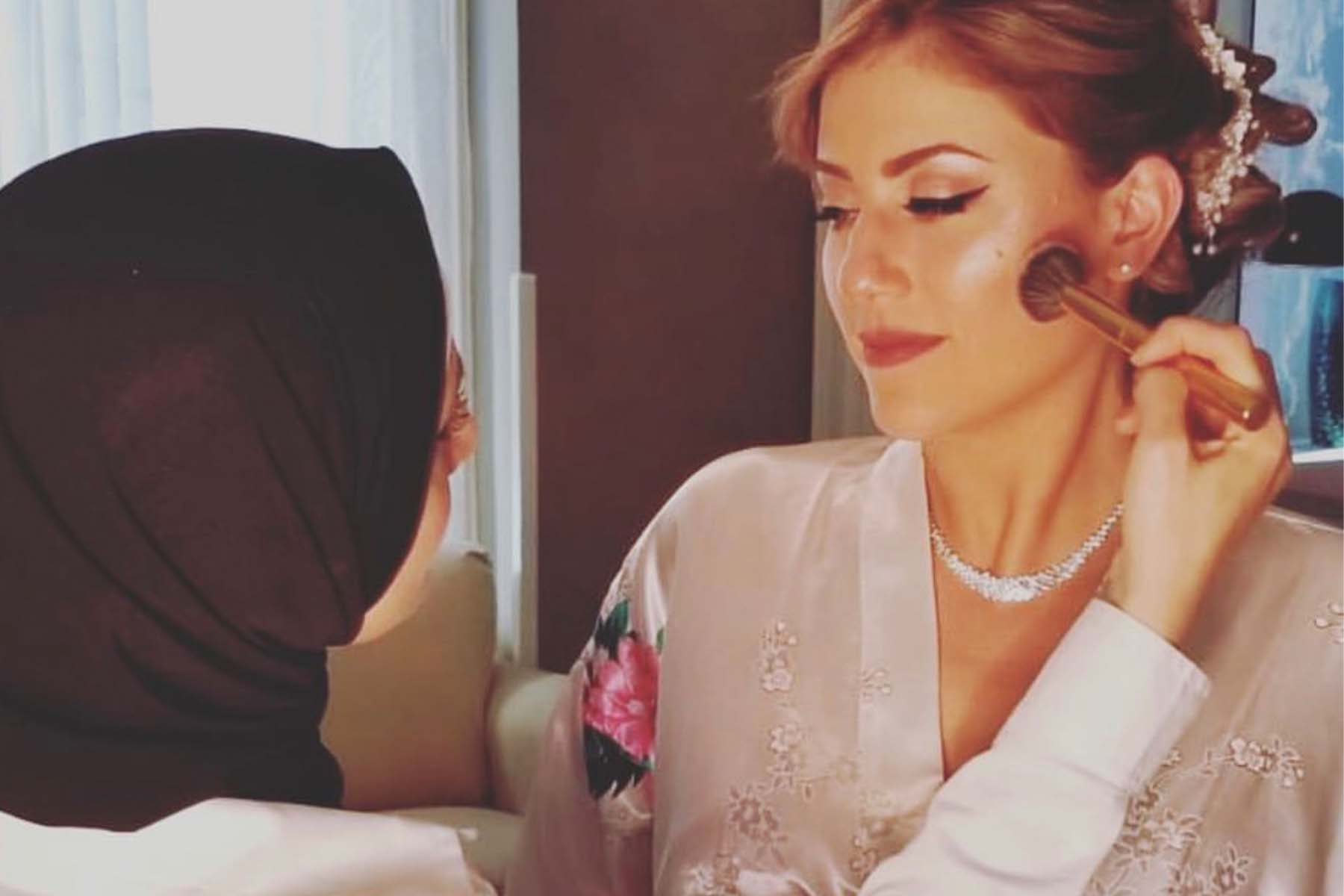 (Above) Noor Al Far with a client
Finding the right hairstylist can be a frustrating, long-term process, involving much trial, a lot of error, and considerable expense. For women who cover, privacy is an additional consideration, one that can sometimes be in direct conflict with salon culture.
WMJ would like to introduce you to three creative, talented women who are also three covered women. These women are newcomers to Milwaukee but experienced professionals in the beauty business. 
One of these women has the solution to your beauty needs.
The Curl Whisperer
"I don't wear my headscarf when I'm working," says Jennifer "Jenan" Jassar. Ladies who wear hijab feel "absolutely safe" in her cozy suite, where the windows are curtained. "But everybody likes it," she said.
Jassar trained as a stylist 29 years ago at an Intercoiffure salon in Brookfield. She specializes in color and cut. Her salon, Hair Therapy 132, has been open at Phenix Salon Suites on South 76th Street for a year. The salon-suites trend is thriving locally for independent hair stylists who are building their own clientele and want to work for themselves rather than a big salon. It enables stylists to book their own clients and choose their own hours.
Born in Shorewood, Jassar worked as a stylist in Amman, Jordan for 21 years. "You would be surprised at how fashionable they are [in Amman] and how their hair looks under their scarf." In Milwaukee, Jassar says, she is "dealing with more long hair and more of the balayage," a hot style trend, with a "darker root color going down into lighter hair, but not like hombre, where just the ends are blond."
The balayage trend, Jassar believes, is also a reflection of the "economic situation because you can go a long time between appointments" unlike "traditional highlights where you have to have it touched-up every two months."
Jassar is keenly sensitive to trends and a recognized presence at style conferences. She says, "gray and silver is very in style right now" but requires frequent salon visits and is also high-maintenance at home.
Hair color "is my favorite thing. I've been doing it forever," Jassar says. Some of her hair-color creations are featured on her Instagram, @thecoveredhairstylist. "Of course the most beautiful and coolest things I do are ladies who wear a scarf and don't want [their picture] up there [on social media]," she laughs.
Since returning to Wisconsin, Jassar says she has "switched color lines four times. It has to be perfect, has to make me sing and make me really happy, because that's the bread and butter, the color and the products." Jassar says she has "adjusted the product lines according to exactly what I need for the kind of hair that's coming in" to her salon. "If you want to have good hair, you've got to use good products," Jassar says, and "if you want to maintain a certain look, you need to have the right products to maintain it."
She likes Moroccan Oil for curly, thick hair; J Beverly Hills, a product line by Lebanese celebrity hairdresser, Juan Juan; and Milkshake, an Italian line she's been using for six years. "Everybody loves Milkshake," Jassar says. "I listen to feedback from people because that's going to determine if a line stays with me or not."
Her clients suggested the name "Hair Therapy" for her salon. They also tell her, "You are the curly hair whisperer."
Like all the best stylists, Jassar believes in meeting the client first for a consultation, including a price quote, before booking an appointment. "You have to be crystal clear with people and have a game plan in the consultation," she says.
You can find Jassar on Facebook at Jennifer@Hair Therapy 132. "132" is her suite number at Phenix Salon Suites, 4840 S. 76th Street in Greenfield. "The thing that I like most about what I do is that I can change people's lives and make them look better and feel better about themselves."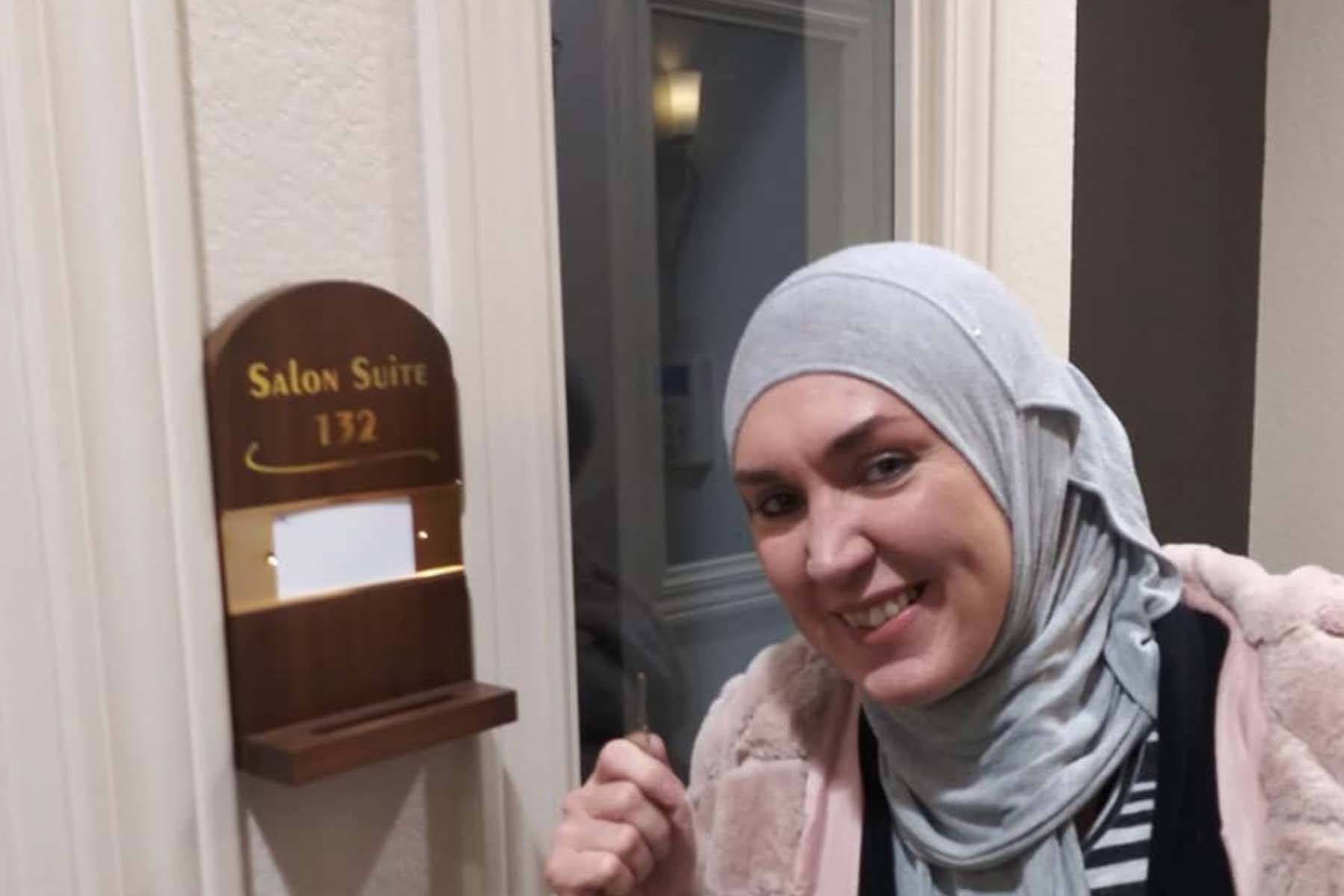 (Above) Jennifer "Jenan" Jassar at her salon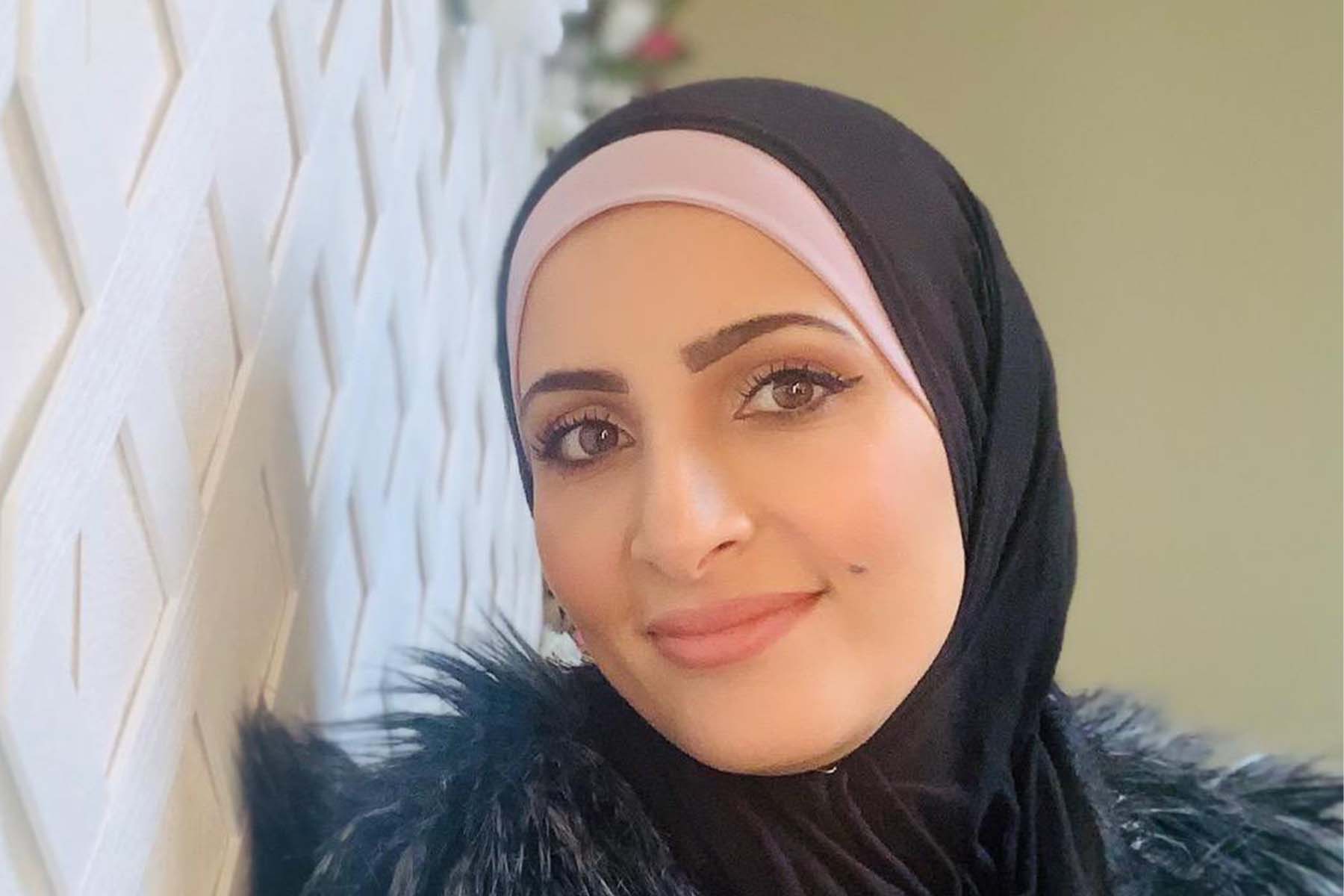 "I'll Make You Look Like a Flower"
Noor Al Far, a licensed cosmetologist and aesthetician who came to Milwaukee four years ago from Jordan, is about creating an all-round beautiful you. She specializes in on-site styling for weddings and occasions.
We met in her home studio, which, though it is an attractive space, is not where Al Far does her best work.  "I go anywhere, the hotel, the home," she says.
Al Far, whose work needs no translation, gives Milwaukee-area women the full celebrity-stylist treatment. A wedding, for instance, will include the bride's "make-up, hairstyle, body foundation. I take care of the bride for the whole day. I don't just do the hair and leave. I'm there the whole day doing touch-ups."
Bridal make-up, she says, is a process with "a lot of steps. Mask before make-up, minimum facial, 2-3 primers, foundation." Al Far says, "I do the job perfect," because the bride, "should come in feeling confident, like a flower."
However, the rest of the bridal party also receive their share of the attention. "I can do 7, 8, [women] just myself. I can do everything very quickly. I do what they like. . .  whole bridal party, all together."
As a newcomer to the U.S., Al Far worked for 6 months at "a big salon and spa" but was unable to continue when they asked her to cut men's hair. "I can't touch a man. Against my religion. I do service for just women."
After that experience, Al Far decided to build her own business. "I work for my talent and myself," she says. Al Far's customers are Indian, Pakistani, Russian, European, and American. Business comes to her through her Web site, www.nooralfarmakeup.com, via Instagram @noorbeauty_studio, or by email at ahnoorah@yahoo.com. She is also on WhatsApp and Facebook.
Al Far styles hair as well as make-up and works with "any skin tone and complexion. That's why people find me very quickly. I am special. I can do everything about beauty." She hopes to open her own salon and spa soon. "I have a space in mind, Inshaa'Allah."
Her favorite brands include Mac, Make-up Forever, Nars, Natana, and, she says, "Clarins primer is perfect." Her best advice: "A good brush is very important to blend." She sometimes uses an airbrush to apply foundation, which she says is "good for wrinkles and dryness," and makes the skin look "very smooth and not fake."
The People Whisperer
When you visit hairstylist Suzie Musaitif at Suzie's Salon, don't be surprised if the first thing she does is offer you a cup of tea. A talented hairstylist, Musaitif values her connection with her customers as much as their business. "I laugh a lot," she says, "It's fun to be with customers. They're funny."
Musaitif is located at the Sola Salon Suites, 5319 S. 108th Street in Hales Corners. She specializes in color, blow dry, and highlights. She says she asks customers exactly how they want" their hair. "I want everybody to leave here happy."
Musaitif likes the Kenra color line and Keratin Complex as a conditioner to promote healthy hair because it "softens hair and makes it easy to manage."
She has the same knack with her clients. Sometimes a client will come in tense or angry, and, as Musaitif says, "so upset," but when they leave, "they're calm and relaxed."
At the holidays, one client brought her a box of fancy cookies. "Every person that comes in here, I'll get a hug," she says. One customer, an Italian lady and a talented singer, sang her a song, which Musaitif posted on her Facebook page.
However, Musaitif isn't just there to make you feel good. She's also there to make you look good. New in town, she's gotten many of her clients through Groupon promotions and through her Facebook page at Suzie's Salon. Musaitif moved to Milwaukee from Cincinnati five months ago. So far, she has a lot of repeat clients and some great online reviews. As one woman said, "It was an amazing experience. The stylist was very honest and styled my hair exactly how I wanted it." Another wrote, "My husband told me it was the nicest looking cut I've had in a long time."