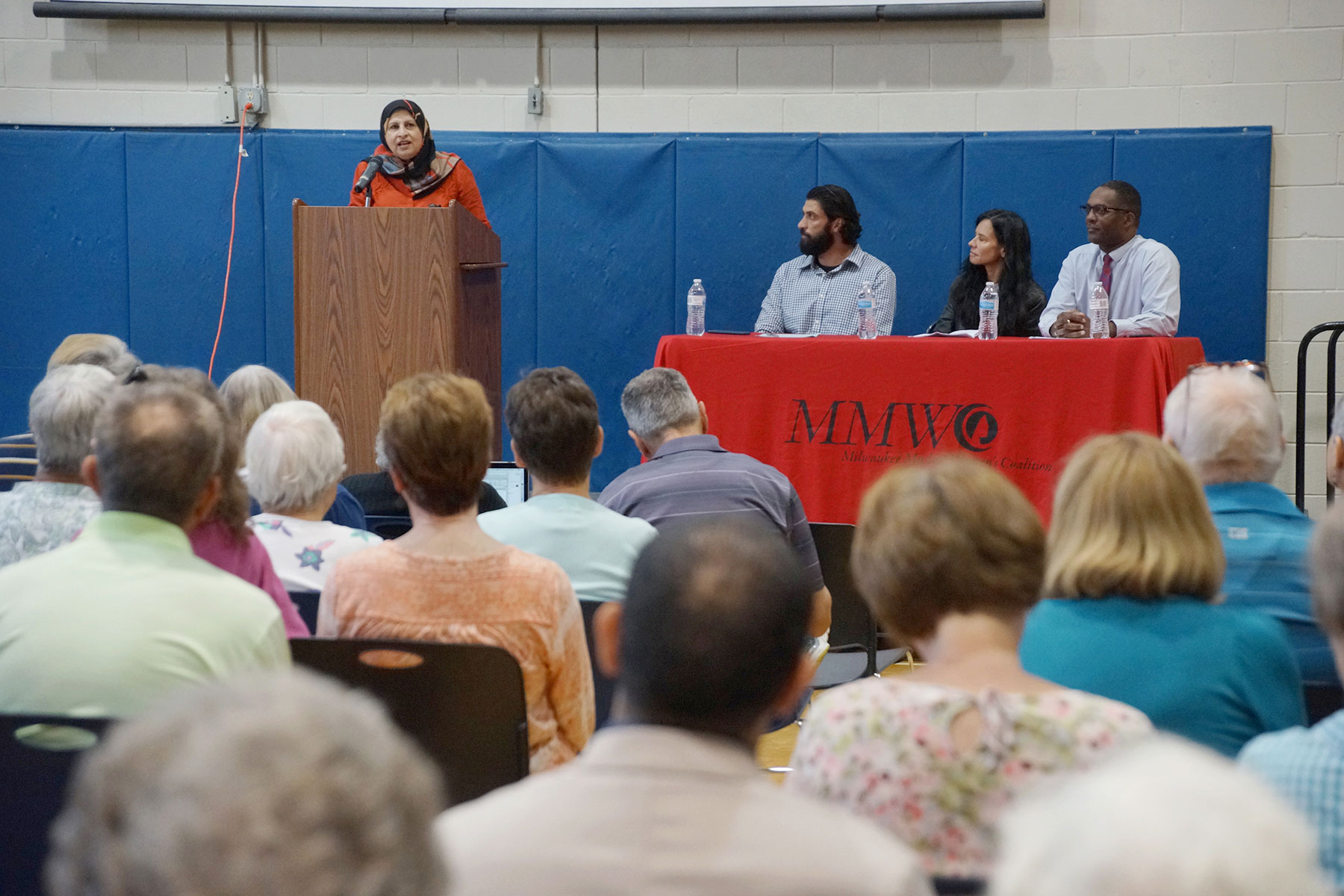 The Milwaukee Muslim Women's Coalition hosted a special public event on August 23, addressing the issue of childhood trauma. Three experts on the subject detailed the connections and impact that continues to affect children from Milwaukee to Palestine.
Adverse Childhood Events (ACEs) are scientifically known to be a serious detriment to human development. Toxic stress during formative childhood years has been shown to cause psychiatric disorders, negatively alter social behavior development, and affect the physiological development of the brain.
Milad Vosgueritchian, a Christian Palestinian visiting from Palestine was the keynote speaker at the MMWC event, he shared with the audience his experience as a Palestinian peace worker and founder of the charity organization House of Hope. He explained the trauma he himself experienced as well as the ongoing trauma experienced daily by tens of thousands of Palestinian children living under Israeli occupation.
"It breaks my heart to witness any child living in fear. Children in Palestine face immense stress and hardship due to (Israeli) military violence and household poverty. That's why House of Hope is devoted to nurturing traumatized Muslim children living in Palestine," said Vosgueritchian. "Our students are able to respect people outside of their community because they first respect themselves. At House of Hope we never judge students for their color, physical needs, talents, or whether they are rich, poor or abused. Our kids are welcomed to our beloved community at House of Hope and cherished under the roof of freedom and dignity."
House of Hope teaches students many tools for relating to themselves and to their Jewish neighbors beyond the wall. One of the most important foundations students learn is about mutual respect, and teaching about the power and beauty found in coexistence and dialogue between Muslims, Jews, and Christians.
Surrounded by Israeli military violence and household poverty, the youth in Palestine face immense hardships. By helping those children overcome their fear, anger and frustration and develop healthy, coping skills, Vosgueritchian hopes to inspire the next generation of community leaders dedicated to peace and community wellness.
"We teach our students how to cope with the injustices and trauma they experience through art, music expression, therapeutic body movements and other self-esteem affirming activities. By helping children overcome their trauma-induced obstacles to learning, we are nurturing the next generation of leaders dedicated to building a healthy, thriving Palestinian civil society," added Vosgueritchian.
Traumatic childhood experiences not only have adverse and lingering effects on Palestinian children and their families in Palestine, but there were clear similarities with local Hispanic and African American populations. Christine Neumann-Ortiz, Executive Director of Voces de la Frontera spoke about the trauma Latinx children were experiencing not only by the forced separation from their families at the border but also by the constant fear children in Milwaukee face due to threats of deportation. Reggie Jackson, co-founder of Nurturing Diversity Partners, explained the lingering effects of trauma on African American children and families due to 400 years of slavery and resulting poverty.
This audio was recorded live during the presentation with an audience of close to 200 individuals, along with the pictures to document the event. The video was shared by Vosgueritchian to showcase the work that House of Hope is doing, and how many of the programs can be applied to help the youth of Milwaukee.