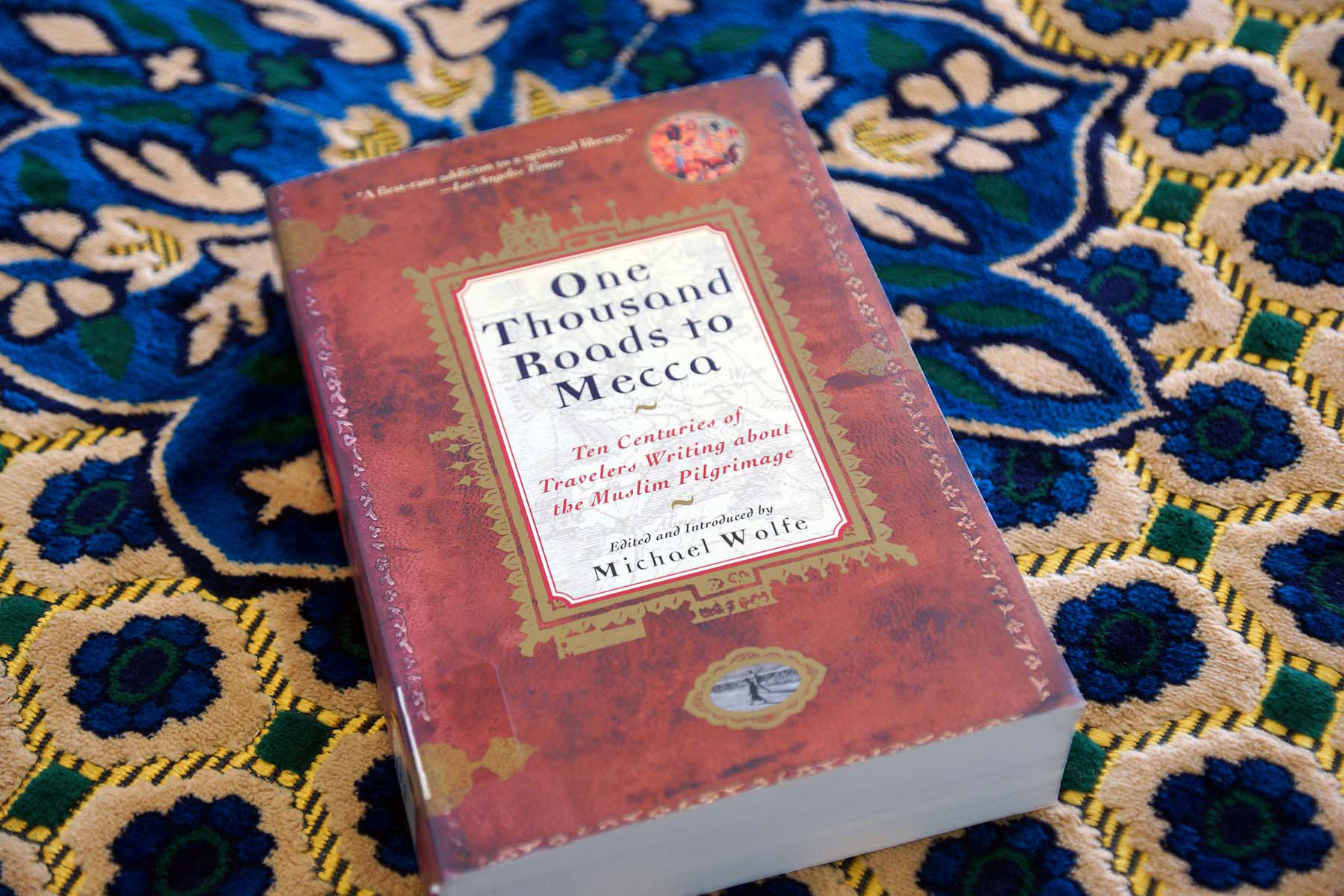 Elise Bellin, Librarian of the Islamic Resource Center, wrote this book review as part of an ongoing series that focuses on a range of books within the IRC collection as a service to the community.
IRC Book Review: One Thousand Roads to Mecca
by Michael Wolfe, © 1997 ISBN: 9780802135995
Mecca has been surrounded by a mystique to the uninitiated and only those adventurous writers from the West who have found a way in have written to tell the tale. Every Muslim, on the other hand, assuming (s)he is able and can afford to, is expected to make a pilgrimage to Mecca at least once in his/her lifetime during the Hajj season which is two months following the end of Ramadan. This pilgrimage, or Hajj, is so important to the Muslims that it has been a central theme to a large body of Islamic travel literature since the first pilgrims in the seventh century.
In One Thousand Roads to Mecca, Michael Wolfe, a convert to Islam, attempts to collect the most significant of the works by observant travelers over the past millennium. The focus forms a spirited conversation which reaches to the very core of the Muslim pilgrim's experience. Excerpted works include such notables as Ibn Battuta, Richard Burton, John Keene, Lady Evelyn Cobbald, and Malcolm X, to name but a few. Michael Wolfe's own pilgrimage is included to add additional context.
As to content, it does read a little dry. If you are looking for some light reading, this book is probably not for you. This is in part due to the fact that many of these narratives are translated from ages past. Their content is unimpeachable. The style is by far an intellectual sojourn into the minds and souls of the faithful on their journey.
Therefore if you are looking for an examination of what the pilgrimage means to those who undertake it, this book is more likely to sate your curiosity and fill your mind with the ideas and controversies that these individuals would have come across in their journey to one of the most important cities in the Islamic tradition. Truly worth a look for all those who either are looking into going on Hajj or wish to better understand the pilgrim on their journey.
Founded in 2010, the Islamic Resource Center (IRC) is the first Islamic public lending library in Wisconsin. The IRC aims to provide resources to educators, students, health professionals, interfaith groups, and any members of the Milwaukee community that want an accurate understanding of the Islamic faith, its practices, and its people.