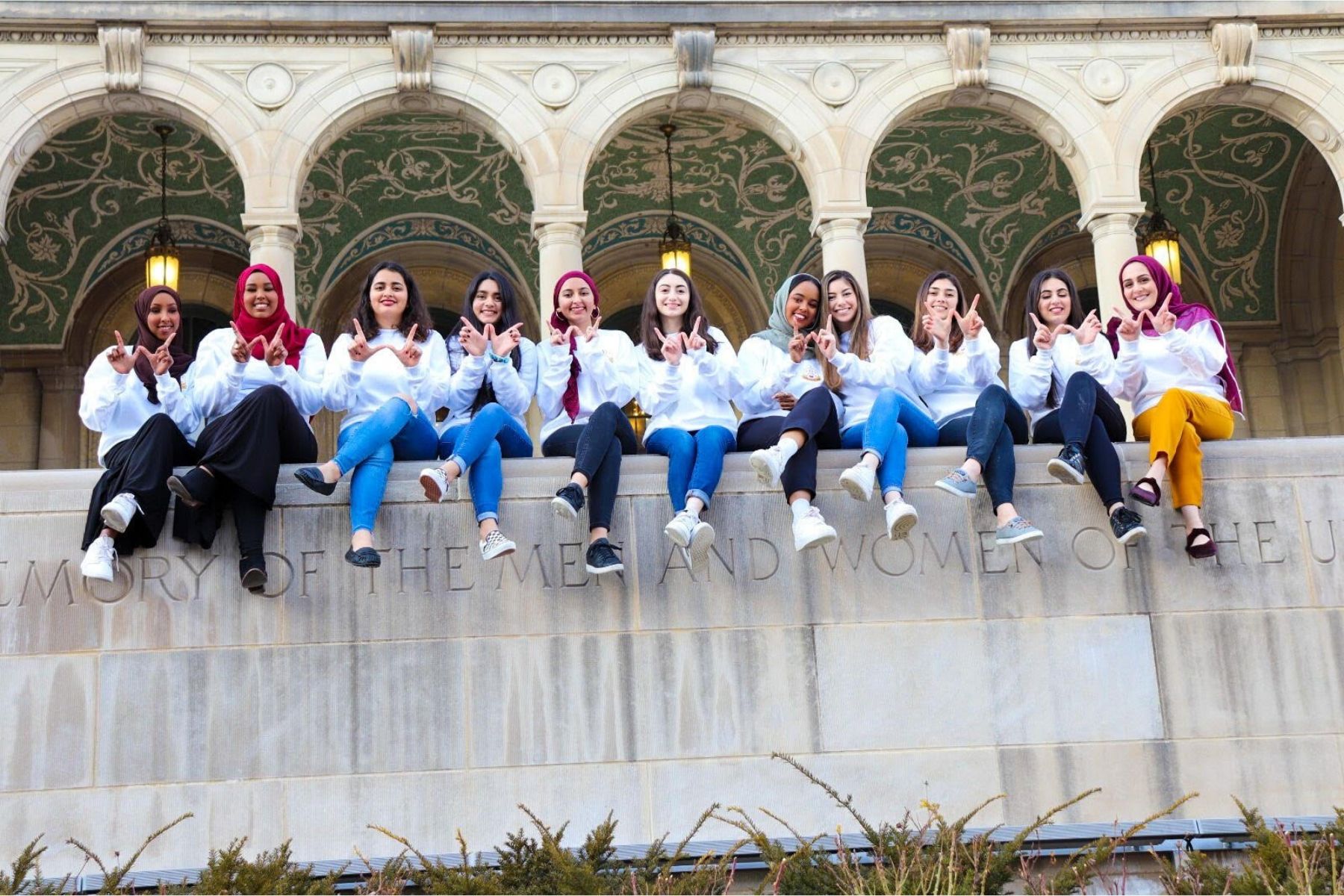 Sisterhood is powerful on the UW-Madison campus, and Alpha Lambda Rho, Madison's first student organization for Muslim women, will no doubt survive the cancellation of classes, which also means the cancellation of many of its spring events.
Like most colleges and universities around the country, UW-Madison cancelled all in-person classes to prevent the spread of corona virus. "The entire semester is now online," said Alpha Lambda Rho secretary Lina Riaz. "As for finals, no one has really said anything." The situation is still fluid and uncertain.
UW-Madison students have been asked to move out of their dorms in case extra beds are needed for corona virus patients. And, after initially labeling corona virus an "older people's disease," the media is now warning that young people too could be at risk for serious illness if they contract the virus. The New York Times reported that about 40% of corona virus cases are between the ages of 20 and 54.
Before the closing of the Madison campus, WMJ met with three members of the new student group at the Memorial Union on a bustling Friday afternoon when corona virus worries seemed a distant concern. UW's first Muslim sorority has been going strong for only about a year. But members have already formed a solid bond. A sorority on the UW campus is considered "successful if it has 7 members," said UW senior Buruj Mohamed. "At our initiation ceremony, we had 20 people."
The sorority's name began with the Arabic letters Aliph Laam Raa."There's a chapter in the Koran where those letters are the first verse," Mohamed said. From Arabic, the women translated the letters into English and from there into Greek, she said.
Mohamed, 19, is vice president of the group, which is officially listed as a "Muslim interest social club." ALR was founded in Spring 2019 by Dema Jaber, who currently serves as president. Many of the women were already members of the Muslim Student Association and belonged to its sisters group. Jaber texted Mohamed and invited her to a meeting to "start a Muslim sorority on campus."
Riaz, 21, a junior majoring in biology, explains that ALR calls itself a sorority though "not registered under the Greek umbrella." There is a national Muslim sorority, Mu Delta Alpha, based in Texas, but the Madison group is not affiliated with them.
ALR board member Niha Shamsi, 20, a junior studying nursing and global health, also learned of the group from Jaber. "She was talking about how she wanted to start a Muslim sorority just to give more girls on campus a community and a sense of home," Shamsi said. "On campus it's sometimes really hard to find a space to talk about issues that we're all facing together." The sorority provides "an outlet for Muslim and Muslim-interested women to come together and meet each other."
Shamsi also praised the fact that the sorority is "racially and ethnically diverse." Shamsi, who is
from Des Plaines, Illinois, said, "People say 'Madison is the most diverse place.' For me it's the opposite. It's one of the least diverse places."
Buruj Mohamed, whose background is Somali, commented that "demographically" in terms of the whole "student population" on the Madison campus, "only 300 are African-American" out of an undergraduate student population of more than 30,000. UW reports its black or African American student population as less than 3%.
The women praised their group as providing a space that is comfortable and open. As Riaz said, "everyone feels included. There are not cliques."
"No one knew each other," said Buruj Mohamed, but the group was "inclusive and welcoming. The board has become really good friends."
Riaz agreed. "It's good to get advice on schoolwork and on creating an environment that everyone feels welcomed and included in. We've really got lucky with that part."
Currently the group is open to all undergraduate class levels. ALR had a couple meetings at the end of last year and sent out applications, mostly, the women said, to get to know people. At the end of November 2019, they held an initiation ceremony in the trophy room of the James Apartments on Gorham. New members being initiated wore black and the board members wore blue. The actual ceremony was, of course, secret.
A Mocktails and Painting event took place earlier this semester, but still in the works were a multi-cultural fashion show; a food pantry service event with Alpha Lambda Mu, the Muslim fraternity; a cook-off to start Ramadan in the last week of April; and a Devils Lake retreat before finals.
All of this is now on hold. "We were sad that we aren't able to do the exciting things we had planned," Riaz said in an email, "but it's all for the best and very needed that we continue to practice social distancing." Fortunately, the bond of sisterhood formed by the women of Alpha Lambda Rho is already firmly in place.