Following a massive explosion in Lebanon's capital on Aug. 4, Wisconsin's Lebanese Americans rushed to find news about family and friends.
Two days after a huge chemical explosion in Beirut, rescue workers and residents still search for people buried in the rubble in what Inter Press Service News Agency correspondent Eliane Eid said "looks like "a battlefield, with destruction all around."
"The explosion ripped through the heart of Beirut" and "tore apart people's lives with the blink of an eye," Eid said. Shock waves from the blast were felt 100 miles away in Cyprus. Across Beirut, windows shattered, doors were blown off their hinges and walls crumbled.
As of Thursday, CNN reports that at least 137 people have been killed and that number is expected to rise. More than 5,000 are known to be injured. Hundreds of people are missing and 300,000 have been rendered homeless. This disaster has happened in a country already reeling from devastating economic conditions, civil unrest and hospitals overflowing with COVID-19 patients.
The cause of the blast appears to be tied to highly explosive chemicals stored in a warehouse at the Port of Beirut since 2013. An investigation is underway.
Meanwhile, relatives in Wisconsin seek news from family and friends in Lebanon, which is the home to about 4 million Lebanese, 1.5 million Syrian refugees, and half a million Palestinian refugees. Several Wisconsinites declined to share their story while they anxiously await updates on injured or missing relatives and friends. Others have learned their loved ones are safe, but they still worry about their future.
A confusing message
Mohammad N. ElBsat of Milwaukee, a staff engineer at Johnson Controls, was about to join an online work meeting when his sister Rania sent photos on WhatsApp of broken windows and doors from her apartment in Beirut. He wasn't sure exactly what he was seeing, so he called her.
She told him there had just been an explosion. Maybe it was an earthquake, she said. Beirut is on a fault line and residents talk every year about the prospect of "the big one."
When they hung up, ElBsat started searching online for "Lebanon explosion." He saw a couple of tweets and links to videos of the mushroom cloud above Beirut's port.
He "googled directions to see how far Rania lives from the port. It says 8 kilometers, but if you draw a straight line instead of following the roads, it's probably closer," he said. "Nobody knew yet exactly what happened.
"I remembered hearing in the news about some conflict between Hezbollah and Israel. That is where my mind went." ElBsat recalled the occasional intimidation from Israeli planes breaking the sound barrier above Beirut, causing windows to shatter. "But being Beirut, it might also be a bomb planted somewhere," he said.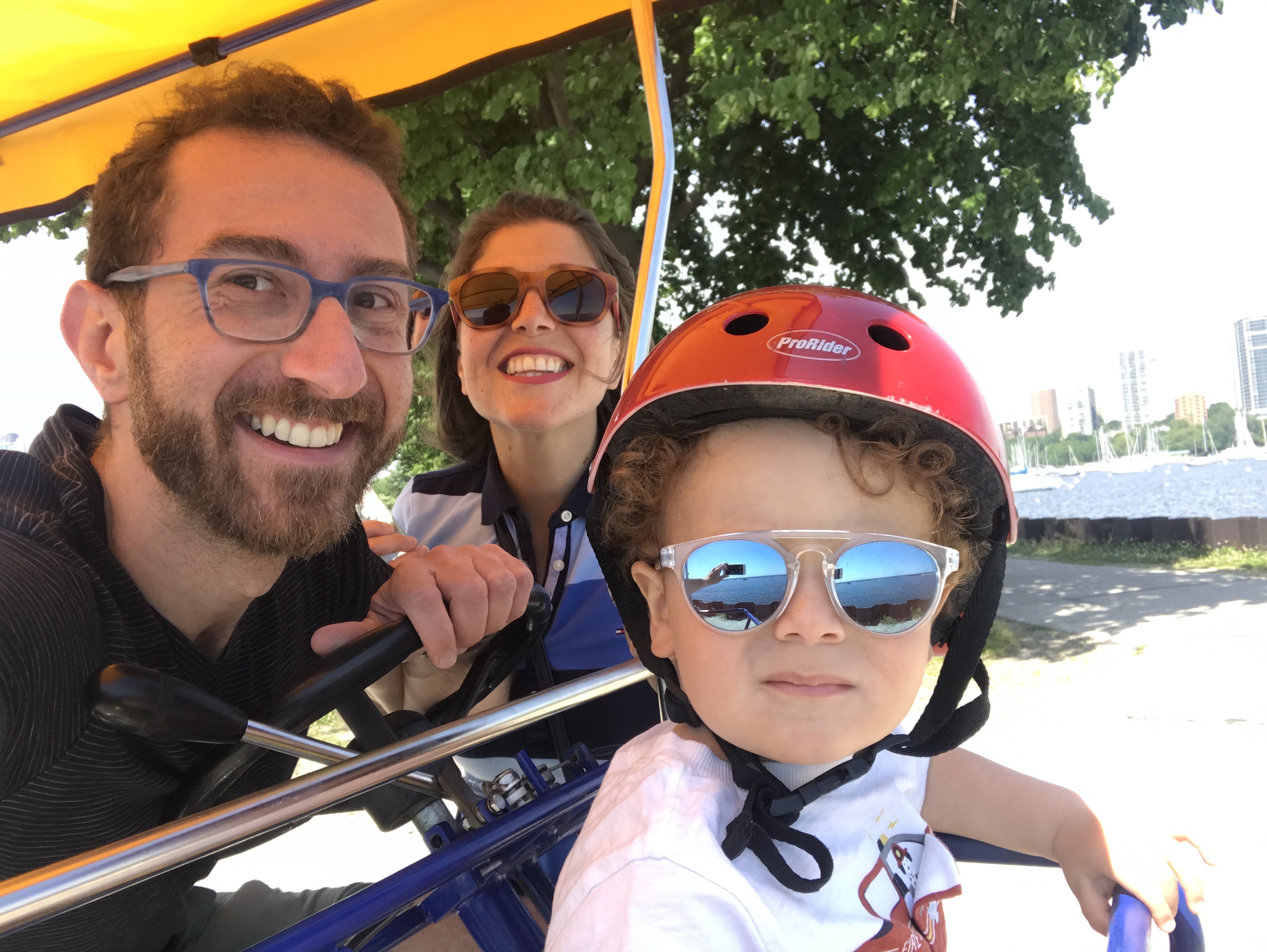 Mohammad N. ElBsat, his sister Rania ElBsat and nephew Adeeb, 2.
ElBsat kept looking online throughout the day, "trying to get clarification on what had happened." Just the week before, he had taken his sister Rania and her son, his nephew, 2-year-old Adeeb, to Mitchell International Airport in Milwaukee, where they would board a flight for Beirut. "They had only been there a week when this happened," he said.
"Adeeb likes to look at cars driving by, so he is usually by the window, or he is in his playroom with all his toys, where there is also a window," ElBsat said. "Rania was trying to get him to go play but he said he wanted to read a story, so they were in a different room. It was a good thing because in the other room shards of glass could have injured them both."
Mourning Beirut
ElBsat has been in Milwaukee since August of 2006, when he started his master's degree in electrical engineering at Marquette University. He continued his studies at MU, completing his doctorate degree. He joined Johnson Controls in 2012.
Yet, his mind is often on Lebanon. "One of the things about living abroad, when people leave, they are not taking their whole family with them. They are leaving family there," said ElBsat, who has a big extended family in Lebanon. "As far as I know, everyone is safe," he said.
"I was born in 1984 and lived in Saida (about 30 miles south of Beirut). I don't remember anything from the Civil War (1975-1990) because it was concentrated in Beirut," ElBsat said. "What I do remember are my times from undergrad days, when I was going to the Lebanese University. We'd go around Beirut; it had been rebuilt. The amount of effort and time and money that was put into re-creating that area of Downtown, and preserving its beauty and culture, to see that gone in just seconds is devastating to me.
"Over the past couple of months, I've been told about the dire situation the pandemic has caused and how the value of the Lebanese lira has gone down. For years, 1,500 Lebanese lira equaled one U.S. dollar. Today the dollar is worth 8,000 LL. All the basic things people need have skyrocketed in cost. This is a big concern."
The human suffering is the worst part, he said. But the destruction of buildings and infrastructure also impacts our spirits.
In January 2018, ElBsat visited Lebanon. "I had heard about Zaitunay Bay and all these new establishments on Beirut's seafront. I got to see it with its magnificent tall buildings. The amount of windows that were there! What a loss! How do you recover from that?"
We can't turn away
Zainab Fleifel, 22, of Greendale has been to Lebanon once but she has always felt a strong connection to her parents' homeland.
"All of my mom's side of the family live in Lebanon and a lot of them are in Beirut," Fleifel said. Her mother, Ola Farhat, is the oldest, having five younger brothers. All of them live in Beirut.
In the summer of 2015, Fleifel went to Lebanon. "I started a close relationship with my uncles. One of them, Abbas, was closest in age and we became good friends. He is literally my best friend," she said.
On Tuesday morning, Fleifel woke up to a wave of messages and texts. "Friends were saying, 'I hope your family in Lebanon is ok. It is so sad. I can't believe what is going on in Beirut.'
"In my head, I thought, 'What are you talking about?'" She began searching online. "I just searched Lebanon, Beirut and all these articles popped up: 12 dead, 1,000 injured. Then I refreshed: 30 dead, 2,000 injured. It kept going up."
Fleifel called her mom and asked, "What happened? Did you talk to your brothers?"
She had and she said everything was fine. "But I know sometimes my uncles don't want to tell my mom everything because they don't want her to worry. So, I messaged my uncle Abbas and said, "Hey, is everything ok? What happened?"
Abbas told her he was just leaving the hospital. He had been in Beirut when he heard the explosion. He told Fleifel he had dislocated his arm, and had bruises and scratches. He was given pain killers and something for infection. He said he was ok.
But Fleifel is worried. She has been following the news and knows that medical resources in Beirut are in low supply and the demand is high. "I don't know if they even did any scanning. Hospitals are overflowing with COVID. They started treating people in parking lots."
She is staying in touch with her uncle to get regular updates.  "I don't know what could happen to him in the next couple of days. Explosions like that come with a lot of trauma."
Abbas sent her a video this morning that came from a surveillance camera. "It showed him and his friend outside of a building. When his friend ran inside, everything just fell on top of him. They were on the street. They weren't safe anywhere.
"And it hurts that I can't do anything," Fleifel said.
She remembers her 2015 trip to Lebanon and "my heart genuinely hurts. Seeing the destruction on videos and knowing those are the places I would go to have lunch with my family and walk on those streets. I was genuinely happy there, the happiest I have ever been. It just hurts to see it destroyed.
"It is hard to see it like this because the Lebanese have been trying to grow from basically nothing. There are no jobs, so people start their own businesses. These are businesses people started from nothing. To have it all destroyed, to all go away, within a second, it hurts my heart. It is like they never get a break. Ever."
Even in the face of this destruction, the University of Wisconsin-Milwaukee senior said she feels hopeful. "Back in October, during Lebanon's revolution, I had no hope. No one was paying attention."
It took this terrible explosion to get the world's attention, she said. "No matter my political views, I was glad to see President Trump make a statement about it. The media is covering it. People are willing to donate; they are looking for ways to help.
"I see that people care. Especially in this year, a year of so much suffering, I don't think people are willing to turn a blind eye on it."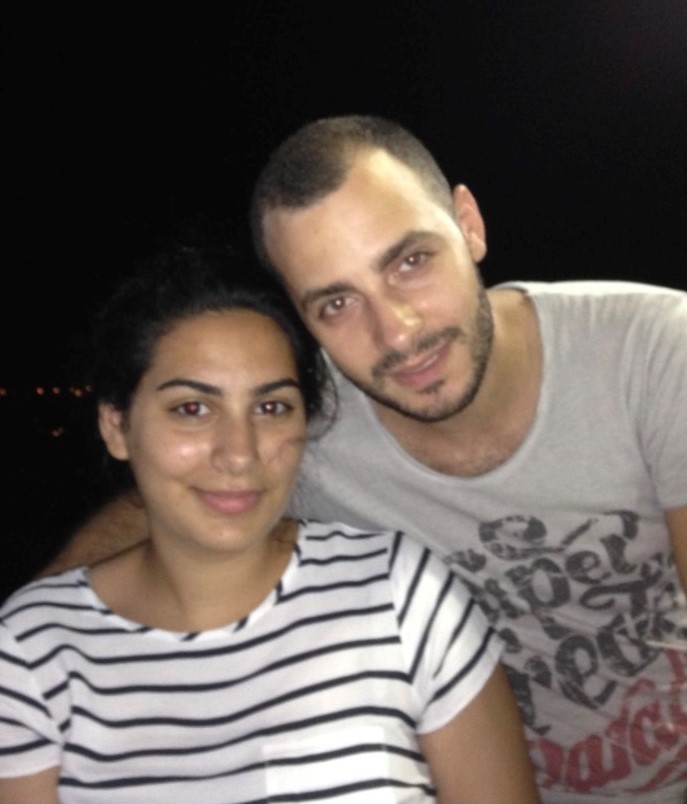 Zainab Fleifel of Greendale and her uncle Abbas Farhat