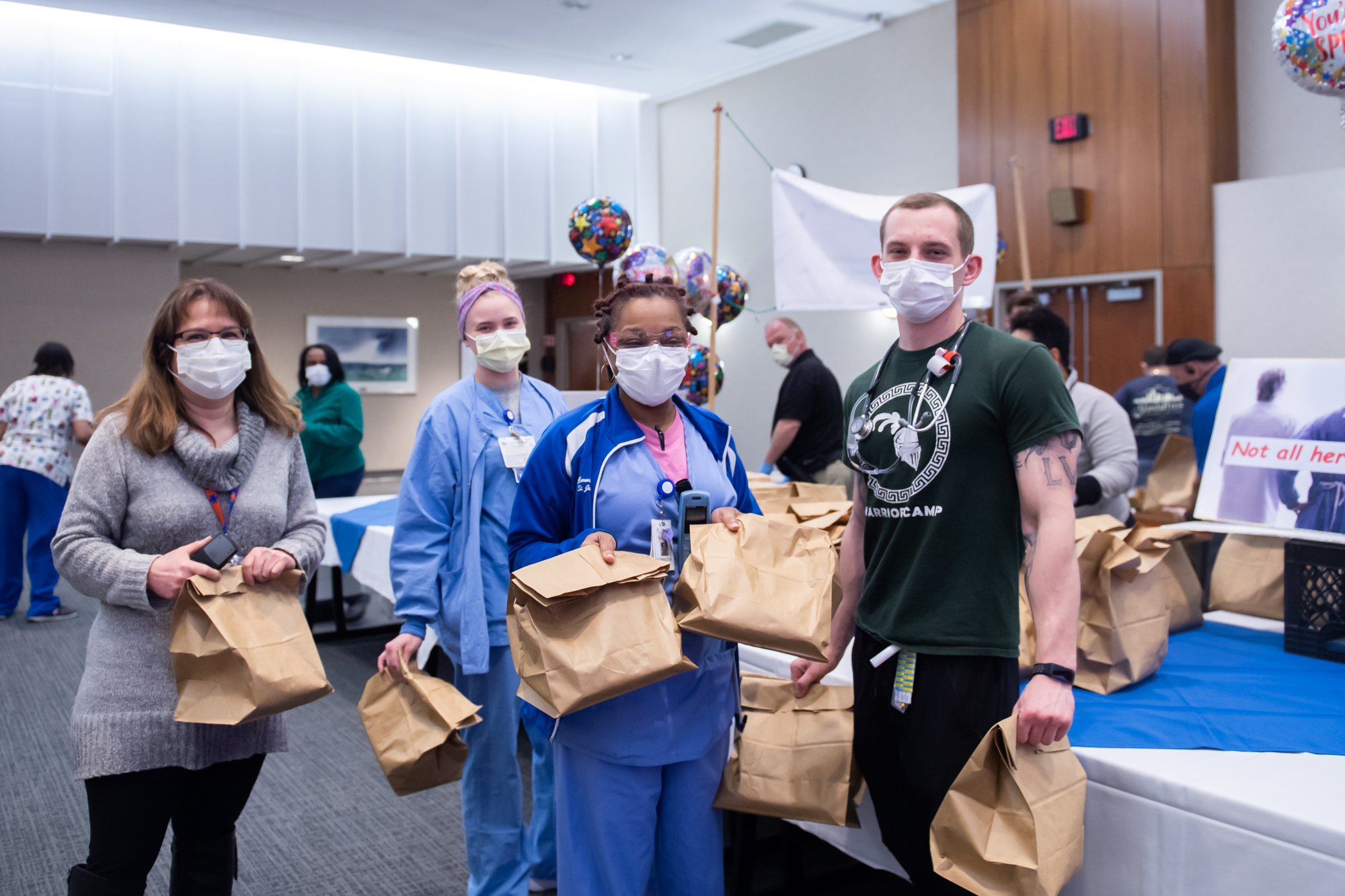 Members of metro Milwaukee's Muslim community not working in healthcare have been doing their part to provide aid during these difficult times.
On April 3, Hayat Pharmacy used the drive-throughs at its Burleigh and North Avenue locations to distribute 3,200 free masks and gloves.
And since the first week of April, Aladdin's MKE has been providing once-weekly lunches or breakfasts to healthcare workers. Owner Azmi Alaeddin and his crew of five volunteers have served meals at Ascension St. Francis and at the Ascension St. Joseph's Campus, which is located in the Milwaukee neighborhood that is the source of nearly 1 out of 10 Covid-19 cases in the city.
This morning, Tuesday, April 21, Alaeddin's team served 400-500 breakfast meals at Aurora St. Luke's Medical Center at 2900 West Oklahoma Ave.
Alaeddin, an Islamic Society of Milwaukee (ISM) board member, said, "This is just like everyone doing what they can. This is one way I can contribute along with the Muslim community. As an immigrant and as an American, I feel it's a duty for me to give back."
Aladdin MKE's three locations are closed during the pandemic for the duration of Wisconsin Governor Evers' shelter-at-home order. Alaeddin said it is "more expensive for me to be closed than to do nothing." He referenced the Quran when he said, "your wealth will never decrease if you are giving charity because God will bless you multifold. The blessing comes from God, the family, [and] the community."
Alaeddin is assisted at the hospitals by Imam Noman Hussein of ISM West;  Inshirah Farhoud, an ISM board member and vice president of Milwaukee Muslim Women's Coalition; one of his employees; and his son Yousef, who is working from home these days and who, Alaeddin said, "is indispensible." In addition to arriving at 6:00 a.m. to begin preparations, Yousef "likes to take pictures. He has really been an asset for us."
Yousef Alaeddin, who currently works remotely at his "day job" in HR for Harley-Davidson, said that the response from healthcare workers has been overwhelmingly positive. "From their statements and their body language, they definitely show they need a change of routine." ISM's "being able to provide a very small token of appreciation really does brighten up their day."
As Imam Hussein posted on his Facebook page, the meals are provided "on behalf of the Muslim community." The meals, he said, are a way of saying thank you "to all of our healthcare providers, support staff, first responders, and everyone on the front line of this pandemic. Our prayers are with you all. May God bless you and your families."
Aladdin's MKE also supplies the food for the Salam School drive-through lunch program. When Wisconsin schools were closed in the third week of March, it left many low-income families scrambling for ways to provide lunches for their children. Salam Elementary at 815 W. Layton instituted the drive-through lunch program, which has been serving 90 to 100 families per day, according to Alaeddin. That adds up to approximately 450 lunches per day, Alaeddin said.
The drive-through lunch program is subsidized by the Wisconsin Department of Public Instruction with additional funding from ISM and is not limited to families whose children attend Salam School.
"People are desperate to feed their kids," Alaeddin said. "We at ISM have to be part of the solution." Since many of the families being served are not Muslim, the drive-through school lunch program will continue through Ramadan, Alaeddin said.