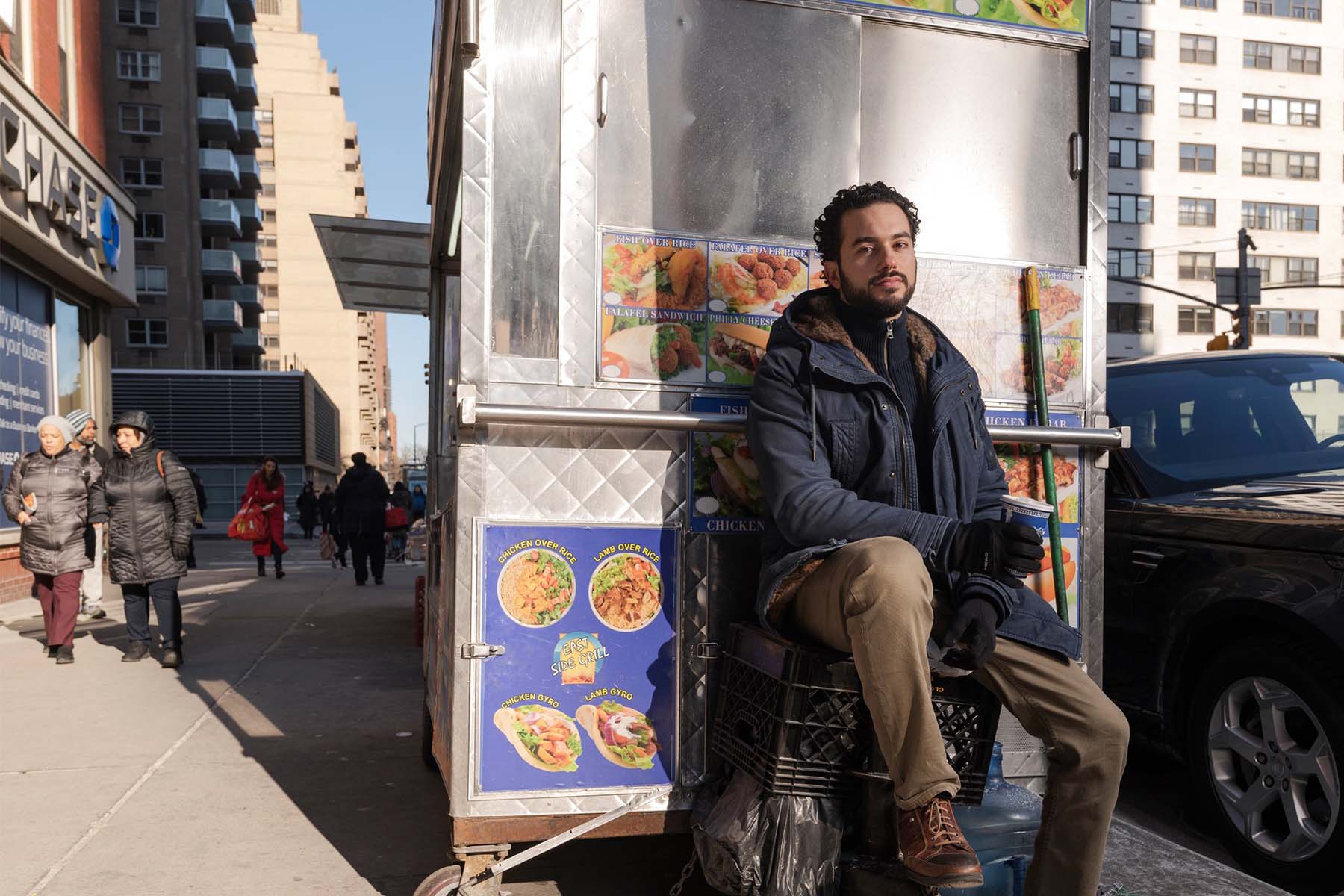 Rachel Wharton as "A Food Cart Worker's Biggest Job: Defending Vendor Rights" for NY Times
Before he became the director of the Street Vendor Project, Mohamed Attia spent a decade as a vendor. He is still an owner of the East Side Grill in Manhattan, shown here. Credit: Sasha Maslov for The New York Times
Running a street food cart is backbreaking work: schlepping around a heavy cart, then standing behind it for hours on end. Quitting the job would seem to be a gift to aching feet.
It hasn't turned out that way for Mohamed Attia, who left his smoothie and halal-chicken-over-rice carts last year to become the new director of the Street Vendor Project. The group lobbies for the 20,000 or so vendors, most of them immigrants, who sell food, jewelry, clothing and just about everything else in New York City.
Work, for Mr. Attia, is still an endurance run. He'll bustle around Wall Street on a brisk afternoon, teaching the people who sell $1 coffees and buttered rolls how to avoid fines for stationing carts too close to a curb. He'll put on a suit and pace the white marble floors of City Hall, where City Council members are now considering a bill that would increase the number of vending permits for the first time in four decades.
He'll traverse the city for news conferences, protests or nearly any opportunity to talk about the issues that vendors face. One recent evening, he stood outside a Brooklyn restaurant for two hours in the bitter cold, telling strangers about the vendor — Elsa Morochoduchi, now famous as "the churro lady" — who was handcuffed and detained for selling her fried dough inside a Brooklyn subway station in November.
Mr. Attia, who turned 32 on Saturday, took the reins of the Street Vendor Project just around the time a bystander's video of Ms. Morochoduchi's encounter with the police went viral, and he has used the resulting uproar to bring new attention — and a new assertiveness — to the 19-year-old organization.
As only the second director in its history, Mr. Attia is proving to be a skilled modern communicator: He uses social media to goad elected officials, or to collaborate with other social-advocacy or small-business groups. As a longtime food-cart operator and an immigrant, he has an unusual ability to organize his fellow vendors and defend their work to almost everyone else.
Street carts are city fixtures and a source for a fast meal, but that's just part of their role, he said. He believes in street vending as both an honorable profession and a human right — the right to work, to create one's own extra-small business.
Ms. Morochoduchi had been stopped nearly a dozen times for illegally selling her pastries in the subway station, Mr. Attia said, yet she always goes back. "What's that show you?" he said. "It shows you how important it is to her to make that money, to go there and to sell them."
"Vendors do this because they need a job. It gives them the economic mobility to work, to save money, to start the American dream."
That is what chicken over rice has done for Mr. Attia. Today he reports to an office in a Lower Manhattan skyscraper, has won a prestigious fellowship for emerging regional food leaders, and is on a first-name basis with politicians like State Senator Jessica Ramos, who is working with him this year on her pilot project to allow food vendors to use the vacant storefronts of the Roosevelt Avenue-74th Street subway station in Jackson Heights, Queens.
When Mr. Attia came to New York City from Alexandria, Egypt, on a tourist visa in 2008 at the age of 20, the only job he could get was working under the table at a Harlem bodega for less than $7 an hour.
In Harlem, he noticed a halal food cart parked across the street from the mosque he attended. The man who owned it was Egyptian, and they struck up a friendship. "Hey," Mr. Attia remembers the vendor saying to him, "would you like to work in the street?"
For more than three years Mr. Attia was a licensed employee on someone else's cart — selling eggs-on-a-roll at 110th Street and Broadway, hawking hot dogs in Times Square. He and his best friend, Ahmed Mohsen, also from Egypt, managed to save up the $20,000 they needed to buy a smoothie cart and a seasonal permit on the underground market.
By 2016, they owned a second smoothie cart and a year-round halal cart on Second Avenue near 86th Street called the East Side Grill. Along the way, Mr. Attia married a New Yorker and obtained a green card, then became an American citizen. He moved to the Bronx and then Queens, and learned about the Street Vendor Project, a part of the nonprofit Urban Justice Center.
Like nearly every other vendor, he had dealt with constant fines and complaints from business improvement districts or building managers over the noise, smells, sidewalk congestion and other nuisances they say carts produce. So when he saw the Street Vendor Project reinstate two carts that had been illegally removed from a Midtown plaza, he paid the $100 yearly dues to join. Mr. Attia quickly became one of its most committed members.
"I don't know when he sold, and how he managed to balance his life," said Kelebohile Nkhereanye, a former vendor from Lesotho who is now on the project's advisory board. "He came to the meetings, he was engaged."
Mr. Attia also spoke to reporters, testified in front of City Council, studied reports on the economic impact of New York City vendors (nearly $300 million a year, according to the Institute of Justice, a nonprofit law firm), and made it clear he was an effective leader for a very diverse group, said Sean Basinski, the lawyer who founded the Street Vendor Project in 2001 and was its director until November.
"Mohamed showed pretty early on the vision to be speaking not just for himself or Egyptian food vendors, but all vendors," Mr. Basinski said. "And that's a pretty important skill, you know, to think beyond 'me.' "
It doesn't hurt that Mr. Attia is one of those rare people who manage to exude both sincerity and charisma.
Mr. Basinski recalled a time a few years ago when he took Mr. Attia to a fancy gala with 300 people, the kind where "if you're not pretty good, you end up just standing against a wall."
Not only did Mr. Attia thrive at the party, Mr. Basinski said, but "he knew some people there already."
Last year, Mr. Attia became one of the first class of leaders accepted to a rigorous 18-month fellowship called Seeding Power, meant to cross-pollinate ideas in the Northeast's regional food system. When other fellows attended one of his Street Vendor events, "they came back blown away," said the program director, Adam Liebowitz.
When Mr. Basinski decided to step down as director of the Street Vendor Project and encouraged Mr. Attia to apply — they shared the position for most of last year — Mr. Attia was one of the few who was surprised.
"I never had a desk job before," he said, during one of the few times he was actually sitting at that desk. "I never expected that. I never planned for it."
He took over completely in November, just after he remarried — he and his first wife divorced in 2018 — and was helping his new wife, Sherouk Mohamed, move from Egypt to their apartment in Brooklyn, his fourth move in a decade.
"This was the craziest year ever," said Mr. Attia, who is still co-owner of a smoothie cart and a halal chicken-and-rice cart, which are run by a younger brother and Mr. Mohsen. Mr. Attia spends what little time off he has showing Ms. Mohamed around the city, "like tourists."
This year the Street Vendor Project is pushing for new legislation from both the City Council and the State Legislature, where Ms. Ramos has just introduced a bill that could make New York the second state after California to eliminate a cap on the number of street vendors and clear any past records of citations or misdemeanors related to selling.
The measure would strike down city laws that limit the number of street food vending permits to about 5,000; the caps have led to decade-long waiting lists and an underground market where a two-year permit (officially issued by the city for $200) can sell for $25,000 or more.
The primary obstacle to changing laws is changing most people's perception of street vendors, Mr. Attia said. "They don't see them as entrepreneurs. They don't see them as legitimate small businesses, and that's something that we struggle with."
The Street Vendor Project's adversaries include labor unions and trade groups for grocery stores and restaurants that contend street vendors are unfair competition in a tough city marketplace.
Mr. Attia disagrees. His members don't want to compete with store owners, he said — they want to become one. "Every person has a dream to have a legitimate brick-and-mortar, a real business to provide for themselves and for others," he said.
It's those dreams that send Mr. Attia out into the streets as often as possible, even if just to pass out fliers saying that vendors — and vending — deserve respect.
"Hey," he said, stopping three strangers in Brooklyn as they walked by one recent evening: "Did you hear the story about Elsa, the churro lady?"