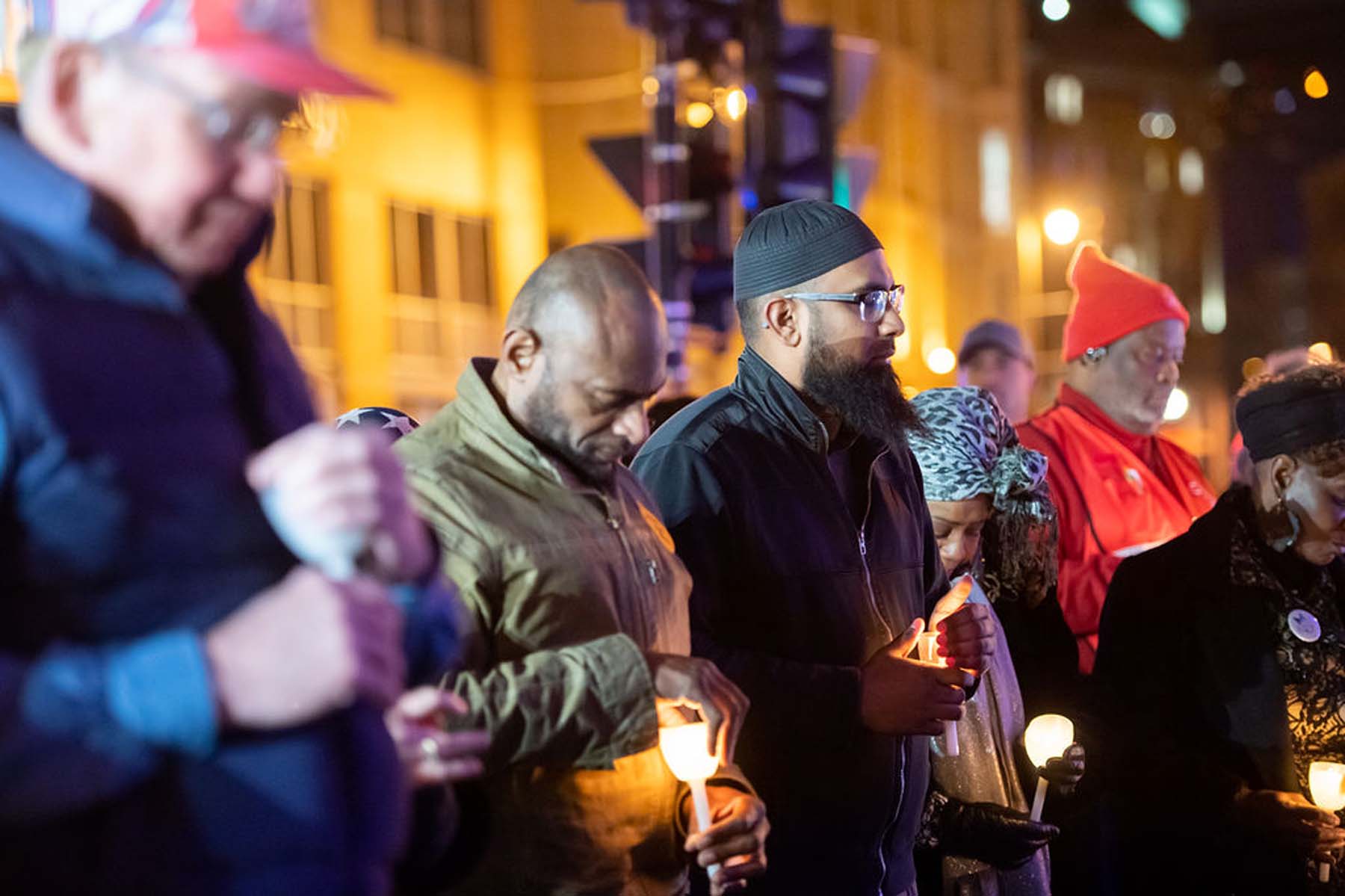 © Photo
Mouna Photography for the Wisconsin Muslim Journal
Hundreds of people gathered at Milwaukee City Hall on Sunday night for a vigil in honor of the victims of last week's mass shooting at the Molson-Coors plant in Miller Valley.
The non-partisan organization 80% Coalition brought together speakers and religious leaders from nearly every community to pray, mourn, and plead for common-sense gun reform. Emphasizing hope over despair and unity over separation, the vigil's theme was "Milwaukee Strong."
U.S. Senator Tammy Baldwin was the first speaker. Congresswoman Gwen Moore read the names of the five shooting victims – Jesus Valle Jr., 33, Gennady Levshetz, 61, Trevor Wetselaar, 33, Dana Walk, 57, and Dale Hudson, 60 – and spoke of her long friendship with Gennady Levshetz, whose funeral she had attended that day at Congregation Shalom. Mayor Barrett told the assembly, "We must go on as a community together."
Pardeep Kaleka of the Interfaith Conference of Greater Milwaukee introduced the local religious leaders, each of whom offered a prayer or reflection from the perspective of their own tradition. In order of appearance, they were: Bishop Paul Erickson, Evangelical Lutheran Church of America; Ahmed Qureshi, Islamic Society of Milwaukee; Rabbi Moshe Steigmann, Congregation Cnesses Israel; Bishop Haines, Archdiocese of Milwaukee; Rev. Walter Lanier, Progressive Baptist Church; Rev. Kevin Stewart, Episcopal Diocese of Milwaukee; Reirin Gumbel of the Buddhist Peace Fellowship; Rev. Jennifer Nordstrom, First Unitarian Society of Milwaukee; Dr. Swaranjit Singh Aurora, Sikh Religious Society; Janan Najeeb, Milwaukee Muslim Women's Coalition; Sarvesh Gadam, Hindu Temple of Wisconsin; and Rev. Dr. John Richard Walton Jr., of Calvary Baptist Church.
Milwaukee Police Chief Alfonso Morales spoke of the courage of first responders. Pam Fendt of the Milwaukee Labor Council said, "It is up to each of us individually and organizationally to figure out what we can do to improve our workplaces to make them safer and our world a better place." She listed the Molson-Coors labor unions affected by last Wednesday's shooting: Brewery Workers Local 9; IBEW Local 494; OPEIU Local 9; Steamfitters Local 601; Machinist Lodge 66 and Lodge 510, Laborers Local 9; and Workers United Local 122.
Rev. Marilyn Miller of Milwaukee Inner City Congregations Allied for Hope quoted Barack Obama's words in the wake of another mass shooting, saying, "The U.S. is the only advanced nation on Earth in which we don't have efficient, common sense gun safety laws." The number of mass shootings continues to climb, she said. "How much, how many is enough to shift the thinking and acting of 'we the people'?"
Khary Penebaker, a former candidate for Congress from the 5th C.D., represented Moms Demand Action with an emotional speech in which he said, "We need to do a better job asking for help. It is courage to ask for help." Penebaker, an advocate for gun safety legislation, connected mass shootings to the violence that occurs on Milwaukee's streets every day.
Other speakers included: Reggie Moore, Milwaukee Office of Violence Prevention; Tracy Dent, Milwaukee Coalition Against Hate; Jeri Bonavia, Wisconsin Anti-Violence Effort; Linnea Stanton, March for Our Lives; and Martina Gollin-Graves, Mental Health America Crisis Hotline. Khari Lyons performed "Amazing Grace" after the candle-lighting ceremony. Darryl Morin of Forward Latino acted as host and announced that the GoFundMe page for the Miller Valley Survivors Fund had already raised $687,000 of its $1 million goal.
A sign was raised displaying the Crisis Helpline Number: 414-257-7222. Pardeep Kaleka, whose father was killed in the Sikh Temple mass shooting in 2012, gave the closing reflections.
© PHOTO NOTE: All the editorial images published here require permission to republish or reuse. Please contact us for further information.